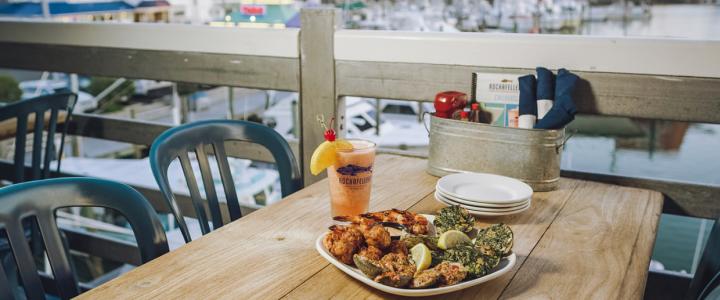 With perfect temperatures and sunny skies, we're taking every chance we can get to get outside and enjoy the season. With ocean views, live music, fire pits and more, the patios of our coastal city do not disappoint. Here are some of our favorite spots to eat outside in Virginia Beach.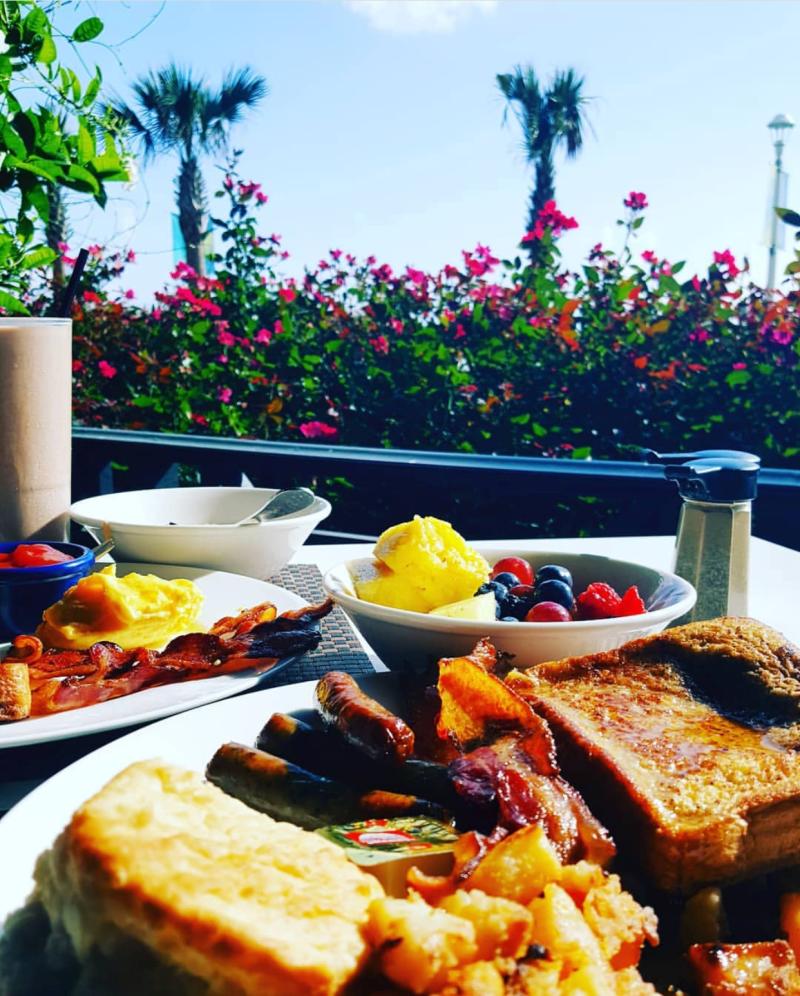 @cbd40, Instagram
Located at the Virginia Beach Oceanfront, Catch 31 is a prime location for outdoor eating. With views of Neptune Park, in addition to the unbeatable view of the Atlantic Ocean, this is one our favorite place to enjoy live music at Neptune Park, including national bands like The Wailers, Canaan Smith, and Vertical Horizon. Sit at the open-air fire pit and enjoy a farm-to-table menu highlighting the best of Coastal Virginia cuisine.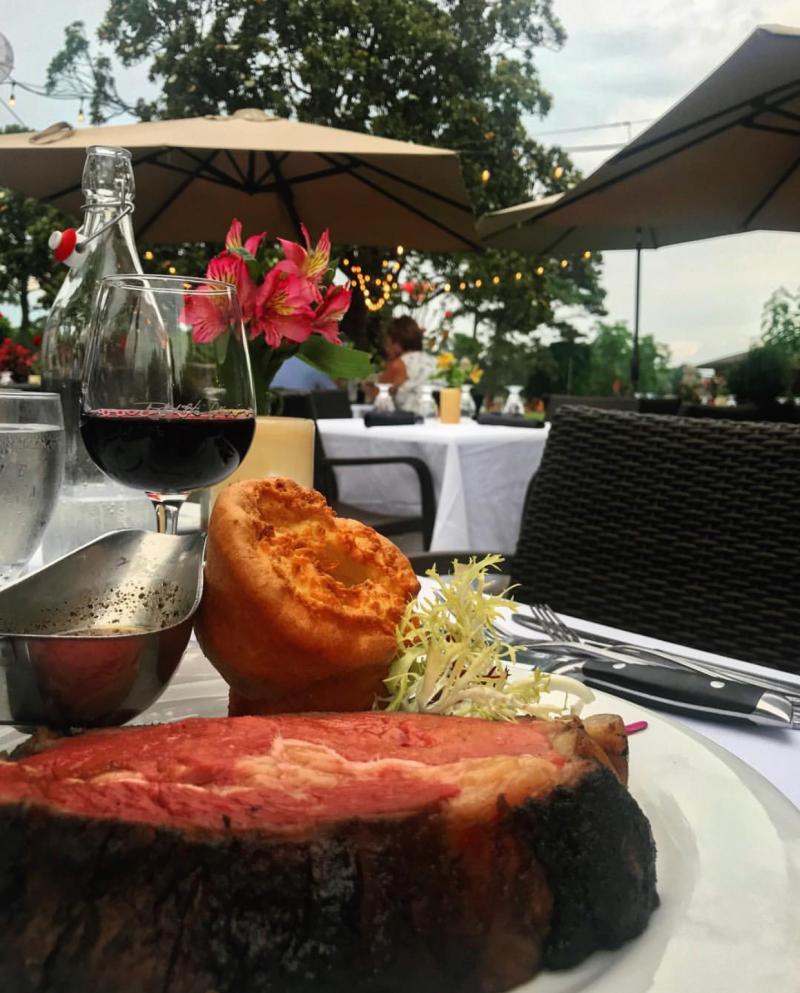 @lalalarson, Instagram
Opening their doors in 1939, Steinhilber's is the oldest family-owned restaurant in Virginia Beach, and for good reason. While their huge outdoor patio, with fire pits, string lights, and water views was added fairly recently, it has only added to the grandeur and elegance of this Virginia Beach staple, who also gets our vote for best-fried shrimp in the area.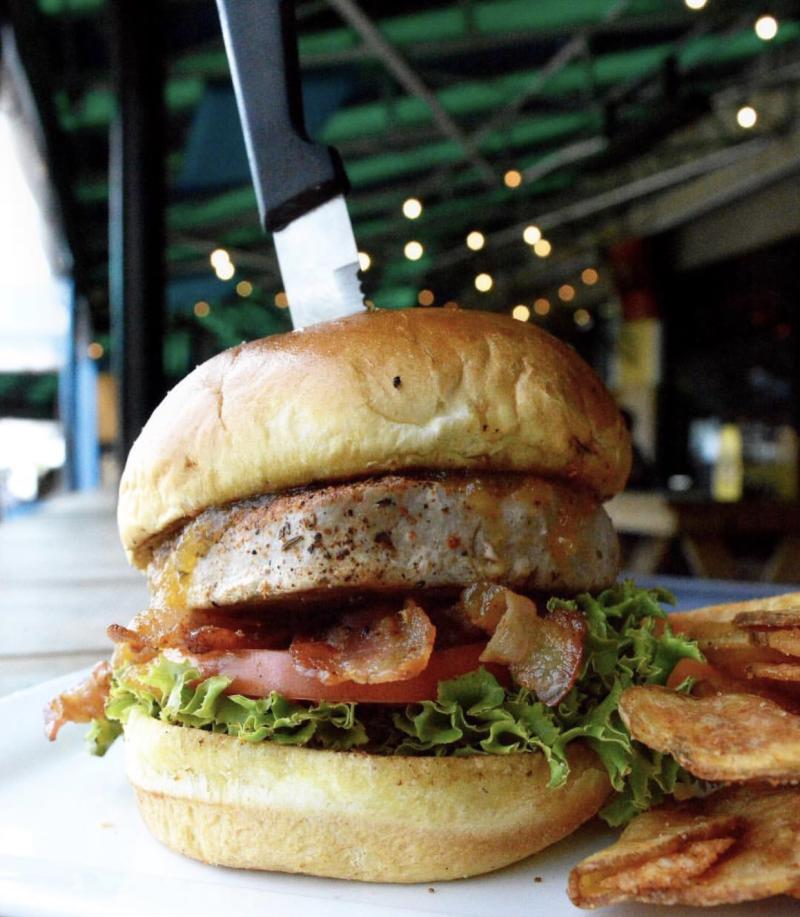 @calypsovb, Instagram
Serving up fresh seafood and great cocktails at the Virginia Beach Oceanfront, Calypso Bar & Grill boasts the largest covered patio at the beach. Their outdoor seating comes with panoramic oceanfront views provide the perfect backdrop for a regular lineup of some of our favorite Va Beach bands.

@murphysvb, Instagram
This popular Irish pub at the Oceanfront offers a festive bar menu (try their Irish Wake cocktail with white rum, gold rum, blue Curaçao, Fresca, and fresh squeezed OJ), delicious food, including traditional Irish dishes. Come on a nice night to sit outside on their new patio with fireplace tables and weekly live music.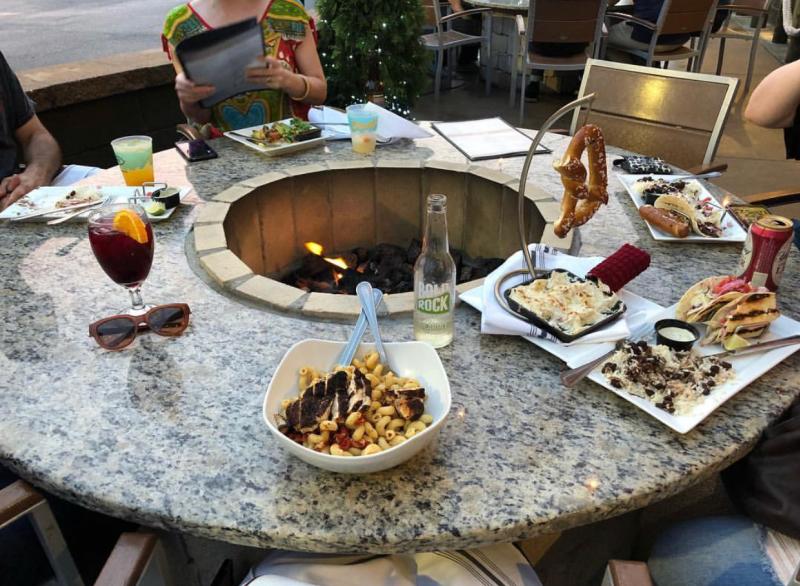 @vb_native, Instagram
After the sun goes down, treat yourself to a cocktail and a show at Hot Tuna, a local favorite with delicious seafood that is matched only by their fun atmosphere after dark. Enjoy it at their outside bar by the warmth of their fire pit tables. Popular local artists perform at Hot Tuna every Wednesday, Thursday, Friday and Saturday nights.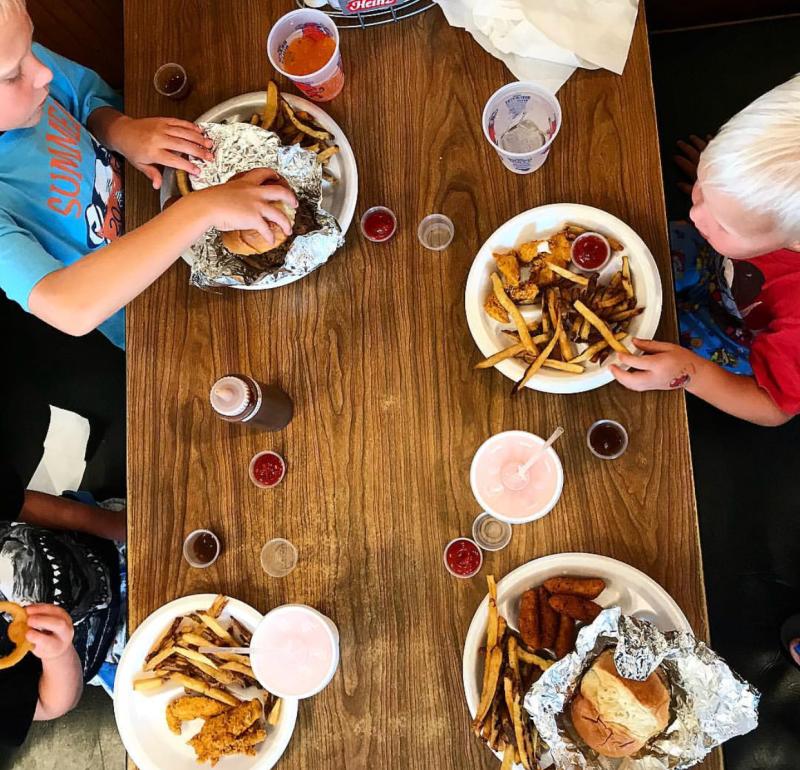 @tessa_duquette, Instagram
The original Beach Bully opened in 1986 at the Oceanfront, and they've been an area staple ever since. Their outdoor seating includes picnic benches that pair perfectly with their Carolina-style barbecue - which uses a vinegar-based sauce, that is tangier than traditional BBQ. Try the Carolina-style pulled pork sandwich to start. Although it comes on the side, we suggest adding the coleslaw directly on to the sandwich – trust us on this one.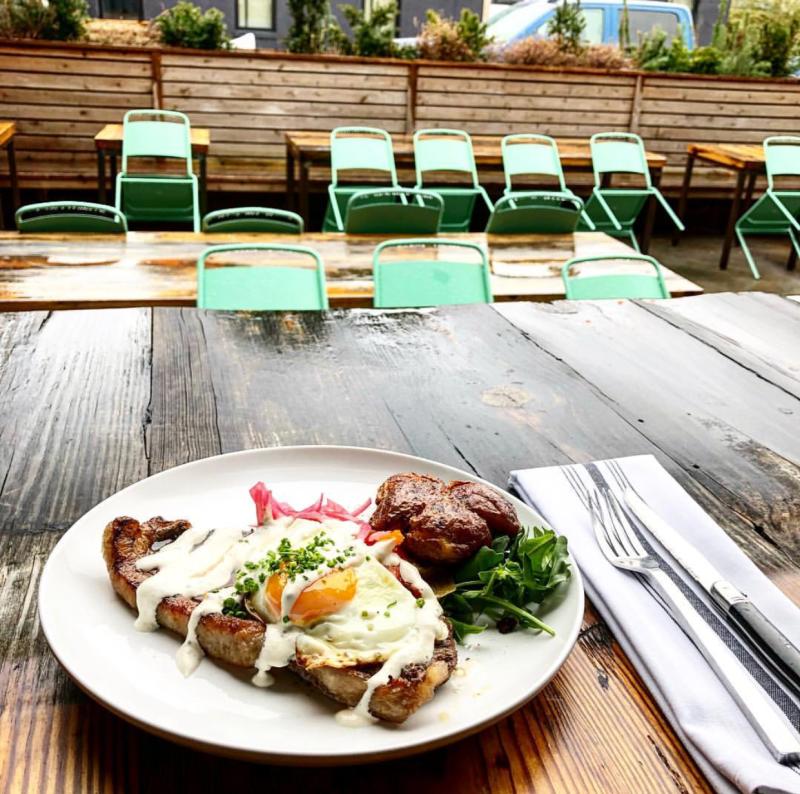 @helloimlost, Instagram
Nestled within the ViBe Creative District and housed in a 1920s-era building on the Virginia Beach Historical Registry, Esoteric is serving up European-influenced fare using local ingredients, many of them sourced from its on-site garden, which it shares with Commune. The outdoor seating is draped in string lights and overlooks the garden. How's that for knowing where your food came from?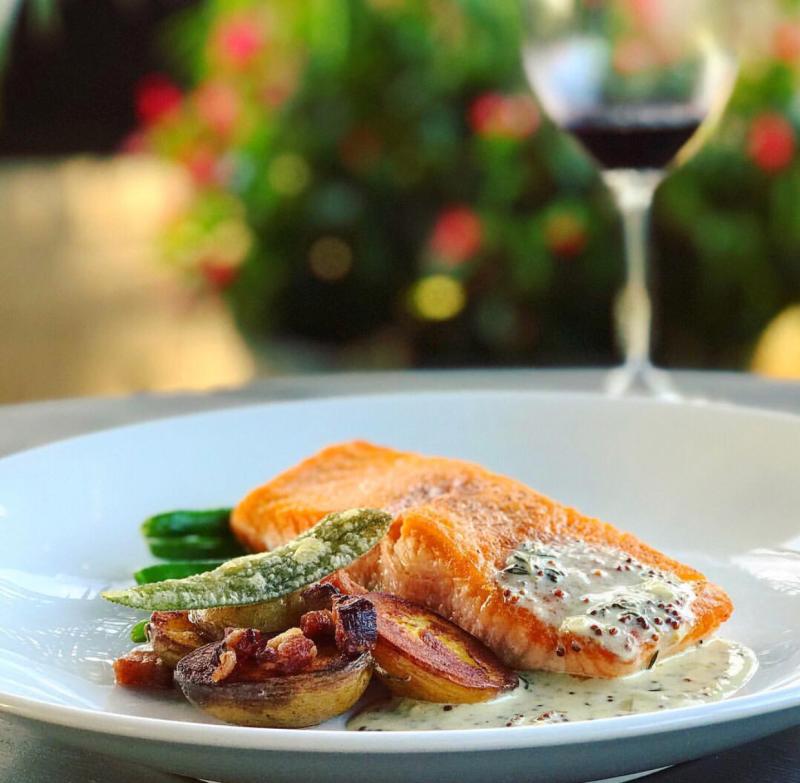 @jdavidhillery, Instagram
This James Beard-recognized, AAA Four-Diamond restaurant, is serving contemporary American Cuisine with a creative use of locally sourced, seasonal farm-fresh ingredients. The restaurant, which has been credited for launching the farm-to-table movement in Virginia Beach, offers a warm, elegant dining room with an open view into the kitchen, as well as a large, covered patio perfect for high-end dining outside, rain or shine.
Located right off of the boardwalk, the outdoor seating here comes with a side of ocean views. Wash it down with a local beer from their large selection and one of their can't-miss burgers. Try the Lager Heads Pale Ale, brewed especially for them by the local brewmasters at Smartmouth Brewing.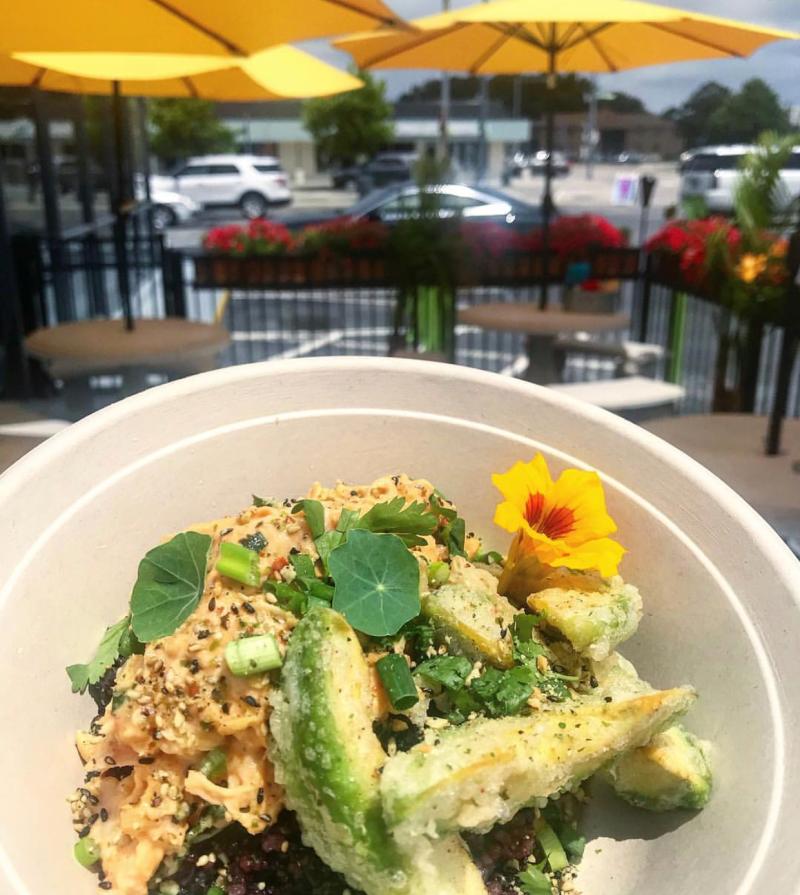 @alohasnacks, Instagram
For laid-back, Hawaiian vibes that will have your taste buds singing, stop in or ride your beach cruiser through the pick-up window of Aloha Snacks at the Virginia Beach Oceanfront. This place fast casual dining spot offers an unbeatable local vibe with a Hawaiian-inspired menu that you have to try. Their patio is a great place to enjoy a local beer, some of our favorite local burgers or poke, and regular live music.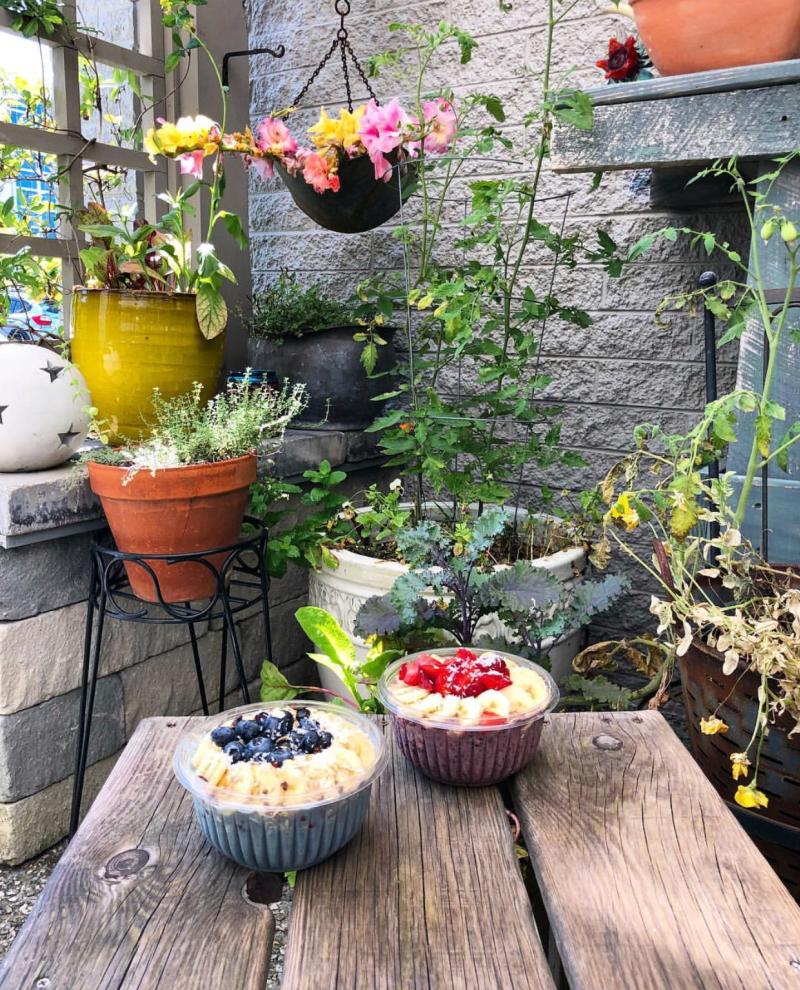 @thegreencatva, Instagram
The outdoor patio at The Green Cat Cafe is adorned with a vine-covered pergola and surrounded by a garden variety of potted flowers and plants for a charming place for your morning made-to-order juice like Gingerella, with ginger, pineapple, and wheatgrass, or Moon Mylk, with cashews, dates, alkaline water, cinnamon, vanilla, and Himalayan salt.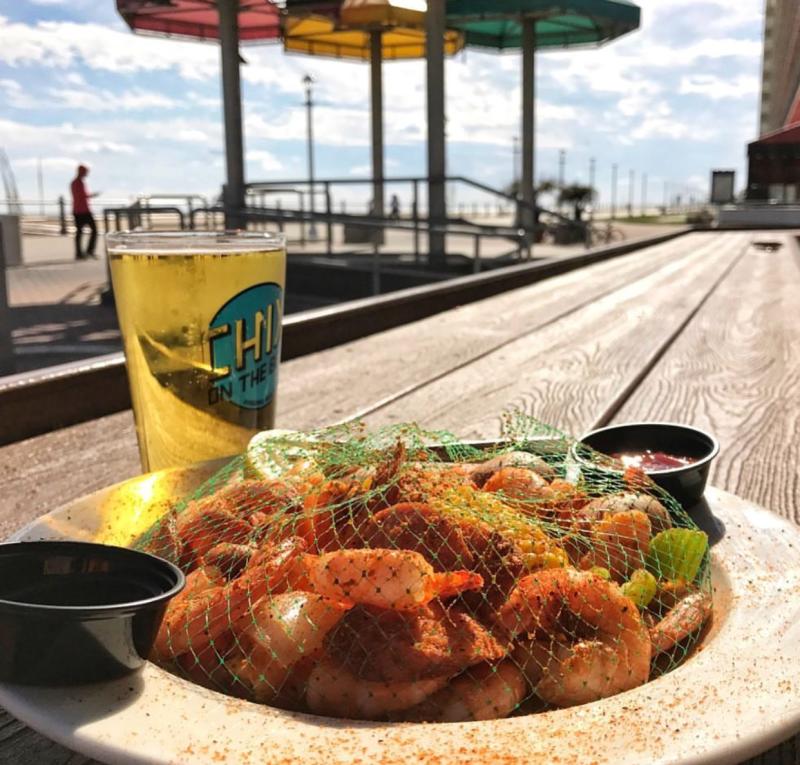 @chixvb, Instagram
Chix is one of the Oceanfront's most popular spots, and the ocean views and ample outdoor dining are a big reason why. With the classic Orange Crushes for which Waterman's is known, and a menu of local classics like the Surf N' Turf Shrimp Tacos or the Atlantic Feast of jumbo shrimp, a jumbo lump crab cake and fried fresh fish, is the perfect pairing of the old and the new.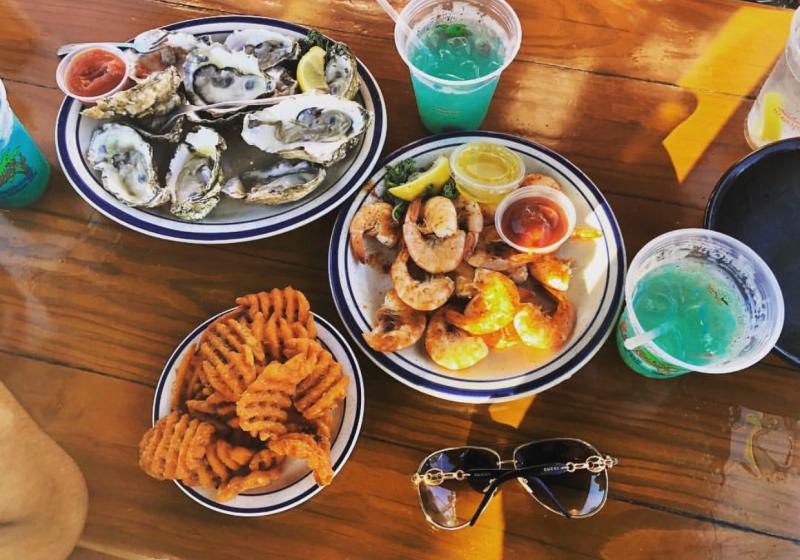 @vanja__s5, Instagram
Nestled within the Rudee Inlet, Rudee's is instantly recognizable by their open-air Cabana Bar and outdoor dining, a haven of outdoor seating known for the unique gliding tables overlooking the inlet and marinas. The Cabana Bar is a full-service outdoor bar that serves local brews and signature cocktails around fire-pit tables, meaning on nice nights you may want to get there early because they fill up fast.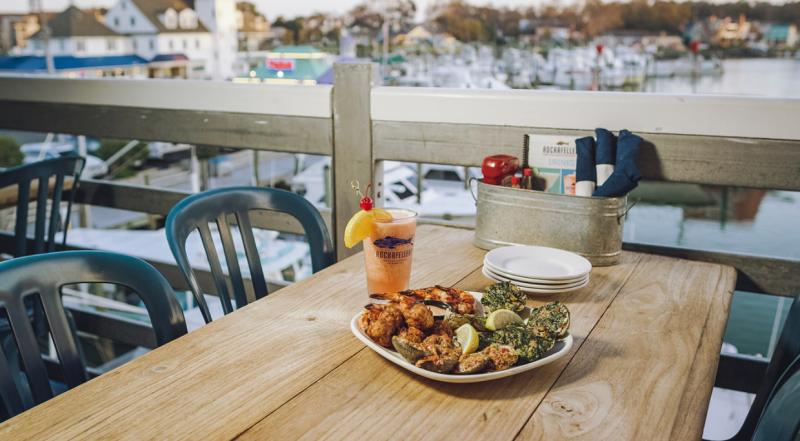 @vacationchannels, Instagram
Located at the far end of the Rudee Inlet, Rockafeller's offers some unbeatable views of the marina. This family-owned Va Beach staple works with local fishermen, oystermen, and farmers for food that is unmatched in freshness and in flavor.
@virginiaflair, Instagram
Mermaid Winery is the first urban winery in the state of Virginia, with their grapes sourced from premier vineyards in Virginia and California. They also have over 800 wines from around the world that you can taste, too. Mermaid's huge covered patio, with fire pits, couches and cafe tables, pairs perfectly with an easy-drinking glass of vino or a dessert sampler on a nice afternoon.  
While the delicious, locally-sourced options should be enough to bring you in to try this long-time Shore Drive staple, the eclectic decorations and art-adorned pergola at Leaping Lizard is some of the best patio-dining in town.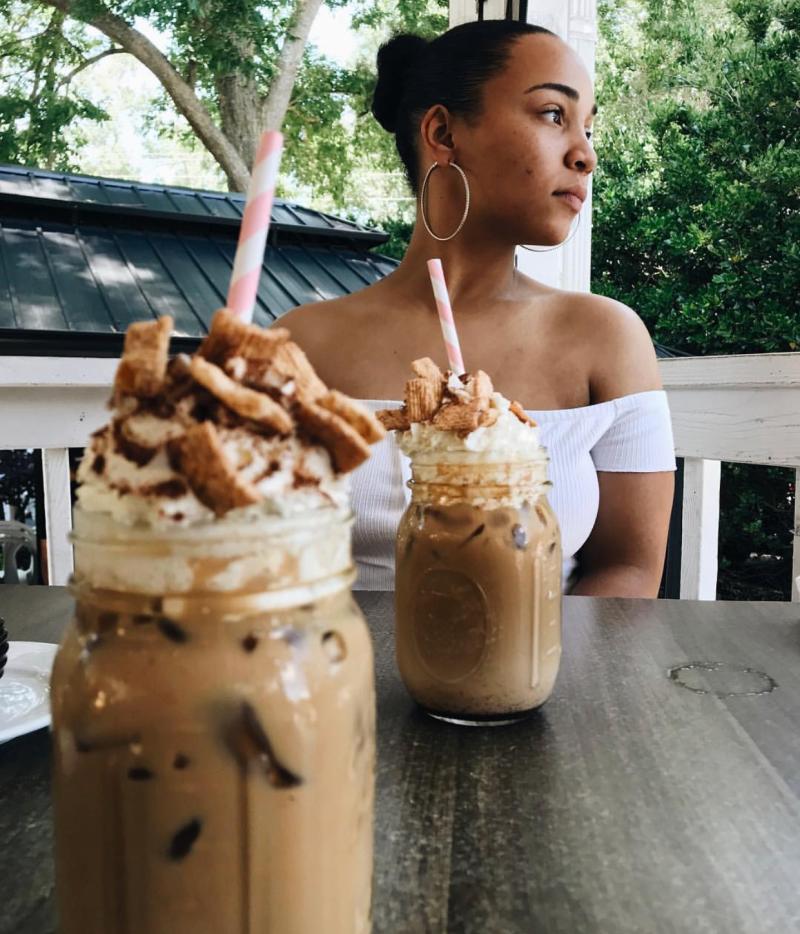 @soldierisreal, Instagram
Operating out of a charming 1919 cottage in Pungo, The Bee & the Biscuit is one of our favorite places to go for a hearty southern breakfast. It's no wonder their house-baked items, local flaky, buttery biscuits and Fresh Pie of the Day are an absolute must. Their new garden patio, with both covered and uncovered seating, overlooks their lawn and really adds to their home-cooked vibe.