Wedding Locations in Virginia Beach
Wedding Locations in Virginia Beach
Virginia Beach has been home to life-long unions ever since the ocean first met the shore. Whether you're looking to share your nuptials with sunbathing onlookers or prefer a more private setting, Virginia Beach vows to be your ultimate wedding destination.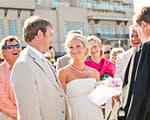 The Resort Area
Tap into the energy of the bustling oceanfront area, and make your wedding a lively event in the resort area. With a wide variety of hotels and restaurants to choose from, there are lots of possibilities here. 
Find Resort Area Hotels Here

 

 

Virginia Beach Convention Center

For a wedding that combines the best of our coastal locale with the elegant details of a carefully planned event, the spectacular Virginia Beach Convention Center is the place. Special wedding reception packages (PDF) are available.

 

 

Chesapeake Bay Beach

The sun sets over the Bay, making Chesapeake Bay Beach a most romantic setting. Hotels, restaurants, a beautiful state park and more make planning your wedding easy. 

Find Chesapeake Bay Beach Hotels Here

 

 

 

Sandbridge Beach

Along Virginia Beach's southern shore, quiet beaches and pristine sand dunes make Sandbridge Beach a lovely place for your wedding ceremony. Be it a beach house rental or an outdoor nuptial at Little Island Park, it's a beautiful way to start your life together. Celebrate your reception at one of Virginia Beach's premiere wedding reception venues.  

 

Croatan

Just south of the Resort Area, Croatan offers a quiet spot for a private ceremony, just a short distance from hotels and restaurants along the oceanfront. Rent a house, organize parking for guests and let nature take care of the rest! Continue the celebration at one of Virginia Beach's unique wedding reception venues.

 

The North End

Secluded and beautiful and hidden from the hustle and bustle of the Resort   Area, the North End abounds with natural beauty. This pristine beach is perfect for your wedding ceremony and is conveniently located to many of Virginia Beach's premiere wedding reception venues.  

    

 

Town Center

Cosmopolitan atmosphere with a coastal twist, Town Center offers a wide array of dining, accommodations, wedding facilities and entertainment options for your wedding event.

 

Virginia Aquarium and Marine Science Center

Make your wedding an event of epic proportions at the Virginia Aquarium. With thousands of aquatic guests in attendance and a variety of indoor and outdoor event spaces, your wedding will surely be one to remember.

 

 

Museums and Unique Locations

In Virginia Beach, we know a thing or two about unique destinations. If you're looking to escape the traditional and dive into a new way of nuptials, let Virginia Beach recommend a few unique locations to make your big day memorable.