Virginia Beach Wedding Planning Guide
The Ins and Outs of Your Beach Wedding
Virginia is for lovers, and that is especially true here in Virginia Beach! Our miles of public beaches, numerous City parks, and gardens are in great demand by people like you who want to pledge their love for one another in pretty, romantic settings. When planning a wedding on City property in Virginia Beach, there are a few things that need to be considered:
What You Need to Know
If you'd like to reserve a portion of the resort public beach for your wedding, a Beach Wedding Permit may be obtained. Permits and permit guidelines can be found here.
Every marriage in the Commonwealth requires a marriage license. To download an application, locate the Circuit Court Clerk's Office, and learn what's required.
If a small (fewer than 150 participants) ceremony can remain accessible to the general public and doesn't require reservation of a specific area, it is more likely that it can be accommodated in the resort area. A simple ceremony is one which requires minimal equipment and set-up. For more information on City rules and regulations, read our beach wedding guidelines.
Weddings are prohibited on the boardwalk.
As a rule, private receptions are not allowed on public property in the resort area. However, they are permitted at oceanfront establishments with a Special Event Permit enabling them to hold events on public property adjacent to their business.
There are plenty of great restaurants and hotels to consider as the site for your reception. In addition, you may wish to contact the Parks and Recreation Office at (757) 385-0465 for a suitable venue.
Virginia Beach Resort Area Specifics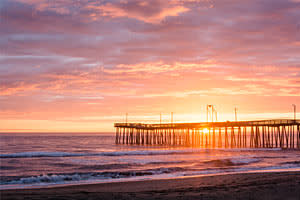 Space cannot be reserved for private events in Oceanfront Parks from June 15 through Labor Day. For events of this nature occurring outside of these dates, please note that the general public admittance cannot be restricted.
Parking is limited.
Commercial deliveries are only permitted with a Beach Wedding Permit.
Alcohol, glass and open flames are prohibited.
Amplified sound at a reasonable decibel level is only permitted with a Beach Wedding Permit.
There are numerous activities including beach cleaning, construction, public events, etc., that occur throughout the year in a variety of locations in the resort.
The boardwalk or beach access cannot be impeded by the event.
Unsecured helium balloons and rice are prohibited due to environmental risks.
Decorations (that must be secured to City property), tents (greater than 100 sq. feet and/or commercially installed), archways (that must be commercially delivered/installed) etc., are only permitted in the resort area with a Beach Wedding Permit. Items that can be hand-carried, such as chairs, can be used in most areas without a permit barring other restrictions.
Virginia Beach Parks & Recreation Specifics
Call Virginia Beach Parks & Recreation's Weddings in the Park Office at (757) 385-0465 for more information about the gardens and park venues that appear to be created just for your perfect day!
Virginia Beach Parks:
Once you decide which park is right for your special day, contact the Parks Office directly for more information.