First Landing State Park
First Landing State Park is a 2,888-acre park that fronts the Chesapeake Bay and features 1.25 miles of beach and more than 19 miles of interpretive hiking trails through protected salt marsh habitat, freshwater ponds, beach, dunes, forest, tidal marsh and cypress swamp. A registered Natural Landmark, First Landing is the most visited state park in Virginia and contains one of the most endangered habitat types in the world, the maritime forest community.
On April 26, 1607, some 100 English settlers landed here and established the first elective government in English America before pushing up the James River to establish Jamestown.
This historic event is reflected in the name of Virginia's most visited state park. Along with its historical significance, the park offers opportunities to explore a unique habitat featuring lagoons, large cypress trees and rare plants. More than 19 miles of hiking trails wind through the natural area, guided kayak ecological tours allow exploration of the marshes and bays, and the visitor center exhibits explain much about this coastal environment. Cabins, campsites, picnic areas, a swimming beach, boat ramps, kayak rentals and tours, and a bicycle trail are offered in the park.

Park Amenities & Things to Do
Jump To
Fishing & Boating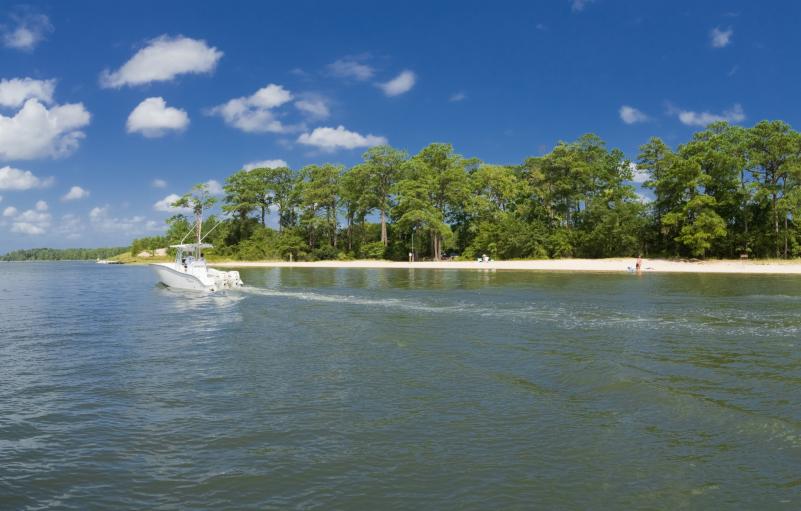 Fishing and crabbing are popular from the Narrows located between Broad Bay and Linkhorn Bay. A valid Virginia saltwater fishing license is required. Annual parking-launching passports are available by calling (800) 933-PARK.
Motorboats and other small craft may be launched from the Narrows boat ramp located at the 64th Street extension in the park southern area. Facilities include the use of launching ramps, parking for cars and boat trailers and restrooms. No swimming in the Narrows or at boat launch. No motorboat rentals available, however, kayak rentals are available on in-season weekends.
Camping & Cabins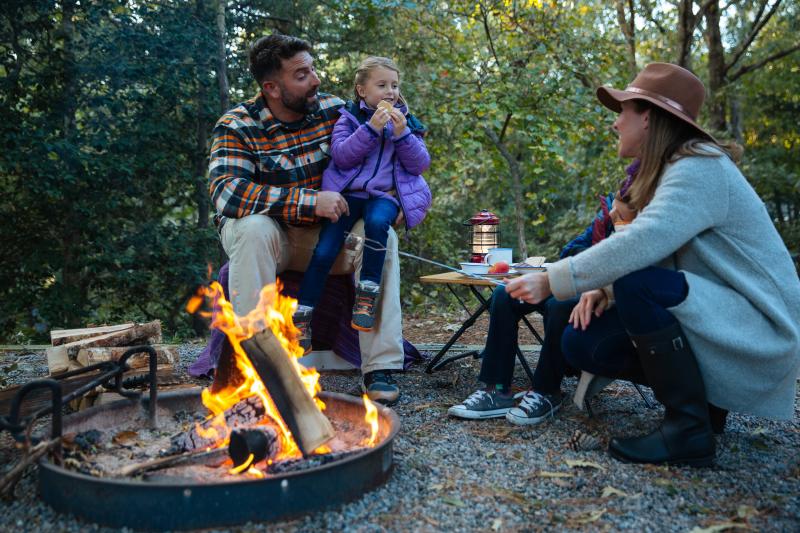 Rental rates for cabins and camping vary by season, offering and park. Rates are subject to verification by DCR's state parks reservations staff (800) 933-PARK. First, determine the appropriate season, which can vary by park, then the relevant rate.
Concessions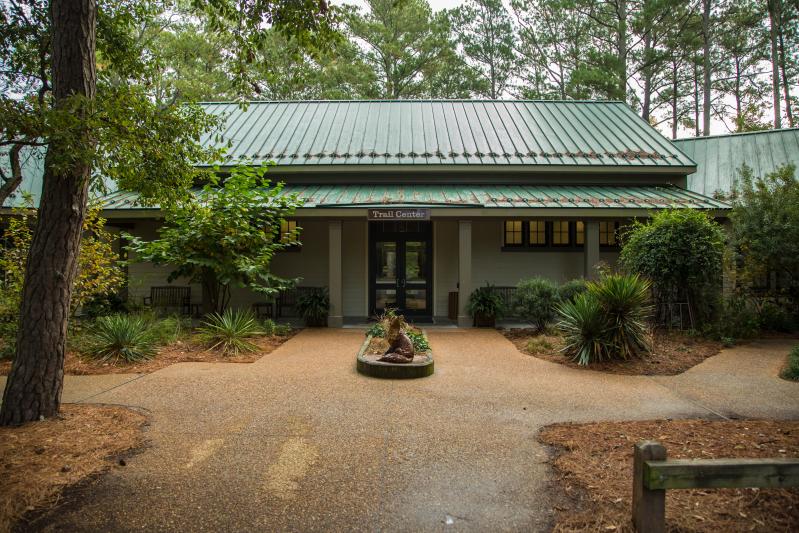 The Bay Store has a variety of groceries, snacks, camping supplies, firewood and outdoor recreation supplies. Concessions operate daily with the following schedule: Mid-April to Memorial Day, 9 a.m. - 9 p.m.; Memorial Day to Labor Day, 10 a.m. - 11 p.m.; hours vary from Labor Day to Mid-October. The store also rents bikes, fishing equipment, and crabbing gear, and sells bait, souvenirs, cold sandwiches, hot dogs, nachos, and T-shirts.Laundry: A laundry facility with washing machines and large capacity dryers is available in the park. Soap, other laundry products, and change are available at the Bay Store.
Nature & History Programs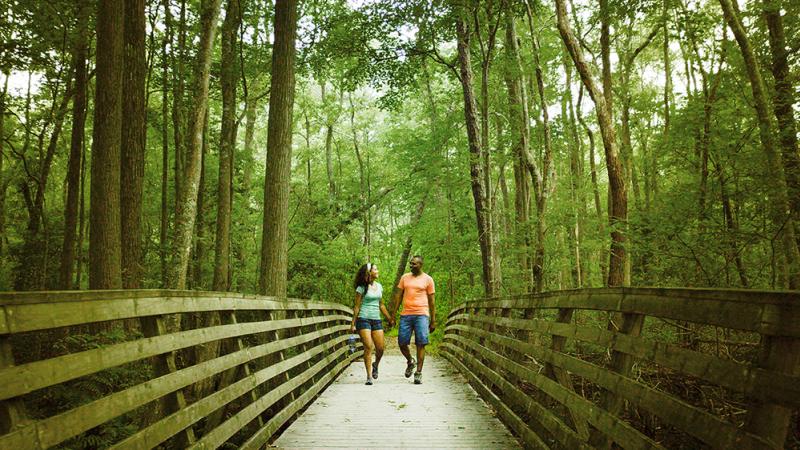 The park offers many various self-guided and guided programs that cover crabbing, junior rangers, beach walks, nature hikes and structured environmental education programs. Large clubs, school groups, and community organizations can request specific historical, cultural and environmental programming related to their educational goals. The park participates in Virginia's State Parks: Your Backyard Classrooms, a 40-activity curriculum guide used by K- 12 teachers and home-school coordinators. Call the park for more details.
Trails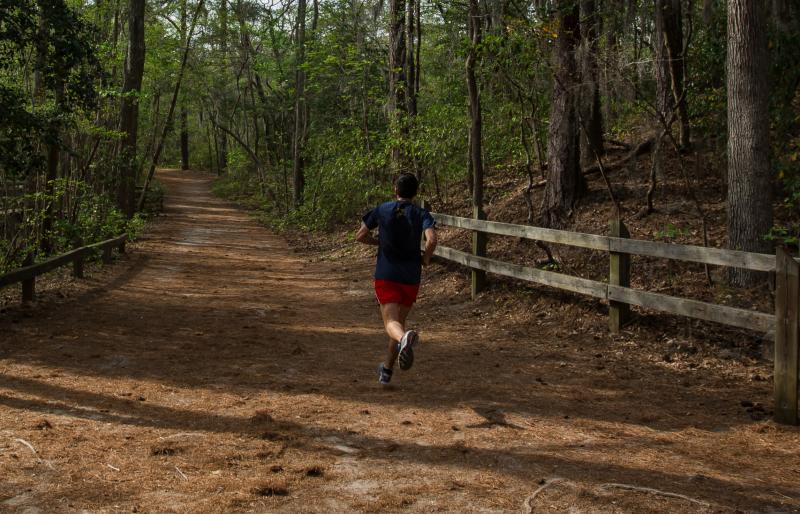 Hiking, bicycle, and self-guided trails. Nine walking trails total approximately 19 miles. The most popular, the first section of the Bald Cypress Trail, is one-mile, crosses dunes and ponds and is handicapped accessible. A brochure for the self-guided tour is available at the Trail Center. Trail walks are conducted by interpreters throughout the year, and trail guidebooks are available in the Trail Center. Bicycles allowed on Cape Henry trail only. The park's Bay Store rents bikes.
Picnicking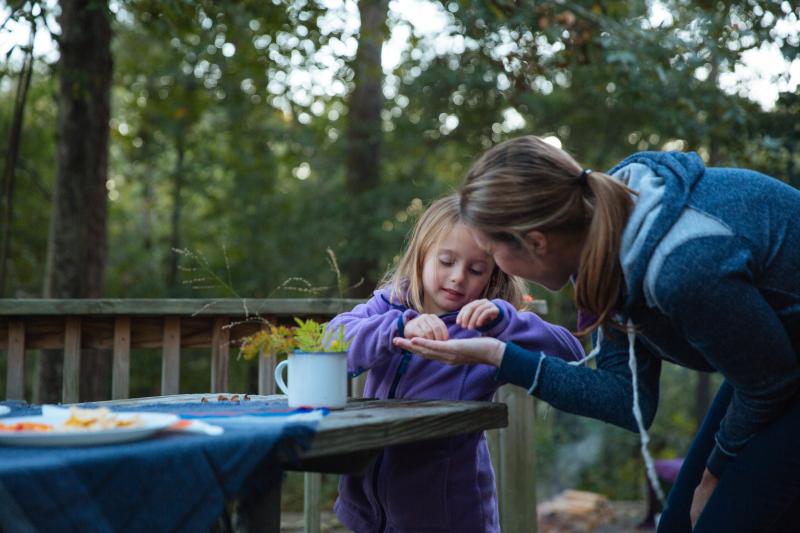 The picnic area is equipped with drinking water, fire grills, refuse disposal, tables and restroom facilities. A large picnic shelter is available for rent on a first-come, first-served basis by calling the Reservation Center at (800) 933-PARK
Search Visit Virginia Beach Blog