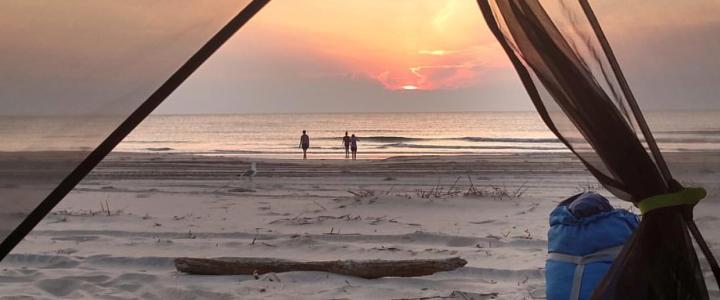 For those who long to lace up their hiking shoes, paddle through the ocean's waves or sleep under the stars, nature's gifts await in Virginia Beach. Although our coastal city has long beckoned sunbathers and sandcastle-builders, Va Beach is a wonderland for sports enthusiasts and nature lovers alike. From water sports and hiking to zip-lining through the trees, there's no shortage of ways to experience the great outdoors in Virginia Beach.
Water Sports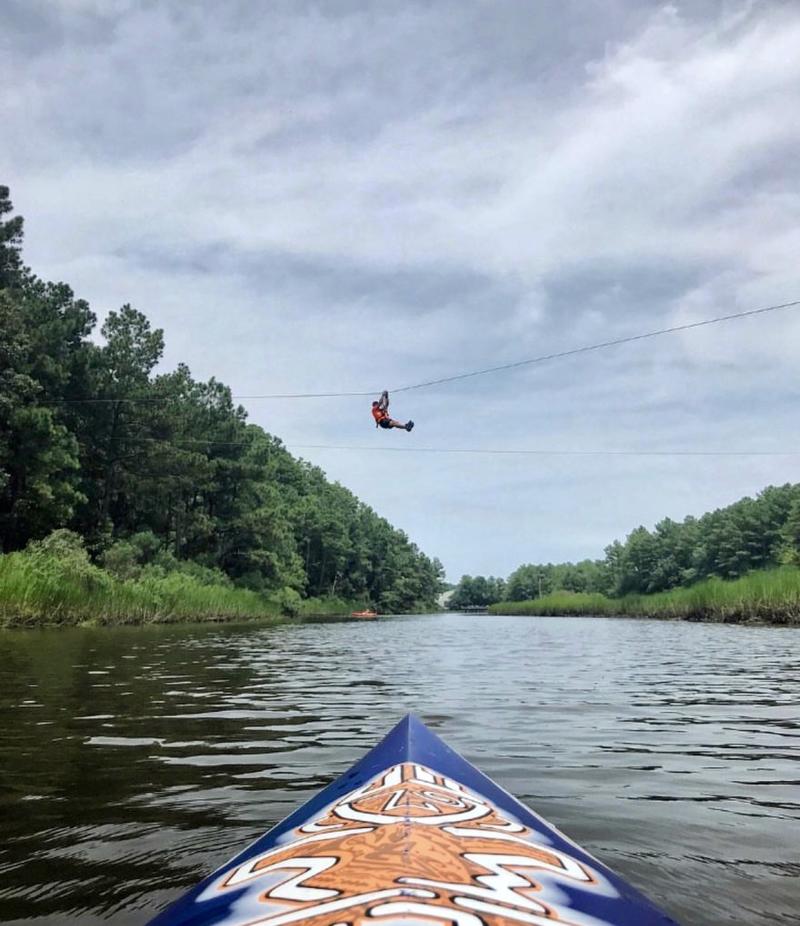 @paddlegirl_, Instagram
Kayaking, swimming, surfing, paddle-boarding, jet-skiing, parasailing, and boating are all available in the Atlantic Ocean and the Chesapeake Bay, as well as a variety of other waterways, including Back Bay and the Lynnhaven River. Recreational equipment can be rented from various companies near the beaches, while several outfitters also offer surfing camps for those wanting to learn this classic coastal sport.
From May through October, thrill-seekers can get up close and personal with bottlenose dolphins, which feast in the rich waters of the Chesapeake Bay year-round. Hop aboard a  guided kayaking excursion to where the Chesapeake Bay's waters meet the Atlantic Ocean, the dolphins' favorite spot for a frolic between feeding grounds, for an incredible photo opportunity and an unforgettable experience.
Ziplining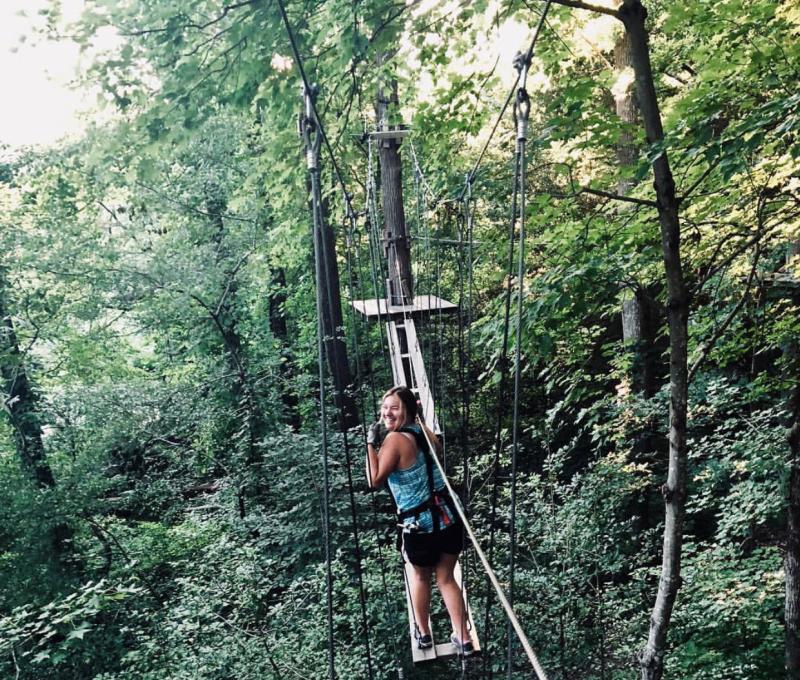 @tribble2000, Instagram
The Adventure Park at Virginia Aquarium is the largest of its kind in Virginia and features multiple zip lines and aerial ropes challenge courses, perfect for thrill-seekers ages five and up. Zip through the air, up to 150 feet up, through a variety of leveled courses. Look up to see platforms in the trees connected by cables, wood and rope, that are forming bridges. Climb from bridge to bridge and experience a variety of challenges, outdoor fun and self-discovery.
Located just down the road from the Adventure Park, our newest treetop adventure, Adventure Works Wetland Zipline Park, is offering a more traditional ziplining experience to guests of all ages. Guests will enjoy nine zip lines, up to 1,000 feet in length, including their popular tandem zip line, all nestled within 60 acres of maritime forests in the Oceanfront area. 
Hiking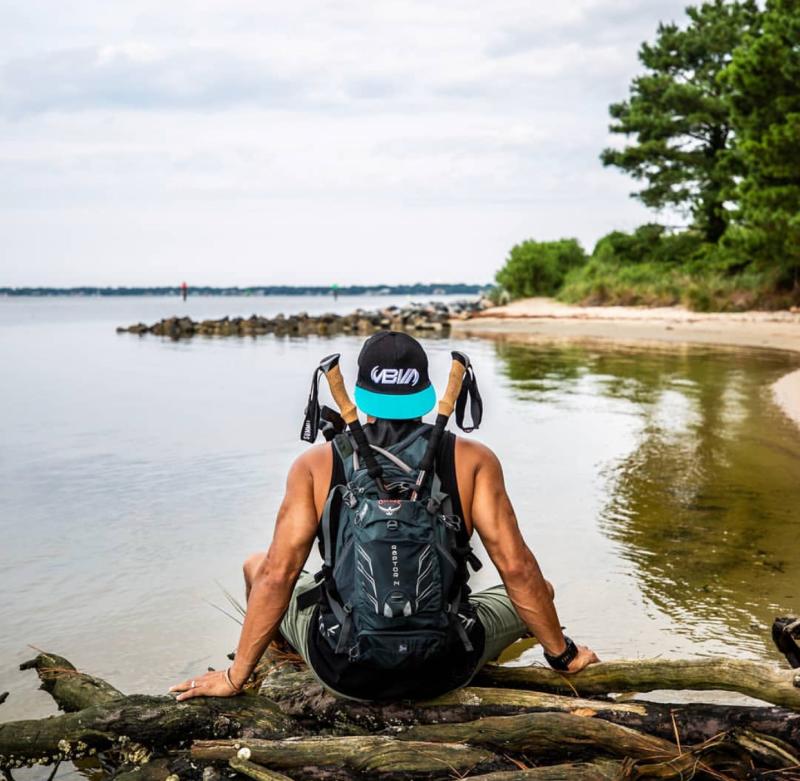 @kalifornia002, Instagram
The First Landing State Park trail center, accessed through the park's south entrance off of Shore Drive, is the main hub for accessing the nine trails running through the park's seven distinct ecosystems, including the Cape Henry Trail. This six-mile trail is the park's longest, stretching from the northern border to southernmost entrance off of Atlantic Avenue, and is the only trail accessible to both hikers and bicyclists. For a scenic hike through the enchanting cypress swamps, Bald Cypress Trail offers a 1.5 mile loop, including several boardwalks and platforms overlooking the low wetlands, making for several great photo-ops.
South of the Sandbridge area of Virginia Beach, the 4,321-acre False Cape State Park, is another great option for hikers, especially those seeking more of a challenge. With 15 hiking and biking trails, varying in length and ranging from easy to difficult, there are many ways to explore one of the last remaining undeveloped areas on the east coast. The longest, and most difficult trail, Sand Ridge Trail, is 6.2 miles and takes both hikers and bikers from near the entrance of the park all the way down to the North Carolina state border. For the dedicated outdoorsmen, we'd recommend navigating the entire 15.3 miles of trails in the park, where you will experience beaches of both an ocean and a bay, dunes, maritime forests, marshes, and wooded swamps, all in one visit. 
Tent, Cabin, and RV Camping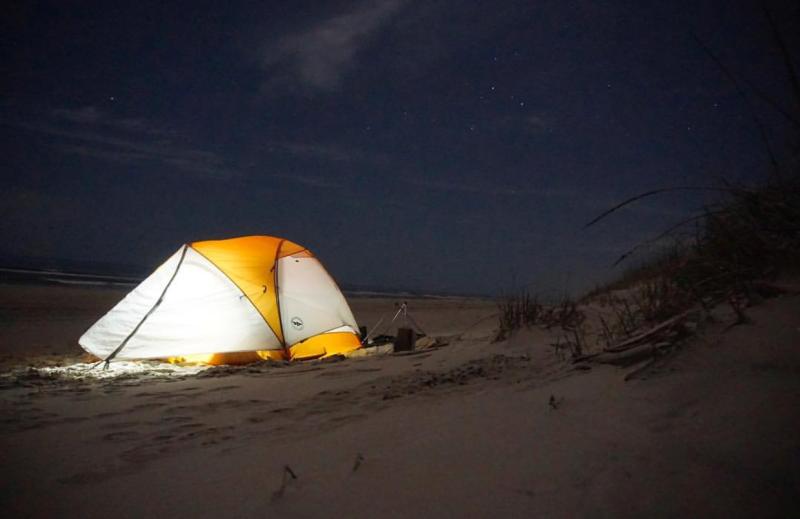 @tcraven92, Instagram

Virginia Beach is home to five campgrounds containing more than 1,800 campsites and nearly 70 rustic cabins, with amenities including restrooms/showers, guest laundry, bicycles, playgrounds, pools and boat ramps. 
First Landing State Park offers tent, RV and cabin camping accommodations. The park has campsites both with and without water and electrical hookups and comes equipped with a picnic table and fire-grill. All tent and RV sites are located just steps from the Chesapeake Bay, offering campers close to water access.
False Cape State Park features 12 primitive camping sites and an extensive environmental education program. There are no cabins, but campsites are open year-round and are located in four main areas – Barbour Hill Bay, Barbour Hill Ocean, False Cape Landing Bay and False Cape Landing Ocean. 
Holiday Trav-L-Park, located just a few miles from the Virginia Beach oceanfront, offers campers 830 campsites for motorhomes, trailers and tents, as well as 44 cabins dispersed throughout 100 wooded acres. The campground features four playgrounds, a miniature golf course, basketball and volleyball courts, horseshoe pits and other fun activities to keep campers entertained.  
A few other campgrounds in Virginia Beach include Virginia Beach KOA, North Landing Beach Campground and North Bay Shore Campground. 
Biking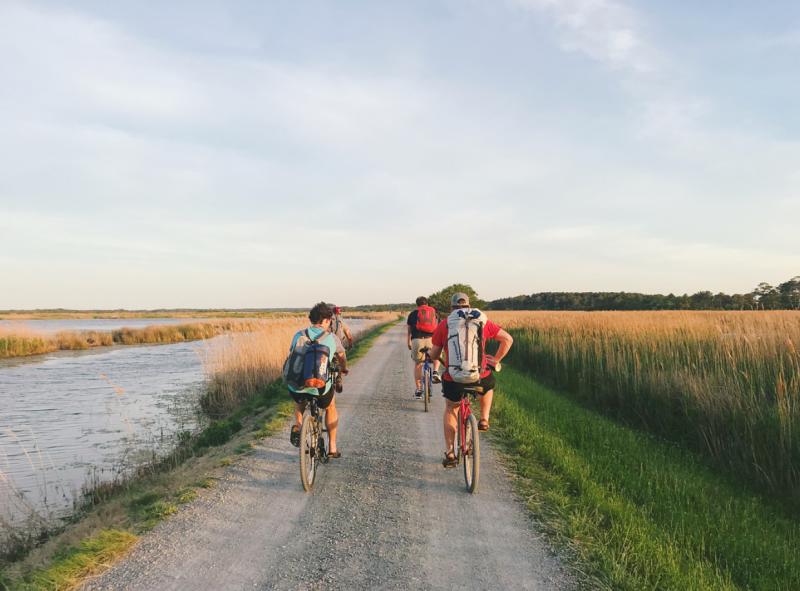 @bettymichels, Instagram

With miles of bike-friendly trails through a variety of landscapes, Virginia Beach is a cyclist's paradise. From over 100 miles of trails between our state and city parks to our 3-mile bike-friendly boardwalk, no two biking experiences are the same in Virginia Beach. While it's hard to go wrong with any of these trails, there may be no better view than biking along the water's edge and the wide tires of a fat tire bike make riding on the wet sand as easy as riding on pavement. When in the Sandbridge District, you can rent fat tire bikes from Surf and Adventure Company or Ocean Rentals LTD for a day spent exploring the beaches of Little Island Park and beyond in true local fashion.

Fishing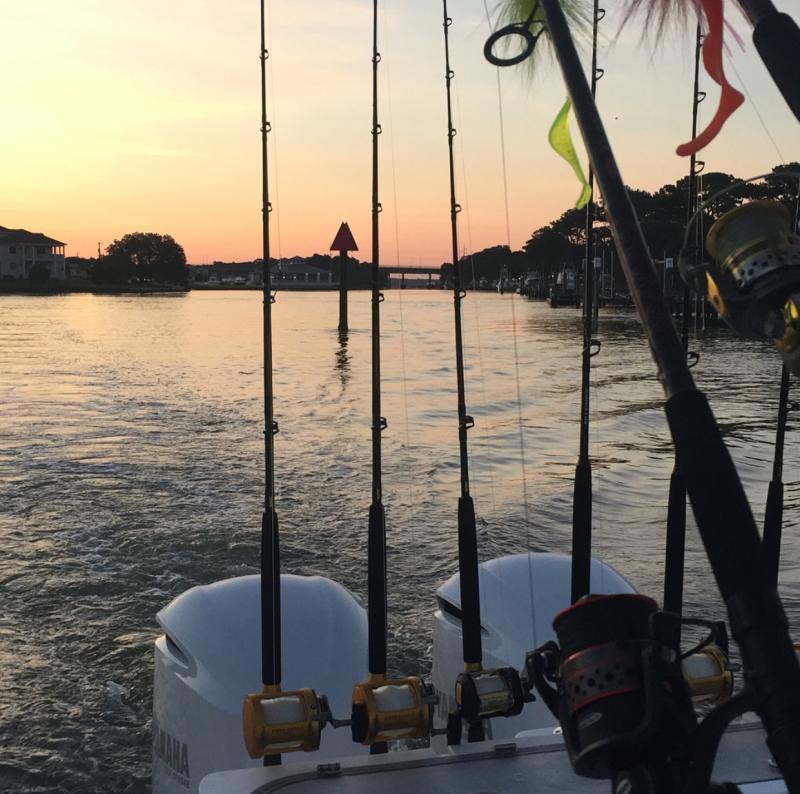 @joebrownvb, Instagram
Known as the "Rockfish Capital of the World," Virginia Beach and its neighboring waters are home to a multitude of freshwater, brackish and saltwater fishing opportunities. With the food-rich Chesapeake Bay adjoining the Atlantic Ocean in Virginia Beach, a long list of fish, including croaker, spot, flounder, striped bass, tautog, sea bass, trout, bluefish, skipjack, cobia, mahi-mahi, Spanish and king mackerel, puppy and red drum, yellowfin and bluefin tuna, white and blue marlin, amberjack and wahoo are abundant at various times of the year. Tow your boat and choose from several different ramp locations, or opt for a full or half-day private charter. Or, cast a line from one of the four fishing piers. In December, Virginia Beach holds the annual Waterman's Mid-Atlantic Rockfish Shootout, which is now the largest rockfish tournament in the country.
Horseback Riding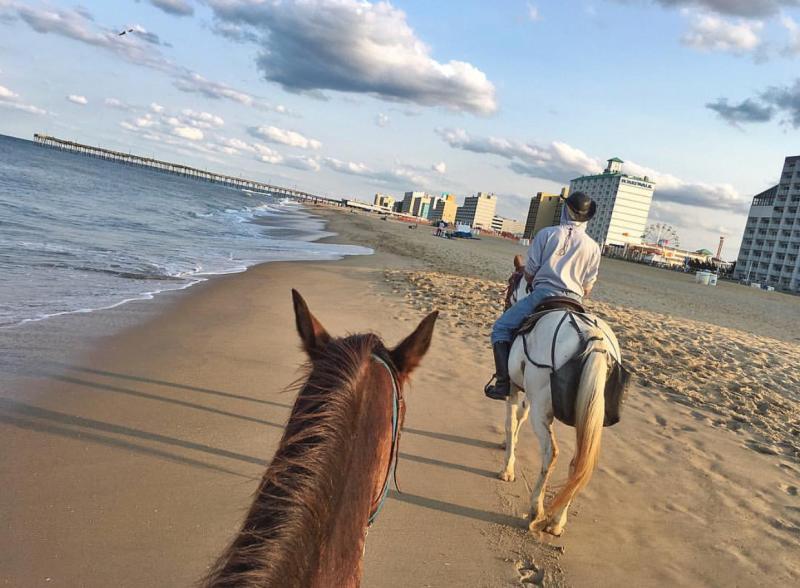 @gls_photos, Instagram
October through May is a prime travel time for equine enthusiasts visiting Virginia Beach. During the fall and winter months, riders can take to the sand on horseback and ride down the scenic shorelines at the Oceanfront and beyond. It makes for fun for the whole family or a romantic afternoon with your special someone. In fact, when ABC's The Bachelor visited us in Season 22, this is how Lauren and Arie kicked off their date. 
Virginia Beach Horseback offers guided rides along the surf during the fall, winter and spring months. All riders will be instructed on how to become one with the horse before setting foot in a stirrup, so all experience levels are welcomed.
Beyond the beach, experienced equestrians and first-time riders alike can explore nature throughout the city during guided trail rides year-round. 
Cover Image: @briar.nelson, Instagram