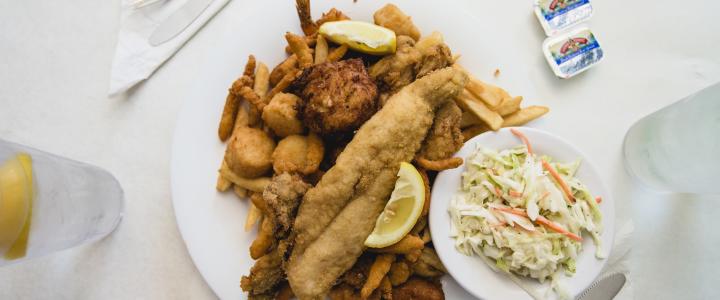 Our location on the southern tip of the Chesapeake Bay provides our coastal community with a seafood-centric culinary culture, which boasts a wide array of unique and delectable fare. With the famously rich waters of the bay, hundreds of inlets snaking through the city and miles of farmland, Virginia Beach is the place to go for seafood and locally harvested ingredients. With a seemingly-endless supply of great seafood, here are some local seafood restaurants you need to try.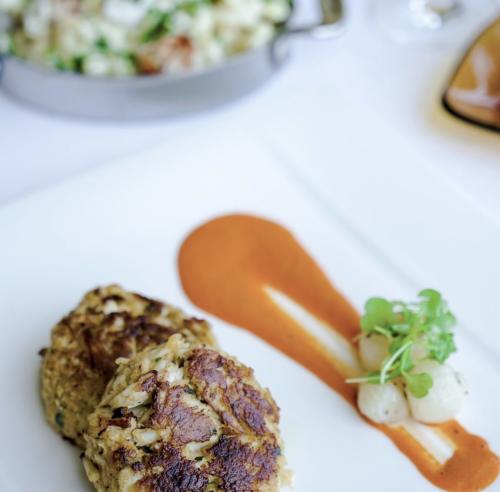 @salaciavb, Instagram
Salacia Prime Seafood and Steaks (AAA-rated since 2006), located within the Hilton Virginia Beach Oceanfront Hotel at the Oceanfront, is the only Four-Diamond steakhouse in Virginia, offering a refined and memorable dining experience, complete with the finest aged prime beef and delectable seasonally changing menu options.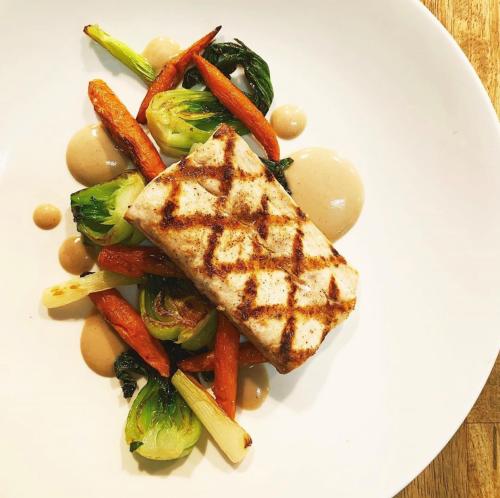 @terrapinrestaurant, Instagram
Terrapin Restaurant (AAA-rated since 2008), located at the Oceanfront, offers an intimate dining experience showcasing Chef Rodney Einhorn's award-winning and James Beard House-acclaimed contemporary American Cuisine and creative use of seasonal farm-fresh ingredients.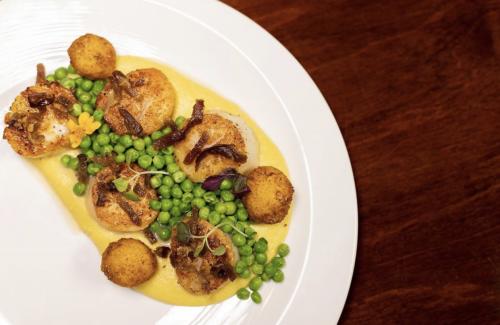 @zoesvb, Instagram
Zoës Steak & Seafood (AAA-rated since 2015) offers an elegant dining experience, influenced by local bounty. Zoes is also known for their wines and they have the hardware to prove it, including multiple consecutive years of Wine Spectator Magazine's Best of Award of Excellence. Their in-house sommelier is always available to help you find the perfect pairing or just to talk wine with you and answer any questions you might have. When it comes to pairing wine with unbeatable food, you can't beat this place.
@msashleymack, Instagram
The head-chef and owner of Blue has worked hard to build a reputation for preparing delicious, fresh seafood. The elegant, French bistro inspired décor creates an ambiance that complements the extensive menu. Blue Seafood and Spirits is a 60 seat Chef owned and operated local restaurant focusing on high quality, fresh, local seafood in a casual, yet elegant setting. They are best known for our award-winning crab cakes, tempura fried shrimp, fish dishes, and chocolate bread pudding. 

@eatwithashleyyy, Instagram
The Atlantic on Pacific, which is only a little over a mile from its sister restaurant, Eurasia, at the Virginia Beach Oceanfront,  offers a menu of small plates, mainly focused on the local seafood bounty. The upscale oyster and raw bar is the star of the show here, as well as the list of wines they have to pair expertly with the salty-sweet bivalves. Paired with their extensive collection of bubblies and a menu of cocktails crafted with house shrubs and their own homemade bitters, this place has everything any die-hard foodie couple could want.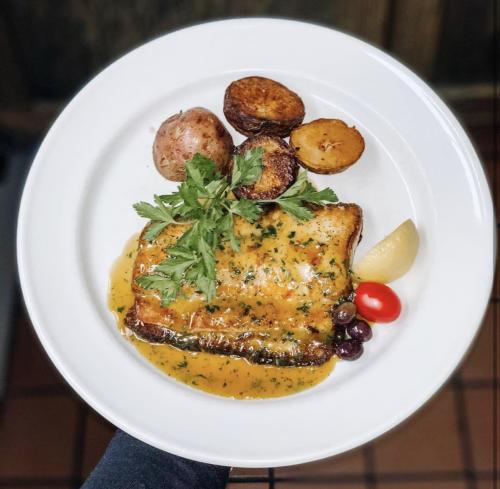 @coastalgrill, Instagram
Coastal Grill has been a local haven for fresh seafood done right since 1989, and consistently brings one of the area's best soft shell crabs to the table year after year. Fresh crab is lightly coated in a simple milk and flour coating, fried and served with their homemade scallion butter. Simple, crispy, and juicy. There's no bells and whistles here. Just great seafood, prepared perfectly.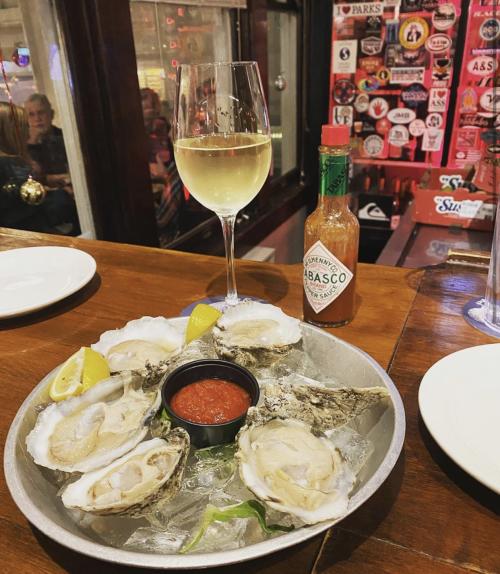 @christypoppy, Instagram
The Tautog's Restaurant concept was created in an effort to provide customers with a unique dining experience combining quality seafood products, with distinctive customer service in an inviting coastal area setting. Tautog's Restaurant is a casual dining establishment featuring exceptional fish and seafood entrée's soups, salads, sandwiches and desserts…served by the friendliest people in town.  Reservations are accepted for groups of 6 or more.

@rockafellersrestaurant, Instagram
Rockafeller's Restaurant, located at the far end of the Rudee Inlet, offers some of the best views in town, and they have the food to match. This family-owned Va Beach staple works with local fishermen, oystermen, and farmers for food that is unmatched in freshness and in flavor. While it may seem obvious, their Oysters Rockafeller, baked with cheese, spinach, and bacon, is hard to beat. Wash it down with their refreshing, homemade blueberry soda, made with real blueberries and honey.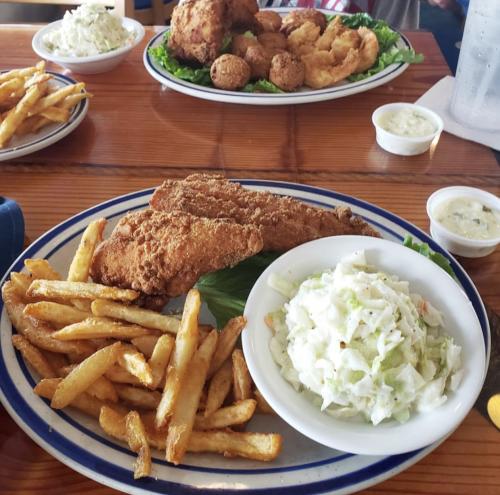 @rudeesvb, Instagram
Rudee's is instantly recognizable by their Cabana Bar and outdoor dining, a haven of open-air seating known for the unique gliding tables overlooking the marinas. The Cabana Bar is a full-service outdoor bar that serves local brews and signature cocktails around fire-pit tables, meaning on nice nights you may want to get there early because they fill up fast. You can't miss with the Fresh Catch of the Day served-up Chesapeake Style, topped with jumbo lump crabmeat, Smithfield ham, and Bearnaise Sauce. Believe us, it's as good as it sounds.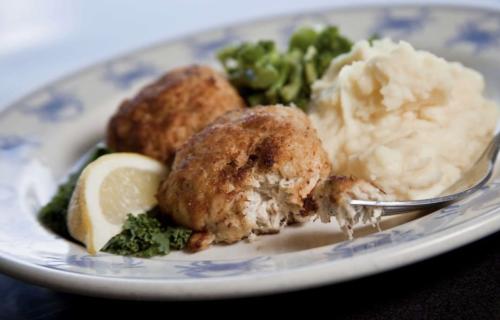 @watermanssurfsidegrille, Instagram
For three generations, the family-owned and operated Waterman's Surfside Grille has been serving up a taste of Virginia Beach - offering a range of fresh seafood, steaks, slow roasted ribs and burgers, and the can't-miss Orange Crush cocktail. As with most of these places in our coastal city, their Fresh Fish of the Day is always the best place to start, but their crab cakes are also phenomenal.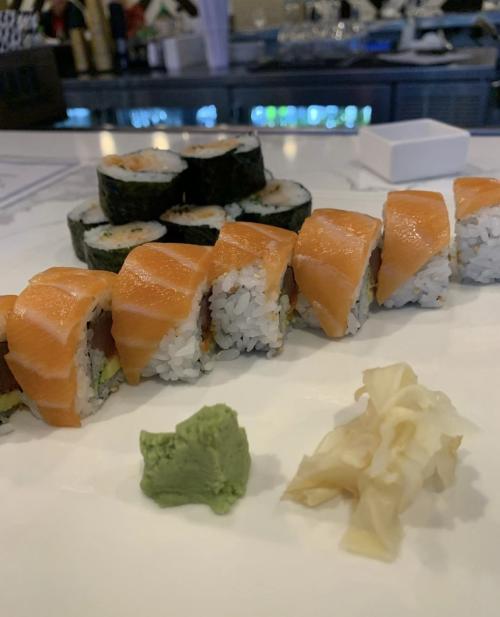 @eemerald_gypsy, Instagram
Operating out of the new DoubleTree by Hilton Virginia Beach Oceanfront, offers fresh fish, local oysters, hand-picked crab cakes, and fresh sushi, all with an unbeatable view of the Virginia Beach Boardwalk and Atlantic Ocean. Formally known as "Mahi Mah's," Mahi's has been a local favorite for decades and, while it may have been recently revamped, the bones of what made this place so popular for so long are still firmly in-tact.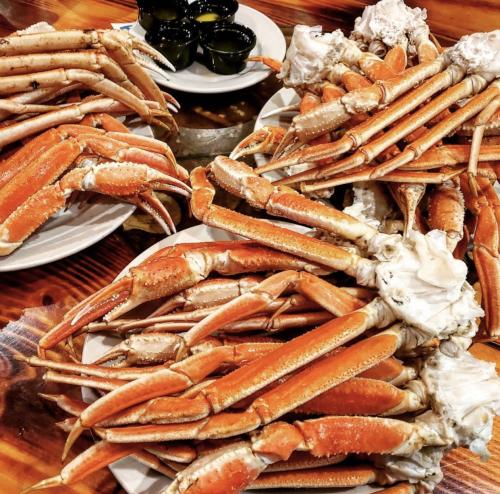 @larderroom, Instagram
Captain George's is a local seafood staple, and it's easy to see why. With their nautical decor and mouth-watering food, this place is the perfect spot for your beach vacation seafood feast. While it's hard to miss with anything here, we think the best option is to go all-in and get award-winning all-you-can-eat seafood buffet.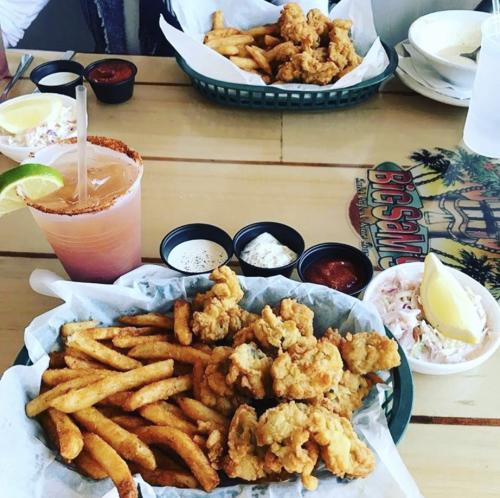 @bigsamsrawbar, Instagram
Big Sam's is one of our favorite seafood shacks in town. Small and unassuming, this place serves up fresh, local seafood, like Big Sam's Hot Blue Crab Dip (blue crab is a Va Beach delicacy) and Fresh East Coast Oysters served raw or steamed. If you've never tried oysters before, go for raw to really get the full palette of flavor that comes only from our waters.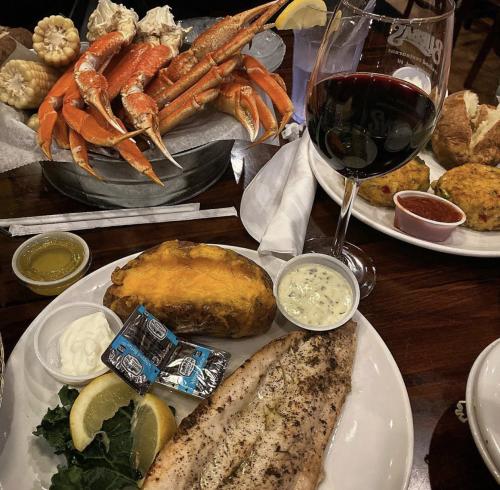 @bubbasvb, Instagram
Located in the Chesapeake Bay District, this waterfront spot serves up fresh seafood that pairs perfectly with the inlet views. With fresh-caught fish delivered daily, and unbeatable crab cakes made with fresh, local, blue crab, Bubba's is one of our favorite spots in town.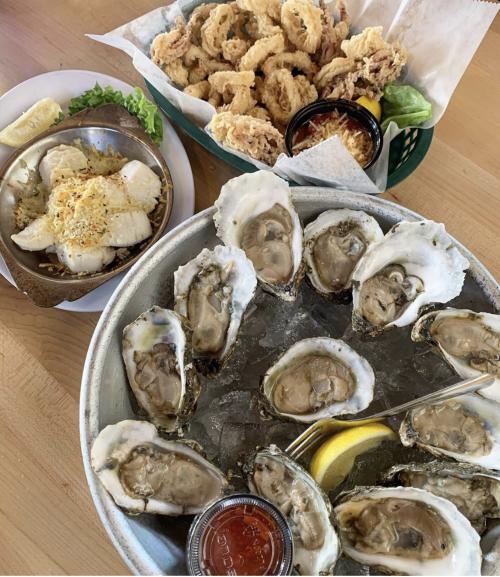 @symply_annge, Instagram
For unmatched freshness, tie your skiff up at Dockside Restaurant and Marina, located within the Lynnhaven Inlet in the Chesapeake Bay District. When they say they're serving up the freshest seafood, they mean it. You can't go wrong at their raw bar, offering both Lynnhaven and Eastern Shore oysters and, of course, Chesapeake Bay blue crabs, deliciously paired with a glass of wine from their in-house wine shop.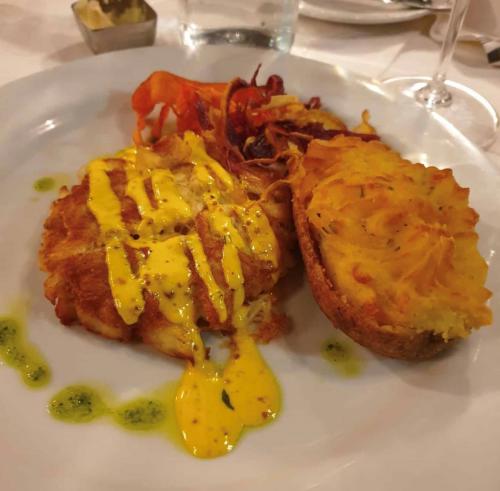 @h.s_va, Instagram
Opening their doors in 1939, Steinhilber's is the oldest family-owned restaurant in Virginia Beach, and for good reason. While their huge outdoor patio, with fire pits, string lights, and water views was added fairly recently, it has only added to the grandeur and elegance of this Virginia Beach staple, who also gets our vote for best-fried shrimp in the area.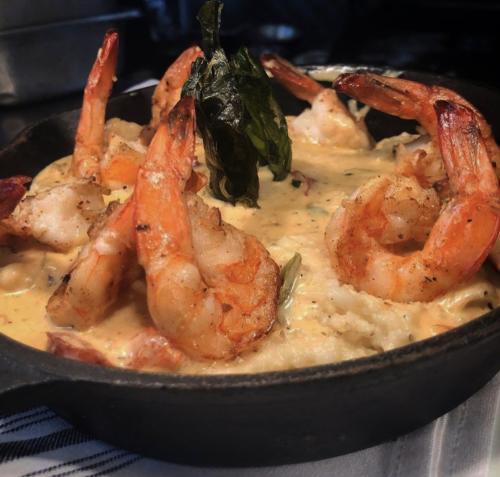 @hottunavb, Instagram
After the sun goes down, treat yourself to a cocktail and a show at Hot Tuna, a local favorite with delicious seafood that is matched only by their fun atmosphere after dark. Enjoy it at their outside bar by the warmth of their fire pit tables. Popular local artists perform at Hot Tuna every Wednesday, Thursday, Friday and Saturday nights.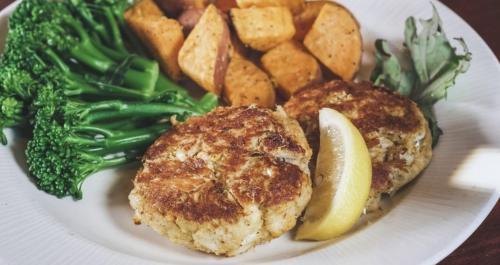 @chixvb & @vacationchannels, Instagram
Chix is one of the Oceanfront's most popular spots, and the ocean views and ample outdoor dining are a big reason why. With the classic Orange Crushes and a menu of local classics like the Surf N' Turf Shrimp Tacos or the Atlantic Feast of jumbo shrimp, a jumbo lump crab cake and fried fresh fish, is the perfect pairing of the old and the new.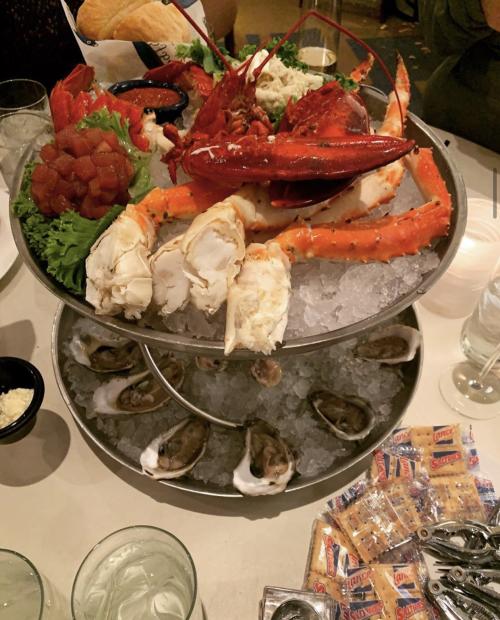 @beefnbourbon, Instagram
Located at the Virginia Beach Oceanfront, Catch 31 is a prime location for outdoor eating. With views of Neptune Park, in addition to the unbeatable view of the Atlantic Ocean, this is one our favorite place to enjoy live music at Neptune Park, including national bands like The Wailers, Canaan Smith, and Vertical Horizon. Sit at the open-air fire pit and enjoy a farm-to-table, and sea-to-table, menu highlighting the best of Coastal Virginia cuisine.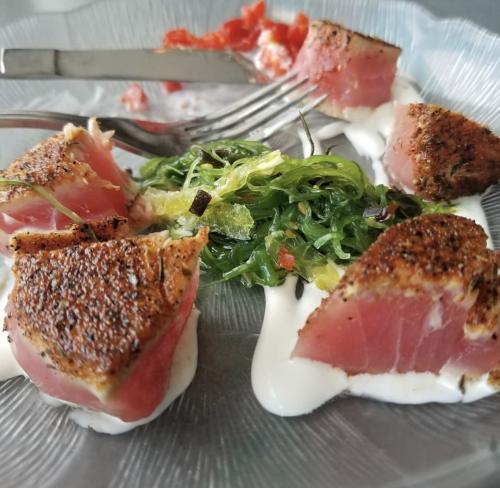 @tnt_promotions_, Instagram
For one of the only dining experiences offering unimpeded views of the Chesapeake Bay and the Chesapeake Bay Bridge Tunnel, grab a chair out on the deck at Buoy 44 Seafood Grill. Dig into some steamed oysters or the delicious Flounder "BLT," and be sure to stick around for a breathtaking sunset over the water.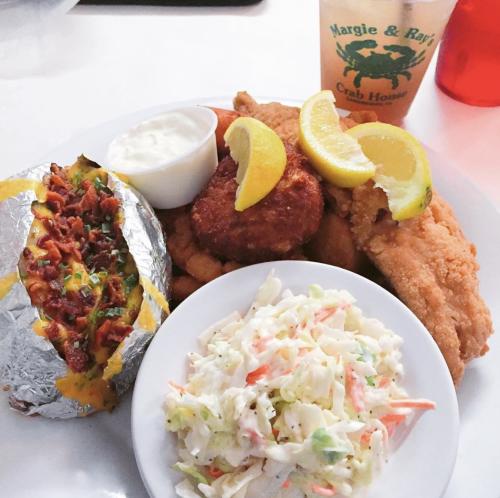 @after1stbite, Instagram
A Sandbridge staple since 1964, Margie and Ray's has a seafood-centered menu that includes a she-crab soup that was voted the best in Tidewater. The freshly caught seafood and hometown feel of Margie and Ray's must be experienced by any Sandbridge visitor. With fresh seafood and tasty drinks, the restaurants in Sandbridge pair perfectly with the laid-back beach vibes in the area.