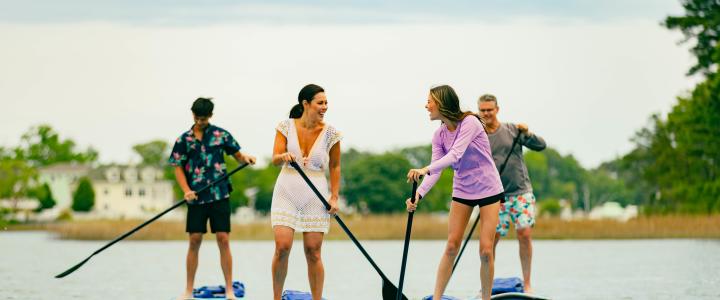 With its abundance of attractions that cater to visitors of all ages, Virginia Beach is wonderfully appealing to families. Pristine shores offer safe, shallow waters for kids to play in, while the boardwalk features amusements, arcades and all flavors of family-friendly treats. Looking to inspire curiosity and learning? You can't beat the Virginia Aquarium and Military Aviation Museum. Load up the family and head to these great spots in Virginia Beach.
Historic Attractions
Historic attractions bring history to life while teaching children about the region's early days. Take the kids to the Cape Henry Lighthouse at Fort Story, which dates to 1792. This red-brick lighthouse is the first lighthouse commissioned by George Washington. Today, a second, black-and-white lighthouse stands 350 feet from the first one, though only the original one is open to the public.
The Military Aviation Museum wows with its collection of vintage aircraft from World Wars I and II, enabling budding aviation enthusiasts to take a step into the city's high-flying past. The Thoroughgood House – built in 1680 and the area's oldest standing colonial home – offers children a glimpse into colonial life.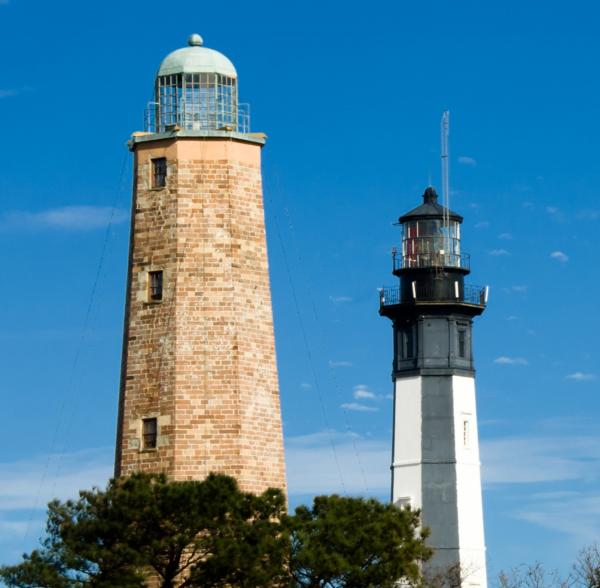 Marine Marvels
The Virginia Aquarium is home to more than 300 animal species that will fascinate kids, including seahorses, barracudas, poison dart frogs and Komodo dragons. The aquarium even offers add-on experiences such as boat cruises to spot bottlenose dolphins and a behind-the-scenes tour where kids can see resident sea turtles, including loggerhead sea turtles and green sea turtles, being cared for by the aquarium's medical team.
From mid-December to early March, the Virginia Aquarium offers 2.5-hour whale-watching cruises aboard the Atlantic Explorer. Onboard the boat, staff members display whale bones, letting kids touch them and get a sense of the mammals' immense scale.
Families with kids will enjoy exploring area waters in one- or two-person kayaks. At First Landing State Park, as well as on the Chesapeake Bay, Chesapean Outdoors offers guided kayak tours in search of dolphins and shore birds such as egrets, cranes and herons.
Set sail on a deep-sea adventure perfect for older kids in search of sportfish such as marlin and tuna on board a fishing charter with Rudee Tours. Dockside Seafood & Fishing Center also offers half-day tours that are great for both junior anglers-in-training and kids who've already reeled in a fish or two.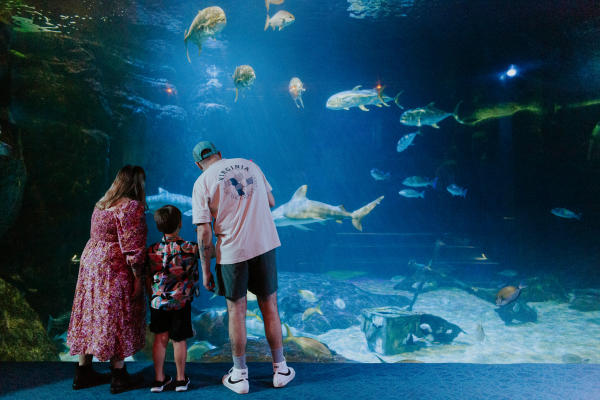 Adventure Kids
Active kids will love The Adventure Park, a treetop adventure park at the Virginia Aquarium that has 258 treetop platforms and 33 ziplines. It's just right for kids ages 5 and older who are eager for a sky-high adventure filled with cargo nets, rope ladders and swinging bridges.
For more high-flying zipline fun, including ziplines up to 1,000 feet long, look to AdventureWorks. Nine adrenaline-pumping ziplines fly 60 feet above a swampy wetland on the 90-minute canopy zipline tour. Those who really want to go sky-high – on a skydiving adventure – should head to iFLY Virginia Beach for indoor skydiving.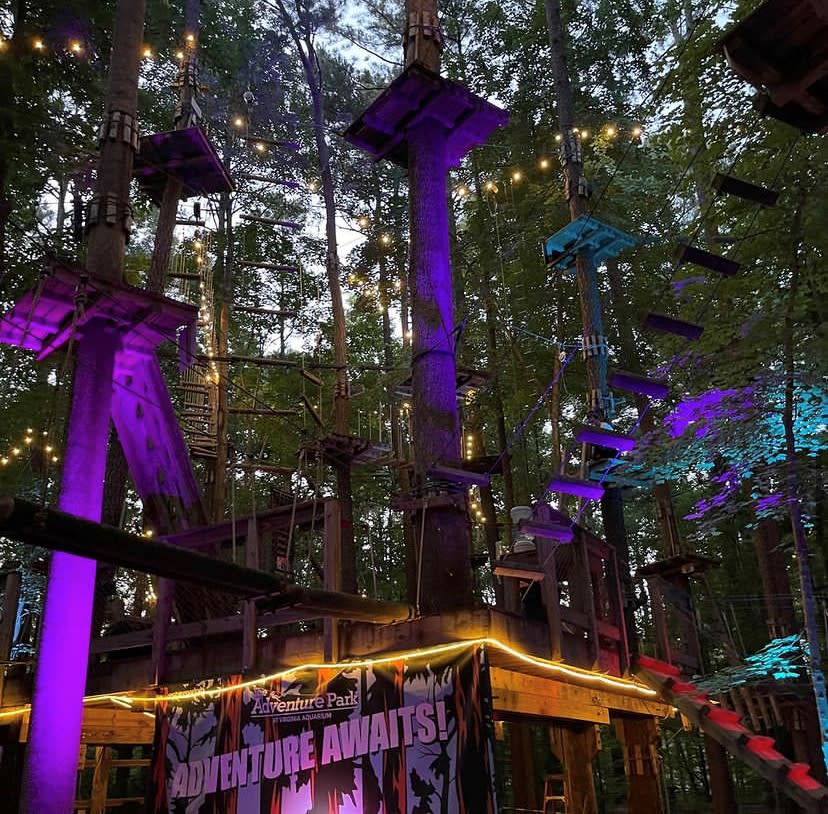 Beach Time
With 38 miles of beaches, including sandy shores on the Atlantic Ocean and Chesapeake Bay, Virginia Beach truly has a beach for everyone. Chick's Beach and First Landing Beach are bay beaches that offer gentle waves perfect for families with small children.
At the Virginia Beach Boardwalk, the Atlantic Ocean serves up highly surfable waves, but Croatan Beach is the best place for surfers and surfers-in-training. For kids eager to catch a wave or two, check out surf camps as well as private and group surfing instruction. Surf camps typically run from June through August, but surf lessons can take place any time of year.
If your kids still have energy to burn after riding the waves, look to Grommet Island Park, a 15,000-square-foot playground on the beach that has slides and other structures that are wheelchair-accessible so everyone can play.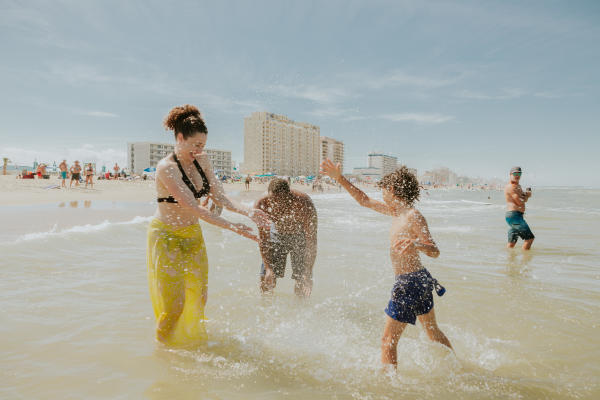 Town Center for Shopping and Dining
Town Center of Virginia Beach is the place to go off the beach for shopping and dining, as well as art and musical performances. You'll find plenty of family-friendly events, including outdoor movie nights, live music and theater shows such as Disney's The Little Mermaid.
Town Center has dozens of restaurants and fast-casual concepts, including family-friendly faves such as Cantina Laredo for Tex-Mex and Quirks for burgers and burritos. For dessert, check out Macaron Tart or Cold Stone Creamery. There's even a Westin Hotel in Town Center for families that want to set up home base there while vacationing in Virginia Beach.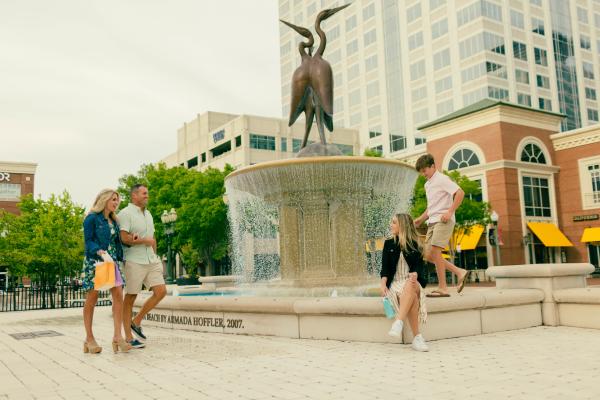 Scavenger Hunt
Families who like to play together – and maybe enjoy some healthy competition – should check out ScavengerHunt.com. This two-hour adventure guides you across two miles and eight stops in Virginia Beach. Solve puzzles, check off challenges and explore historic landmarks. Seriously, it's so fun.
As part of the scavenger hunt, you'll be challenged to answer questions that can only be found in person on plaques, statues and art around town. They're often hidden, so keep your eyes open and leave no stone unturned. Some challenges involve photos, so get ready to pose and smile at stops around Virginia Beach.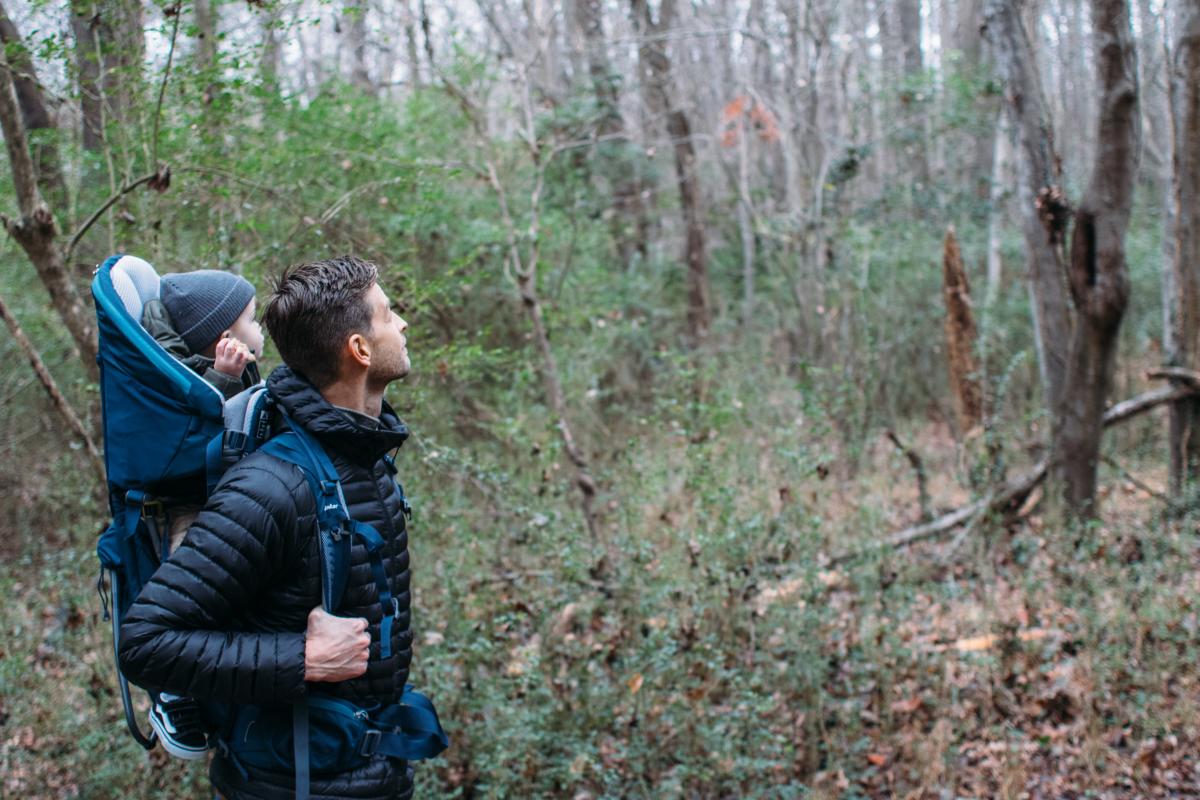 Animal Attractions
Hit the beach for a 30-minute or hour-long guided horseback ride with Virginia Beach Horseback. Choose your horse at the corral at 26th Street, then walk and trot along the beach with a group. No experience with horses is necessary, but kids must be at least 6 years old to ride. Horseback rides are available from September through May, typically four days a week.
Another fun activity for animal-loving families is Hunt Club Farm, which has a petting farm with dozens of animals including goats, sheep, llamas and donkeys. Hunt Club Farm also has an outdoor aviary and 15 ponies that are available for rides, even for very small children. A TreeWalk Adventure allows little ones to tackle netted bridges, slides, climbing walls and tunnels.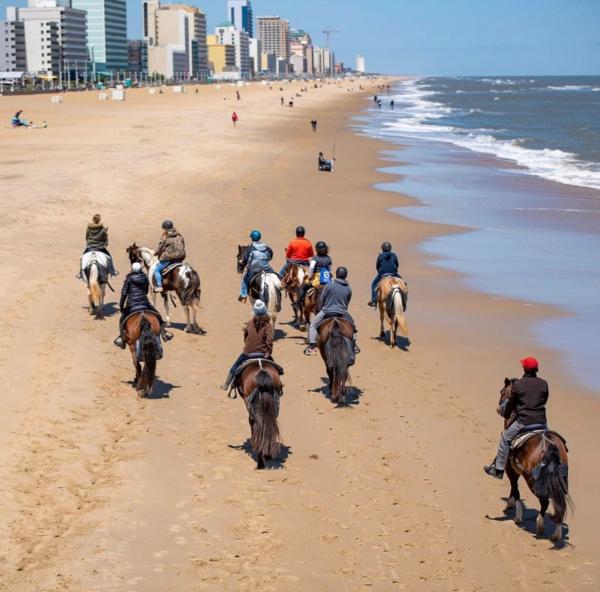 Awesome Amusements
For all kinds of amusements, check out Atlantic Fun Park, a seasonal amusement park with 16 rides, a go-kart track, midway games and boardwalk-style food including soft-serve ice cream. To play mini golf, head to one of the area's 18-hole courses such as Jungle Golf Virginia Beach, or kick it up a notch – and turn out the lights – at King Neptune's Indoor Blacklight 3-D Mini Golf.
For more indoor fun, try Apex Entertainment, with its arcade, bowling, bumper cars, laser tag, escape rooms and indoor ropes course. It's a great destination for fun on a rainy day in Virginia Beach. Another great spot for both kids and their parents is Topgolf – expect a large, high-tech, covered driving range with food and drinks.