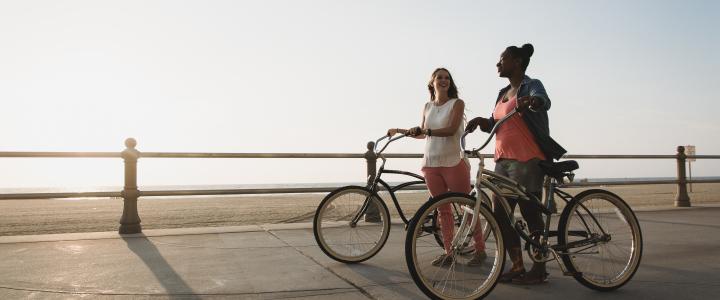 With the Fourth of July holiday falling on a Saturday this year, we think it's the perfect excuse to head to the beach for a weekend discovering the best of Virginia Beach. From the lively Oceanfront district to the calming waters of the Chesapeake Bay, and everywhere in between, Virginia Beach is the perfect place to spend the summer holiday celebrating all things red, white and blue.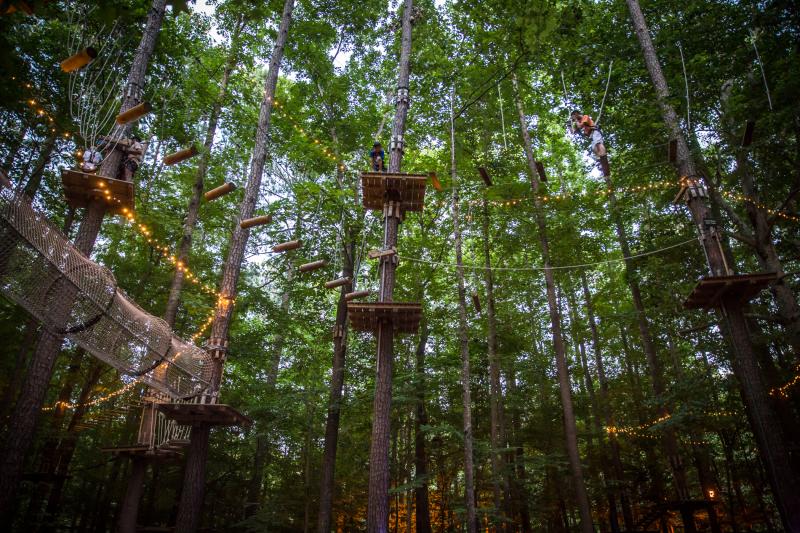 Pick out a patch of sand at the Oceanfront and spend the day basking in the sun and enjoying the warm waters and calm waves of the Atlantic Ocean. When you get hungry, you don't even need to leave your towel. Our favorite local sandwich shop, Taste Unlimited, now delivers directly to the beach. We'd recommend the North Ender sandwich.
After a day relaxing at the beach, head to the Adventure Park at Virginia Aquarium for a physical test that is as fun as it is challenging. With 15 different treetop obstacle courses, at varying degrees of difficulty, the Adventure Park is fun for the whole family. 
No beach day is complete without ice cream. With several local ice cream shops from which to choose, you'll probably want to make room for dessert each night you're here. 
On Saturday, July 4, an afternoon celebrating our rich military aviation history will be visible from our 35 miles of coast­­­line, as vintage military aircraft will be flying by every hour, on the hour, from 1PM to 6PM.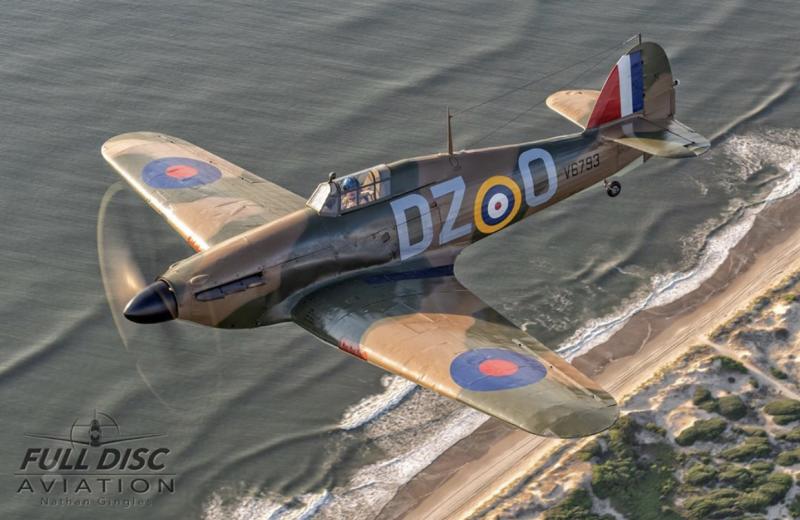 @full_disc_aviation, Instagram
Virginia Beach's signature nightly Oceanfront entertainment options, through Live! on Atlantic, will be making their return just in time for the summer holiday. While maintaining proper cleaning protocols and social distancing measures, as highlighted in our pledge to Summer Smarter, the event series will provide a lineup that you won't want to miss during the weekend.
They will begin on Friday July 3rd with DJ stage entertainment at 17thStreet Park and 24thStreet Park, and historic theatrical performances in Naval Aviation Monument Park at 25thStreet, as well as 26th Street between Atlantic Avenue and the Boardwalk. The Park stages are scheduled for 8 pm to 10:45 pm and the historic theatrical performances are scheduled to begin at 8 pm. This schedule is subject to change. On Saturday July 4th an afternoon celebrating our rich military aviation history will be visible from our 35 miles of coast­­­line with vintage aircraft flyovers every hour from 1 PM to 6 PM.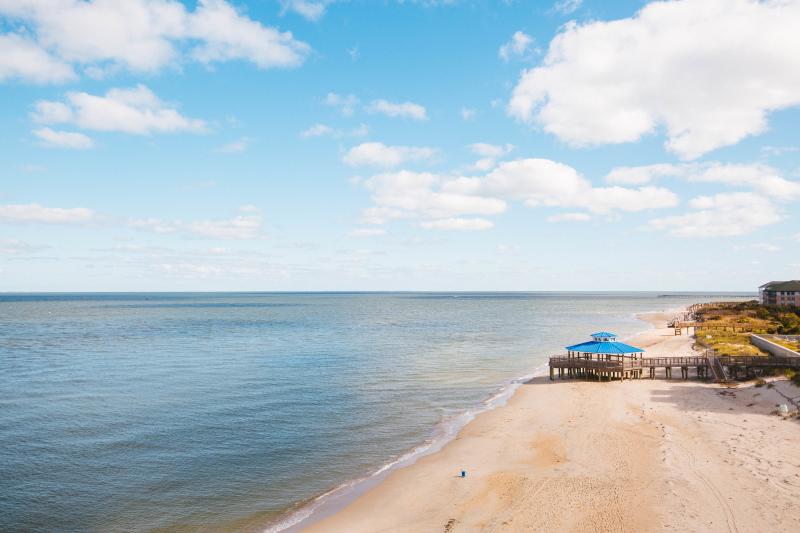 Take in the local vibes of the Chesapeake Bay District. Grab a Honey Cinnamon Latte and the Morning Hash at American Brew, located just steps away from the new Lesner Bridge. Explore First Landing State Park with a morning hike through preserved marshland dotted with towering Bald Cypress Trees adorned with Spanish moss. Head across the street to Fort Story Military Base to climb the steps of the historic Cape Henry Lighthouse - the first Federal Construction project approved by the new government following the Revolutionary War. The climb to the top can be a doozy, but the 360° views of the Chesapeake Bay and Atlantic Ocean are well worth it.
Next, stop by Tula Adventure Sports to rent kayaks or stand-up paddle boards for an afternoon spent exploring the creeks and waterways of Broad Bay, including First Landing State Park which is only a half-mile from where you'll launch.
Close the day out with a walk along the Chesapeake Bay, at the beach affectionately known by locals as "Chicks Beach," after an old Bay District hot dog stand. While the sun rises over the Atlantic Ocean, the angle of the Chesapeake Bay Beach sets you up perfectly to enjoy the sun setting over the water, making it our favorite way to end a day.
Before visiting Cape Henry Lighthouse, be sure to read additional information on location, arrival, and rules and regulations.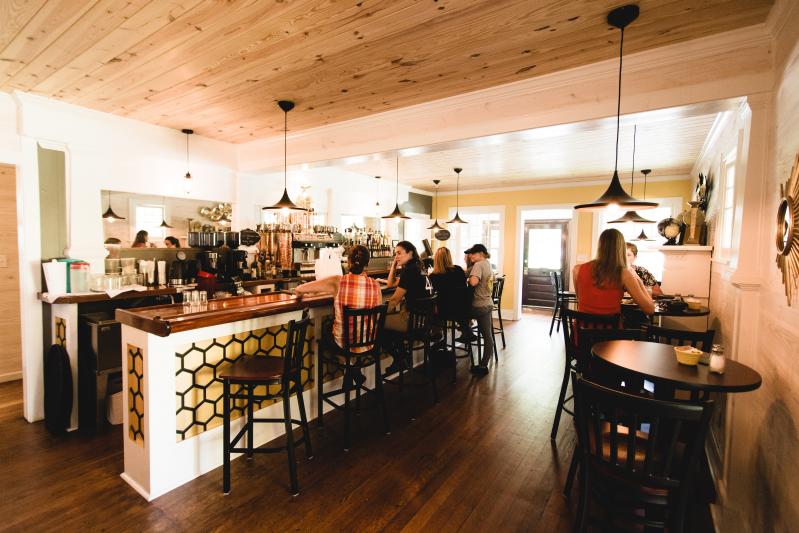 Fuel up for a day in Pungo with a filling southern-inspired breakfast at The Bee & the Biscuit, before heading out for a morning of picking fresh Pungo berries. Blueberries, raspberries and blackberries are in season in the summer months and, with many you-pick options to choose from, there's no shortage of ways to fill your bucket.
After you've had your fill, make your way to the Military Aviation Museum for an intimate look at the planes of WWI and WWII and the inspiring stories of the pilots who flew them. There are no ropes or glass here. You can walk right up to each aircraft and look inside. With each plane having miraculously been restored to flying condition, this is a historic experience you can't get anywhere else.
Spend an afternoon at Little Island Pier, in Sandbridge. Explore the pier, walk along the ocean's edge on this relaxing beach, and rent fat tire bikes from nearby Surf and Adventure Company, for a ride on the sand. Finish your day with dinner and a BajaRita at Baja Restaurant on the south side of Sandbridge.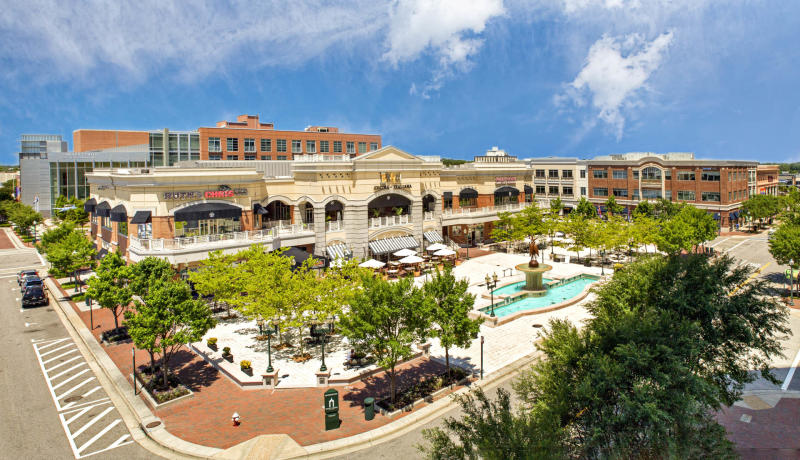 Spend a day in style at Virginia Beach's downtown district, Town Center. Start your day off with a cup of delicious coffee from Town Center Cold Pressed for the perfect fuel for an action-packed day. 
Get in some shopping with stores like Anthropologie, Paper Source, lululemon athletica, and Free People, among many others, or head across the Boulevard to the Pembroke Mall. The first mall in Hampton Roads, Pembroke has become a shopper's paradise with the additions of Nordstrom Rack, DSW, REI and much more. 
As the sun begins to set, get dressed up and enjoy a classic cocktail at Twist or Quirks then grab dinner across the street at the new Cantina Laredo.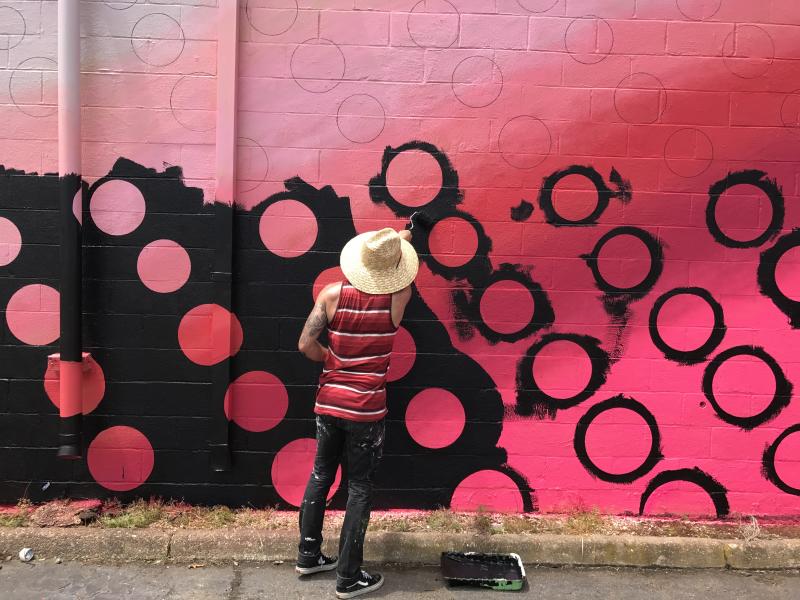 After taking in the breathtaking colors of the daybreak over the Atlantic Ocean, make your way to the ViBe Creative District for a freshly-roasted, delicious cup of coffee at Three Ships Coffee Roasters – owned by a local husband and wife team who expertly craft each cup they serve, including roasting their own beans.
From there, peruse the artistic creations of the ViBe, Virginia Beach's cultural arts enclave, which is a hub for artisans of all disciplines ranging from culinary, music and traditional art to leather working and woodworking. While you can find all manners of artwork within the quaint shops and coffeehouses that comprise the area, the district is a work of art in and of itself.
Look no further than the murals of the Mural Walking Tour, most of which were done by local artists, that fill the ViBe with wonder and color and you'll see exactly what we mean. While we are being encouraged to engage in social distancing during this time, there's nothing stopping you from getting out, getting a little fresh air, and seeing the beauty of the ViBe District murals. To see all of these murals by foot makes for an easy, one-mile walking tour, that is a must for all who are visiting. For those who would prefer to view the murals from home are in luck, too, as the murals can all be seen virtually, as well.