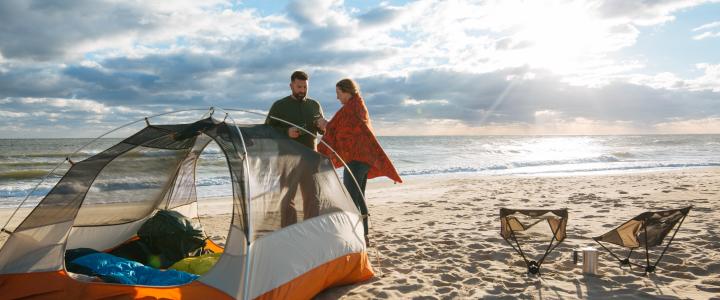 A three day weekend in Virginia Beach means three days of fun, sun and exploring all that our coastal city has to offer. From unbeatable outdoor adventure to unrivaled coastal cuisine, and everything in between, spend a long weekend with us in Virginia Beach for a getaway you won't soon forget. 
For those who long to lace up their hiking shoes, paddle through the ocean's waves or sleep under the stars, nature's gifts await in Virginia Beach. Although our coastal city has long beckoned sunbathers and sandcastle-builders, Va Beach is a wonderland for sports enthusiasts and nature lovers alike. From water sports and hiking to zip-lining through the trees, there's no shortage of ways to experience the great outdoors over a long weekend in Virginia Beach.
Day One | Set-up Camp Right on the Beach

@kaylien22, Instagram
Start your weekend by sleeping under the stars in False Cape State Park. Featuring over six miles of unspoiled beaches in an ocean-to-freshwater bay habitat and 15.3 miles of trails, False Cape is one of our favorite spots to explore for a unique glimpse into our seaside environment. With dunes, woodlands, farm fields, salt marshes and more, this coastal landscape is unmatched. This remote park is also home to huge number of species that are native to this area, including over 300 species of nesting and migratory songbirds, including a snow geese population of over 10,000, shorebirds and ducks, otters, white-tailed deer, red fox, loggerhead turtles, American bald eagles, feral pigs, wild horses, and a huge number of interesting reptiles.
From where you will park your car, at Little Island Park in Sandbridge, the hike to the campsites is anywhere from five to nine miles, depending on where your specific site is, so you'll want to pack light. The park has 12 campsites for tent-only camping and, while they are very primitive, drinking water is offered in three locations. For what these campsites may lack in convenience, they more than makeup for in unencumbered beauty. Waking up to the sun rising over the Atlantic Ocean through the entrance of your tent is an experience you'll remember for a lifetime.
Spend the day discovering the park's scenic beauty. With 15 hiking and biking trails, which vary in length and range from easy to difficult, there are many ways to explore one of the last remaining undeveloped areas on the east coast. 
The longest, and most difficult trail, Sand Ridge Trail, is 6.2 miles and takes both hikers and bikers from near the entrance of the park all the way down to the North Carolina state border. For the dedicated outdoorsmen, we'd recommend navigating the entire 15.3 miles of trails in the park, where you will experience beaches of both an ocean and a bay, dunes, maritime forests, marshes, and wooded swamps, all in one visit.
Day Two | Relax and Unwind
Morning

@emergingeye, Instagram
After your False Cape adventure, spend the second day of your trip relaxing and taking in the best our coastal environment has to offer. Get your morning started by taking in a breathtaking sunrise over the Atlantic Ocean. While the Oceanfront District has seemingly endless options when it comes to taking in the daybreak over the water, for a can't-miss photo-op, we love getting King Neptune himself in the foreground with the colors of the sunrise peaking out from behind him.
Afternoon

@erlynn86, Instagram
Spend the afternoon exploring the area by bike. At three miles in length, the Virginia Beach Boardwalk was built with cyclists in mind. With separate biking and walking paths, cyclists can ride their beach cruisers along the coast without having to dodge pedestrians or cars.  For a longer bike ride, keep pedaling a few miles down Pacific Avenue to the 64th Street entrance of First Landing State Park, where you'll find the Cape Henry Trail. 
This 7.5-mile trail is the longest trail with First Landing and is accessible to both hikers and bicyclists. Running parallel to Shore Drive, the Cape Henry Trail passes through an old-style beach neighborhood where salt boxes sit comfortably next to contemporary renovations. The flat trail, shaded in places by pine and live oak trees, is perfect for avid bird watchers as you'll see osprey and egrets, and maybe even an elusive eagle. The trail heads through the park, past the beaches of the secluded Narrows, through and the Spanish Moss-adorned bald cypress trees. We'd recommend mountain bikes for a smoother ride.
Evening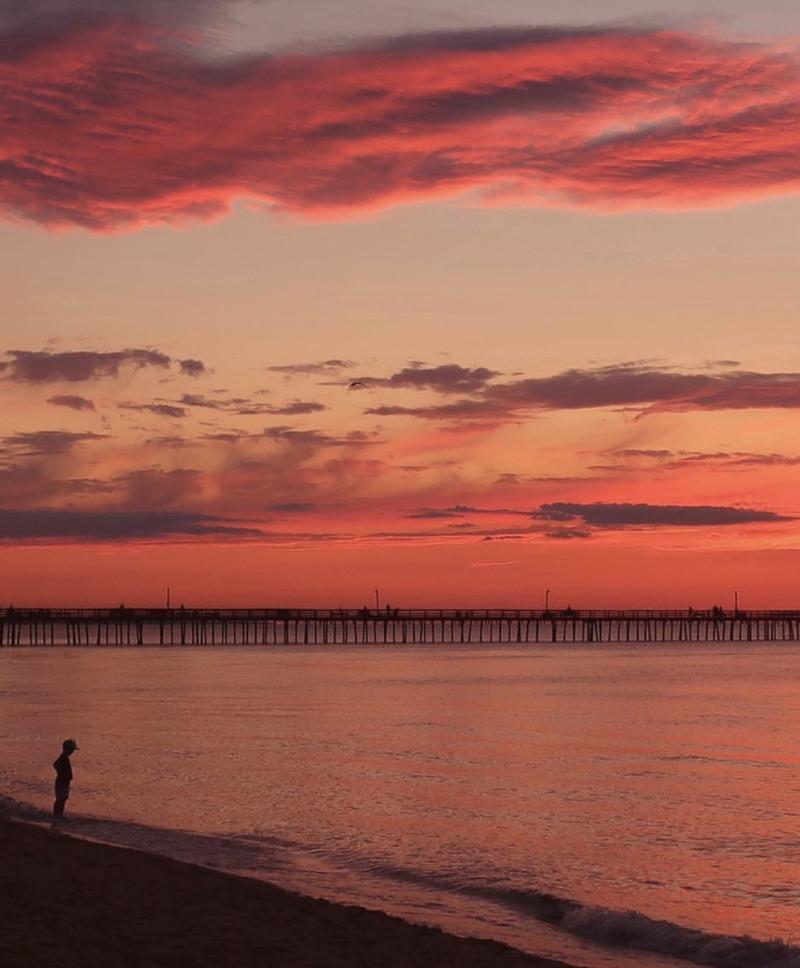 @__melah, Instagram
Close your day out by watching the sunset over the Chesapeake Bay. After a busy day, you can't beat a walk along the water's edge at sunset. While the sun rises over the Atlantic Ocean, the angle of the Chesapeake Bay Beach sets you up perfectly to enjoy the sun setting over the water.
Head to the Chesapeake Bay Beach, known affectionately by locals as Chick's Beach, for a front-row seat to the show. Whether taking an evening stroll or setting up a beach chair, this is the easiest way to capture that unforgettable sunset memory in Virginia Beach.
Day Three | Find Your Adventure
Morning

@paddlegirl_, Instagram
Make your third day all about having fun. Start your morning by getting out on the water and exploring our maritime habitat. Kayaking, paddle-boarding, swimming, surfing, jet-skiing, and boating are all available in the Atlantic Ocean and the Chesapeake Bay, as well as a variety of other waterways, including Back Bay and the Lynnhaven River. Recreational equipment can be rented from various companies near the beaches, while several outfitters also offer surfing camps for those wanting to learn this classic coastal sport.
From May through October, thrill-seekers can get up close and personal with bottlenose dolphins, which feast in the rich waters of the Chesapeake Bay year-round. Hop aboard a guided kayaking excursion to where the Chesapeake Bay's waters meet the Atlantic Ocean, the dolphins' favorite spot for a frolic between feeding grounds, for an incredible photo opportunity and an unforgettable experience.
Afternoon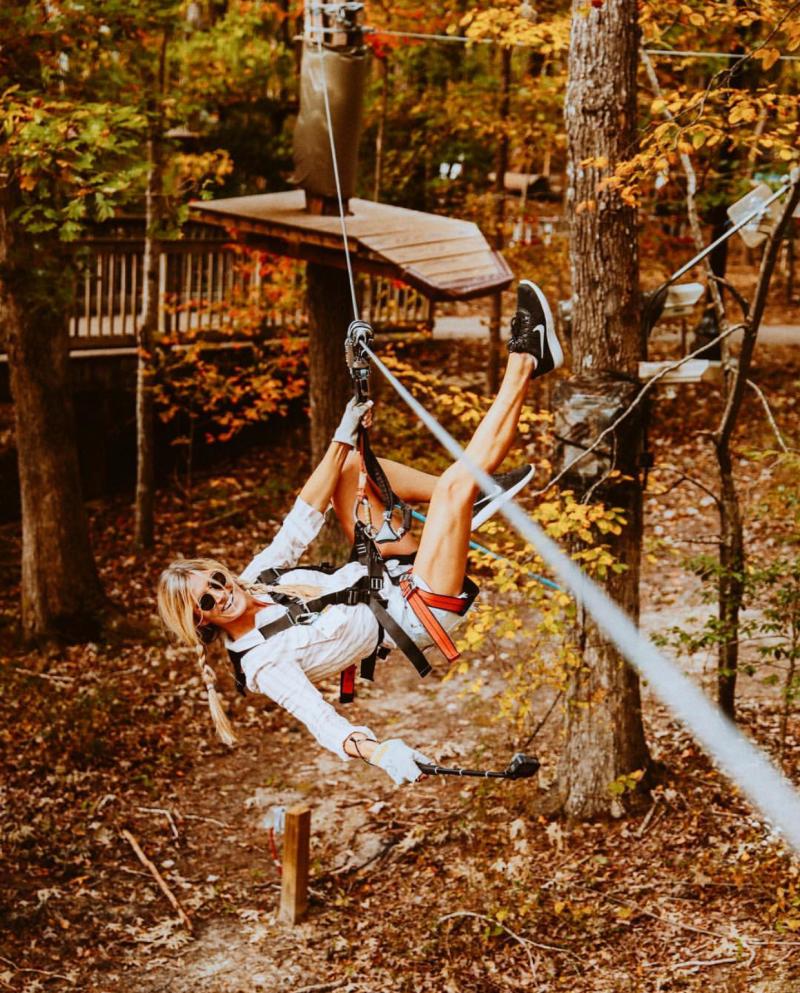 @gratefullylauren, Instagram
After you dry off, head up into the trees to get an entirely new perspective of Virginia Beach. The Adventure Park at Virginia Aquarium is the largest of its kind in Virginia and features multiple zip lines and aerial ropes challenge courses, perfect for thrill-seekers ages five and up. Zip through the air, up to 150 feet up, through a variety of leveled courses. Look up to see platforms in the trees connected by cables, wood and rope, that are forming bridges. Climb from bridge to bridge and experience a variety of challenges, outdoor fun and self-discovery.
Located just down the road from the Adventure Park, our newest treetop adventure, Adventure Works Wetland Zipline Park, is offering a more traditional ziplining experience to guests of all ages. Guests will enjoy nine zip lines, up to 1,000 feet in length, including their popular tandem zip line, all nestled within 60 acres of maritime forests in the Oceanfront area. 
Evening

@vander_b_ok, Instagram
With your feet back on solid ground, end your day, and your Virginia Beach weekend, by exploring the sunset by parasail. For this spectacular view of the Virginia Beach Oceanfront,  Rudee Inlet is the take-off point for several parasailing tours like Adventure Parasail, Pirate Parasail, and Air America Parasail. If you haven't experienced the serenity that comes with floating 1,000 feet about the water, especially among the colors of a seaside sunset, then this experience is the storybook ending your weekend trip deserves.