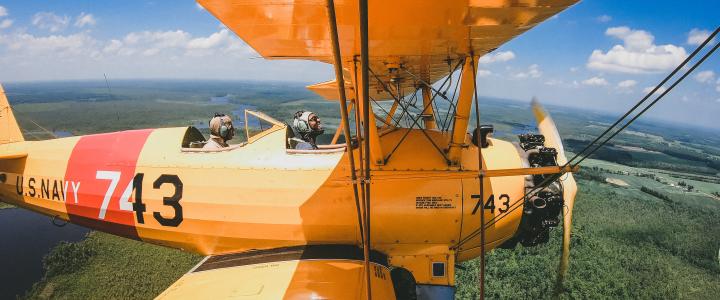 Virginia Beach is noted for both its military history and its current military presence, including Naval Air Station Oceana. It's a city that supports active service members and veterans, in part through military appreciation discounts and rates at hotels, museums and attractions. For example, the Virginia Aquarium offers a $2 discount per ticket to members of the military, including family members and veterans. Several hotels, including the Comfort Suites Beachfront and the Hilton Virginia Beach Oceanfront, offer special rates for members of the military and veterans.
On Veterans Day, visitors to Virginia Beach will find plenty of opportunities to join residents in honoring those who have served, thanks to local Veterans Day events, activities, attractions and memorials. If you're looking to celebrate veterans in Virginia Beach, follow our guide to where to go and what to do.
 
Events
From Veterans Day parades to workouts and parties, a wide variety of events in Virginia Beach celebrate veterans. Here are a few events you may want to add to your calendar.
Chad 1000X Virginia Beach
 
November 11, 8 a.m.

Presented by GORUCK and CrossFit, the Chad 1000X is a workout-style event designed to raise money for and awareness of mental health initiatives for veterans, specifically suicide prevention. The workout is 1,000 step-ups that can be completed as a team, with a partner or as an individual. They can be done with or without a weighted rucksack. In 2022, more than 4,500 registered participants raised $100,000 at this event. 
Tidewater Veterans Day Parade
 
November 11, 9 a.m. parade, 11 a.m. wreath-laying ceremony 
 
The impressive Tidewater Veterans Day Parade features decorated military, as well as classic cars, marching bands, motorcycles, horses, scouts and military marching units. Army and Navy brass, local politicians and other military leaders are expected on the reviewing stand to watch the parade, which will start at 16th Street and Atlantic Avenue. After the parade, a wreath-laying ceremony will include speeches, prayers, a 21-gun salute and the playing of Taps. The parade and ceremony are organized by the Hampton Roads Council of Veterans Organizations. 

Pinup Coffee Co. Veterans Day Party & Cornhole Tournament
 
November 11, noon-3 p.m.

Pinup Coffee Co., a veteran-owned specialty coffee roaster, is holding its second annual Veterans Day Party & Cornhole Tournament at Pleasure House Brewing. Coffee and food vendors will be on hand, including Pinup Coffee Co., Beach Bum Coffee and The Silver Fox Food Truck. Admission to the party is free. The $20 per person fee to enter the cornhole tournament will raise money for the AWS1 James Buriak Foundation. That organization provides pre-mishap education and post-mishap support for Navy and Marine Corps aviators and their families. 
Iron Valley Veterans Day Event
 
November 11, 2-5 p.m.
 
The third annual Iron Valley Veterans Day Event is a fundraiser for Irreverent Warriors, an organization that works to build support for veteran suicide prevention and mental health initiatives. Tickets, which are $25 per person, include access to a silent auction, as well as all you can eat and drink at Ballyhoos. The event will feature speakers and resources on mental health for veterans and their families. It's sponsored by Iron Valley Real Estate Hampton Roads, a veteran-owned and -operated real estate firm in Virginia Beach. 
Activities
For other ways to celebrate Veterans Day, consider visiting a world-class military museum or taking an exciting excursion that simulates special ops missions. 

Military Aviation Museum
 
At the Military Aviation Museum, discover one of the world's largest collections of vintage military aircraft, many in flying condition, including combat planes that served in World War I and World War II. Hangars that flank the museum showcase aircraft used by the U.S. Army and U.S. Navy, and historical exhibits educate on topics from the birth of air combat to air defense coordination in World War II. On November 11, the museum will show The War to End All Wars, a new animated film that shares heroic tales from World War I.

Patriotic Excursions 
 
Patriotic Excursions offers military-style simulations that allow guests to engage in special ops missions aboard authentic U.S. Navy RHIBs (rigid-hulled inflatable boats). The 2.5-hour excursion features water-based activities focused on enemy reconnaissance, rescue and neutralization. Patriotic Excursions also offers special military appreciation tours aboard RHIBs that teach about local SEALs and the role of naval expeditionary bases Fort Story and Little Creek. If you bring your dog on a private tour, Patriotic Excursions will donate 10% of the proceeds to Mutts With a Mission, a nonprofit that helps veterans and first responders obtain service dogs.

Monuments and Memorials
 
Visiting military monuments and memorials is a great way to pay tribute to those who have served our country, whether on land, from the sky or on the water. Given Virginia Beach's rich military history, it's no surprise that the area has several memorials where our nation's heroes are honored. 
Tidewater Veterans Memorial 
 
The Tidewater Veterans Memorial is located in Veterans Memorial Park, a public greenspace dedicated to William "Billy" Myers Sr., a Virginia Beach native and veteran who served in World War II and the Korean War. The memorial is dedicated to veterans and active duty service members who share a common goal of harmony and peace in our world. According to the memorial's designers, the waterfall signifies the turmoil caused by war, and its motion represents an eternal pursuit to unite people. Nine flags adorn the memorial, including flags for each of the five military branches.
Naval Aviation Monument Park 
 
Set just steps from the oceanfront boardwalk on 25th Street, Naval Aviation Monument Park is home to life-like bronze statues that pay tribute to the deep-seated heritage of military aviation in Virginia Beach. Sculptor Michael Maiden tapped into his experience with the Army National Guard to create the open-air sculptures, which depict scenes ranging from early aviation history through World War II to modern day, including the delight of a homecoming following a naval deployment. 
Norwegian Lady Statue
 
The Norwegian Lady, a nine-foot-tall bronze statue set near Naval Aviation Monument Park, was presented to the city in 1962 to mark a terrible loss at sea just off the coast of Virginia Beach. Norway's ship Dictator was wrecked in March 1891 upon encountering bad weather near Cape Henry. Seven of the 17 people on board lost their lives, in spite of the efforts of crews at Seatack and Cape Henry lifesaving stations. Today, the statue, which looks out across the Atlantic Ocean, stands to encourage the safe return of all those who head out to sea.
Navy SEAL Monument
 
Completed in 2017, the life-size Navy SEAL Monument stands adjacent to the oceanfront bike path at 38thStreet. It pays tribute to SEAL predecessors, who first worked together in Virginia Beach in 1942, as well as present-day Navy SEALs. The monument features the iconic Naked Warrior statue, which symbolizes all the "frogmen" who tirelessly serve or have served our country through underwater military missions. Plaques around the statue share the history of SEAL operations, and gold stars and paw prints recognize local SEALs and SEAL K-9s killed in the line of duty.

Virginia Beach Surf & Rescue Museum
 
The Virginia Beach Surf & Rescue Museum serves to recognize all those who work to keep people safe on our waters. The white clapboard coastal heritage museum, set on the oceanfront at 24th Street, was a former U.S. Coast Guard station (also known as the Seatack Lifesaving Station). It honors the maritime history of Virginia Beach with exhibits on shipwrecks, coastal rescues and nautical equipment, as well as artifacts dating back more than 100 years.