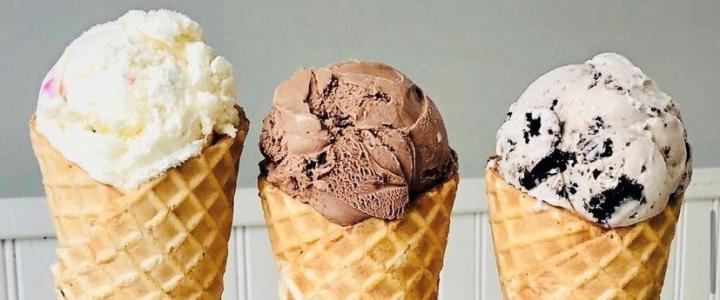 I Scream, You Scream, We All Scream for Ice Cream This Summer
Sweet, sweet summertime and sweet, sweet ice cream… Can you think of a better warm-day pairing than that? Add a coastal backdrop and you have a seasonal beach town essential. Whether you enjoy your scoop(s) on the go as you take a beach or boardwalk stroll, people-watching under an umbrella or soaking up some cool AC indoors, you won't find a shortage of ways to satisfy your summertime craving. Below, our roundup of some of Virginia Beach's sweetest offerings. Enjoy!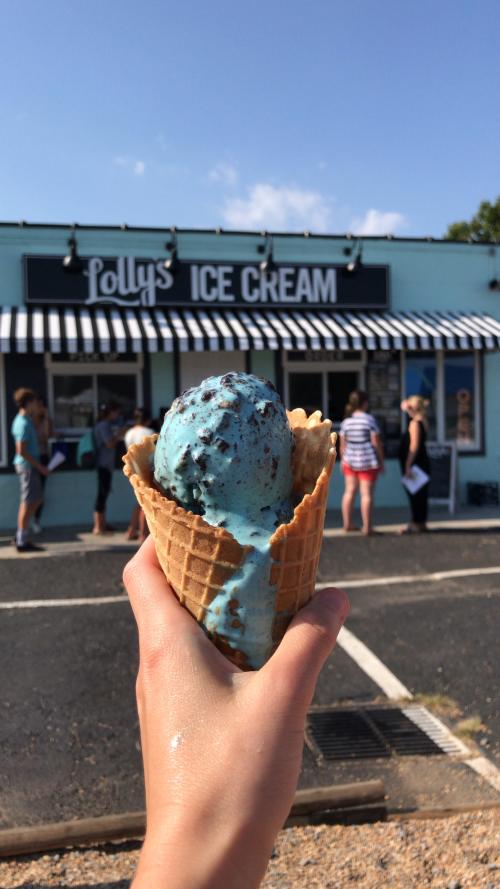 @lollyscreameryandsoupco, Instagram
A Virginia Beach staple, Lolly's rotating menu of delicious homemade flavors will keep you coming back all summer long! This quirky family-owned ice cream shop prides itself in fresh ingredients and ridiculously tasty flavors, which include local favorites like Pungo Strawberry, White Chocolate Raspberry, Cookie Monster and a drool-worthy Vanilla. With two locations to choose from, getting your hands on some Lolly's is easy as pie. Have a Lolly's craving on the go? Be sure to keep an ear out for the bells of their Joy Bike coming down the boardwalk to deliver ice cream all summer long.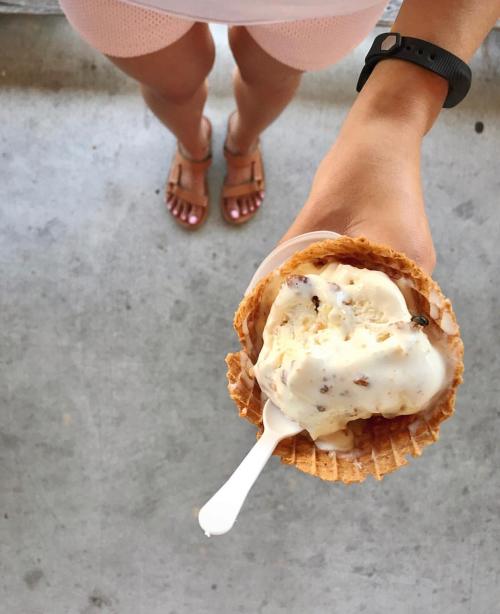 @ktfrek, Instagram
Experience a good, old-fashioned scoop of ice cream made the traditional way at Gilly's Creamery. Located within the artisan shops of the Virginia Beach Farmers Market, Gilly's is a hidden gem that locals keep coming back to, thanks to the shop's simple, fresh ingredients and ever-changing list of flavors, which include Mom's Apple Pie, Orange Creamsicle and Moon Pie. After you've enjoyed your cone (or cup, no judgment here), browse the market for other locally owned artisanal treats and goodies.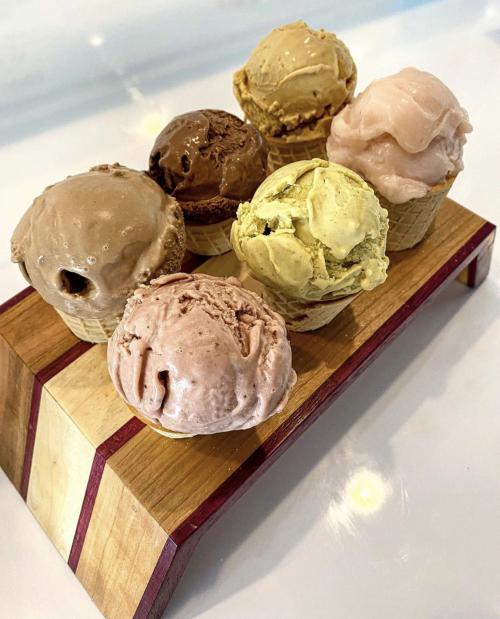 @captureyourappetite, Instagram
Pick from more than 30 freshly churned ice cream flavors (and all the toppings) at Gerald's in the Hilltop Area. Made from scratch in-store using high-quality ingredients, Gerald's custard-base ice cream is flash-frozen with liquid nitrogen, giving it its delectably dense and smooth consistency. With flavors like burnt honey vanilla, pistachio with goat cheese and Pungo peach, the small-batch shop prides itself in creativity and taste. Want to take your ice cream tasting experience to the next level? Try the ice cream flight to sample up to six flavors – freshly made cones included!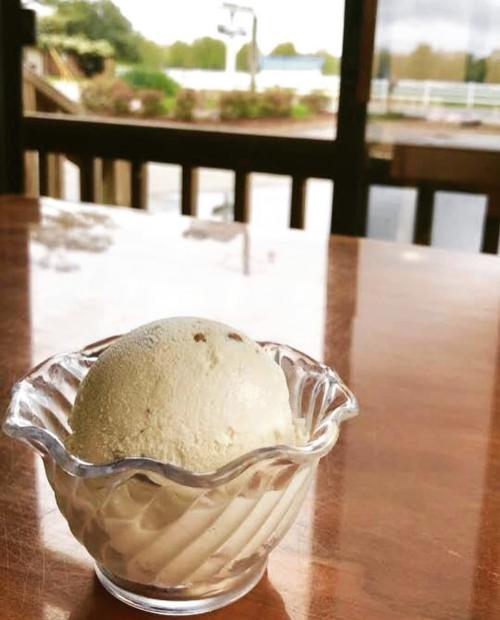 @pungopizzaandicecream, Instagram
Keep the Virginia Beach classics coming with a taste of Pungo's favorite house-made ice cream at Pungo Pizza & Ice Cream located in the heart of the Pungo Agricultural District. Enjoy seasonal flavors like Blueberry Cheesecake, Coconut Chocolate Almond or Peach – all reflective of the spot's farmland surroundings. A Pungo staple for the past 25 years, the shop also serves up tasty made-to-order sandwiches and pizza and features an arcade – what more can you ask for?!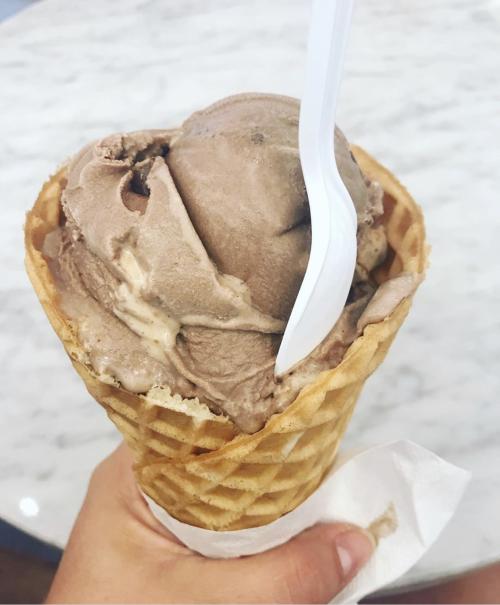 @a.jilek89, Instagram
Located in the Hilltop Area in the Inland District of Virginia Beach, Richmond-founded Gelati Celesti makes their ice cream with techniques normally reserved for gelato, making for more dense ice cream with a custard-like richness. Offering rich, decadent flavors like salted caramel, birthday cake, and, our personal favorite, chocolate decadence, this shop will make your taste buds sing. While they have many house favorites always available, Gelati Celesti rotates through more than 85 flavors throughout the year, using fresh, seasonal ingredients whenever possible, so this place will keep you coming back for more.

@shorelandteam, Instagram
Aqua S, the trendy Australian ice cream shop, has now made its way to Virginia Beach and we're all better off for it. Serving up exclusively soft-serve, the unique qualities of Aqua S don't stop there. With flavors like popcorn, margarita, lychee, and elderflower swirled with their trademark sea salt soft-serve, on ink black cones, this place is a total sensory experience that you have to try.
Shake up your ice cream experience with a visit to The Yard. The renowned milkshake bar, located between the Oceanfront and the Virginia Beach Town Center, serves up icy, creamy treats perfectly suited for a warm Virginia Beach summer day. Keep it traditional with Milk & Cookies and Old School Banana Split, or keep it as cool as the locals with Virginia Beach exclusives like the Orange Crushed and Holy Cacao. And don't forget to ask about their monthly specials, too!
Cover image: @newyorkscoops, Instagram