We've already let you in on the secret that Virginia Beach is not your regular coastal destination. But did you know that beyond its miles of distinct beaches, its vibrant downtown and colorful creative district, Virginia Beach offers more than 23,000 acres upon acres of explorable farmland? Seriously – complete with roadside stands, farm-to-table restaurants, cozy cafés, unique museums and plenty of lush trails to discover! 
Located just minutes outside of Sandbridge's windswept dune and less than 10 miles from the bustle of the Virginia Beach Oceanfront, Pungo – as our farming community is known – offers rural serenity and countryside charm that feels worlds away.
While we recommend getting to know Pungo at your own pace and on your own terms – a leisurely and scenic drive through its winding roads is a must – we've rounded up some of our favorite Pungo experiences for you to dive into. Enjoy! 
PICK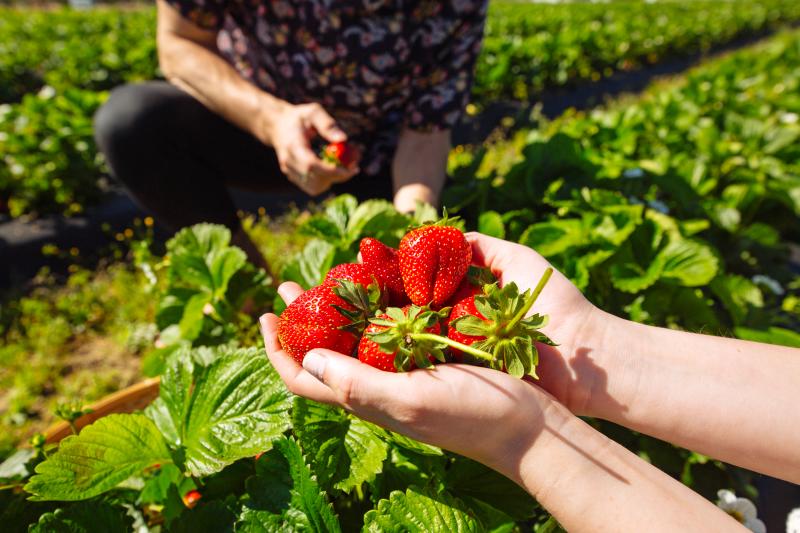 Pick-Your-Own Farms. If you know anything about Pungo, it's probably that it's the go-to spot for picking your own fruits, produce or even a bouquet of your favorite wildflowers! With 16 you-pick farms, it really is possible to take your pick of the season's bounty in a short and scenic route. From strawberries and blueberries to sweet potatoes and pumpkins, the fresh picks abound year-round, so keep an eye on the harvest calendar to maximize your fresh finds!
SAVOR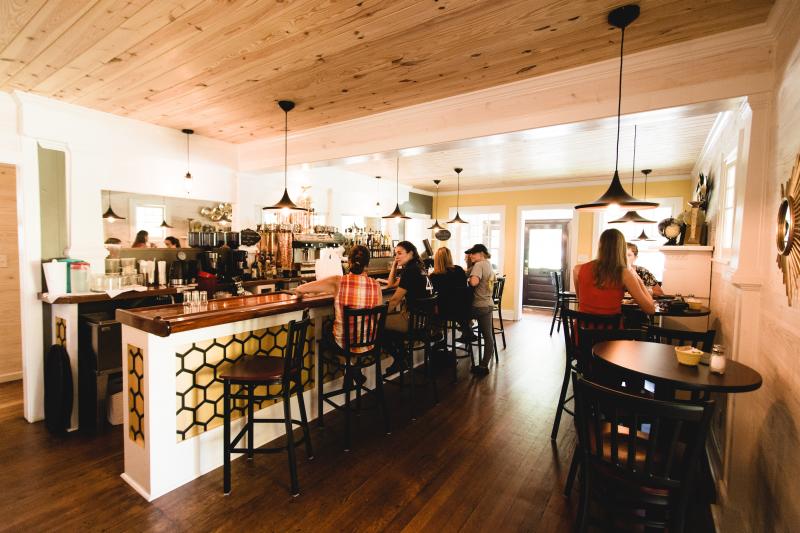 The Bee & The Biscuit. Housed within a 1900s cottage, this beloved restaurant honors the land on which it sits in the main intersection of Pungo. Its delicious menu celebrates locally grown food, complete with fresh-made biscuits and custom-blended coffee, served all week long inside and on their cozy outdoor deck.

Pungo Pizza & Ice Cream. Pizza, sandwiches, ice cream and an arcade? What more can you ask for!? The family-owned restaurant, which also boasts a well-equipped game room, has been a Pungo for nearly 25 years, serving up delicious made-to-order pizzas, salads, soups, sandwiches and even cakes in the heart of the Pungo community.

Sawdust Road. For a delicious handcrafted coffee experience, look no farther than Sawdust Road, a coffee shop whose artistic spirit runs deep. In addition to offering a cozy place to relax with great freshly brewed coffee and treats, Sawdust Road also showcases artworks by local artists, photographers and artisans.  
SHOP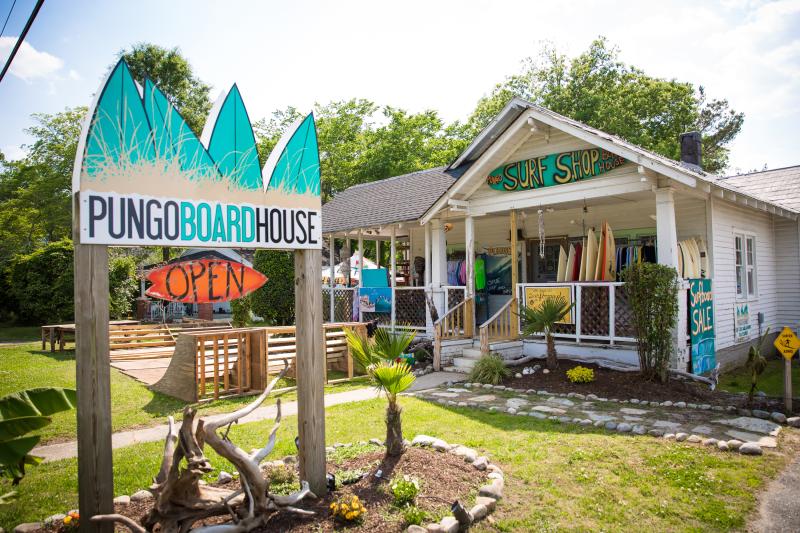 Sawdust Road. Looking to bring home some Pungo goodies? Whether in the market for local art or treats, you'll find a lovely, ever-changing assortment of locally crafted products at Sawdust, too!

Pungo Board House. Just next door, this surfboard-shop-in-the-middle-of-the-country houses everything you need to surf or skate. Need a little extra practice? Use their on-site skate ramp, or sign up for their surf camp and go from the country to the water in no time!
LEARN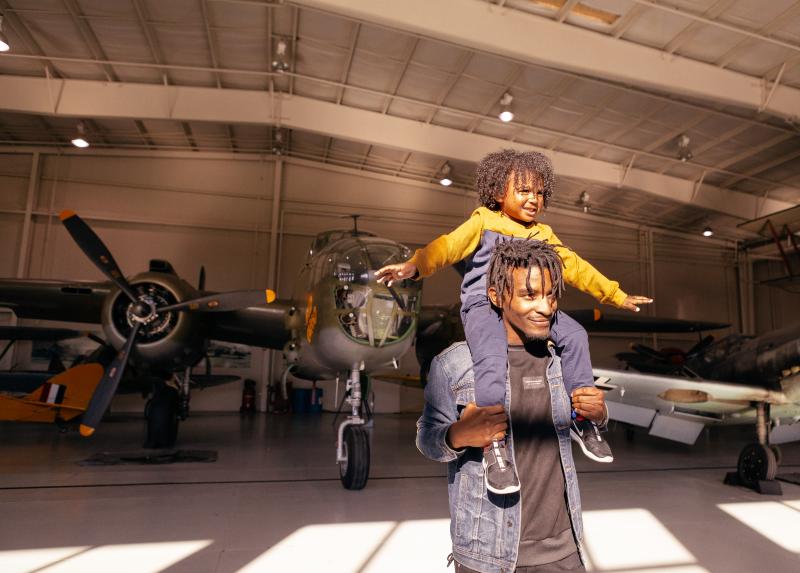 Military Aviation Museum. There's plenty of history to soak up while adventuring through Pungo, but no place delivers on that quite like the Military Aviation Museum. Home to the largest private collection of planes from the first 50 years of military aviation, the museum's aircraft have been restored to their original flying condition and are placed to allow guests to get up-close and personal with them – a thrilling experience for both kids and adults. Want to take your history lesson even higher? Sign up for a ride on a vintage open-cockpit biplane from the 1940s!

Jerrassic Park. Step even further back in time with a stroll through the museum's Jerrassic Park and get up-close-and-personal with the Jurassic Era. Free and open to the public, the unique collection of colossal dinosaur sculptures is situated at the main entrance of the Military Aviation Museum.
EXPLORE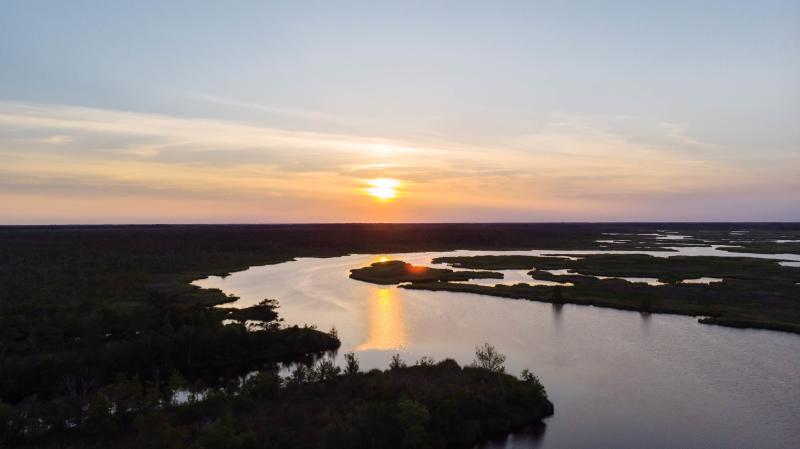 Blue Pete's Dinner Kayak Tour. For a one-of-a-kind Pungo experience, join Ocean Rentals for this popular kayaking excursion, which takes you through Back Bay National Wildlife Refuge to Blue Pete's restaurant, a Pungo dining staple since 1972. After your invigorating paddle, you'll be free to indulge in your tasty dinner guilt-free – all while having plenty of Pungo sights to discuss. 

Pungo Loop Trail. This 19.84-mile biking loop offers a great way for cyclists to take in Pungo's natural beauty, with limited traffic and unbeatable views of farmland, strawberry fields and waterways. The trail conveniently starts and ends in the Red Mill Commons area.

West Neck Creek Natural Area. Nearby, this wooded 217-acre site is a pristine recreational spot for hiking, bird-watching, photography, fishing and simply taking in nature. The shared-use soft trails extend for approximately 2.5 miles, including 0.3 miles of paved ADA-compliant trails. Be sure to keep an eye out for the breathtaking views and wildlife for which this area is known.