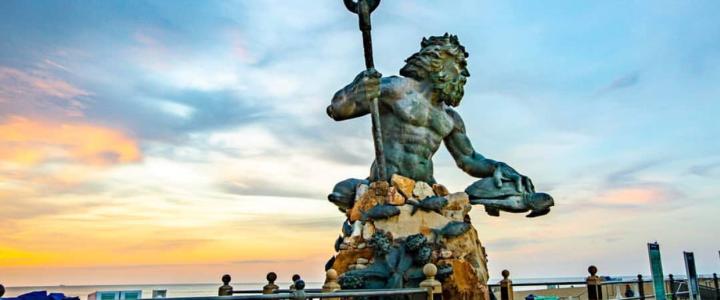 There's just something about starting the day watching the sun rise in Virginia Beach. The rising sun awakens the senses and nurtures the soul as warm red and orange hues paint the sky over the Atlantic Ocean and welcome the new day. Choose to stroll or pedal along the Virginia Beach Boardwalk, walk on 38 miles of beaches, kayak on serene waters or catch a few waves at Croatan Beach – you'll find there are plenty of great ways to start the day with the rising sun in Virginia Beach. Here are our faves.
From the Boardwalk
The three-mile-long Virginia Beach Boardwalk, which runs from 2nd Street to 40th Street, affords amazing views of the Atlantic Ocean. It's a great place to get your steps in at sunrise, whether walking or running. It's also tops for an early-morning bike ride before the mid-day crowds show up. Bring your own wheels or rent a bike (or in-line skates) for the day or a couple of days at Cherie's Bike & Blade Rentals, which has 14 locations along the boardwalk. Just be sure to rent your bike or skates in advance because Cherie's doesn't open until 8 a.m. – well after sunrise.
One of the most popular spots on the boardwalk for a sunrise photo is the iconic 34-foot-tall King Neptune sculpture, near the 30th Street entrance, which speaks to the city's enduring connection with the ocean. The 14th Street Fishing Pier is another top spot along the boardwalk for sunrise-seekers.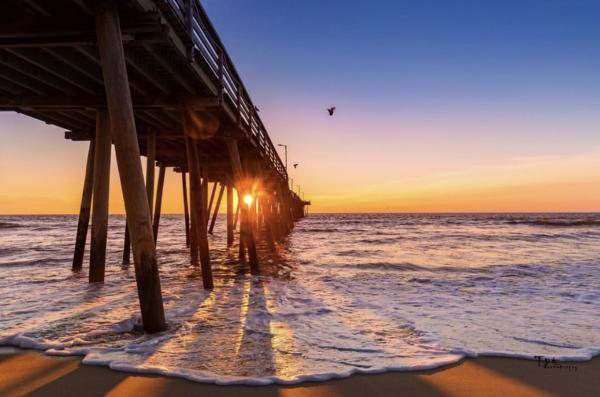 From a Surfboard
Known as a surfing mecca, Virginia Beach plays host to the East Coast Surfing Championships each August, but these beaches aren't just for pros looking to catch gnarly waves. There are waves suitable for all skill levels, from first-timers to seasoned surfers, and early morning is a great time to catch a few waves and watch the ocean come alive with fiery or pastel hues.
Whether you're looking to catch a few waves of your own or simply watch, head to Croatan Beach. This three-quarter-mile-long sandy stretch extends from Rudee Inlet to Camp Pendleton. Consistent swells and favorable winds make Croatan Beach a favorite, but it can get crowded, so you're wise to catch the waves with the early birds. No surfboard? No problem. You can rent one at VB Surf Sessions – just do so the day before you plan to catch the sunrise.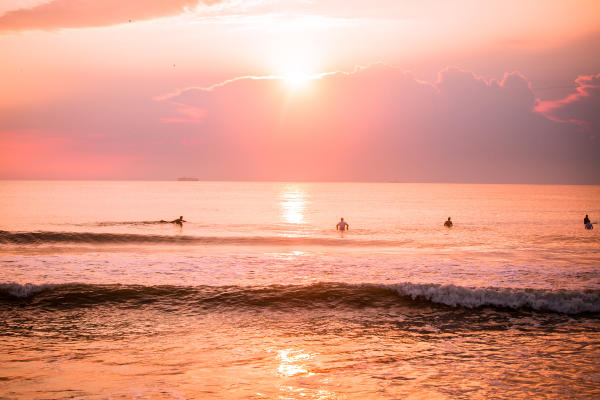 From a Kayak
Launch your kayak near the visitor center at Back Bay National Wildlife Refuge and paddle across marshes and maritime forests. Revel in the soft hues of early morning and keep your eyes open for native wildlife including wood storks, bald eagles and green sea turtles. For anglers, Back Bay offers freshwater fishing for largemouth bass, perch, bluegill and catfish. Nearby Little Island Park has a boat launch that allows easy access to saltwater marshes.
At First Landing State Park, paddle through tranquil waters flanked by sand dunes and woodlands. At Rudee Inlet, launch your kayak at Owl Creek for an early-morning paddle. If you're lucky, you may be rewarded with views of dolphins swimming and splashing about.
Since it's not always possible to travel with your own kayak, check out an outfitter such as Moore to See Photo Expeditions, which arranges private guided kayak ecotours at locations across Virginia Beach, including Back Bay and False Cape, at various time of day including sunrise.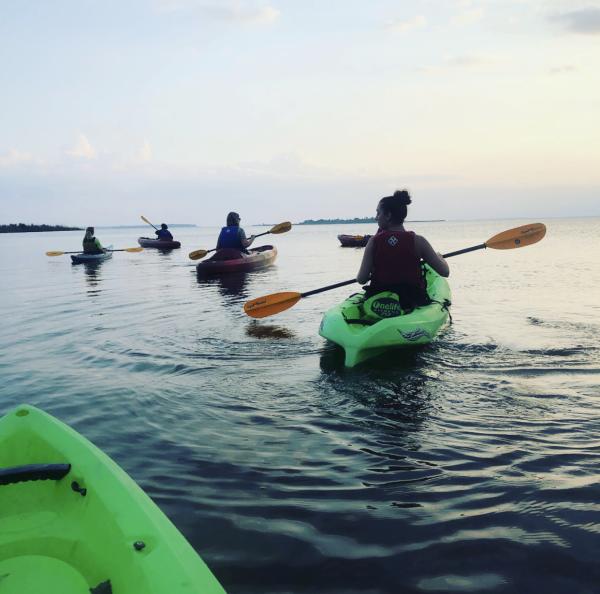 From a Balcony (or a Hot Tub)
When you just want to roll out of bed at the last minute and onto your hotel balcony – or maybe into the hot tub at your vacation rental – we've got you covered. Nearly every inch of our ocean beaches is oriented toward the rising sun. Be sure to book a hotel room with an east-facing balcony. Two great hotel picks for enjoying a balcony sunrise are the Wyndham Virginia Beach Oceanfront and the Sandcastle Resort on the Beach.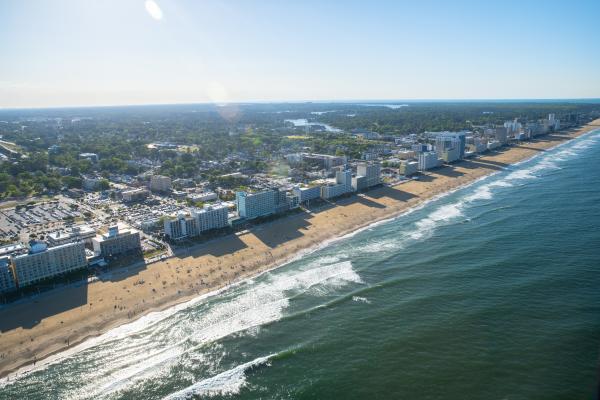 From a Park
Virginia Beach has quite a few green spaces, including local parks, natural areas and state parks such as False Cape State Park and First Landing State Park. The latter has a beautiful beach at its 64th Street entrance that's just right for sunrise. After sunrise, walk or drive across Atlantic Avenue to the park's Trail Center for a stroll along the Bald Cypress Trail or Cape Henry Trail.
At False Cape State Park, you can camp right on the beach and enjoy the day's first light before other park-goers have entered the park. It's a perfect place to unzip your tent and wake up to a brilliant sunrise.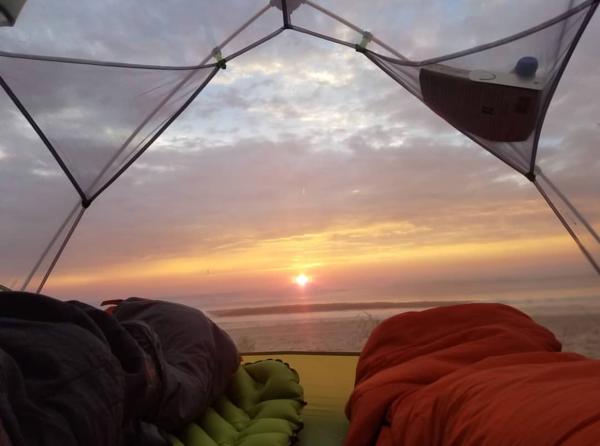 From the Beach
Given Virginia Beach's abundance of east-facing beaches, it's a cinch to savor a warm sunrise from anywhere along the beach. Even better, you may see dolphins leaping in the surf during the quiet dawn hours. A peaceful morning walk while watching the sunrise over the Atlantic is a fantastic way to start the day. Dig your toes into the sand and inhale the salty ocean breezes.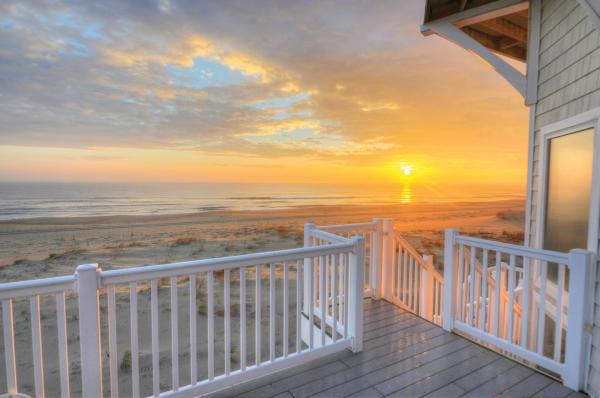 From a Fishing Boat
Virginia Beach offers lots of opportunities for fishing, including charter fishing. As a bonus, particularly for new and new-er anglers – or for anyone, really – charter captains with local expertise increase your chances of having a successful fishing trip. Marlin, tuna and swordfish are a few of the prized catches you'll pursue on a deep-sea adventure in the Atlantic.
Often, fishing charters depart from marinas in the early morning, particularly when seeking out tuna. This not only increases your chances of a good catch, but it gets you on the water in time to enjoy sunrise. Charter businesses to check out include Dockside Fishing Charters and First Landing Charters.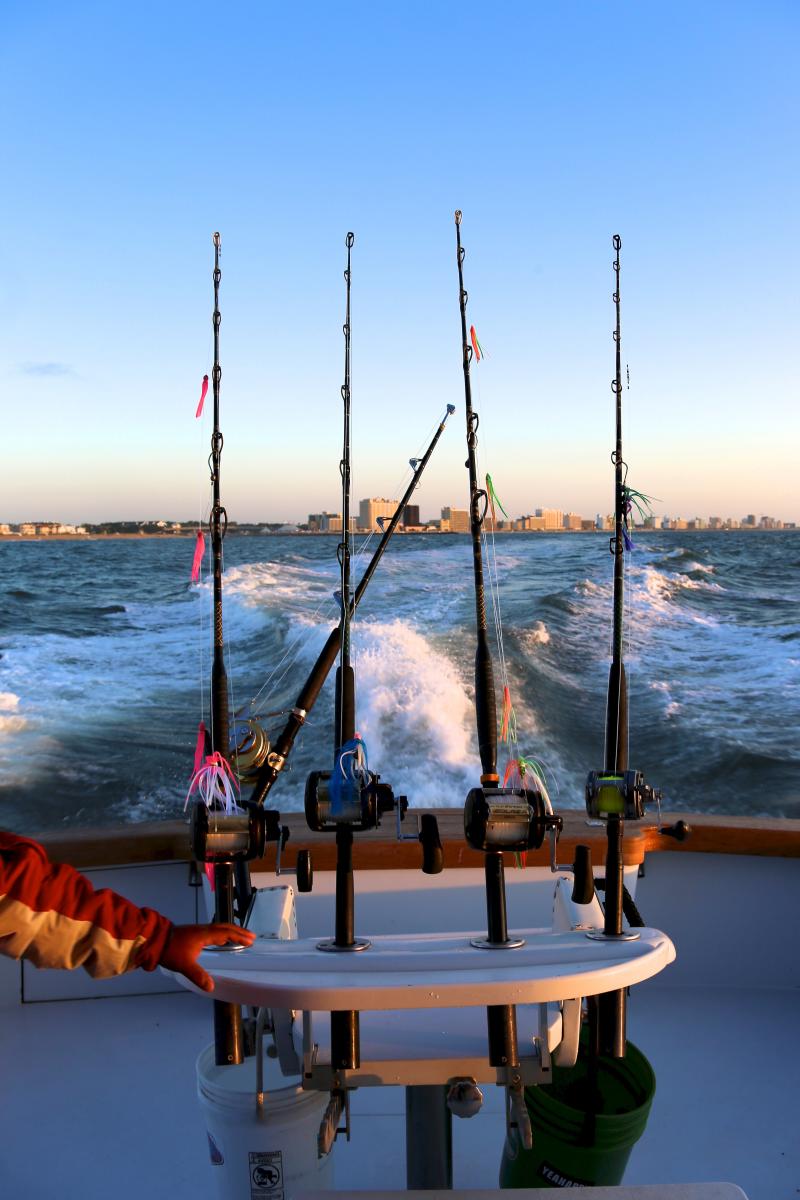 From Sandbridge Shores
For a truly serene sunrise, head to quiet Sandbridge, which is home to beachfront vacation rentals. Take in sunrise from a blanket on the beach, then treat yourself to delicious donuts from Peace, Love and Little Donuts. Sample some of their creative donut flavors including Blueberry Pancake, Banana Split and Samoa. The donut shop opens at 7 a.m. most days (at 8 a.m. Sundays).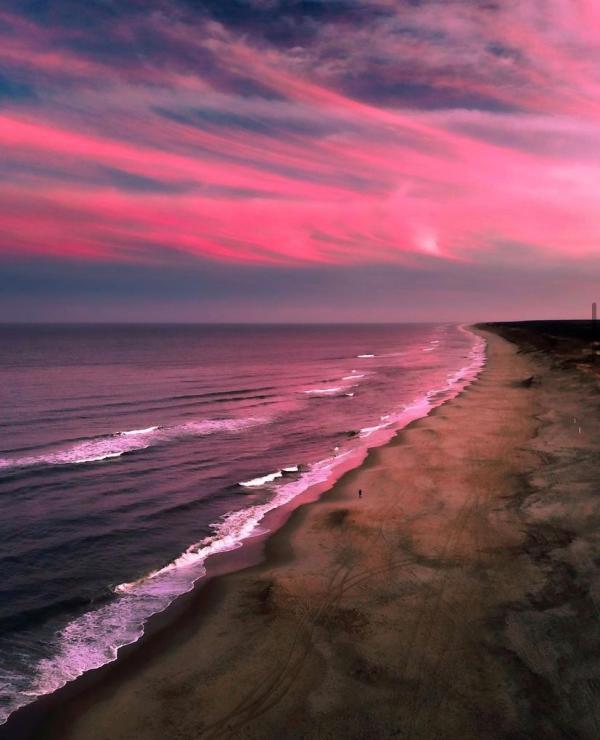 From the Breakfast Table
It's kind of a two-fer when you can see a vibrantly colored sunrise, then watch the day unfold while you eat a delicious breakfast on an outdoor oceanfront patio before the place gets crowded. Head to Catch 31 for outdoor dining, silver-dollar pancakes and seriously coveted ocean views. The restaurant opens at 7 a.m.
Another good pick is Hemingway's on Atlantic Avenue, which opens for breakfast at 6:30 a.m. on weekdays and 7 a.m. on weekends. If you're craving sweet cream pancakes, avocado toast and three-egg omelets, head to Jumpin' Shrimp on Atlantic, which welcomes hungry guests starting at 7 a.m. daily.