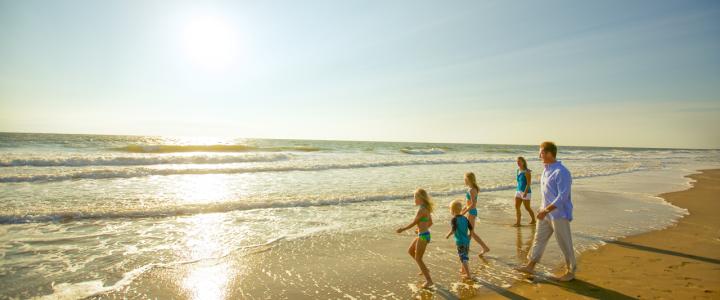 As the days get cooler, we're just heating up in Va Beach. With smaller crowds and milder temperatures, fall is a great time to pack the kids in the car and embark on a vacation to Virginia Beach that you'll be talking about for many falls to come.
Day 1:
Wake up to ocean views, dolphins swimming, navy jets flying and boats everywhere! Nothing to do today except lay your towel down on the sand and bask in the sun. Even with cooler waters, our fall weather makes for a perfect day at the beach.
Day 2:
Start your day with shopping on the boardwalk, then head to Cape Henry military base to climb the steps of the Cape Henry Lighthouse, the first federal construction project under the new government after the Revolutionary War. End the day with dinner outside under the stars near Neptune Park.
Before visiting Cape Henry Lighthouse, be sure to read additional information on location, arrival, and rules and regulations.
Day 3:
Test your game at Jungle Mini Golf then head down to the Rudee Inlet for a boat ride on the ocean by way of the Rudee Rocket. See dolphins up close, pelicans, seagulls and more. Spend the afternoon in Pungo exploring the uninhibited history of the Virginia Military Aviation Museum. Grab some ice cream and take it to New Earth Farm to enjoy the bounties of a fall harvest.
Day 4:
Wake up early for an autumn sunrise over the water then get your adrenaline pumping with a morning of indoor skydiving at iFly. When you're back on solid ground, head down the road for a maritime adventure at the Virginia Aquarium. After exploring the depths of our coastal culture, head up into the color-speckled trees at the Adventure Park at Virginia Aquarium for some high-flying fun. Close the day out with a relaxing evening and dinner in the ViBe Creative District.
Day 5:
For a nice change of pace for your final day, drive into Norfolk, our neighboring city, to explore the USS Wisconsin Battleship, parked outside of the Nauticus Naval Museum. When back at the boardwalk, take in the sights and sounds of our resort area with a long bike ride down the boardwalk. Spend the evening in Town Center, taking in an outdoor show and a nice dinner. Don't forget to stop by The Royal Chocolate for a tasty treat!