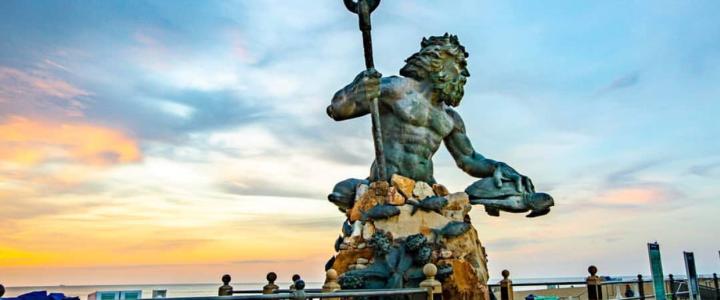 Sometimes, when you're on vacation, you don't want to travel far to have a day filled with relaxation, exciting adventures, and good food. Luckily, at the Virginia Beach Oceanfront, you don't have to. You can have the perfect day without straying more than a couple blocks from the famous Virginia Beach Boardwalk. From unbeatable views, great shopping, and an endless selection of good places to eat, here is how we would spend a day at the boardwalk.
Take in the Sunrise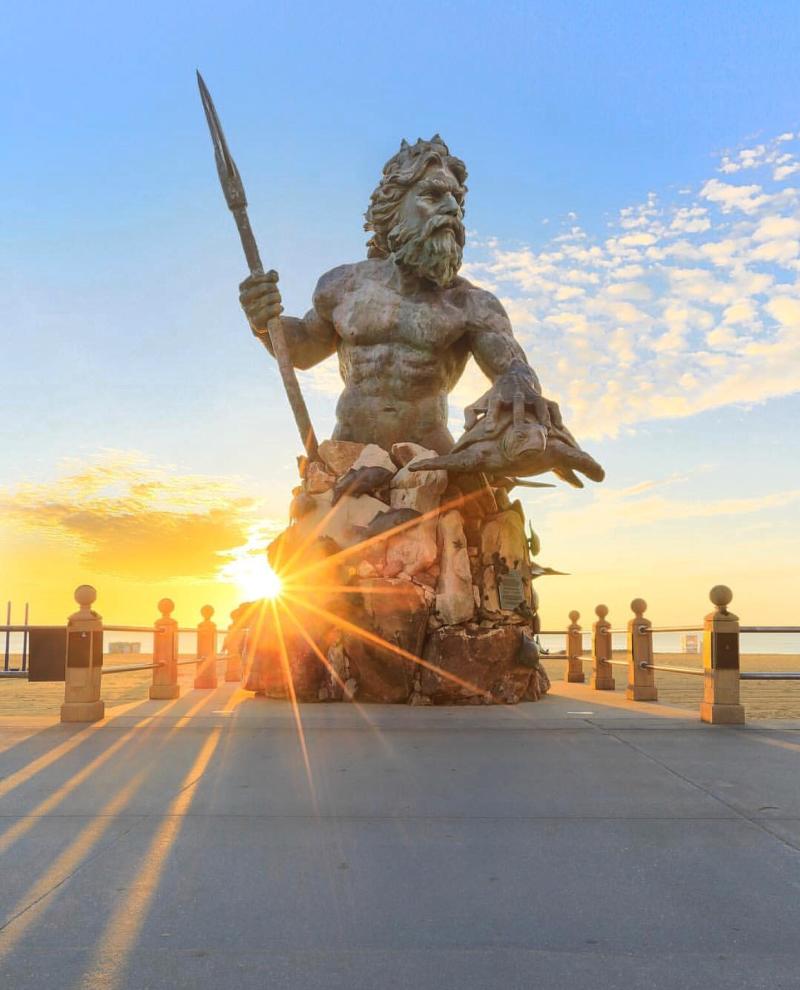 @emergingeye, Instagram
A sunrise in Virginia Beach is a sight you won't soon forget. With the world still sound asleep, the show is about to begin with a light-show over the Atlantic Ocean - and you have a front-row seat from the boardwalk. We like to beat the rush of the day's first beachgoers and take in the colors of the dawn behind King Neptune or the Virginia Beach Fishing Pier.
Exercise on the Beach
Greet the day with a sunrise salutation and a heart-healthy yoga session on the sand or unleash your inner acrobat for a full-body workout on the beach at Hillier Ignite Fitness Park - no weights required. Modeled after a fitness park in Santa Barbara, California, the Hillier Ignite Fitness Park is free to use and located right on the beach at the north end of Atlantic Avenue. Featuring parallel bars, climbing ropes, slackline posts, high bars and more, this jungle gym for adults will take you vacation workout to a whole new level.
Fuel Up for the Day

@thegreencatva, Instagram
Grab a healthy smoothie or fresh-pressed juice from the Green Cat Cafe or a coffee and a fresh-baked pastry from May's Parlor, both located just a couple blocks from the boardwalk. May's is a new bakery at the Oceanfront cranking out sweet and savory treats using locally-sourced dairy, meats, cheeses, and produce, whenever available. We're a huge fan of their chocolate croissants and any of their creative "cruffins," which come in both sweet and savory varieties.
Relax on the Beach

@tessa_duquette, Instagram
Grab a beach chair and umbrella, and your favorite drink, and spend a few hours doing nothing but relaxing by the water. Take in some sun, get lost in a good book, and reset for an afternoon of oceanfront adventures.
Shop Around

For a mix of eclectic coastal finds, it's hard to beat Atlantic Avenue at the Virginia Beach Oceanfront. From classic beach staples like Sunsations, to charming local boutique clothing and gift shops, Atlantic Avenue has a little something for everyone. Check out local shop, True Woman, for great styles and reasonably-priced clothing in reasonable sizes and Bargain Beachwear for a huge selection of all of the beach attire you could want at a great price. Stop by the Shops at 31 Ocean for a huge selection including local shops, Beecroft & Bull fine men's clothing, Kitty Hawk Kite's Life is Good clothing boutique and the popular Meg's Swimwear.
Sip on Some Orange Crushes

@msnewfoodieee, Instagram
Head to one of the many Oceanfront watering holes, like Waterman's, Chix, or Ocean 27 for the classic Virginia Beach cocktail, the Orange Crush. One of our go-to spots, The Shack on 8th, is a fully open-air bar, stocked with lawn games like corn hole, bocce ball, and giant beer pong, making it the perfect place to enjoy a few of these staple drinks on a nice day.
Go for an Evening Bike Ride

@lauriejacobson, Instagram
The Virginia Beach Boardwalk was built with cyclists and walkers in mind. With separate biking and walking paths, cyclists can ride their beach cruisers along the coast without having to dodge pedestrians or cars. For a classic Virginia Beach adventure, rent a four-wheeled surrey bike and work as a team with your entire family as you pedal full-steam ahead. With rental stations all along the boardwalk, you can come right off the beach and hop aboard.
The 3-mile long Boardwalk is also our favorite place to break out our favorite beach cruiser bikes. You can even find tandem beach cruisers for a more challenging cooperative experience beside the beach. Whether you opt to ride the entire length of the Boardwalk or just ride your bike from stop to stop, this is one of our favorite Virginia Beach experiences.
Grab Dinner Fireside

@sharon.e.moore, Instagram
Catch 31 is a prime location for dinner with a view. Overlooking the boardwalk and the Atlantic Ocean, this is one of our favorite places to enjoy live music at Neptune Park, including national bands like The Wailers, Canaan Smith, and Vertical Horizon. Sit at the open-air fire pit and enjoy a farm-to-table menu highlighting the best of Coastal Virginia cuisine.
Cover Image, @donna_twiford, Instagram