While the craft beer flowing through Virginia Beach is certainly worth exploring, to truly indulge we have our minds set on something just a little bit stronger. From a 500 gallon hybrid pot still system with a 20-foot vodka column inside a hotel, to an old surf shop-turned craft spirit haven, you won't want to miss these Virginia Beach distilleries.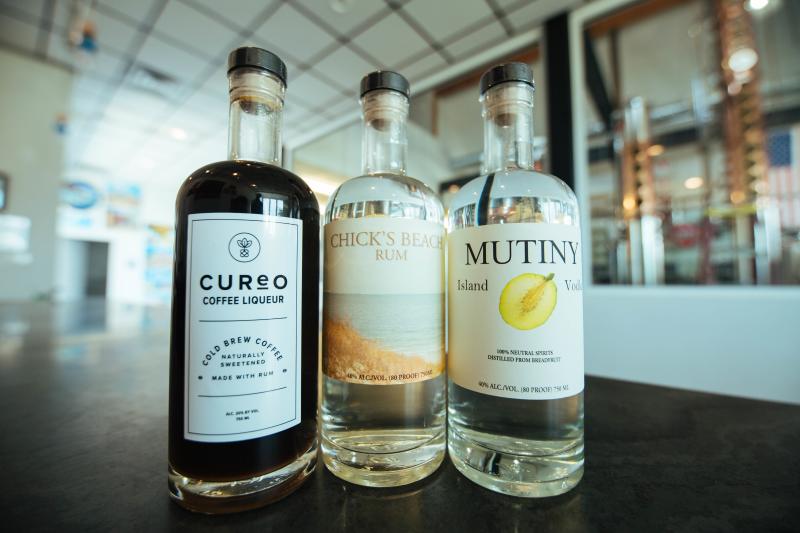 Operating out of an old iconic surf shop in the ViBe District, The Chesapeake Bay Distillery is serving up vodka and rum that is distilled and bottled in-house. With various vodkas, like the spicy Ghost Pepper Infused Vodka and Mutiny Island Vodka, the world's first breadfruit vodka featuring tasting notes of honeydew, banana, and citrus, this place is a paradise for connoisseurs of the clear elixir.
Flavored liqueurs like Lemon Liqueur and Cureo Coffee Liqueur, and their famous Chick's Beach Rum mean there is something for everyone here. Don't leave without trying their Dr. Stoner's line of herb-infused vodka, whiskey, or tequila, each made with 19 different herbs and spices and featuring their own unique flavor profiles and aromas that will surprise and delight.
Drop into their tasting room to sample each spirit on its own or in a prepared cocktail shooter, in a Lemon Drop or a Bloody Mary.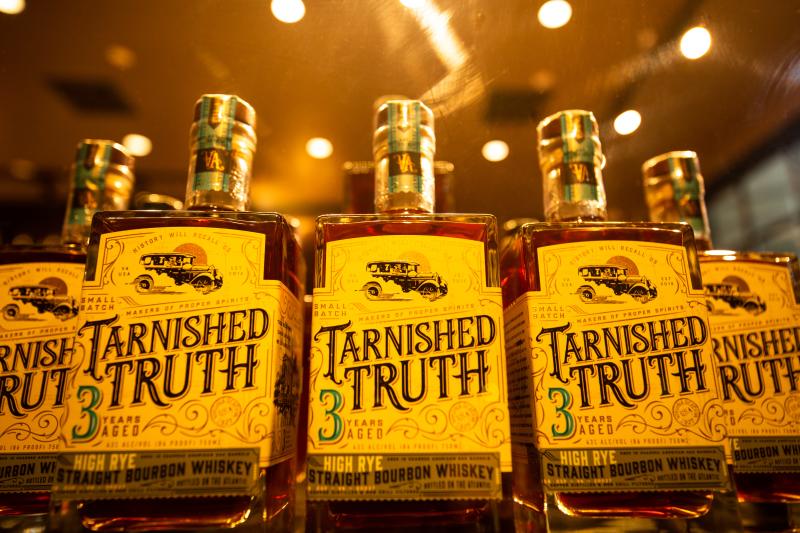 Tarnished Truth Distilling Company, the country's first craft distillery to be located inside of a hotel, is located within the historic Cavalier Hotel at the Virginia Beach Oceanfront. The small batch distillery's dynamic portfolio includes their signature Old Cavalier Bourbon, Tarnished Truth High Rye Straight Bourbon Whiskey, Tarnished Truth Bourbon Mash Moonshine, Fourth Handle Coastal American Gin, Old Cavalier Bourbon Cream, and AVA Vodka, all of which can be enjoyed in the Hunt Room or by taking a bottle home with you. 
The Hunt Room allows you to enjoy your drinks fireside by the historic grand fireplace. Upon renovation, the fireplace was found to have been structurally compromised and had to be restored brick-by-brick, with each brick being placed in its original order and location. Guests who once hunted native fowl, such as ducks, on the original property's 4,000 acres of land, would bring their bags of game to be prepared by the hotel's masterful chefs. Today, you can choose from cocktails like their Aperol Spritz, Boulevardier, or one of our personal favorites, the smoked Old Fashioned, made with Tarnished Truth spirits.
Tarnished Truth also offers private and hourly tours, flight tastings, and a private room for dinners, cocktail classes, and special occasions. To take your bourbon tasting to an entirely new level of luxury, head next door to the Cavalier Hotel's spa, SeaHill Spa, for their Bourbon Tea Nutria Body Wrap. This two-hour package infuses bourbon from The Cavalier's new on-site distillery, Tarnished Truth Distilling, into your soaking tub for truly unique and relaxing experience. A dry brushing precedes the wrap and soak, followed by an 80-minute side-by-side massage.