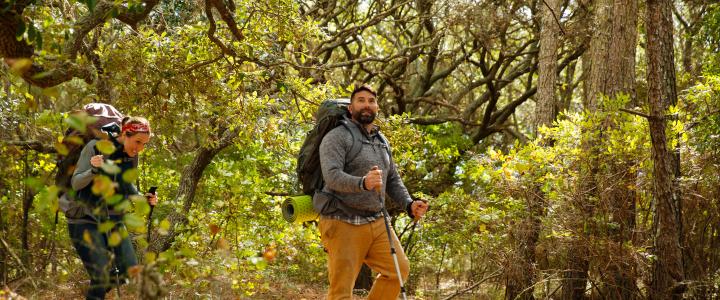 When's the last time you climbed a tree or dangled from a rope swing? Or sailed through the treetops on a zipline? Have you ever seen the ocean from hundreds of feet up in the sky? Or ridden a curling wave on a surfboard? Skimmed over the water on a jet ski? Or discovered new trails through coastal terrain? Have you dreamt about spending the night in a tent under a sky shimmering with stars? Isn't it time you made it possible for your family or friend group to experience any (or all) of these adventures? 
If your answer is "never," "not recently" or "I've always wanted to, but. . . ,"  those dreams can become a reality on your next Virginia Beach vacation. Though this city is a prime destination for beach lovers, Virginia Beach is also a place where visitors can fill their days with adventures on land, sea or in the air. Here's a sampler of activities that will make your heart beat a little faster.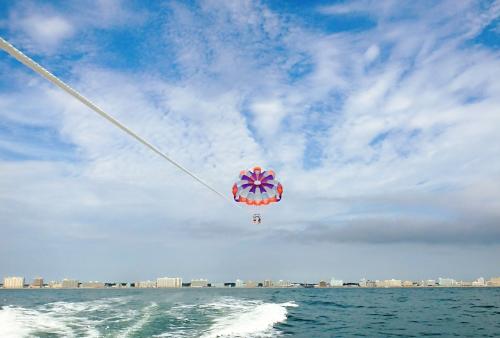 Soar Above the Beach on a Parasail Ride
 
Several parasailing companies in Virginia Beach's Rudee Inlet offer a bird's-eye view of the  Oceanfront. Here's how it works: Up to three passengers are suspended in harnesses attached to a parasail (a canopy similar to a parachute) and tethered by a long line to a boat. When the boat is underway, the line to the parasail is unrolled as the canopy catches the wind and carries it aloft. Depending on weather conditions, you can choose how high you want to sail (up to 1,000 feet, the legal limit in Virginia) for the 10- to 12-minute flight.  You can also ask to have your toes dipped in the ocean as the parasail is winched back aboard the boat.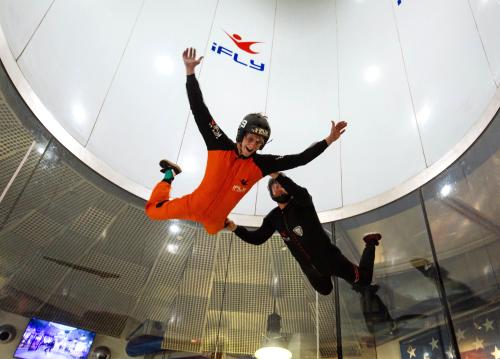 Go Skydiving Indoors
 
Suppose the weather isn't conducive to parasailing, but you'd really like to know how a bird feels as it rides a current of air. Or you're curious about the way astronauts float around in the space station. Regardless of the weather (or season), you can book a "flight" at iFLY Virginia Beach. Include the kids (minimum three years old) in the booking, and the grandparents. Without any special gear other than a flight suit worn over your clothes, you'll safely float on air in a vertical wind tunnel with a flight instructor by your side. There's no effort, no stress, no tether – just the amazing and weightless sensation skydivers experience during free fall from a plane.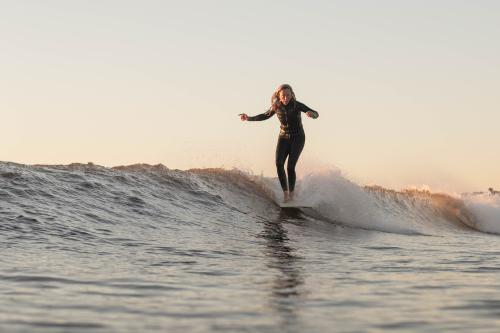 Ride the Waves on a Surfboard
 
Surfing has been a part of Virginia Beach's DNA since 1912, when a 100-pound surfboard from Hawaii was introduced to the Atlantic Ocean. A lot has changed since then – especially the boards – but not the waves near the 1st Street Jetty, Virginia Beach Fishing Pier, and Croatan. They aren't as massive as Hawaii's waves, but they sure are fun.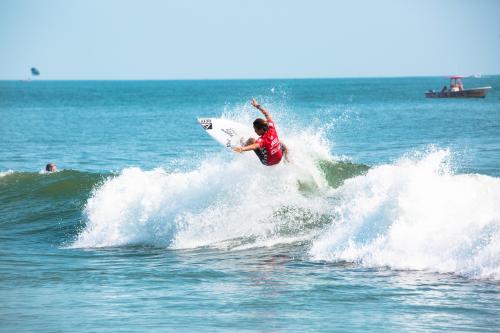 Top surfers gather here during August's East Coast Surfing Championships (ECSC), North America's longest continuously running surfing contest. August is also when the Life Rolls On event for surfers with disabilities takes place. 
Once you watch some of the local surfing action, you'll likely be inspired to rent a board, find an instructor (or surf camp) and learn to surf. 

Zoom Around on a Jetski or the Rudee Rocket
 
Most water sports lovers know how much fun it is to skim over the ocean on a jet ski, which is one of the many water activities that originate at Rudee Inlet. Equipment rentals here include jet skis, kayaks and standup paddle boards. Fun excursions include parasailing, fishing trips and the Rudee Rocket Dolphin Tour, which features lots of splashing on the journey back to shore.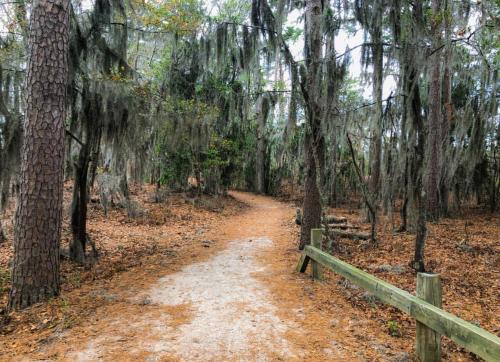 Explore Park Trails on Foot or Bike
 
Chief among Virginia Beach's hiking opportunities is First Landing State Park, nearly 3,000 acres with frontage on the Chesapeake Bay as well as 19 miles of interpretive trails.  The park's maritime forest is one of the most endangered habitat types in the world.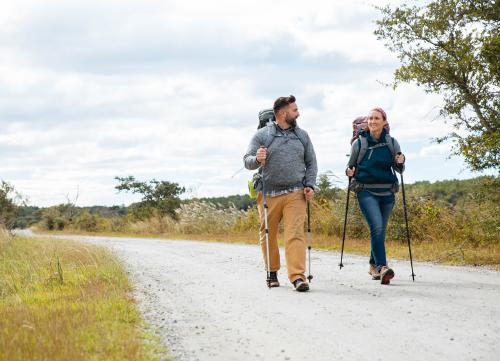 Another treasured local spot is False Cape State Park,  a pristine barrier island with more than 15 miles of hiking and biking trails, and six miles of beach. (Tip: Weekdays are quieter at both parks.)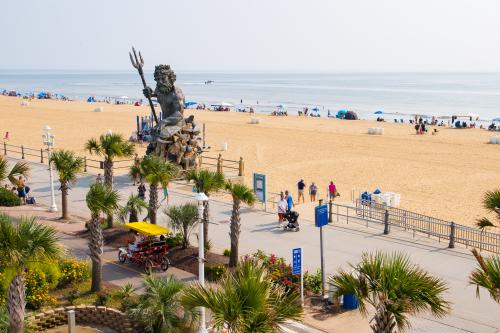 For a leisurely bike or stroll, the three-mile Virginia Beach Boardwalk is a scenic trail with separate paths for bikers and hikers. Along the boardwalk, you'll find places to rent bikes, including four-wheeled surrey bikes or tandem beach cruisers, for a unique biking experience.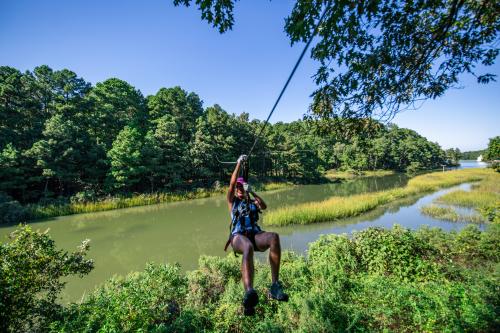 Challenge Yourself at an Adventure Park
 
About the tree climbing mentioned earlier: The Virginia Aquarium is home to an extensive aerial Adventure Park where adults can be kids again – and kids five years and older can be, well, kids. The climbing and ropes course difficulty levels are color-coded like ski slopes, with 17 treetop trails linked by 33 ziplines. You can choose your own routes and pace, secure in the safety harnesses and constant presence of helpful staff. 
For ziplining only, Adventureworks offers the opportunity to fly over coastal wetlands. If you time your visit right, you can even "zip" at night during special moonlight tour sessions.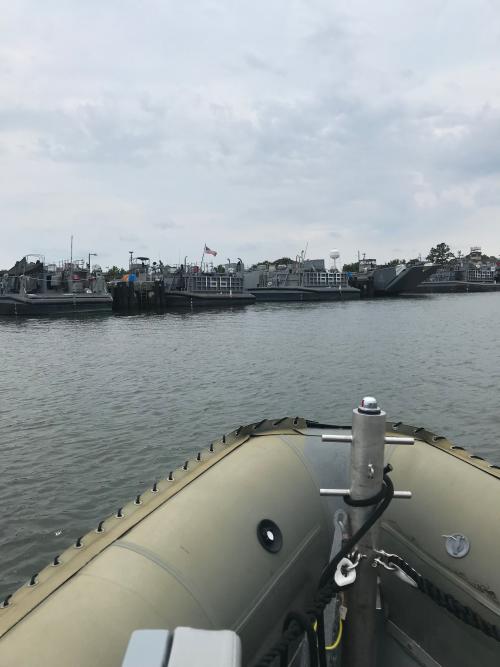 Join a Mock Special Ops Mission
 
Virginia Beach is home to three military bases – one of the country's largest concentrations of military personnel. You can learn about the maritime military community as a passenger on a former SEAL team RHIB (6-passenger rigid hull inflatable boat) while viewing abundant marine life. Veteran-owned Patriotic Excursions offers more than a dozen outings including dolphin encounters and bar crawls – and even a simulated (but very realistic) special ops mission. If you've ever fantasized about being a Navy SEAL, this is your opportunity for awesome bragging rights. Dressed in military gear with mock firearms and explosives, you'll embark on a "mission," which could be rescue, reconnaissance or an enemy encounter.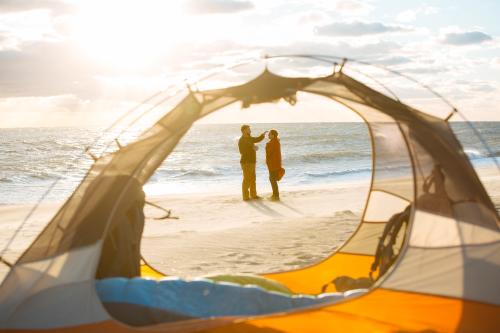 Sleep Under the Stars
 
Camping at False Cape State Park, a barrier island off Virginia Beach, is a memorable experience. The isolation and natural beauty of a six-mile-long beach with just a few primitive campsites is tantalizing. Experienced backpacking campers can handle a seven- or eight-mile hike (or bike), carrying all their gear, to such a special place. But although it's literally a walk in the park… it's best suited to hardy nature lovers, so do your research and be prepared. There is limited access to potable water, so take enough containers for your stay. If you want to cook, you'll need to bring a camp stove; campfires are not allowed. Pets aren't permitted in Back Bay National Wildlife Refuge, the only way to access False Cape except by boat. During the day you can explore 15 miles of hiking/biking trails through a coastal wilderness that's inhabited by a variety of wildlife (including venomous snakes). Black flies can be an issue in summer (and experienced hikers/campers would never leave home without plenty of insect repellent, any time of year). Camping fees are low, and the positive reviews are superlative.