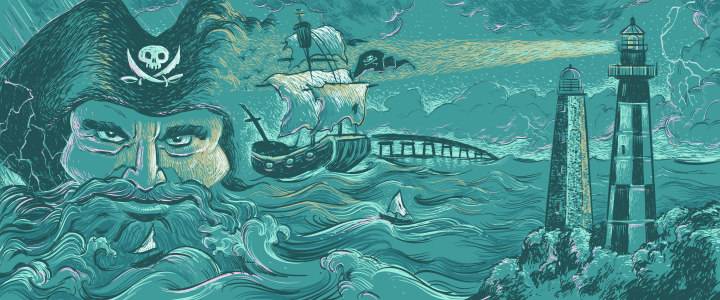 As the leaves begin to show their vibrant autumn colors and the temperatures begin to drop, a chilling and tantalizing spirit starts flowing through our coastal city. And with Halloween approaching, it's as though the stars align just right to bring a bit of seasonal fright for those of us daring enough to seek it.
With a rich history that predates this country's foundation, Virginia Beach has borne witness to countless stories that continue to live on… well, in a manner of speaking. Our city's past is riddled with fascinating – albeit somewhat creepy – tales of unexplained phenomena. This month, we encourage you to embrace the spooky spirit of the season with these storied VB haunts. 
Want to dive even deeper into Virginia Beach's haunted history? We recommend picking up a copy of "Haunted Virginia Beach" by Alpheus J. Chewning, a longtime VB resident who shares a bounty of spooky stories, including some of his own supernatural encounters. We've included some of the author's accounts in our roundup below, as well as a bonus story about one of our favorite local legends and a list of spooky tours you can embark on this month.
Happy haunting!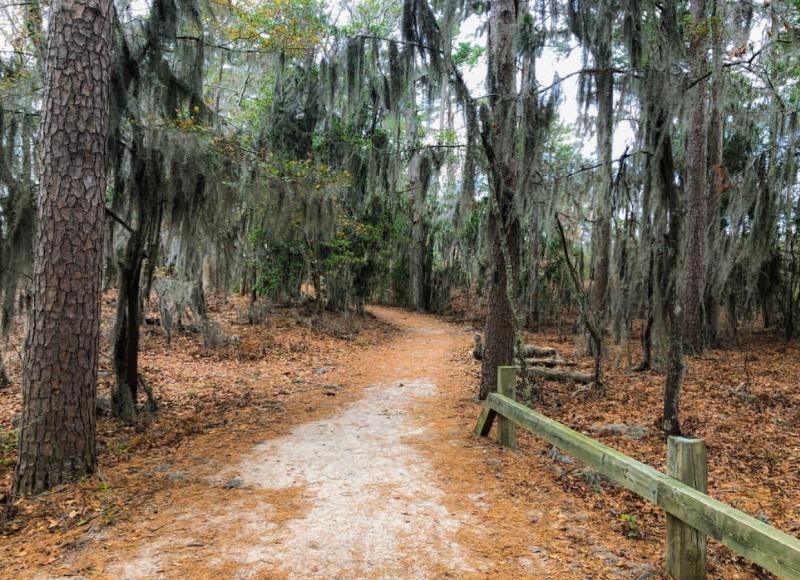 First Landing State Park
Sure, this may be one of our most beloved outdoor spots, but in the early 1700s, the shores of the Chesapeake Bay were home to fearsome pirates, including the most famous pirate of all – yup, Blackbeard himself! Ideal for scanning the calm bay waters for treasure-laden merchant ships and U.S. Navy vessels on the hunt for pirates, the area we now know as First Landing State Park was a favorite lookout point for Blackbeard (nee Capt. Edward J. Teach). 
As the story goes, after the sacking of a particularly bountiful merchant ship, Blackbeard and his men spotted a Navy ship coming from the west before they'd had time to enjoy their loot. They hastily buried their treasure in the dunes and fled through the park's narrow inland waterways and back out to the ocean before sailing to their hideout in North Carolina. Of course, Blackbeard intended to return to our shores to reclaim his gold, but the Navy caught up with him in the Outer Banks, a bloody battle ensued and the infamous pirate was beheaded at the hands of Lt. Robert Maynard (yikes!). 
While many have tried, the hiding spot of Blackbeard's lost treasure remains a mystery. Legend has it that while the pirate's death happened in North Carolina, his spirit looms over the park, protecting his treasure. So, next time you're strolling through First Landing, watch your step! Stray too close to where Blackbeard's treasure lies, and you just may find yourself staring through the headless specter of the most infamous pirate to ever sail the high seas.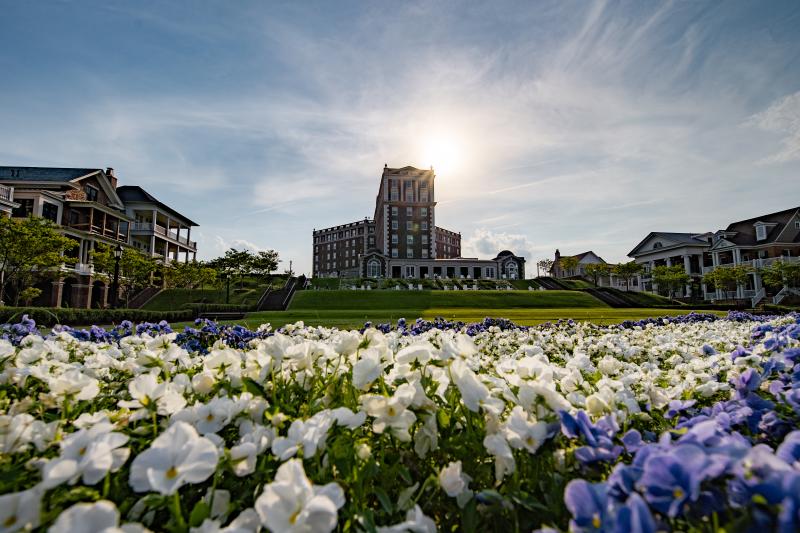 The Cavalier Hotel
Once known as "The Grand Dame of the Shore," the revived Cavalier Hotel, which first opened its doors in 1927, has been witness to a vast collection of stories through the decades – records of lifetimes lived long ago and presumed to continue to inhabit the hotel's halls, albeit in spirit. 
There are many ghost stories, as told by hotel staff, former employees and guests. The piano in the hotel's opulent Crystal Ballroom has been heard playing with no one seated at it. A long-lost cat has been heard scratching and meowing at the door of guests' rooms. A kind, old bellman has been spotted by the stars leading from the fifth floor to the sixth, warning of ghosts ahead, only to vanish when guests begin to question him. Do you have chills yet? 
Get this… even famed brewer Adolph Coors (yes, that Coors), whose lifeless body was found below his sixth-story window in 1929, has been seen walking The Cavalier's corridors in the dead of the night. In fact, his ethereal image was once even possibly captured on film during a wedding held at The Cavalier in the 1970s! Of this sighting, Chewning writes:
"A professional photographed the wedding party in the hotel's lobby while several relatives took snapshots with their own cameras. The woman said that in some of her developed photos, there was a faint, misty image of what happened to be a man. She dismissed it as being the fault of her cheap camera and didn't think of it again until she attended another family function a few years later. As the photo albums were being passed around, she noticed similar flaws in other people's pictures. Everyone ultimately agreed the image did look like a man, but no one could identify who he was. When I showed this woman a photo of Adolph Coors, she gasped and said she thought it was the ghostly man in the wedding pictures."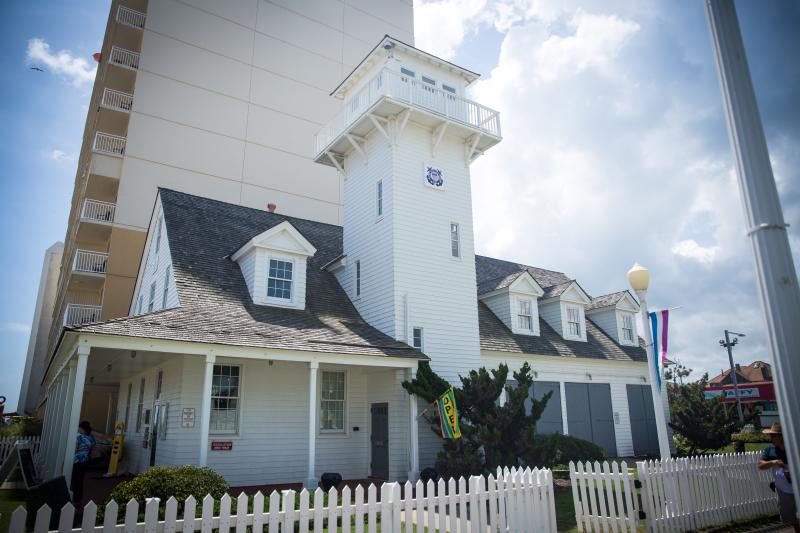 The Old Coast Guard Station
Housed within the former U.S. Life Saving Station, the Virginia Beach Surf & Rescue Museum preserves the city's maritime history through exhibits on local surfing legends, super storms, shipwrecks, local lifeguards and more, but the old building – rebuilt in 1903 and recognized on the National Register of Historic Places – is known for far more, thanks to the otherworldly phenomena reported by the museum's staff.
The maniacal laugh of The Witch of Pungo, Grace Sherwood. Phantom footsteps lead up to the guard tower. The voices of disembodied spirits of shipwreck victims, who were often laid in the attic until the bodies were claimed. The museum even has its own resident ghost, John Woodhouse Sparrow, who worked as a surfman at the station for 33 years, from 1883 until 1916, and received the silver lifesaving medal in 1900. Of Mr. Sparrow, Chewning writes:
"Certainly Mr. Sparrow's spirit has been offered all the wonderful rewards he earned while here with us, but, being as unselfish as he was in life, he has probably chosen not to accept them yet and instead remains on duty. Someday, when the building where he spent 33 years of his life succumbs to neglect, fire or hurricane, John Woodhouse Sparrow will finally take a long-deserved rest."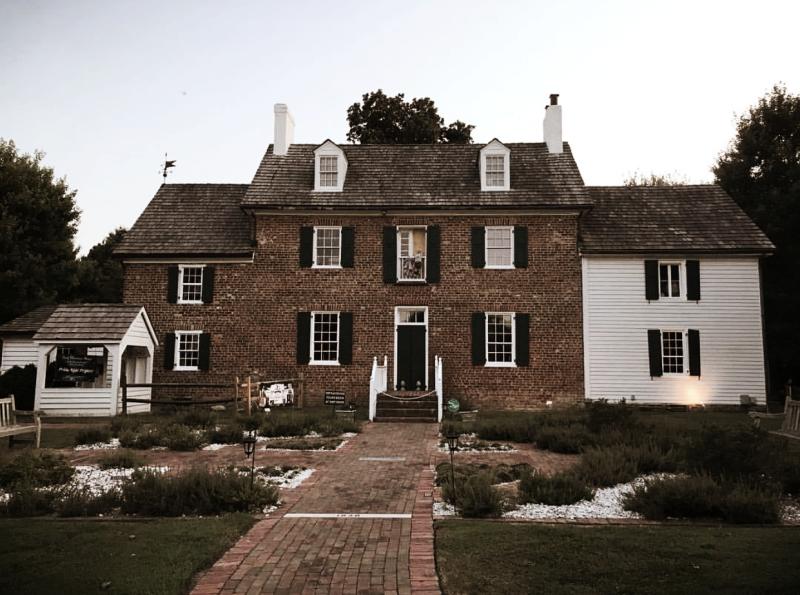 The Ferry Plantation House
Possibly the most haunted structure in Virginia Beach, the Ferry Plantation property dates back to 1642 and is a Virginia Landmark Register. The house that stands there today, rebuilt in 1830, after the previous one burned down is open to visitors year-round – but be warned, you're not the only one paying a visit to this storied Virginia Beach spot.
Ghost stories have swirled around the Ferry Plantation House for centuries, as Colonial- and Civil War-era spirits of those who once frequented the old house have been known to pay it a visit from time to time. Other reported ghosts have included victims of an 1810 shipwreck, a former painter who once called the house a home, a former slave named Henry, and Sally Rebecca Walke, who had lived in the house during the Civil War and whose fiancée was killed in battle. And then, there's Eric, a young boy who is believed to have died from a fall in the mid-to-late 1800s, and whose ghost is now known to play a mischievous prank or two.
Reports of shadows, cold spots and other unexplained paranormal activity have been painstakingly documented by the house's staff. Of these events, Chawning writes:
"...most of the activity occurs when someone in the house is wearing period attire. Perhaps the spirits feel like they are back with someone from their own time. Why not stop in at the Ferry Plantation House for a visit and see for yourself?"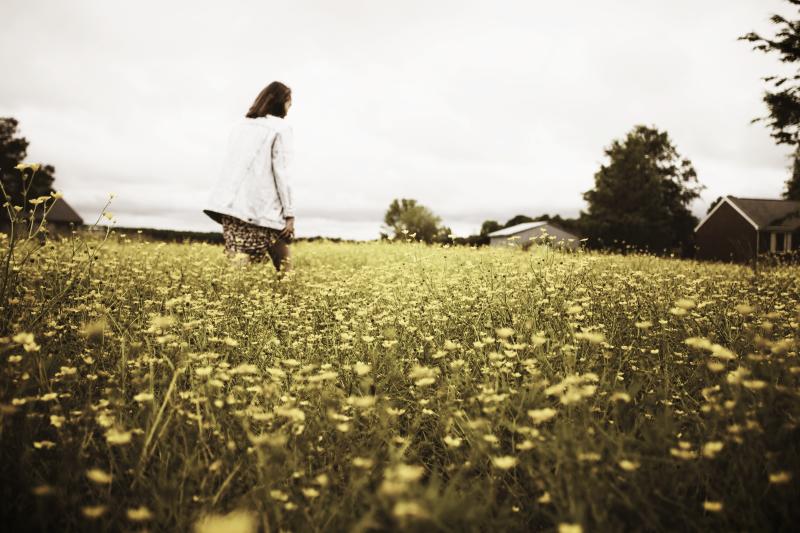 The Story of Grace Sherwood, The Witch of Pungo
No haunted VB story would be complete without that of Grace Sherwood, known locally as The Witch of Pungo – the last individual known to have been convicted of witchcraft in Virginia. During the month of October, Grace's continued spirit over VB is palpable – from breweries naming seasonal beers after her to a statue and historical marker being erected in her honor. So, who was this witch exactly?
In 1698, Grace was accused of bewitching a neighbor's crop and battled rumors of witchcraft for years. In an attempt to clear her name, Grace agreed to trial by ducking. Considered to be pure, water would reject evil and accept innocence, meaning that if Grace floated, she was guilty and if she drowned, she was innocent. With her thumbs bound to her big toes, Grace was rowed out to the middle of the Lynnhaven River and thrown overboard. An unprecedented mob of onlookers who made their way to where the Ferry Plantation House still stands today was stunned when Grace, having escaped her bindings, resurfaced. Her survival was all that it took. Her fate was sealed, and the legend of The Witch of Pungo was born.
Grace's body is thought to have been buried under a tree that still stands today on the property of the aforementioned Ferry Plantation House, and many neighbors report that, on a clear night, you can see the shape of a woman with long, wet hair walking the banks of the river. 

Haunted VB Ghost Tours
If you're feeling daring, curious or a mix of both, there's no better time of the year to embark on a Virginia Beach tour unlike any other – in the dark and with plentiful haunts to discover. Sign up for a ghost tour to get up close and personal with some of our favorite VB haunts – and even contribute some stories of your own!
Ghosts of Virginia Beach
The city's original ghost walk, est. 2002
 
Neptune Ghosts
An authentic ghost tour down the Boardwalk