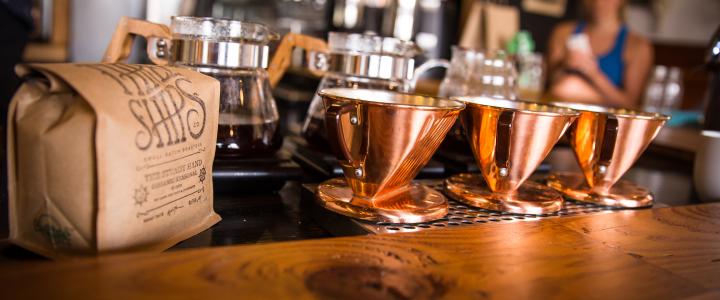 It's morning in Virginia Beach. The steady indecision of the shifting tide sets the soundtrack for the impending tango between light and dark in the distance. The sunlight dances into your bedroom, bringing with it the promise of a new day and beckoning you to be a part of it. There's nothing quite like taking in the magnificence of a VB sunrise but, if you're like us, there's only one thought going through your mind upon waking up – Need. Coffee. Now. If the day can only be as good as the first cup of Joe, you might as well do it right. Luckily, we have you covered.
Just steps away from the boardwalk, in the colorfully emerging ViBe Creative District, sits a shop whose approach to coffee mirrors the artistry of its neighbors. Once a mobile staple at the Old Beach Farmers Market, Three Ships Coffee Roasters, whose name pays homage to the adventurous spirit of the first settlers in the area, is carefully crafting the rich taste of their coffee by hand – from bean to cup! From sourcing the perfect beans to roasting them in-house, often in a lightly roasted Nordic style, owners Brad and Amy Ewing cut no corners in bringing you the perfect cup of coffee. To fully experience the complexity of the somewhat fruity flavor, we'd recommend ordering the pour-over coffee and skipping out on the cream and sugar. You won't regret it. For those who require a slightly sweeter pick-me-up, the Pungo Latte, sweetened with local fruit, such as strawberries or blackberries picked right from the farms of Pungo, provides a fresh, local and amazingly delicious way to start the day.
This is not your ordinary drive-thru experience. The folks at Three Ships are artisans in every sense of the word, and their passion is apparent in each cup they slide across the bar. The need for caffeine may have brought you in, but you will leave with so much more than the usual daily caffeine buzz. This local jewel is serving up adventurous coffee that will challenge your palate and change your standard for what quality coffee is. If that's not a good reason to get out of bed, we don't know what is.
So, rise and shine, sleepyhead. The coffee is flowing and the world awaits. Cheers!