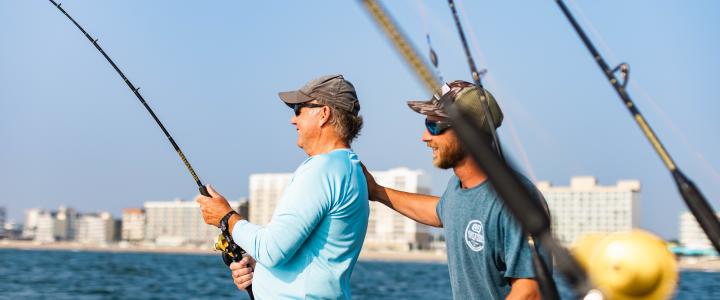 Whether you've been fishing all your life and are looking for the next big catch, or you've never baited a hook or looked a fish in the eye, Virginia Beach delivers many choices for anglers, from pier fishing to thrilling deep-sea adventures.

The beauty of fishing in Virginia Beach is that opportunities abound. You can charter a boat for inshore or nearshore fishing for red drum and a dozen other species – or head out for a 60-mile run offshore for marlin and yellowfin tuna. You can fish by yourself, casting into the surf, or spend a few hours with fellow anglers on a head boat (sometimes called a party boat). You can fish in saltwater, brackish water and even freshwater.
 



Why Virginia Beach is a Great Fishing Destination

When you look at a map of Virginia Beach, you'll see that blue is a dominant color, and all of that blue translates into places to fish.

Chesapeake Bay is to the north, and the spidery fingers of Lynnhaven Bay push inland, not far from the famous Chesapeake Bay Bridge-Tunnel. First Landing State Park borders much of Broad Bay. The city's famous Atlantic Oceanfront stretches south, uninterrupted except for Rudee Inlet before continuing on to Sandbridge and Back Bay National Wildlife Refuge. 

Fishing comes in many fashions and in many parts of Virginia Beach, whether you want to feel the tug of a 12-inch spot or the crashing power of an acrobatic 7-foot marlin.

Heighten your anticipation by learning what's been hitting lately from the Virginia Saltwater Fishing Report, read about how easy it is to catch spots or roundheads (called kingfish elsewhere) and maybe go deep with "The Compleat Angler" and learn why author Izaak Walton believed fishing is about much more than fish, even way back in 1653.


Get Started
Fishing isn't like golf. You don't have to pay a bundle for equipment just to enjoy some angling time.

"If you're not a saltwater angler, you can equip yourself easily and you don't have to spend a lot," says Mark Lozier, general manager of Oceans East Bait & Tackle, an outdoors store that is a destination unto itself. "You could be out the door with all the basics for about $100. Even if you use a rod only a couple of times, you've been outdoors and along the ocean, and you've had a good time."

Lozier suggests surf casting as a great way to start, and besides the notable spots, look out for anywhere you can get a line in the water.


Try Pier Fishing
Fishing from a pier is fun, especially for beginners. It's an easy new activity to try alongside experienced anglers who can offer fishing tips. Plus, you're almost guaranteed some excitement, whether on your hook or someone else's.

At the Virginia Beach Fishing Pier, in the middle of the Virginia Beach Boardwalk area, you don't even need your own equipment.

"We have rods to rent and bait for sale – shrimp, squid, mullet, bloodworms. Anything will hit a shrimp," says Paige Huybers, assistant manager of the 800-foot-long pier, which operates seasonally from Easter through late October.

Huybers can rattle off a long list of fish hoisted onto the pier, including red drum, puppy drum (that's red drum 18 to 25 inches long), croaker, bluefish, Spanish mackerel, spot, flounder, an occasional shark and roundheads. Expect similar variety at Virginia Beach's other pier, the 400-foot Sandbridge Fishing Pier at Little Island Park.



Head Out on a Party Boat
Head boats (sometimes referred to as party boats) can carry 40 to 60 anglers, provide tackle and bait, and come with crewmembers who stand ready to help novices. With so many lines in the water, you're likely to see some action. 

Dockside Seafood & Fishing Center's 40-passenger head boat attracts anglers to Lynnhaven Inlet for three- and four-hour excursions from spring through fall, and the center has the unexpected bonus of a 1,000-bottle wine list at its seafood market. 

Down the way at Rudee Inlet, Rudee Tours has two head boats for inshore, nearshore, and offshore trips virtually year-round. It offers family tours (6, 9 and 12 hours), plus a 17-hour trip for adults that travels up to 60 miles out to pursue blueline tilefish, black sea bass, golden tilefish, grouper, and other species at depths averaging more than 300 feet.


Book a Fishing Charter
For many, especially those who live far from saltwater, chartering a boat and captain is Virginia Beach's biggest thrill. Many charter boats operate from Lynnhaven Inlet, and Rudee Inlet has three charter boat marinas: the Virginia Beach Fishing Center, Rudee's Inlet Station Marina and Fisherman's Wharf Marina. Most charter boats carry six anglers, and captains typically have decades of experience.

Russ Kostinas, for example, has been running out of Rudee Inlet for 40 years, and his current boat is the sixth incarnation of the Top Notch. This one is a 58-foot boat that he uses for inshore (4-hour trips), nearshore (5- to 8-hour trips) and offshore (12-hour trips). 

While no charter captain will guarantee success (as the saying goes, that's why the sport is called "fishing" and not "catching"), it's a rare trip that lacks action, although species and volume varies by month and season.


Fish in Freshwater
As appealing as saltwater fishing is, Virginia Beach offers freshwater fishing, too. Check out the Lake Lawson/Lake Smith Natural Area, a 42-acre preserve where you'll find bass, bluegill and other warmwater species, which are also at Sandbridge in Back Bay. Surf & Adventure/Ocean Rentals has recreational kayaks for a 1-mile float down Hell's Point Creek to get to Back Bay. Catch a bass or two along the way.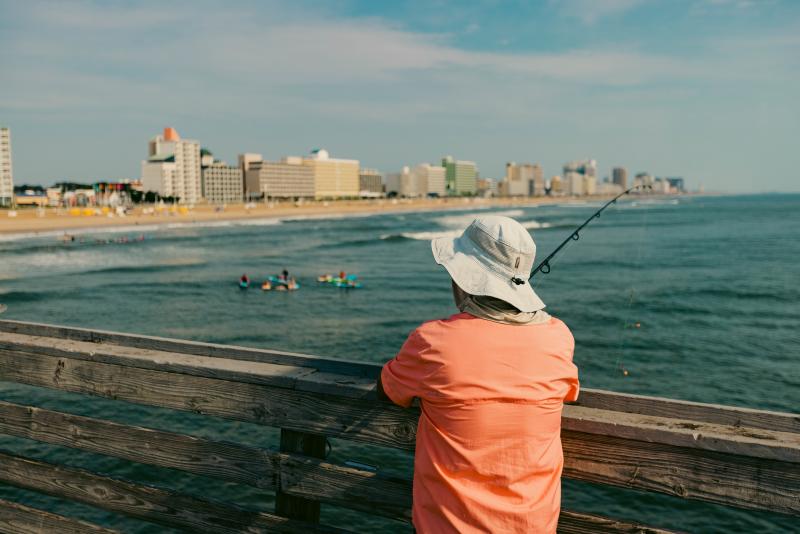 Come to Virginia Beach to Fish in Every Season
With so many varieties of fish, plus an abundance of experienced captains, it's no surprise that Virginia Beach is an angler's dream, full of opportunities to reel in the catch of the day.

"I like having somebody who hasn't caught a lot of fish in the past. They have such fun," says Kostinas, running down some prospects: Swordfish are possible all year, but especially in October. Cobia are hot in June, July and August, but don't be surprised if you encounter them in spring and fall. Dolphin fish (mahi mahi), tuna and marlin are likely May through November. Red drum start hitting in April or May and remain active into November.

Add yellowfin tuna, white marlin, blue marlin, sailfish, bluefin tuna, sheepshead, wahoo, king mackerel, sea bass, Spanish mackerel, tautog, flounder and other species to the calendar, and you quickly see that your prospects are good to land a true Virginia Beach fishing story to tell back home.
 


Did You Know? 
The waters of Virginia Beach have produced several state record fish, including the 446-pound swordfish pulled from the depths of Norfolk Canyon before riding back to Rudee's Inlet Station Marina on Captain Randy Butler's 60-foot charter boat, the Rebel.)