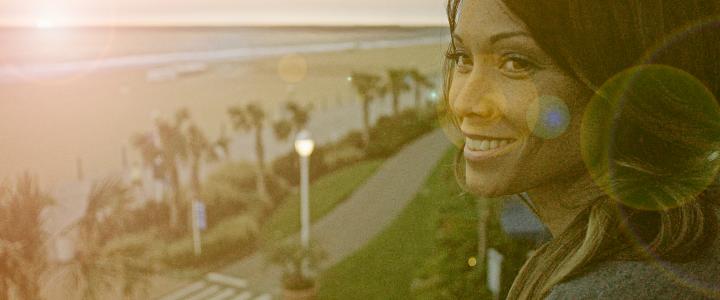 When the first signs of summer start peaking over the distant Atlantic horizon, most of us have only one thing on our mind - when can we get to the beach? While many have visited our beaches and splashed in our waves, the Virginia Beach Oceanfront is also a hub of cool drinks, good food, live music, and everything you need to win the season this summer. Sometimes you just need to know where to look.
Restaurants
The Oceanfront District is ripe with coastal flavors to explore. From fresh seafood to fresh-baked sweet treats, there's no shortage of local favorites to dig into. For a laid-back, island vibe that will have your taste buds singing, stop in or ride your beach cruiser through the pick-up window of one of our newest neighborhood hotspots, Aloha Snacks. This place offers a fast casual dining experience through the lens of a James Beard Foundation-recognized chef who left fine dining because he wanted to wear Hawaiian shirts to work. We're big on the Haole Burger and any of the poke bowls but, whatever you order, don't leave without a side of their Clockwise Fries with Wam and Huli-Huli dipping sauces. 
Speaking of fine dining, there is an abundance of options here as well, including Terrapin Restaurant,  Zoë's Steak & Seafood, and Salacia Prime Seafood and Steak, all of which have received a AAA Four-Diamond rating. Each offers a menu of some of our area's most-expertly prepared food, from fresh-caught seafood and to perfectly cooked steak. Don't miss Terrapin's Fried Chicken and Pinot nights every Wednesday night, which includes their mouthwatering Ashley Farms fried chicken, truffle mac and cheese, local, seasonal vegetables and a glass of Pinot Noir for $22. 
One of our favorite parts of the Oceanfront District are the vintage seaside cottages that have been repurposed into restaurants and bakeries that you can visit today. Try some of our favorite seafood at long-standing Va Beach staples, Tautog's and Waterman's or grab a Bloody Mary and some morning grub at Doc Taylor's, an old doctor's office turned into a favorite local diner. For some fresh-baked deliciousness, stop by May's Parlor, a new bakery cranking out sweet and savory treats using locally-sourced dairy, meats, cheeses, and produce whenever available. If you leave without trying their Seasonal French Macarons, using fresh, local ingredients. Their most recent was their "Back Bay Brewing Co. Strawberry & Basil Beer" Macarons, using Back Bay's Farmhouse Brewing's Strawberry & Basil Saison, brewed right here in Virginia Beach! 
Drinks
When visiting the beach, nothing goes better with sun and sand than a cold drink in your hand. The Virginia Beach Oceanfront is full of places to sip and slurp your way down the boardwalk. For a quintessential Virginia Beach cocktail, you won't want to leave without trying an Orange Crush, a refreshing mix of freshly-squeezed orange juice, vodka, and orange liqueur, with a splash of lemon-lime soda. This perfect summer drink can be found all over the city, but the triumvirate of Waterman's, Chix Seaside Grille and Bar and The Shack on 8th are perhaps the best known curators of this local delicacy. The Shack is a fully open air bar, stocked with lawn games like corn hole, bocce ball, and giant beer pong, making it the perfect place to enjoy a few drinks on a nice day.
For the beer heads, a few of our favorite breweries are also conveniently located in the heart of the Oceanfront. Back Bay Brewing has been a staple of the area for years, serving favorites like their seasonal Blueberry Fig Saison, brewed with fruit grown in the garden of their sister brewery, Farmhouse Brewing. One of our newest breweries, Smartmouth Pilot House is pulling their taps out of an old post office-turned-brewery, just a block away from the boardwalk. This time of year, we're all about their Sommer Fling Hefeweizen - an easy to drink seasonal German-style beer that pairs perfectly with a summer afternoon. They also regularly bring in food trucks and allow dogs in their outdoor space, which was converted from the post office's old loading dock, so you will never want to leave. 
Outdoor Adventure
While the sand and swell may be all the outdoor adventure you need when spending a day at the Virginia Beach Oceanfront, if you know where to look you can bring your beach adventure to a new level. In the summertime. The Oceanfront District become the hub of live music with Live! On Atlantic. Beginning on Memorial Day Weekend each year, Live! On Atlantic brings the boardwalk alive with rhythm and melody at the 13th, 15th, 17th, and the 25th Street stages, each evening from 7:30pm - 11pm. Ride your beach cruisers down the boardwalk for an eclectic choose-your-own concert experience. 
For the fitness enthusiasts and kids at heart, Hillier Ignite Fitness Park, modeled after a fitness park in Santa Barbara, California, is free to use and located right on the beach at the north end of Atlantic Avenue. Featuring parallel bars, climbing ropes, slackline posts, high bars and more, this jungle gym for adults will take you vacation workout to a whole new level. We'd recommend going early for a workout while watching the sun rise over the water.
On the south end of the boardwalk, younger adventurists can enjoy the soft play sculptures, accessible play equipment and cushioned play surfaces on the sand at JT's Grommet Island Park for EveryBODY, the first beach playground in the country designed specifically for children and adults of all physical abilities. Beach wheelchairs and scooters are also available along the boardwalk for those needing assistance getting down to the water, making the Virginia Beach Oceanfront one of the most accessible beaches in the country. 
With so much to do, you'll want to add a few extra stops to your itinerary and bring your laid-back day at the beach to new level. Plan your trip to the Virginia Beach Oceanfront District now!