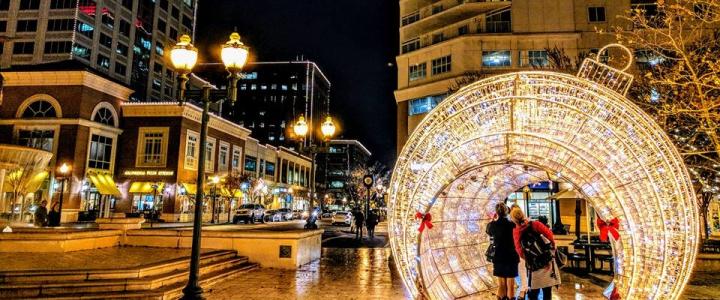 Christmas 2020
With endless shopping and dining options, breathtaking decorations everywhere you look, and a lineup of festive entertainment options, a trip to Town Center, in Virginia Beach is exactly what you and your family need to find that holiday cheer this season.
Snow Globe Spectacular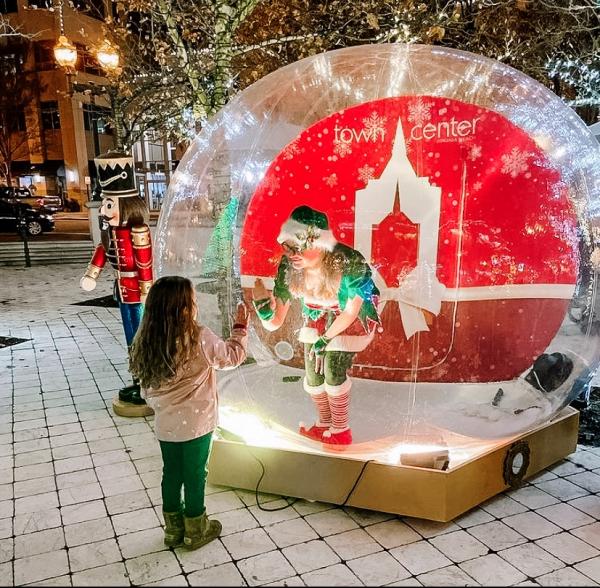 @giannas_mommy, Instagram
November 26th through December 31st when all of Town Center in Virginia Beach comes alive with the spirit of the holidays.
Immerse yourself in the spirit of the season at Town Center of Virginia Beach. Experience the most beautiful lighting displays in Hampton Roads. Enjoy extended shopping hours, Santa sightings, restaurant specials and much more!
Be mesmerized by the life-size Snow Globes filled with artistic, unique, creative, and whimsical Christmas Tree scenes. Delight and be entertained each weekend in December by Dancing Ballerinas, playful Elves, marching Toy Soldiers, and Frosty Royal Musicians.
Being mindful of the Coronavirus, State and CDC guidelines, SANTA will appear LIVE and in-person…. in his very own North Pole (Covid Safe) Snow Globe. The "Candy Cane Communication" network has developed a touchless 2-way communication Gingerbread Chalet where kids young and old can see, talk, and have selfies with Santa. Town Center is excited to bring this exclusive AND SAFE experience to you.
The magic doesn't stop there…
You will want to journey through the giant sparkling Coeur de Noel ornament, tie yourself up in our new amazing 30 foot Decorative Ribbon display, send a selfie to loved ones in our life-size Holiday Mistletoe Picture Frame, visit Saint Nick's Sleigh or stroll over the Christmas Wish Bridge. At the top of the hour, each night between 6 pm-9 pm, the Holiday Fountain Plaza Tree bursts to life with a mesmerizing dancing light display of sight and sound. Don't miss this spectacular holiday tradition at Town Center of Virginia Beach.
"Music from Above" for a HOLIDAY POP UP with the HURRAH PLAYERS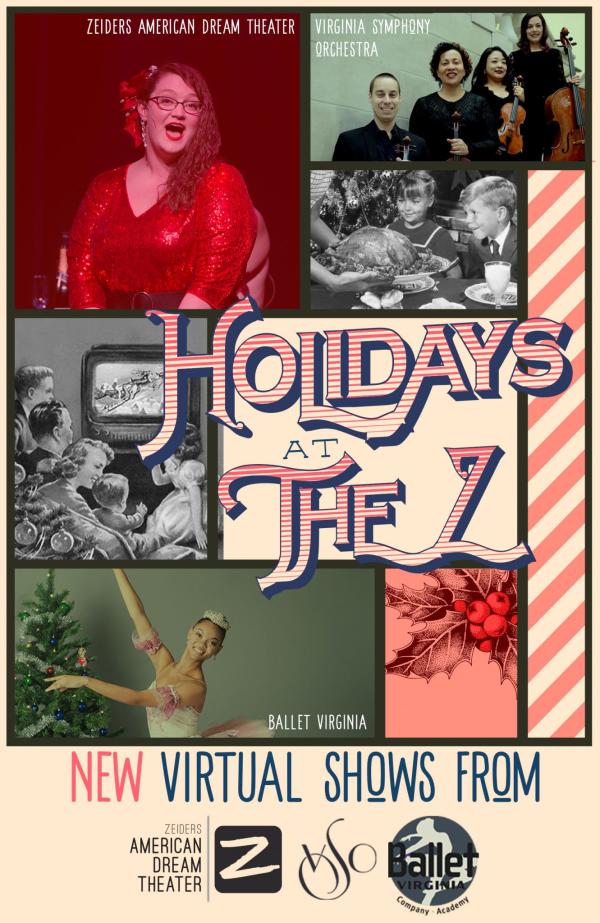 @zeidersadt, Instagram 
Students will be serenading the streets of Town Center from Zeiders American Dream Theater balcony.
The Virginia Arts Festival, in conjunction with The Sandler Center Foundation presents its "Festival Bells".  23 antique bells dating back to 1928 have been repurposed and set in a artistic mobile interactive carillion for your holiday listening pleasure and to announce the arrival of the holiday season.  A first for the Town Center Fountain Plaza!
NYEvenings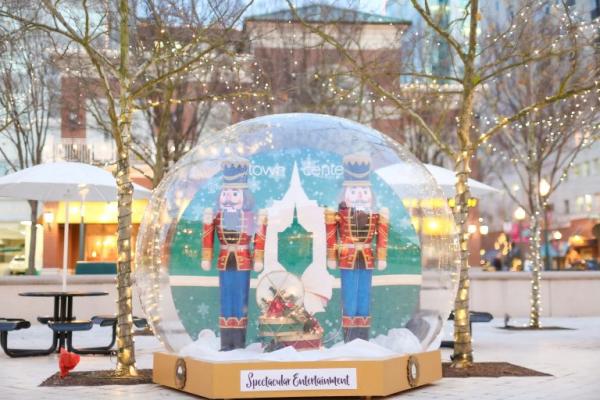 @towncenterofvirginiabeach, Instagram
Over the course of two nights – December 30 and 31, a different kind of New Year's Eve festivity will take place as the curtain rises on 2021.
Although there won't be an official countdown, a big stage, or confetti, we invite you to celebrate all that Town Center has to offer as New Year's Eve draws near.  Enjoy boutique performances along the sidewalks of Town Center as your family heads to your favorite places to dine and shop.  Musicians, jugglers, balloon artists, and more will serenade and dazzle guests as they circulate around Town Center.  Town Center puts its best foot forward so you can enjoy all the sights, sounds, and tastes of Snow Globe Spectacular…Holidays at Town on these last two nights before ushering in the New Year!   
Live Entertainment Schedule:
 
Snow Globes are displayed around Town Center all season long. The live snow globe entertainment occurs on the hour, immediately following the Holiday Tree Light Show, every weekend in December.
Friday's: 6 PM, 7 PM, 8 PM, 9 PM
Saturday's: 6 PM, 7 PM, 8 PM, 9 PM
Sunday's: 6 pm, 7 pm, 8 pm, 9 pm
Santa's Snow Globe Workshop/Santa's Candy Cane Communication Network:

Weekends in December
Friday 6-9
Saturday 4-9
Sunday 4-9
December 21-24 6–9 pm
Hurrah Players at the "Z"

Saturday, December 12 at 1:00 pm
Virginia Arts Festival Bells:

Friday, Saturday, Sunday, December 18, 19, 20
NYEvenings:

Wednesday, Thursday, December 30, 31
5:00-11:00 p.m.
Town Center event sponsored by the City of Virginia Beach, Produced by The Central Business District Association and created by AC Creative.
NYEvenings sponsored by the City of Virginia Beach, Produced by IMG.

The Central Business District Association follows all City of Va. Beach, CDC and The Governor of the Commonwealth Guidelines.  Snow Globe spectacular is a passive self-directed exhibit only. Participation is voluntary. All CDC best practices for a healthy and enjoyable experience are clearly posted.
Personal tours available to members of the Press by calling the number above.