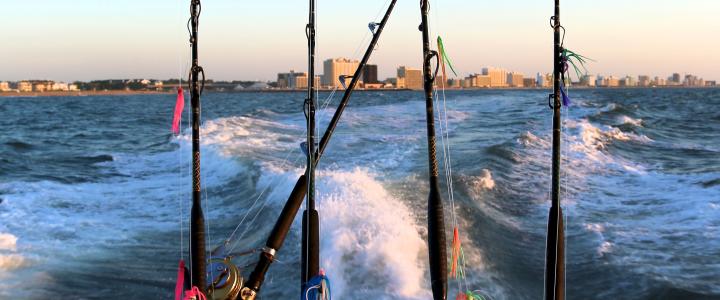 For many, especially in Virginia Beach, fishing is a way of life. For these expert sportsmen, nothing quite beats the thrill of pulling away from the dock to set voyage to open water. No feeling is greater to them than that first instant when they hear the line whirring, signalling fish on, before grabbing the pole, strapping into the fighting chair, and preparing for a fight. It's intense, it's exciting and it's available to anyone who wants to see what they're made of. Sure, casting off from the docks is a great time, but for a rush of pure adrenaline you really have to set your sights on the ocean and the fish that call it home.
Although fishing in Virginia Beach, abutting both the Chesapeake Bay and the Atlantic Ocean, offers a diverse bounty year-round, you'll have to head out to sea to pull in the big fish. The 115 fathoms of the Norfolk Canyon, off the coast of Virginia Beach is where the big fish like billfish and tuna reside. And when we say big, we mean BIG. The largest blue marlin caught in VB waters weighed in at a whopping 1,093 pounds. Talk about a workout! At those depths, you're also likely even to catch a glimpse of some of more popular locals like porpoises and pilot whales! It doesn't get any better than that!
With the Virginia Beach Billfish Tournament fast-approaching, the time is perfect to go toe-to-fin with these beautiful fish. Hop aboard a charter leaving out of the Rudee Inlet, and let the boat's crew take you into the heart of the action.  While billfish are released back into the water, you can also match wits with the likes of tuna, cobia, bluefish, flounder and more off the coast of VB, and take some home with you for a local seafood feast fit for a champion.
Sport fishing in Virginia Beach is an experience you won't soon forget. From blue marlin to tilefish, the fish won't come easy but the payoff is unmatched. Do you have what it takes to reel in a big one? There's only one way to find out.