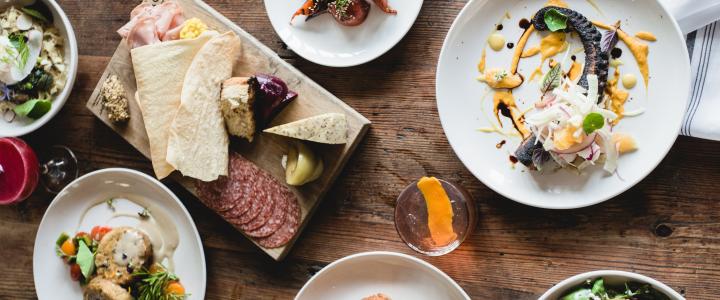 A three-day weekend in Virginia Beach means three days of fun, sun and exploring all that our coastal city has to offer. From unbeatable outdoor adventure to unrivaled coastal cuisine, and everything in between, spend a long weekend with us in Virginia Beach for a getaway you won't soon forget.
When a culinary escape is on the menu, there's no shortage of local spots to dive into our local flavor. From the freshest seafood to our ever-expanding craft beer scene, a 3-day weekend in Virginia Beach is a food-lover's dream. With great restaurants and breweries that you'll want to visit again and again, you'll love dining like a local in Virginia Beach.
Day One | A World of Flavor Within Walking Distance
Start your weekend by exploring the tastes of the Oceanfront and ViBe Creative Districts, all within walking or biking distance from your hotel.
Morning

@greencatva, Instagram
For Breakfast, grab a healthy smoothie or fresh-pressed juice from the Green Cat Cafe or a coffee and a fresh-baked pastry from May's Parlor, both located just a couple blocks from the boardwalk. May's is a new bakery at the Oceanfront cranking out sweet and savory treats using locally-sourced dairy, meats, cheeses, and produce, whenever available. We're a huge fan of their chocolate croissants and any of their creative "cruffins," which come in both sweet and savory varieties.
Afternoon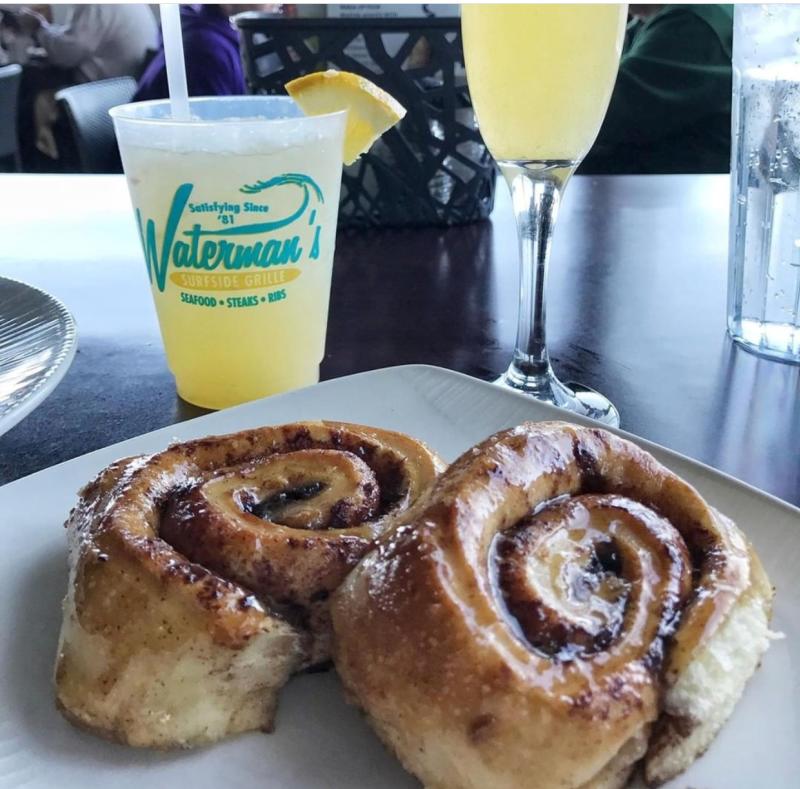 @watermanssurfsidegrille, Instagram
Head to one of the many Oceanfront watering holes, like Waterman's, Chix, or Ocean 27 for the classic Virginia Beach cocktail, the Orange Crush. With its freshly-squeezed OJ, triple sec, and Sprite these are a staple here. One of our go-to spots, The Shack on 8th, is a fully open-air bar, stocked with lawn games like corn hole, bocce ball, and giant beer pong, making it the perfect place to enjoy a few of these staple drinks on a nice day.
Evening
@catch31vb, Instagram
For a nice dinner out, there's no shortage of places to choose from in these two neighboring districts. Located basically in the shadow of King Neptune himself at the Virginia Beach Oceanfront, Catch 31 is a prime location for outdoor eating. With views of Neptune Park, in addition to the unbeatable view of the Atlantic Ocean, we like coming here when there's a concert in the park. Sit at the open-air fire pit and enjoy a farm-to-table menu highlighting the best of Coastal Virginia cuisine. Whatever you order, start it off with the Virginia Blue Crab Cake appetizer, Chesapeake Bay-style.
If you're looking to venture out a little further, ride your bike to Esoteric in the ViBe District. Housed in a 1920s-era building on the Virginia Beach Historical Registry, Esoteric is serving up European-influenced fare using local ingredients, many of them sourced from its on-site garden, which it shares with Commune. The outdoor seating is draped in string lights and overlooks the garden. How's that for knowing where your food came from?
If you're looking to just hang out at the hotel tonight, grab a pizza to-go from Prosperity Kitchen & Pantry. This new spot is a bakery by day, and a pizza joint by night. They use seasonal, organic, local and fresh ingredients in everything they make, and it's obvious in every savory bite.
Late Night

@smartmouthbeer, Instagram
Finish the night out with a couple of beers from Smartmouth Pilot House. One of our newest breweries, Smartmouth Pilot House is pulling their taps out of an old post-office-turned-brewery, just a block away from the boardwalk. Try their Sommer Fling Hefeweizen - an easy-to-drink seasonal German-style beer that pairs perfectly with a summer afternoon. They also regularly bring in food trucks and allow dogs in their outdoor space, which was converted from the post office's old loading dock, so you will never want to leave.
Day Two | Fresh Food, Straight from the Source
Morning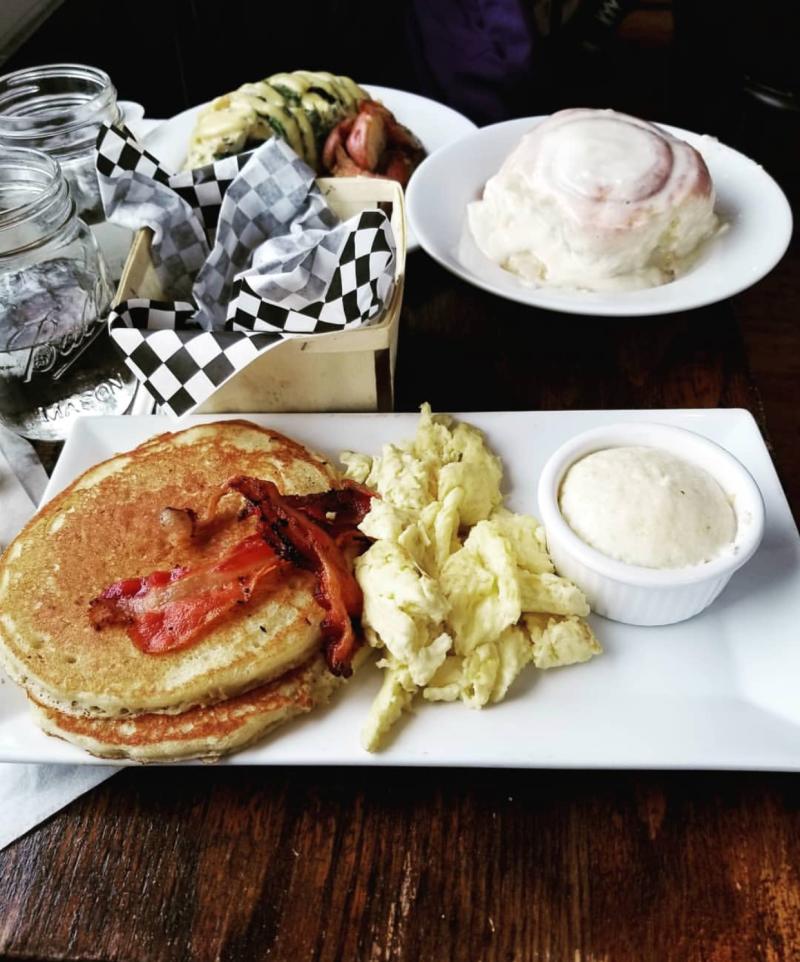 @ture.phillips, Instagram
Start your second day out with a drive down to the agricultural farming community of Pungo, where you will find one of our favorite breakfast spots in town, The Bee & The Biscuit. Operating out of a charming 1919 cottage, The Bee & the Biscuit serves out a hearty southern brunch you won't want to miss. It's no wonder their house-baked items, local flaky, buttery biscuits and Fresh Pie of the Day are an absolute must. You also can't go wrong with any of their layered mason jar desserts, like salted caramel brownie or peaches and cream, especially when ordering to-go. Wash it all down with a delicious iced hazelnut vanilla latte.
Afternoon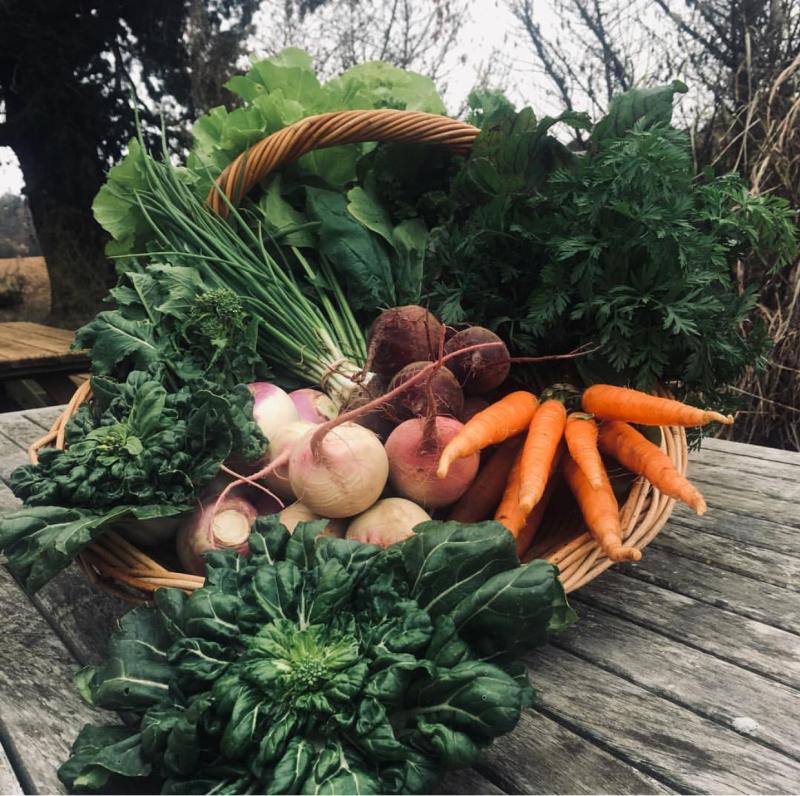 @newearthfarmvb, Instagram
After breakfast, try your hand at one of Pungo's many you-pick farms and charming roadside produce stands. Stop by New Earth Farm, Commune's sustainable, organic and educational working farm and market. Their "Farm to Table" and "Food Lab" cooking classes allow you to get hands-on and learn how local ingredients come together to influence Virginia Beach's culinary scene. You can also dig in and get your hands a little dirty with the new "Farm Lab" classes, which aim to educate the public on sustainable farming methods. Classes include everything from gardening, compost making and soil preservation to beekeeping and wild foraging. With a new market on the way in mid-July and tours available now, New Earth Farm is continuing to empower locals and visitors alike in the slow food movement.
Evening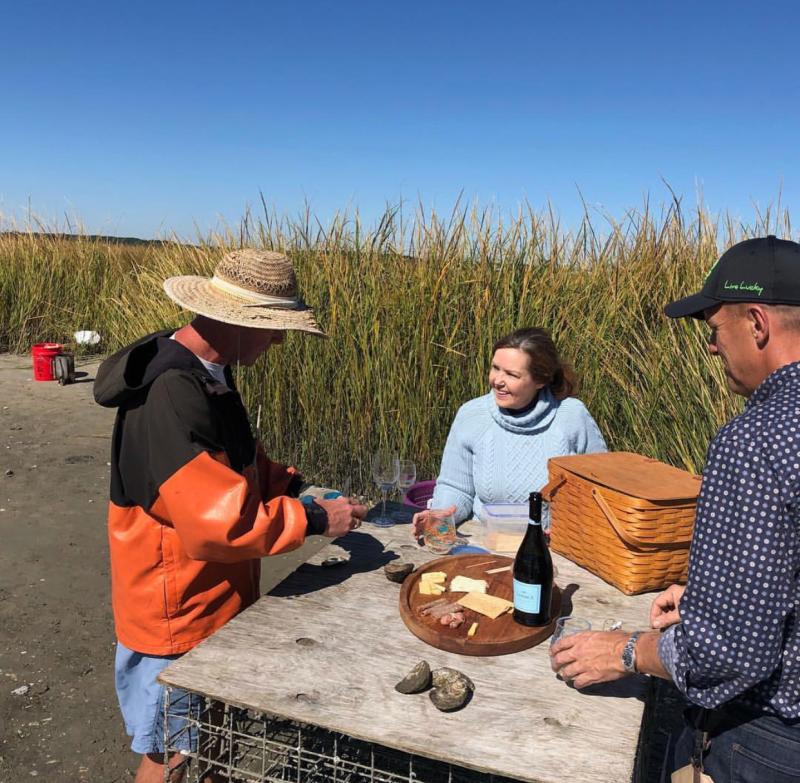 @pleasurehouseoysters, Instagram
For a culinary experience you can only have in Virginia Beach, head to the Chesapeake Bay District and hop aboard a tour of Pleasure House Oyster's oyster farm, where you can even taste the tasty bi-valves plucked straight from the water beneath you. Boat Captain Chris Ludford wanted to give locals and visitors the opportunity to learn and experience what goes into growing and farming oysters, as well as teaching the importance and impact that they have on keeping the waterways clean. On his tours, you'll learn about the history of the river that you just can't find in history books.
After the oyster boat tour head to nearby Mermaid Winery. The first urban winery in the state of Virginia, Mermaid's grapes are sourced from premier vineyards in Virginia and California. They also have over 800 wines from around the world that you can taste, too. Mermaid's huge covered patio, with fire pits, couches and cafe tables, pairs perfectly with an easy-drinking glass of vino or a dessert sampler on a nice evening.
Late Night

@artmanii70, Instagram
After dinner, head down the road to Commonwealth Brewing Company. Draining their taps out of an old renovated firehouse, this place is open and inviting, and offers ample outside seating, as well. Come for the outside seating, corn hole, and friendly neighborhood atmosphere. Come back for the ever-changing selection of deliciously-creative, expertly-brewed beers. You'll want to sample as many as you can here. We'd recommend staples like Wapatoolie Tropical IPA and the Marvolo Imperial Chocolate Stout to start, but they're all worthy of your taste buds.
Day Three | Dining Around Town
Morning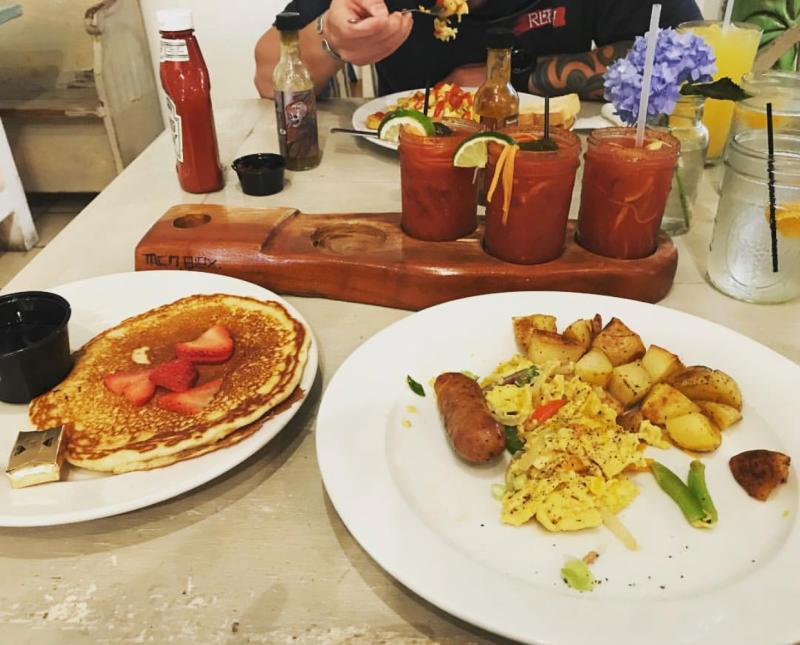 @loubanger, Instagram
Start the final day of your trip in the Chesapeake Bay area at Simple Eats. This local spot maintains a locally-sourced philosophy, with mouth-watering options for breakfast, lunch and dinner. With delicious ingredients that are as fresh as it gets, this farm-to-table eatery is as good for the body as it is for the belly. While it can be hard to choose which bloody you want here the great news is, with their Bloody Mary Flight, you don't have to! The flight comes with four Bloody Marys, that you can drink yourself, or share a couple with friends.
Afternoon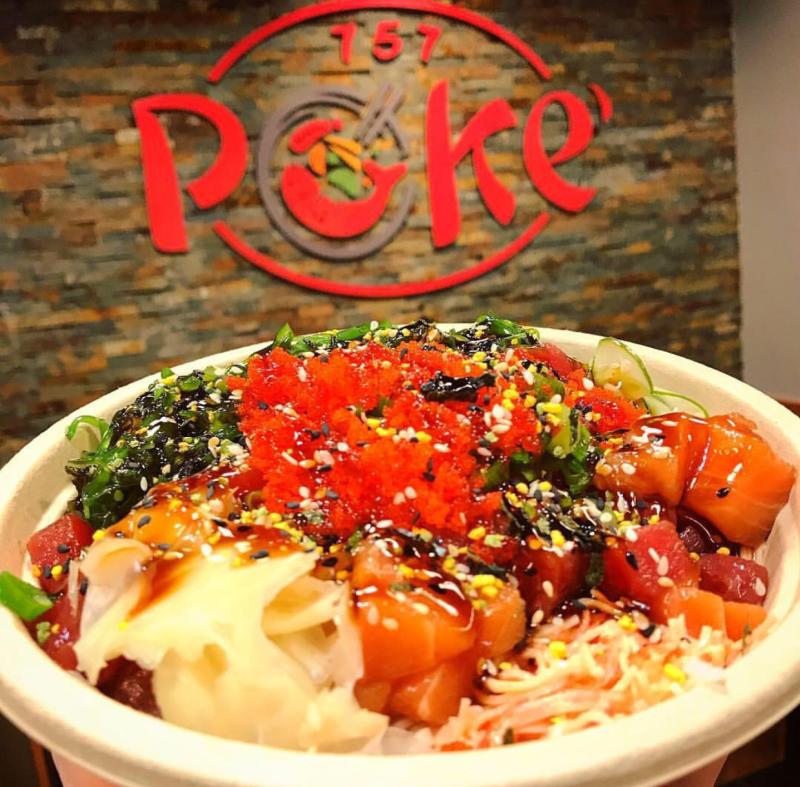 @jdavidhillery, Instagram
From Simple Eats, drive about twenty minutes down the road to spend the afternoon at Town Center, our downtown shopping district. For lunch, try a bowl of fresh poke at 757 Poke. Located within Pembroke Mall at Virginia Beach Town Center, 757 Poke is an unassuming counter-service spot that is a must-try for any poke lover. With fresh options like ahi, yellowfin, and albacore tuna, salmon, shrimp, crab, and uni (when available), there is an endless supply of combinations here to satisfy your poke craving. While they offer several delicious options, like the Tako Bowl, with octopus, tuna, crab salad, onions, pickled cucumbers, shoyu sauce, seaweed seasoning, and masago.
Evening

@wyndielilley, Instagram
If you're looking to keep the good times going, close at your trip with a toast at one of our newest breweries, Back Bay's Farmhouse Brewing Company. Operating out of a restored 1912 inland farmhouse, the aptly-named Farmhouse Brewing is bringing locally-sourced brews and ciders to our coastal city. With tasting rooms upstairs and downstairs, food trucks, a farmers market and an acre and a half of gardens growing figs, blueberries, hops and other ingredients that will be used in their beers, this place has it all. Outside, pets are welcome and you can enjoy bocce ball, ladder golf, and cornhole, with stunning views of the farmhouse yard and the gardens, operated by Farmer John, formally of Pungo's New Earth Farm.