With COVID remaining a fixture and Omicron continuing to impact trips, Americans welcome 2022 with an enthusiasm for travel that remains largely undeterred, focused on fun in the new year.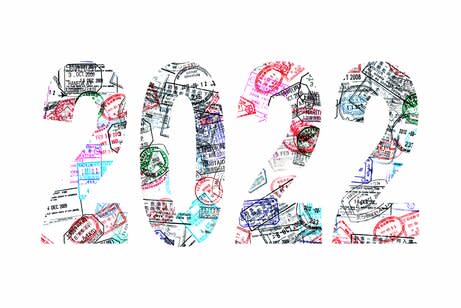 MPORTANT: These findings are brought to you from our independent research, which is not sponsored, conducted or influenced by any advertising or marketing agency. Every week since March 15, 2020, Destination Analysts has surveyed 1,200+ American travelers about their thoughts, feelings, perceptions and behaviors surrounding travel—specifically in the wake of the coronavirus pandemic—and explored a variety of topics. The key findings presented below represent data collected December 26-28th.
Welcome, 2022!
What will this year bring to travelers and the travel industry? Read on for what we learned about American travelers as
they closed out 2021 and looked out to the new year ahead.
First, what happened over the holidays, and what can we learn about what the future may hold?
Omicron did impact holiday and other future travel. The number of American travelers reporting that the situation with the Omicron variant has impacted their travel continued to grow—to 32.9%, up from 30.9% two weeks prior. Of the group of travelers who were impacted, 50.7% say they have postponed one or more trips and 43.5% say they have flat-out cancelled a trip(s). When asked the week of December 13th, 29.8% of American travelers said they planned to travel over the Christmas holiday. However, when asked if they had in fact traveled over the holiday, only 23.3% actually did. While one-in-five (20.7%) 
continued to report that they would travel over the New Year's holiday, there was still a 5-point decline in the percent of American travelers who said they would take leisure trips in January (to 15.1% from 20.7% two weeks ago). Nevertheless, leisure travel appeared robust in the last quarter of the year overall, with over one-third of American travelers taking at least one overnight leisure trip during this period and 33.6% reporting taking an overnight trip to visit friends or relatives.
What's in store for 2022?
COVID still looms large. Currently 25% of travelers are experiencing stronger levels of anxiety, the highest rate we've seen since October 27th. Nearing half (46.3%) feel that the pandemic in America will get "worse" or "much worse" in the next month—up over 20 points since Fall. Firm confidence in travel's safety has also declined. This week just 38.2% say they are confident or very confident in their ability to travel safely in the current environment, down 10 points from November 12th. Americans feeling higher degrees of normalcy in their ability to travel as they like dropped to 31.0%—the lowest it has been since September 29th. Plus, 27.5% say it's likely that Omicron will impact their travel over the next 6 months.