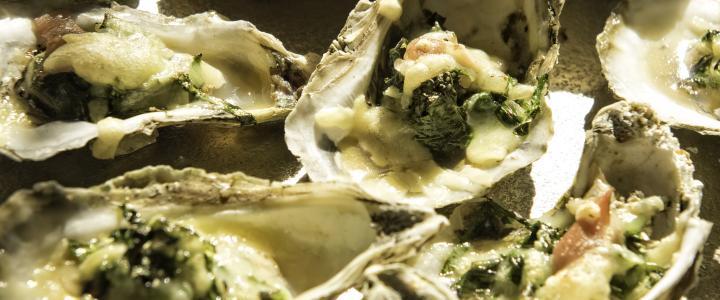 It's a month that ends with the letter "R", which means we have one thing on the brain here in Virginia Beach. Oysters.
Once coveted by the English aristocracy for its size and salinity, the famous Lynnhaven oyster is a local legend that we're always eager to celebrate, here in Virginia Beach. Captain John Smith himself described the bounty of the area when he spent three days in Virginia Beach shortly before establishing Jamestown in 1607. He said "oysters lay as thick as stones," with the Bay and rivers containing more sturgeon "than could be devoured by dog or man." There may not be the numbers there were in Smith's day, but the local oyster population is on the rise once again, and we are all better for it.
Whether you like them raw, roasted, "Rockefellered", or with a splash of homemade Pungo Strawberry Mignonette, there are so many ways to celebrate this local staple with some legendary Lynnhavens of your own! Here are some local recipes of which we can't get enough.
Oyster Shooter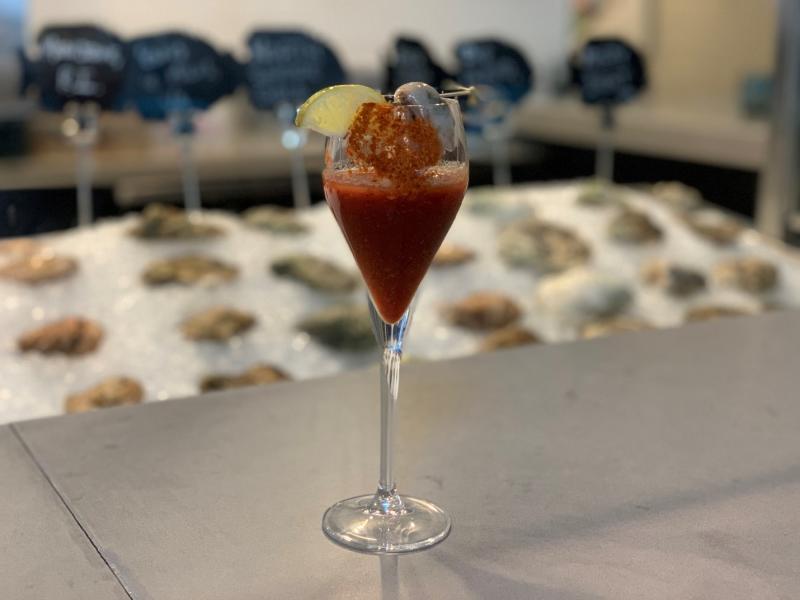 1 OZ OF SPIRIT OR BEER OF CHOICE
A SPLASH OF LEMON JUICE
3 OZ PREFERRED BLOODY MARY MIX
1 RAW OYSTER
CHILL SPIRIT OR BEER WITH LEMON JUICE
ADD TO OLD BAY_RIMMED GLASSES
ADD BLOODY MARY MIX
ADD OYSTER
GARNISH WITH LIME
Mignonette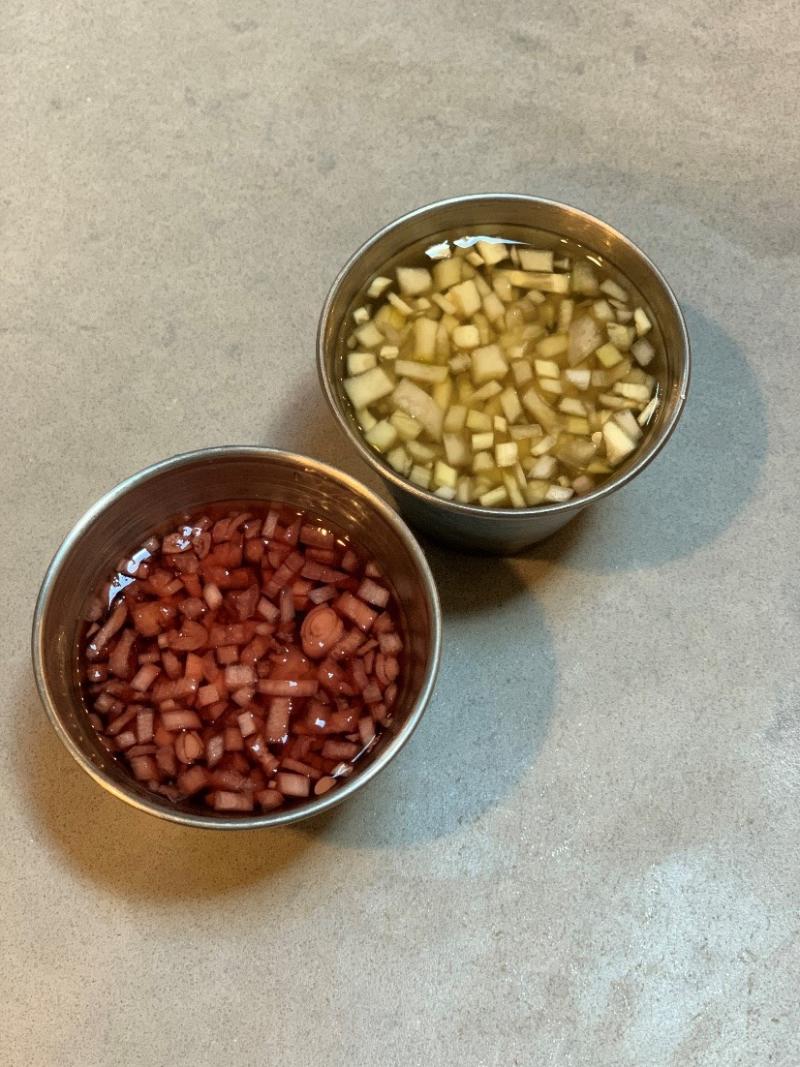 1 C RED WINE VINAGER
1/2 C SHALLOT
1 t BLACK PEPPER
MIX ALL INGREDIENTS TOGETHER
Honey Cucumber Mignonette
1 C CHAMPAGNE VINAGER
1 EA CUCUMBER, PEELED, SEEDED, AND SMALL DICED
½ C MINCED SHALLOT
1 t BLACK PEPPER
MIX ALL INGREDIENTS TOGETHER
The Atlantic's Oysters Chesapeake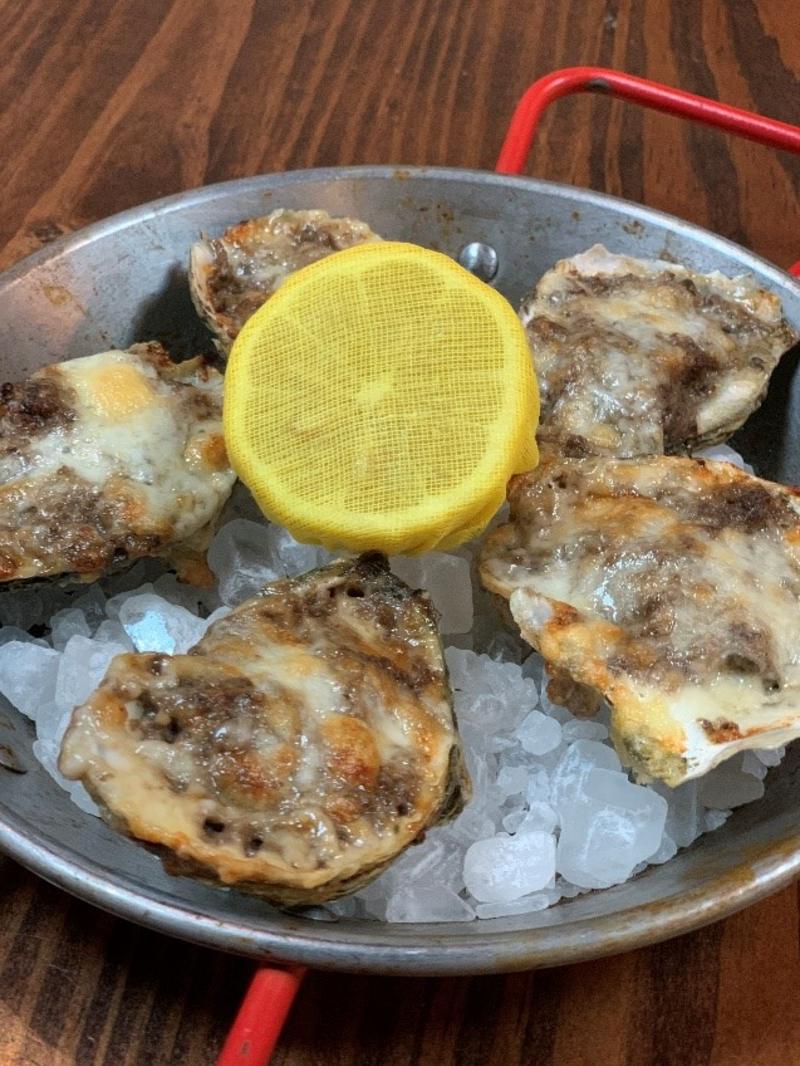 1 Pint CRIMINI MUSHROOMS
2 T GARLIC
1T SHALLOT
1/4C WHITE WINE
1/2C HEAVY CREAM
1/2 C FONTINA reserve 1/8 C
1/2 LEMON JUICED
1/4C PANKO
SALT
Chop mushrooms, garlic and shallots and add to hot pan with 1 T butter and 1 T olive oil. Sauté until all the moisture is gone. Add white wine and cook until dry. Remove from heat and add lemon juice, heavy cream, and panko. Taste for seasoning. Top your favorite raw oyster with 1 tablespoon of filling and top with remaining Fontina cheese
Honey Bourbon Butter Grilled Oysters
 
WITH BACON LARDON & JALAPENO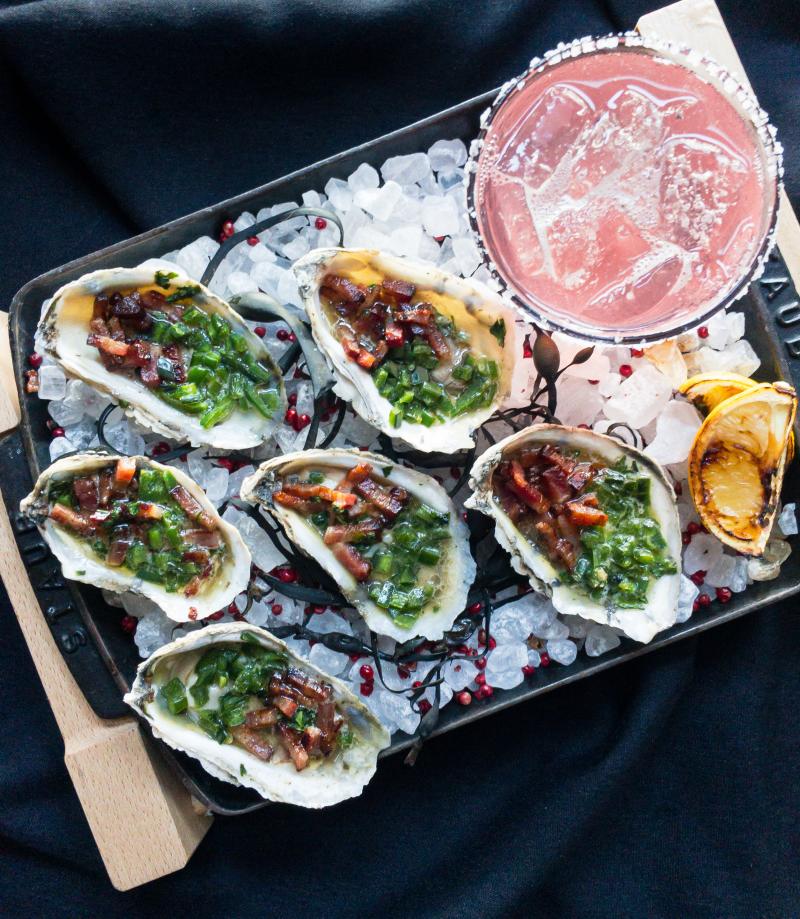 ¼ POUND UNSALTED BUTTER, SOFTENED
½ TEASPOON GARLIC CHOPPED
1 TEASPOON OLIVE OIL
1 FLUID OUNCE OF MAKERS MARK BOURBON (OR YOUR FAVORITE BRAND)
1 FLUID OUNCE WILDFLOWER HONEY
 2 SLICES THICK CUT BACON, COOKED AND CHOPPED
1 WHOLE JALAPEÑO, CHOPPED FINE
1 TEASPOON CURLY LEAF PARSLEY, CHOPPED FINE
1 DOZEN OF YOUR FAVORITE OYSTERS, SHUCKED
Preparing Honey Bourbon Butter
SOFTEN 1 STICK OF BUTTER (¼ POUND) TO ROOM TEMPERATURE
SAUTÉ GARLIC IN OLIVE OIL AT LOW HEAT IN SHALLOW SAUCEPAN UNTIL FRAGRANT (APPROX. 30 SECONDS).
REMOVE PAN FROM HEAT AND ADD BOURBON. RETURN PAN TO LOW HEAT AND BRING TO A BOIL. CAUTION: THE ALCOHOL IN BOURBON WILL CATCH FIRE IF THE TEMPERATURE OF YOUR STOVE IS TOO HOT!
BOIL UNTIL THE LIQUID IS REDUCE BY HALF AND THE STRONG SMELL OF ALCOHOL IS GONE.
REMOVE FROM HEAT AND ADD HONEY. STIR UNTIL IT IS FULLY INCORPORATED. SET ASIDE
IN A MIXING BOWL OR STAND MIXER ADD SOFTENED BUTTER, HONEY BOURBON, AND CHOPPED PARSLEY. BLEND INGREDIENTS THOROUGHLY.
ON THE COUNTER OR CUTTING BOARD LAY OUT A PIECE OF PLASTIC WRAP. SPOON BUTTER INTO THE CENTER. FOLD PLASTIC WRAP OVER BUTTER AND ROLL INTO A LOG. PLACE IN REFRIGERATOR UNTIL READY FOR USE.
Preparing Oysters
SAUTÉ BACON IN PAN OVER MEDIUM HEAT UNTIL YOUR DESIRED DONENESS. REMOVE FROM PAN AND PLACE ON PAPER TOWEL. CHOP WHEN COOLED AND SET ASIDE.
SHUCK OYSTERS (SEE BELOW FOR OYSTER SHUCKING TIPS). PLACE OYSTERS ON A SHEET PAN OR TRAY.
REMOVE BUTTER FROM REFRIGERATOR AND UNWRAP. TOP EACH OYSTER WITH A SLICE OF BUTTER.
COOK OYSTERS ON HOT GRILL. PLACE EACH OYSTER ON GRILL CAREFULLY, THE BUTTER MAY FLARE UP AS IT MELTS. COOK TO DESIRED DONENESS (I PREFER MINE JUST KISSED BY FIRE AND COOKED UNTIL MOST OF THE BUTTER HAS MELTED). REMOVE FROM GRILL ON TO SERVING TRAY.
TOP EACH OYSTER WITH CHOPPED BACON AND CHOPPED JALAPEÑO.
Oyster Shucking Tips
PLACE OYSTER ON SOLID SURFACE. SECURE OYSTER WITH A TOWEL USING YOUR NON-DOMINANT HAND.
 
USING YOUR DOMINANT HAND PLACE, THE TIP OF THE OYSTER SHUCKING KNIFE AT THE BASE OF THE HINGE (HEAL OF THE OYSTER).
 
TWIST THE KNIFE USING PRESSURE UNTIL YOU FEEL THE SHELL POP. DO NOT FORCE YOUR OYSTER OPEN. RUN KNIFE ALONG THE LENGTH OF OYSTER TO SEPARATE TOP SHELL FROM BOTTOM.
 
ONCE OPEN RUN KNIFE UNDER THE OYSTER ALONG THE BOTTOM SHELL TO RELEASE THE OYSTER FROM THE ABDUCTOR MUSCLE.