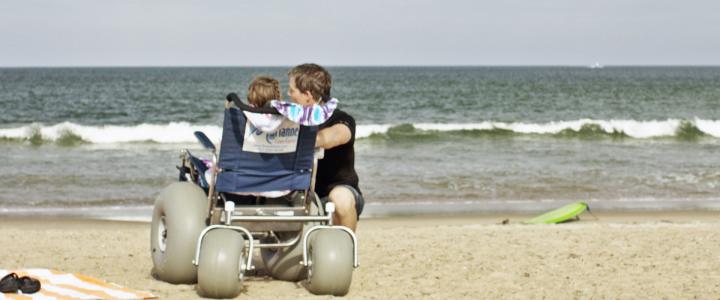 Time on the beach can be not only enjoyable but also extremely therapeutic, and in Virginia Beach and across our three beaches, we want to make sure everyone has a chance to enjoy, relax in and access the beach. With beach ramp accessibility, surf camps and even a specially designed in-the-sand playground, we pride ourselves in providing access to those who want to experience time in the sand and in the water but may need some additional assistance in doing so.
Soft play sculptures, accessible play equipment and cushioned play surfaces on the sand make up JT's Grommet Island Park for EveryBODY. Located in the sand on the Resort Beach, Grommet is the first beach playground in the country designed specifically for children and adults of all physical abilities. Beach wheelchairs and scooters are available for those needing some assistance getting down to the shore. Nearby, at the First Street Jetty, the annual Wave Warriors Surf Camp, a weekend honoring our nation's heroes, aims to create a thrilling surfing experience for injured service members and their families across the country. Surfing instructors take to the waves to provide an unforgettable, fun and empowering experience. Virginia Beach is also home to the Surfers Healing Team Camp Day, during which children take to the ocean to overcome their fears, delight in their accomplishments and embrace their abilities, as volunteers guide them through the water. The event is also accompanied by a 5K run/walk benefitting the Surfers Healing Foundation and Autism Society.
We believe in living the life and when visiting, everyone has that right, here at the beach – a beach for everybody.