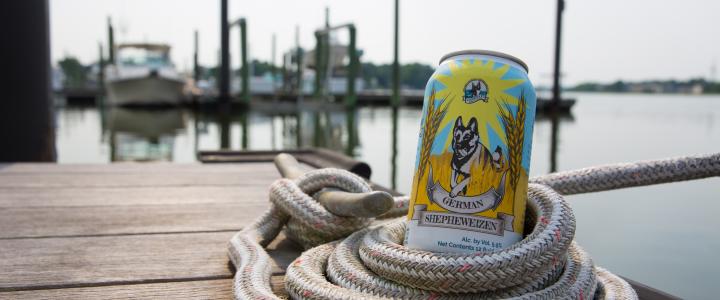 In Virginia Beach, our ever-expanding beer scene is overflowing with unique flavors that we are proud to share with everyone who visits our coastal city. From juicy IPAs bursting with flavor to complex barrel-aged sours, there's a beer, and a brewery, for everyone who visits. 
With many delivery and take-out options, the Virginia Beach brewery scene is still hopping, even though we can't gather at these local establishments quite yet. From cans and growlers to full kegs, these spots are offering a great way to continue to support local businesses from home. We'll toast to that. Cheers!
Be sure to check in with each brewery, as this situation remains fluid and things may change daily.
Explore The Virginia Beach Beer Trail This Summer
Virginia Beach Breweries
Back Bay Brewing is a favorite hangout for locals at the oceanfront and is a great place to spend an afternoon sampling some small-batch brews. This cozy, laid-back brewery is brought to the next level by the rustic, industrial interior crafted by Benevolent Design Co., a local company located nearby in the ViBe Creative District. This is the place to come to be treated like a regular and just have a good time. Some of our favorite beers here include the Steel Pier Bohemian Lager, Witch of Pungo Pumpkin Ale, and the Atlantic Ave IPA.
As if the beer wasn't reason enough to pay Back Bay a visit, Gringo's Taqueria, located right next door to the brewery is the perfect addition to Back Bay's beer. Get your fish tacos and bring them to the brewery with you.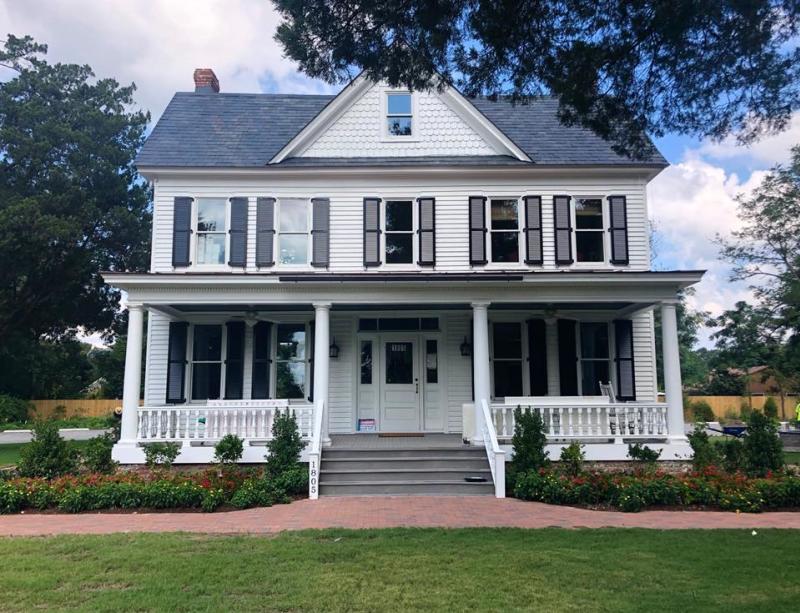 This beautiful brewery comes from the folks at Back Bay Brewing, and brings a truly unique beer drinking experience to Virginia Beach. Operating out of a restored 1912 inland farmhouse, the aptly-named Farmhouse Brewing is bringing locally-sourced brews and ciders to our coastal city. With tasting rooms upstairs and downstairs, food trucks, a farmers market and an acre and a half of gardens growing figs, blueberries, hops and other ingredients that will be used in their beers, this place has it all. Outside, pets are welcome and you can enjoy bocce ball, ladder golf, and cornhole, with stunning views of the farmhouse yard and the gardens, operated by Farmer John, formally of Pungo's New Earth Farm.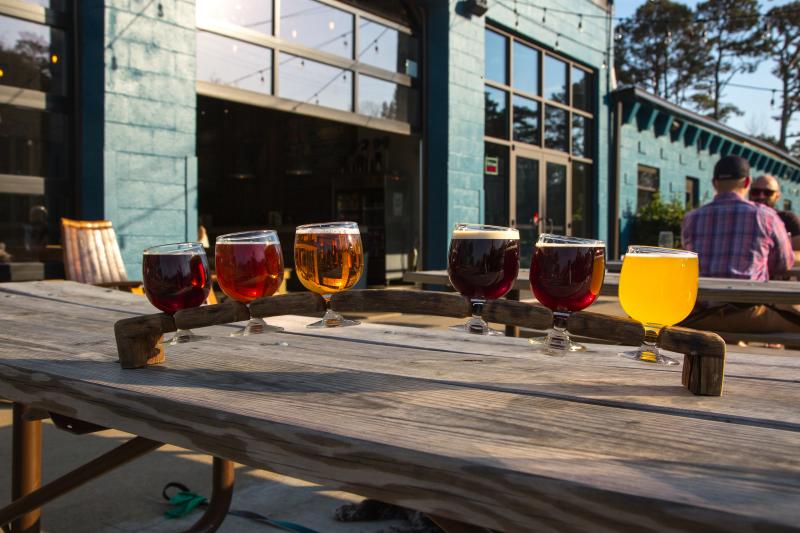 Like Back Bay, Commonwealth is also a favorite local hangout, but for the Chic's Beach crowd. Draining their taps out of an old renovated firehouse, this place is open and inviting, and offers ample outside seating, as well. Come for the food trucks, outside seating, corn hole, and friendly neighborhood atmosphere. Come back for the ever-changing selection of deliciously creative, expertly brewed beers. You'll want to sample as many as you can here. We'd recommend staples like Wapatoolie Tropical IPA and the Marvolo Imperial Chocolate Stout to start, but they're all worthy of your taste buds.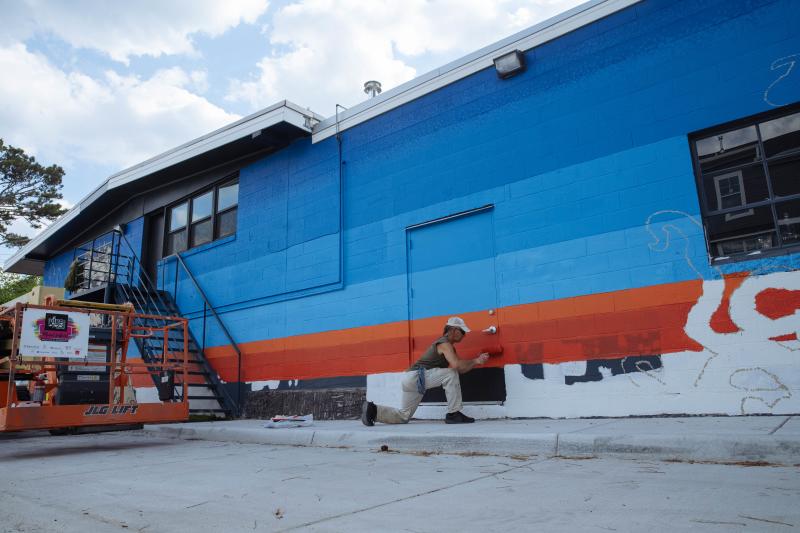 Pouring out of the ViBe Creative District, our newest brewery stays true to the artisan spirit of their neighbors by blending the fine art of brewing with locally-sourced ingredients and sustainable, nature-friendly brewing operations. The artistic vibes carry through to the taproom, which doubles as a venue for art events and exhibitions and a stage for local musicians to showcase their talent. Vibrant Shore features a consistently rotating menu of unique microbrews, including seasonal specials and a variety of flagship staples, to ensure that every trip through their doors is as unique as the last. On the nicer days, don't miss out on their second floor mezzanine and hidden rooftop beer garden!
Atlanta-based brewery, New Realm, recently opened the doors of their Virginia Beach brewhouse just south of the oceanfront. With 15 beers currently on tap, and three beers exclusively made in Va Beach coming soon, this is quickly becoming one of our favorite spots for a good beer. Their huge patio and lawn, with food trucks, cornhole, and Bocce ball courts make this is a must-try on a nice day. Give the Hoplandia American IPA a shot for a burst of hoppy flavor or try the Euphonia for an easy-drinking Bohemian pilsner.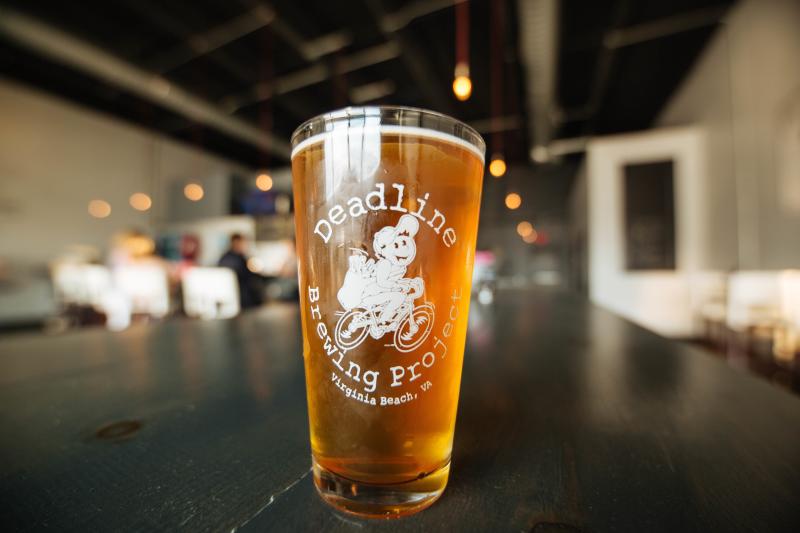 Deadline Brewing Project, located in the Chesapeake Bay district, is what happens when three friends in the news business (hence their name), go out for a few beers and spend the night discussing how fun it would be to open up a brewery together. With regular selections always available and new creations always in the works, it's always a good time to drop into Deadline for a cold one. Try the Pacer Blonde, which gets its name from the short news clips that keep a program running smoothly in the news business, for a light, clean blonde ale that makes for easy-drinking.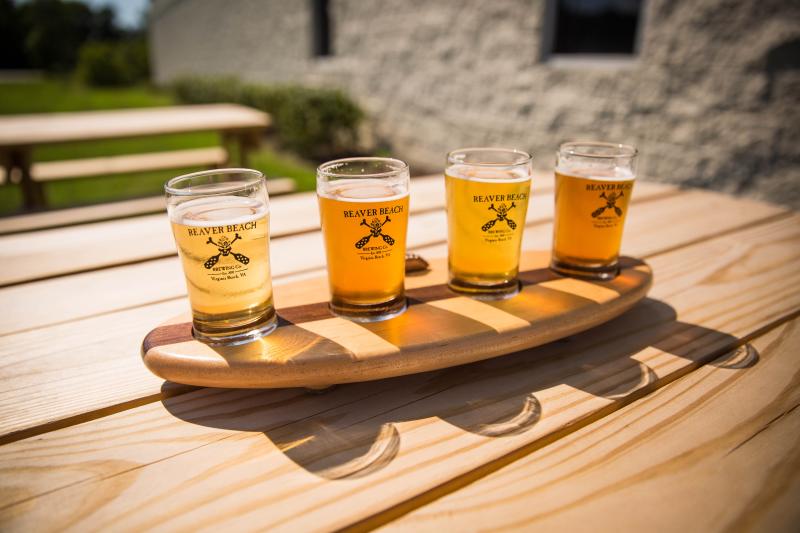 This cozy brewery is a favorite for many a regular with its neighborhood bar-like atmosphere and delicious rotating beers. While all of their beers are worthy of a tasting, their sours deserve special recognition. This place is just all around cool. Their Hoptopus is one of our favorites and is a must-try for IPA fans.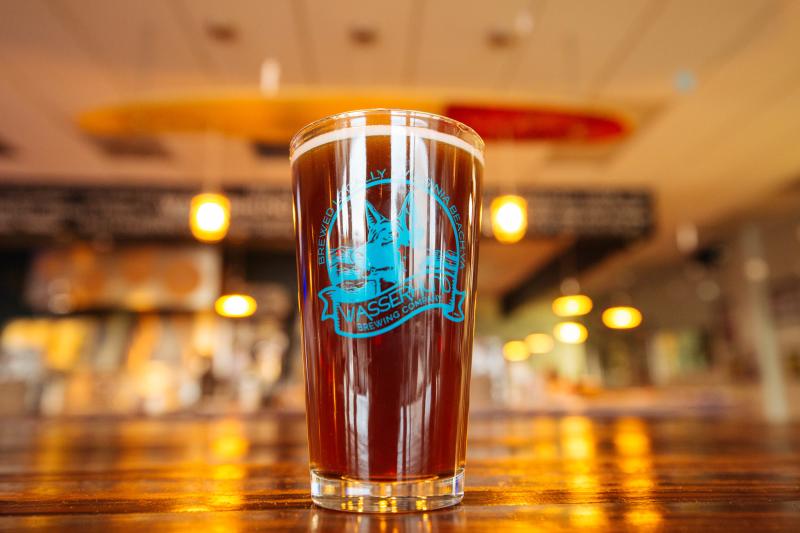 Wasserhund is a German-inspired brewpub in the Hilltop area and is a great joint to get your pizza and beer fix, both of which are can't-misses here. Their flights are very customizable, so taste as many of their house-brewed beers as you want. They have a great variety for fans of all kinds of beer. With names like Doggy Paddle IPA, German Shepheweizen, and Atta Boy Altbier their beers are as fun as they are delicious. The German-inspired food here is amazing, as well. Try the Jumbo Beer Pretzel, with beer cheese or German mustard, and the Wasserhund Pizza, which is topped with bratwurst, sauerkraut and their signature seasonal beer mustard.
This veteran-owned, military-themed, brewery is a must visit for veterans and non-veterans alike. As if the creative and tasty brews weren't enough reason to visit, the WWII-themed artwork for each beer, prominently displayed on the walls, makes this worth the trip in its own right. It doesn't hurt that the staff also knows their stuff and will get you set-up with the perfect beer for your preferences every time. We'd recommend the Pineapple Grenade Hefeweizen or the I Love Jet Noise Double IPA, but it's really hard to go wrong with any of the beers here.
Though they seem slightly off the beaten path, Young Veterans and Reaver Beach are actually within walking distance of each other, making for the perfect one-two punch on your tour of Virginia Beach Breweries.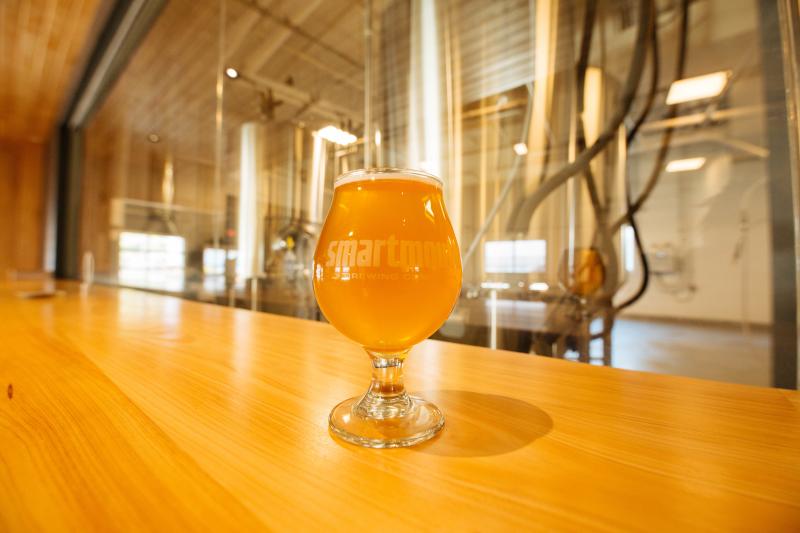 Smartmouth Pilot House is pulling their taps out of an old post office-turned-brewery, just a block away from the boardwalk at the Oceanfront. They regularly bring in food trucks and allow dogs in their outdoor space, which was converted from the post office's old loading dock, so you will never want to leave. Try their Sommer Fling Hefeweizen - an easy to drink seasonal German-style beer that pairs perfectly with a warm afternoon.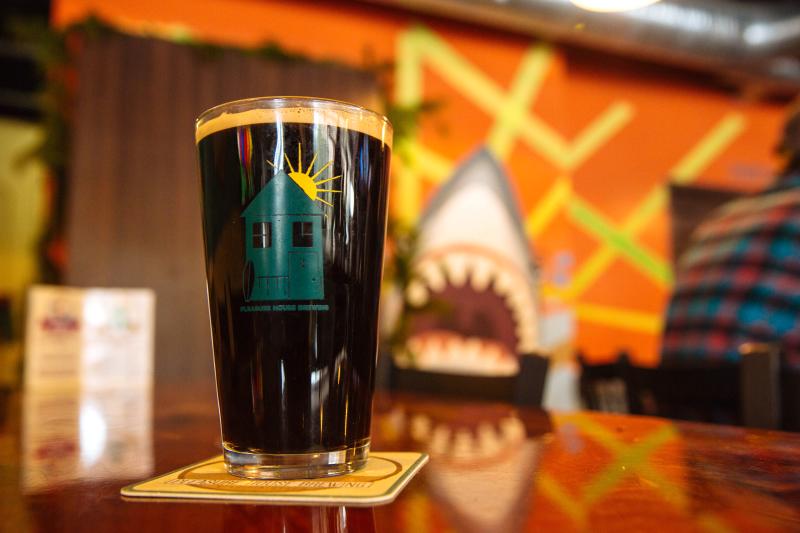 Pleasure House Brewing is what it would be like if you had friends who had a brewery in their house, and they made great beer. This place is unassuming, cozy, and just plain fun. Their beers are constantly changing and when they're out, they're out. While it is hard to go wrong here, if you find one you really like, you may want to stock up! Grab a glass, choose a game from the many they offer, and enjoy a night drinking good beer with good friends.
To take your beer home with you, try one of their crowlers, a 32-ounce mega-can of their delicious brews, canned in-house.