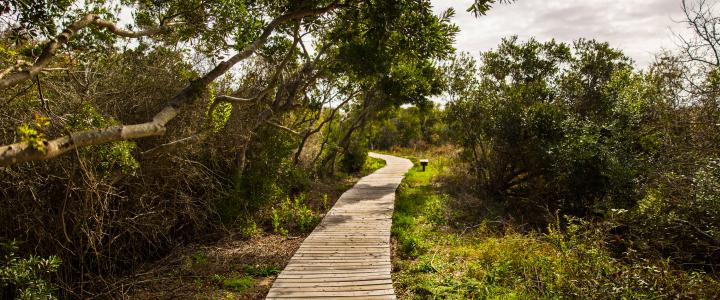 With the cooling temperatures and colorful treetop canopies in a constant state of flux, there may be no better time to get out and discover our coastal surroundings by foot than during the fall and winter seasons. Whether you're hoping to take in the scenery casually or looking for a more thrilling stroll, outdoor adventure abounds in the state parks, wildlife refuges and miles of beaches in Virginia Beach.
At First Landing State Park – a local's favorite – hike through seven distinct ecosystems, that are very similar to what the first settlers experienced upon sailing up to our beaches in 1607! Walk along 1.25 miles of beachfront and stop to take in the beauty of dunes and tidal marsh, or follow 19 miles of interpretive hiking trails through protected habitats, including the maritime forest community, one of the most endangered habitat types in the world. Pick a different trail within the 2,888-acre park, and you'll encounter a different scene, from freshwater ponds and Spanish moss to stunning views of the Chesapeake Bay. Even your four-legged friend can join in on your seasonal hike – they'll love the surroundings (and the pinecones) just as much.
If you are up for a more adventurous stroll, take a walk on the wild side just south of the Resort Beach, at Back Bay Wildlife Refuge, where you can discover one of the last remaining undeveloped areas along the East Coast. Trek the park's five miles by foot, or hop aboard a tram tour through the scenic wilderness to look for signs of bobcat, fox, deer, coyotes and more, as you make your way to False Cape State Park, which can only be reached by foot or bike! As the year nears its end, the already lively refuge becomes aflutter with gaggles of furry and feathered guests who call VB home for the winter months. With the variety of wildfowl making their way here to feed and rest, Back Bay's Winter Wildfowl Walks offer a front-row seat to the migratory action with a one-mile hike along the Refuge's Bay Trail, guided by expert birders.
With so many storied trails and distinct natural habitats to experience year-round in Virginia Beach, why not get out and start exploring? Just pick your path and go.