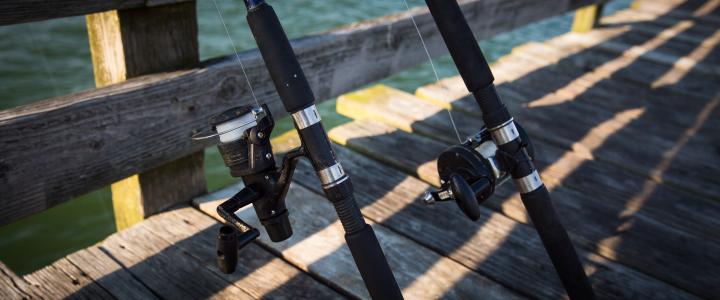 Not to be forgotten, sometimes the guys need some time away to do, well, guy stuff. Camping, fishing, beer, outdoor adventure - it's all on deck with an action-packed, early fall weekend in Virginia Beach.
Day One: Friday
Afternoon: Pull up, grab your coolers out of the truck, and crack open a cold one. It's time to set up camp! Take in the view as you set up your tents just a stone's throw away from the beautiful Chesapeake Bay at First Landing State Park. Start gathering firewood and place your chairs around the fire pit. If you don't have a campfire, are you really camping?  We don't think so.
Evening: You deserve a drink for finally getting those tents up without looking at the included instructions. Head to the Virginia Beach Oceanfront Resort District for an Old Fashioned and a can't-miss cheeseburger at Repeal Bourbon and Burgers.
Day Two: Saturday
Morning: It's time to get your day started! First, grab breakfast and bloody marys at Bay Local.  Their "Coastal Southern" culinary style takes advantage of everything our region on the shores of the Chesapeake Bay has to offer so you know your breakfast will be delicious.
Afternoon: Throw your fish in the cooler and order an Uber down the street to Commonwealth Brewing.  They offer seasonal favorites and food trucks for lunch!  Once you order, take your crew outdoors for lawn games and friendly competition.
Evening: We think pizza and craft beer make the perfect pair, so do our friends at Hearth. They are constantly changing their menu to reflect what is in season and locally available so you know whatever you order will be on point! 
Late Night: Saturdays are for the boys... and football.  Catch all the big games at Cactus Jacks.  With 14 flat screen 50" TV's and an 8' HD Projector, they have all the college games on. Saturday nights are a party with live music or DJ, it's guaranteed to be a good time.
Day Three: Sunday
Morning: Rise with the sun and prepare breakfast around the campfire. Before you head out, grab the kayaks and cruise through Broad Bay, behind the park. Be sure to tag any photos you take with #VisitVaBeach so we can see them (and maybe repost them)!  
It was our pleasure hosting you and we hope you will return again soon. On behalf of the Visit Virginia Beach Team, we wish you a safe trip home and happy travels!