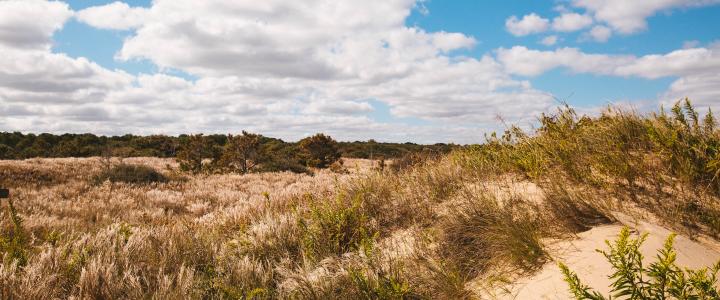 With an abundance of outdoor activities, Virginia Beach is a haven for adventure seekers and nature lovers alike. From wide, sandy beaches to the Back Bay National Wildlife Refuge, our coastal city is an ideal landscape to explore by foot, bike, kayak, boat and more, and our two state parks are no exception. First Landing State Park and False Cape State Park both provide an unencumbered glimpse into our awe-inspiring natural coastal environment. With miles of interpretive hiking and biking trails, traditional and primitive camping opportunities, and unobstructed coastline along both the Chesapeake Bay and Atlantic Ocean, you won't want to miss these unique parks.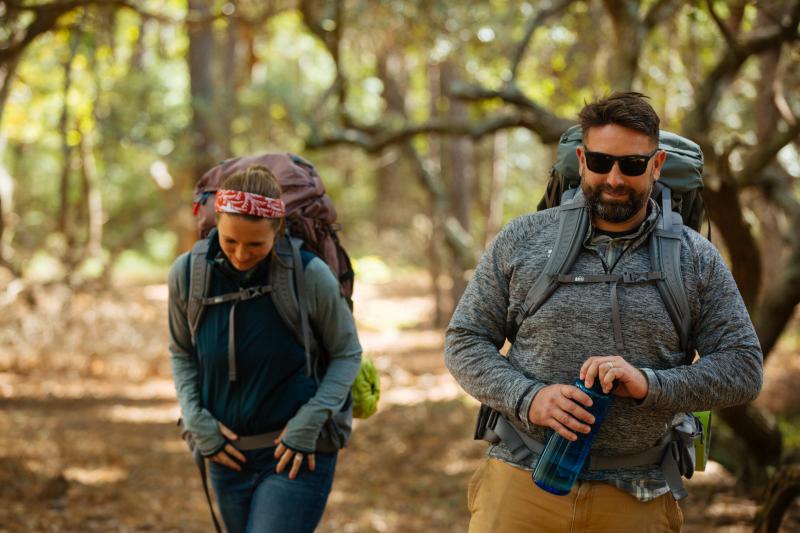 Featuring six miles of unspoiled beaches in an ocean-to-freshwater bay habitat and 15.3 miles of trails, False Cape State Park is one of our favorite spots to explore. With dunes, woodlands, farm fields, salt marshes and more, this coastal landscape is unmatched. This remote park is also home to huge number of species that are native to this area, including over 300 species of nesting and migratory songbirds, including a snow geese population of over 10,000, shorebirds and ducks, otters, white-tailed deer, red fox, loggerhead turtles, American bald eagles, feral pigs, wild horses, and a huge number of interesting reptiles. 
Located in southern Virginia Beach, False Cape is a mile-wide barrier spit between Back Bay and the Atlantic Ocean offering primitive beachfront camping, where you can camp in near complete isolation right on the beach. With no public vehicle access, False Cape can only be reached by hiking, biking, small boats, or the park's beach transport and tram services, through the neighboring Back Bay National Wildlife Refuge. From where you will park your car, at Little Island Park in Sandbridge, the hike to the campsites is anywhere from five to nine miles, depending on where your specific site is, so you'll want to pack light. The park has 12 campsites for tent-only camping and, while they are very primitive, drinking water is offered in three locations.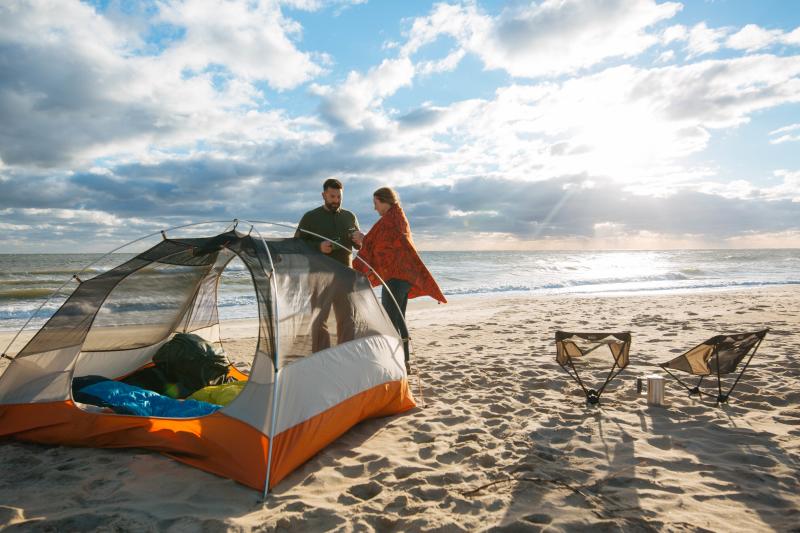 With 15 hiking and biking trails, varying in length and ranging from easy to difficult, there are many ways to explore one of the last remaining undeveloped areas on the east coast. The longest, and most difficult trail, Sand Ridge Trail, is 6.2 miles and takes both hikers and bikers from near the entrance of the park all the way down to the North Carolina state border. For the dedicated outdoorsmen, we'd recommend navigating the entire 15.3 miles of trails in the park, where you will experience beaches of both an ocean and a bay, dunes, maritime forests, marshes, and wooded swamps, all in one visit.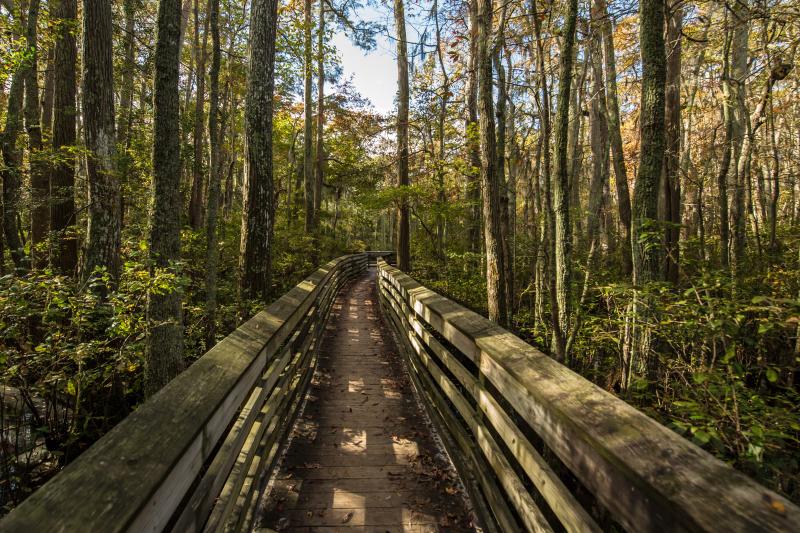 First Landing State Park is a 2,888-acre park that fronts the Chesapeake Bay and features 1.25 miles of beach and more than 19 miles of interpretive hiking trails through protected salt marsh habitat, freshwater ponds, beach, dunes, forest, tidal marsh and cypress swamp. A registered Natural Landmark, First Landing is the most visited state park in Virginia and contains one of the most endangered habitat types in the world, the maritime forest community. 
First Landing is named for the historic landing of three small ships from England, the Discovery, the Susan Constant, and the Godspeed, which brought the first English settlers to America in 1607, right next door to the park at what is now called Cape Henry, located within the Joint Expeditionary Base Fort Story. The 100 Englishmen and women aboard these ships, commanded by Captain Christopher Newport, went on to establish the first permanent settlement in the new world at Jamestown after exploring, what is now Virginia Beach for several days.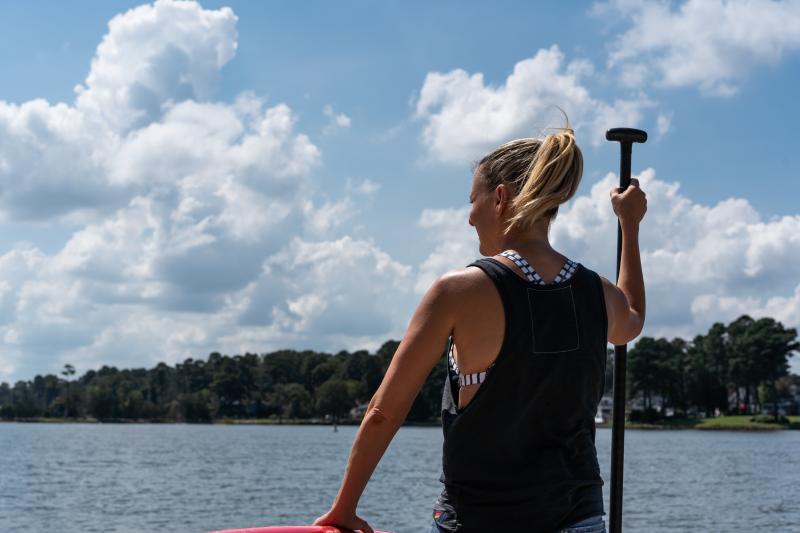 The trail center, accessed through the south entrance off of Shore Drive, is the main hub for accessing the nine interpretive trails running through the park's seven distinct ecosystems, including the Cape Henry Trail. This six mile trail is the park's longest, stretching from the northern border to southernmost entrance off of Atlantic Avenue, and is the only trail accessible to both hikers and bicyclists. For a scenic hike through the enchanting cypress swamps, Bald Cypress Trail offers a 1.5 mile loop, including several boardwalks and platforms overlooking the low wetlands, making for several great photo-ops.
Campers can find refuge within the park, as well. First Landing offers 200 campsites, nestled within the back dunes of the northern, beachfront side of the park. Sites vary from smaller sites, perfect for tent camping, to sites that have water and electricity hookups and can accommodate 50-foot RVs. For those who prefer a comfier stay, the south side of the park offers 20 rustic cabins, with running water and electricity, as well as heating and air conditioning. Campsites are available from March 1 through early December, while the cabins can be rented year-round.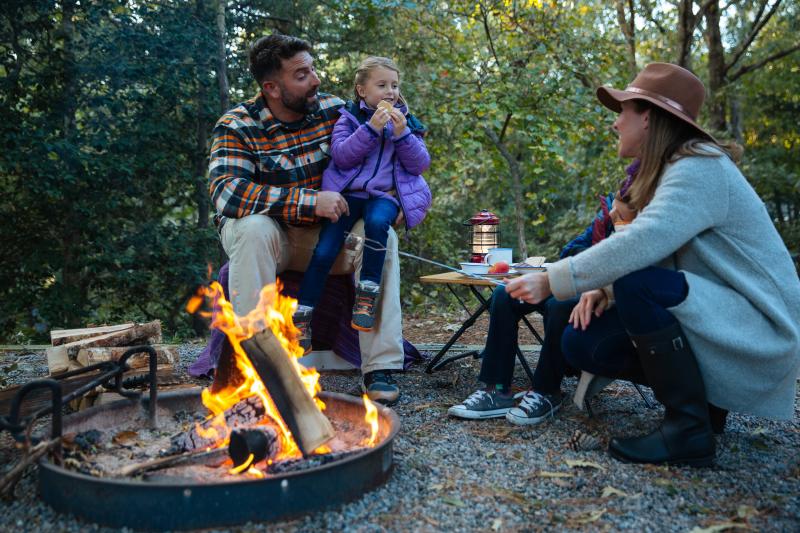 With over 4,000 acres of both city and state parks, as well as the Back Bay National Wildlife Refuge, our coastal environment is ready to be explored. Plan your visit to one of our parks today!