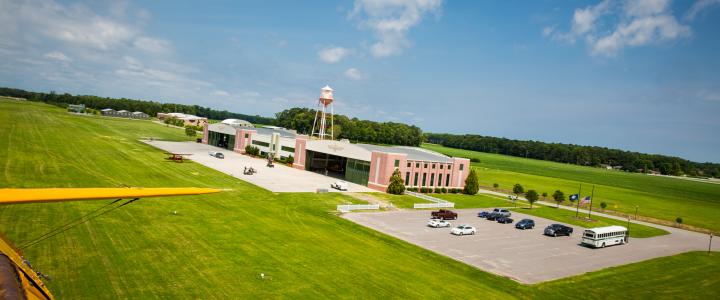 To take a leap back in time to a golden era in American history, you only need to drive 25 minutes south from the Virginia Beach Oceanfront in the Pungo District. The vintage 1930's Art Deco airplane hangars and sprawling airfield of the Virginia Military Aviation Museum are a must-see for locals and visitors alike.
With 65 planes from the first 50 years of military aviation, most of which have amazingly been restored to their original flying condition, the museum holds one of the largest private collections of its kind in the world. As you walk through the marvels of American, British, Russian and German engineering, unencumbered by the ropes or rails of traditional museums, it is impossible not to be moved. It is here where the stories of the brave young men and women who came before us truly come alive.
If you visit at the right time, you can even experience the thrill of seeing these warbirds take to the skies at the Annual Warbirds Over the Beach airshow. With historians, live WWII-era music, and performers and pilots dressed in clothing from the time, this is as close as you can get to experiencing what it would've been like to be alive in the 1940's. While seeing the planes take flight is a rare experience in its own right, it's hard to explain the feeling you'll get when you hear the sound of an inline 1,720 hp Rolls-Royce Merlin roaring to life.
From historic buildings like the new RAF Goxhill Control Tower, America's first airbase flown in from England and meticulously reconstructed, to the Boeing P-26 aircraft nicknamed "The Peashooter," and maybe even a dinosaur or two at the museums popular "Jerrassic Park" named after owner Jerry Yagen, there is so much to discover at the Virginia Military Aviation Museum.
Click on our scavenger hunt below to print it out and see what all you can find.