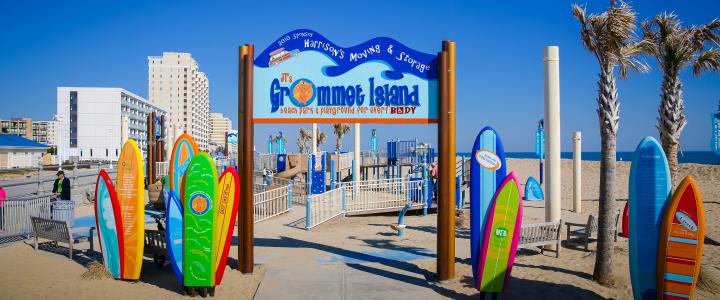 In Virginia Beach, we believe that sand and surf are meant to be experienced and enjoyed by all! Throughout our coastal city, you'll find beach ramp accessibility, accessible surf camps and even a very special in-the-sand playground designed with every person's ability in mind.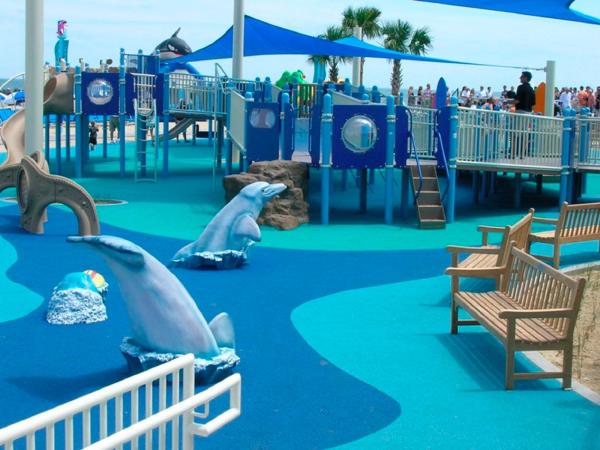 Soft play sculptures, cushioned play surfaces and accessible play equipment are just a few of the phenomenal features of JT's Grommet Island Park, the first beach playground in the country designed for children and adults of all physical abilities. Located in the sand at 2nd Street, with gorgeous views of the Rudee Inlet and the Atlantic Ocean, the 15,000 square-foot playground also has beach wheelchairs, available for free on a first-come, first-served basis, as well as beach chairs and public restrooms with an attendant between the hours of 8 a.m. and 8 p.m. between April 1 and October 1.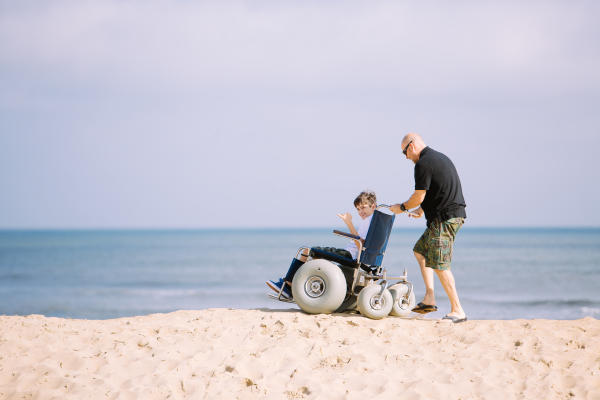 You'll find more free beach wheelchairs along the Oceanfront, at 17th Street, 24th Street and 26th Street, in addition to available rentals (including beach scooters). And while most of our beach entrances have ramp access, extended wood walkways allow you to get closer to the beach more comfortably and conveniently and are available at 8th, 16th, 24th, 30th and 40th Streets.
Because time on the beach can be as therapeutic as it is fun, you'll also find an array of camps that provide an immersive beach experience for all.  At the First Street Jetty, the annual Wave Warriors Surf Camp honors our nation's heroes by creating a thrilling surfing experience for injured service members and their families across the country. Surfing instructors take to the waves to provide an unforgettable, fun and empowering experience.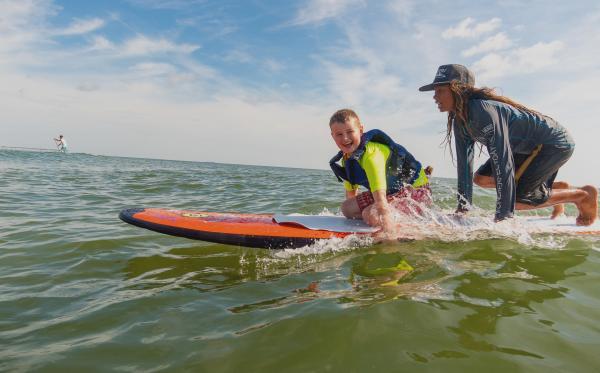 Virginia Beach is also home to the Surfers Healing Team Camp Day, during which children take to the ocean to overcome their fears, delight in their accomplishments and embrace their abilities, as volunteers guide them through the water. The event is also accompanied by a 5K run/walk benefiting the Surfers Healing Foundation and Autism Society.
So, whether you need some extra assistance getting to the sand, are looking for some surf therapy or just want to soak up some fun in the sun alongside your loved ones, here's to a beach made just for you – a beach for everybody!