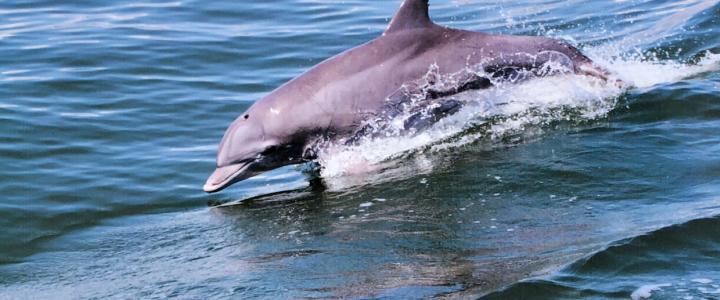 With the changing seasons, the horizon is often speckled with the glistening fins of our dolphin friends in Virginia Beach, especially around dawn and dusk. With miles of coastline along the Chesapeake Bay and Atlantic Ocean, these mammals are a common sight this time of year no matter where you're looking. Here are some of our favorite ways to see dolphins in Virginia Beach.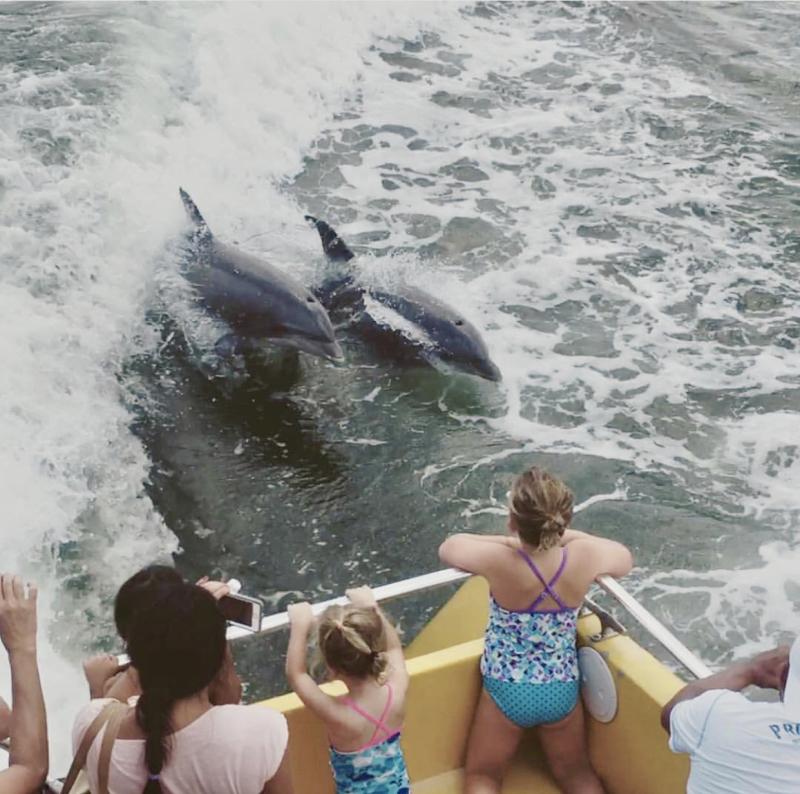 @rudeerocket, Instagram 
While dolphin-watching from the comfort of a swell-side beach chair is one of our favorite pastimes, the best way to experience dolphins might be to get out on the water with them.  Hop aboard the Atlantic Explorer, a 90-minute excursion operated by the Virginia Aquarium & Marine Science Center, for up-close sightings of the charismatic creatures, as well as sea turtles, brown pelicans, bald eagles, and more. Tours run throughout the spring, summer, and fall and are staffed by knowledgeable marine educators who focus on research, conservation, and responsible viewing practices. 
For other exciting boat tour opportunities, head to the harbor at Rudee Inlet, where many maritime options abound. Hop aboard one of our many popular boat tours and watch the wake as dolphins race to keep pace. For a wide range of boat tours that everyone in the family will love, Rudee Tours is the perfect starting point. Their boats The Rudee Flipper, the Rudee Whaler, and the exhilarating Rudee Rocket offer dolphin and whale watching tours where dolphin sightings are guaranteed. The Rudee Rocket, known as the greatest thrill ride on the Virginia Beach Oceanfront, is a giant speed boat tour along the coast that is as fun for all thrill seekers as it is for the dolphins who love to play in the boat's wake.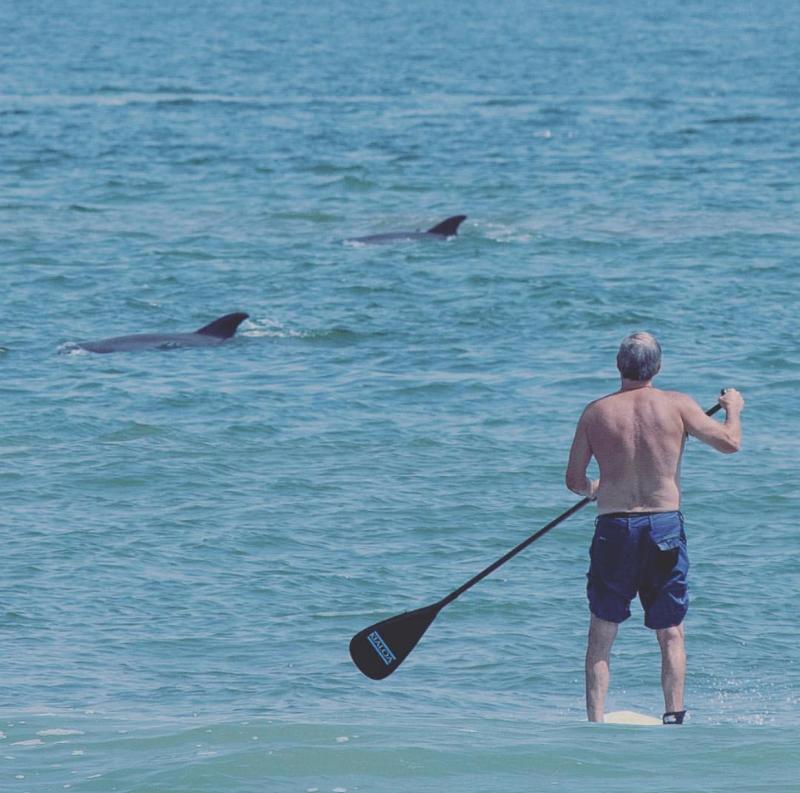 @manojvenkatesan, Instagram
For an even closer look, get right down on the water on a sit-a-top kayak or stand-up paddle board, from Chesapean Outdoors, at both the Virginia Beach Oceanfront and Chesapeake Bay. GoKayak! offers guided kayak nature and dolphin tours out of Rudee Inlet and First Landing State Park in Virginia Beach.
In addition to the Oceanfront, dolphins are frequent visitors to the calmer inland waterways off of the Chesapeake Bay, and Tula Adventure Sports located in the Chesapeake Bay District offers tours to kayak with these friendly animals. You can paddle out to the famous Chesapeake Bay Bridge Tunnel for some prime sightseeing or stay close to land for the perfect pairing to a beach day on the bay. Even if you opt to stay close to the beach, you can still often find yourself paddling alongside a pod of dolphins, which is an experience you have to see to believe.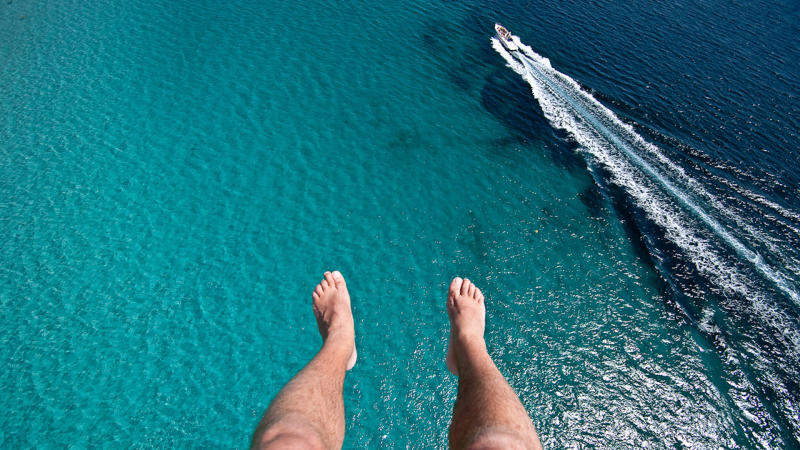 If you're feeling adventurous, get an unmatched view by heading out on a parasailing expedition on the waters of the Atlantic. Rudee Inlet is the take-off point for several parasailing tours like Adventure Parasail, Pirate Parasail, and Air America Parasail. If you haven't experienced the serenity that comes with floating 1,000 feet about the water, we think you should give it a try. While dolphin sightings aren't guaranteed, they are extremely common, and to view them from above is something you won't soon forget.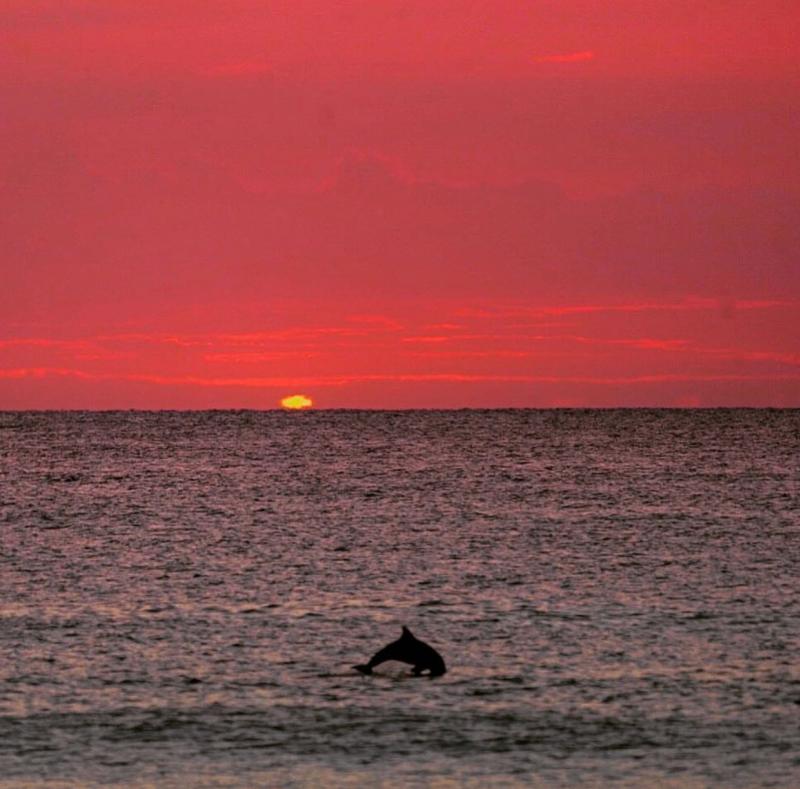 @mikechegin, Instagram
In the Chesapeake Bay Beach neighborhood, we recommend opting for dinner and a show! A sunset dinner at one of the dockside restaurants of the Lynnhaven Inlet and Marina is a great place to see some dolphins up close, as they often swim into the Lynnhaven Inlet to visit. The Back Deck looks out over Wolfsnare Creek, an inland offshoot of the Chesapeake Bay, where you can spend your time sipping on craft brews while you watch boaters, stand-up paddle boarders, and, of course, dolphins swimming by. Don't leave without trying their fish tacos, which are $2 each, every Tuesday. 
With large groups of dolphins often ambling off of our coast, sightings are practically guaranteed. Whether by land, sea or sky, opportunities abound to see these intelligent creatures in Virginia Beach.