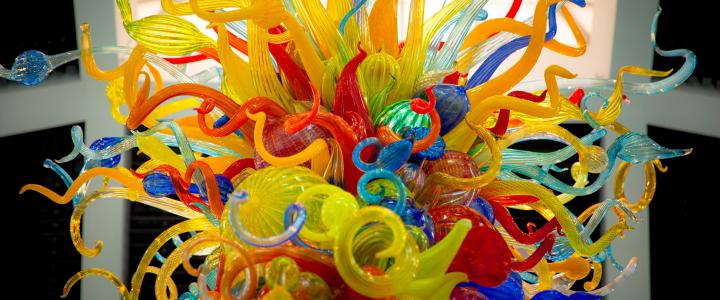 "Mille Colori", Museum of Contemporary Art
A three day weekend in Virginia Beach means three days of fun, sun and exploring all that our coastal city has to offer. From unbeatable outdoor adventure to unrivaled coastal cuisine, and everything in between, spend a long weekend with us in Virginia Beach for a getaway you won't soon forget.
From world-class sculptures and installations to ordinary walls that have been transformed into anything but, you can find works of art in every corner of our coastal city. Whether you're shopping at Town Center, gearing up for a relaxing day beachside at the Oceanfront, or exploring the artisan shops and unique finds of the ViBe Creative District, you're never far from an awe-inspiring masterpiece. Here's how we would spend three days exploring the art which surrounds us in Virginia Beach.
Day One | Explore the Art of the Oceanfront and the ViBe Creative District
Various Artists
Ed Trask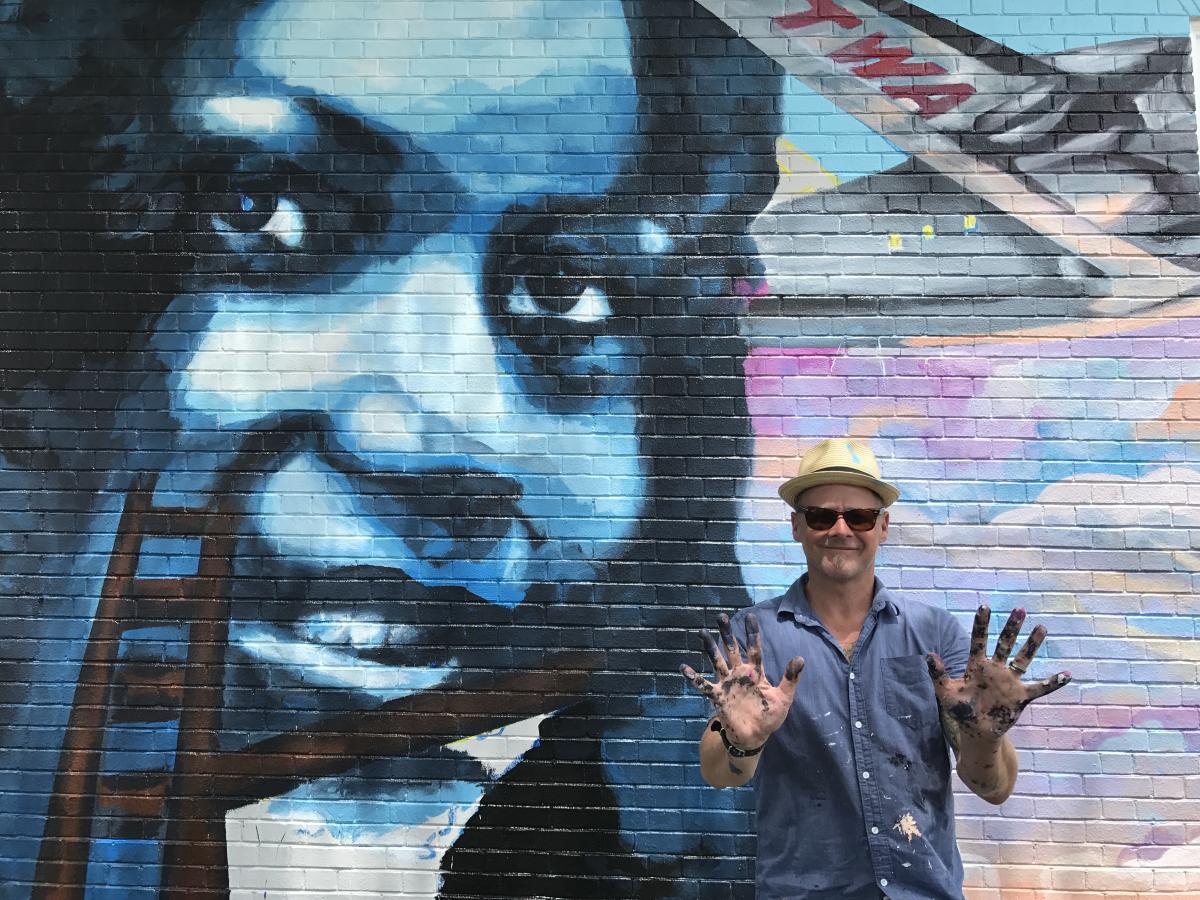 While you can find all manners of artwork within the quaint shops and coffeehouses that comprise the area, the ViBe District is a work of art in and of itself. Look no further than the murals, most of which were done by local artists, that fill the ViBe and the Oceanfront with wonder and color. Take the ViBe Mural Walking Tour, an easy, one-mile walking tour, to see all of these colorful murals for yourself.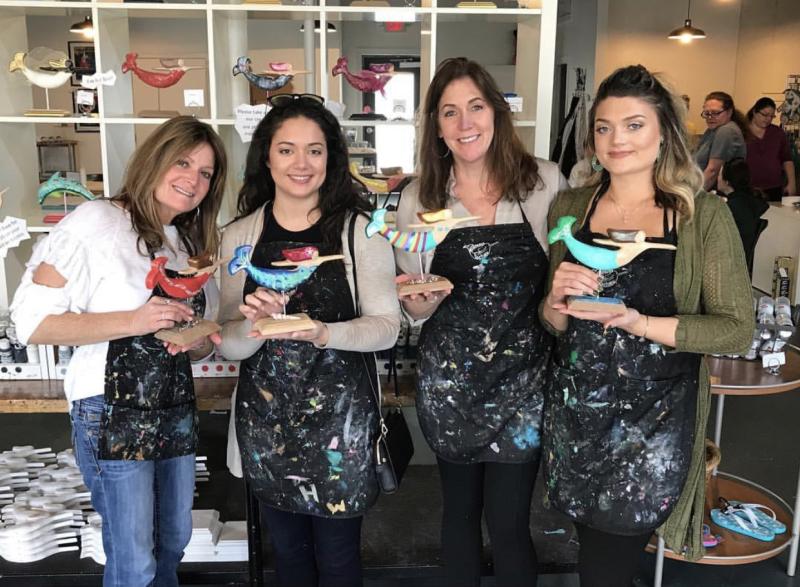 @rachelmorganmuam, Instagram
The Mermaid Factory, originally out of neighboring Norfolk, is an engaging activity for the entire family in The Artery, at the oceanfront. You begin with a blank mermaid or dolphin sculpture and choose your paints, materials, and decorations, then you're on your way to a one-of-a-kind souvenir to take home with you from your trip. All mermaids and dolphin sculptures are handmade right here in Coastal Virginia of a durable casting plaster that works perfectly with whatever non-toxic acrylic paint and decorations you choose.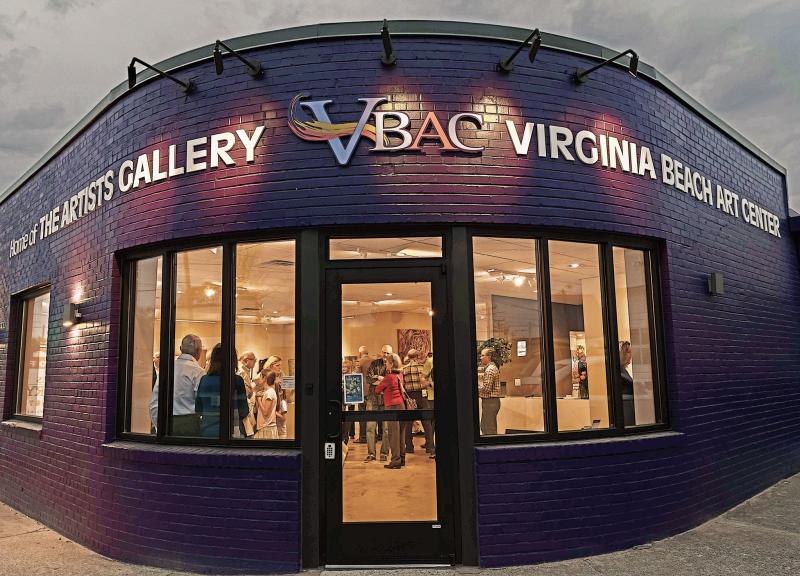 With art classes, pottery, monthly exhibitions, and interactions with local artists through The Artists Gallery, this unique community of artists is excited to introduce to the art adorning their walls. The Center is a volunteer-run organization formed to provide an educational environment to support and inspire all ages and skill levels to experience, engage with, and create art.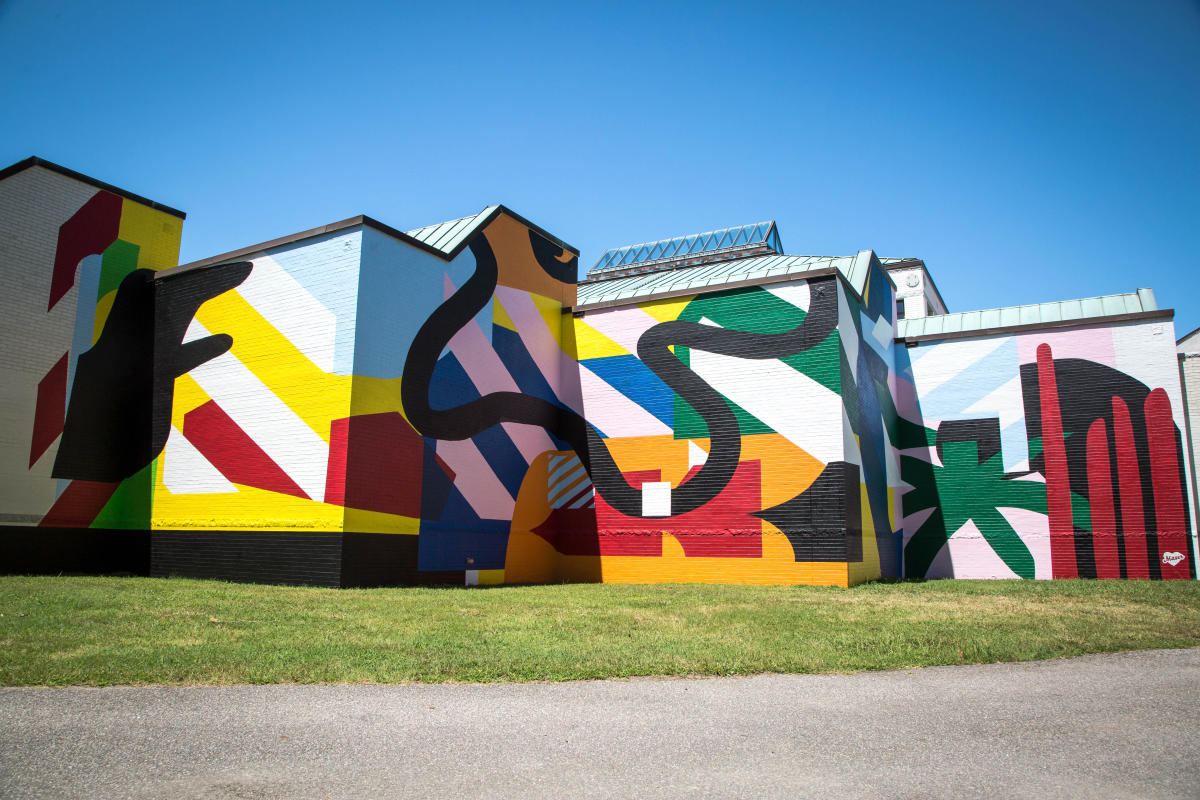 In partnership with the Museum of Contemporary Art (MOCA), the ViBe Creative District, and the City of Virginia Beach. Irish artist, Maser, was tasked with a series of local art installations including a large mural, titled People and Plants on the back of the museum, a sculptural installation across the street from the Virginia Beach Convention Center, and a Performing Arts stage in ViBe Park on Cypress Avenue.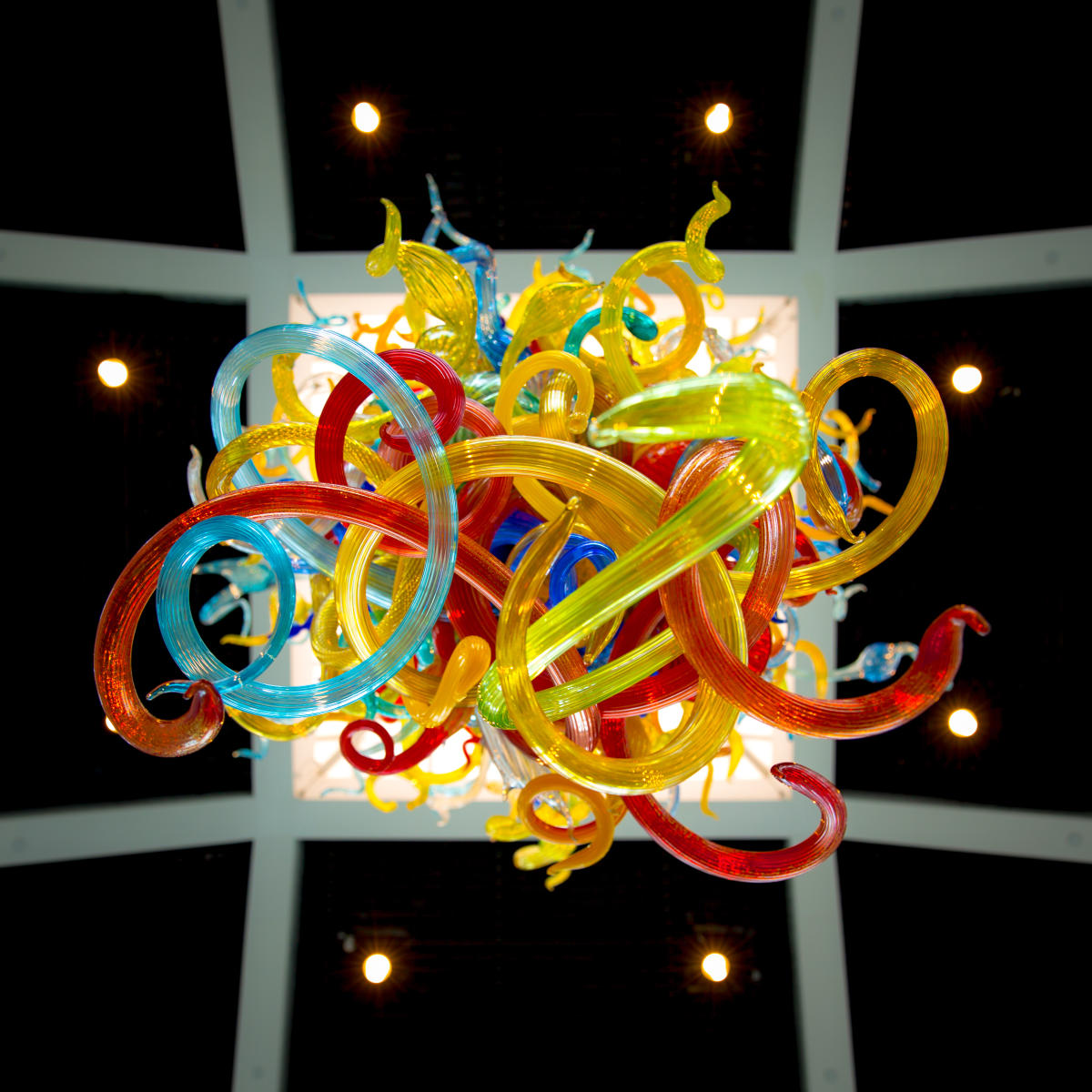 Translating to "1,000 Colors," the Virginia Museum of Contemporary Art's Mille Colori certainly lives up to its name. This breathtaking 14-foot glass chandelier by renowned artist, Dale Chihuly, is made up of 520 separate blown-glass pieces and hangs as a permanent fixture in the sunlit Rodriguez Pavilion, which was built specifically to showcase the modern masterwork.
Edward Davis, Audrea Powell, Mary Ellen Clark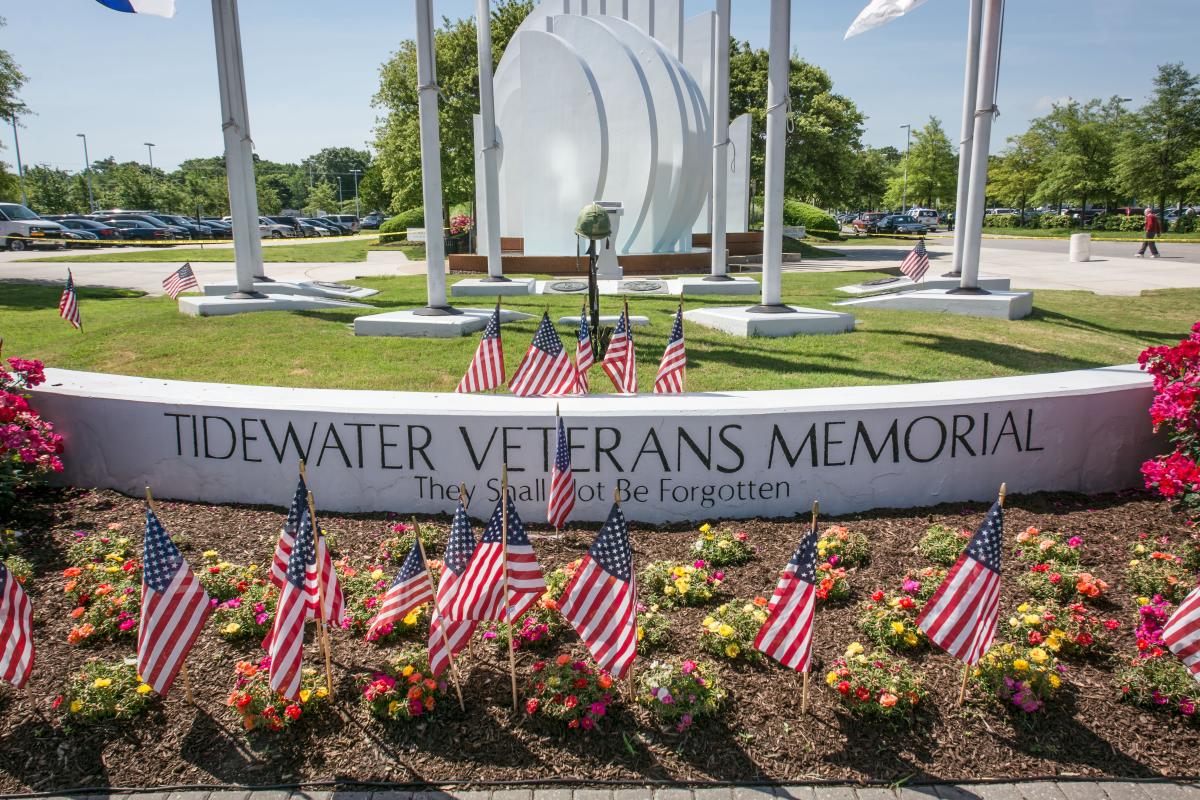 Located across from the Virginia Beach Convention Center, the Tidewater Veterans Memorial pays tribute to the brave servicemen and women who have sacrificed so much to our country and our region. The memorial is designed to signify the manner in which the world is torn apart by war, with spherical shapes with cut-out centers representing the emptiness that war leaves in its wake. The sculpture's waterfall represents the chaos of war and the pursuit to bring people together.
The memorial is adorned with flags belonging to the United States, the Commonwealth of Virginia, and the five branches of the military, and a specially-designed Tidewater Veterans Flag. The memorial also displays a Prisoner of War-Missing in Action flag, which will remain hoisted until all the missing prisoners of war are accounted for.
Paul DiPasquale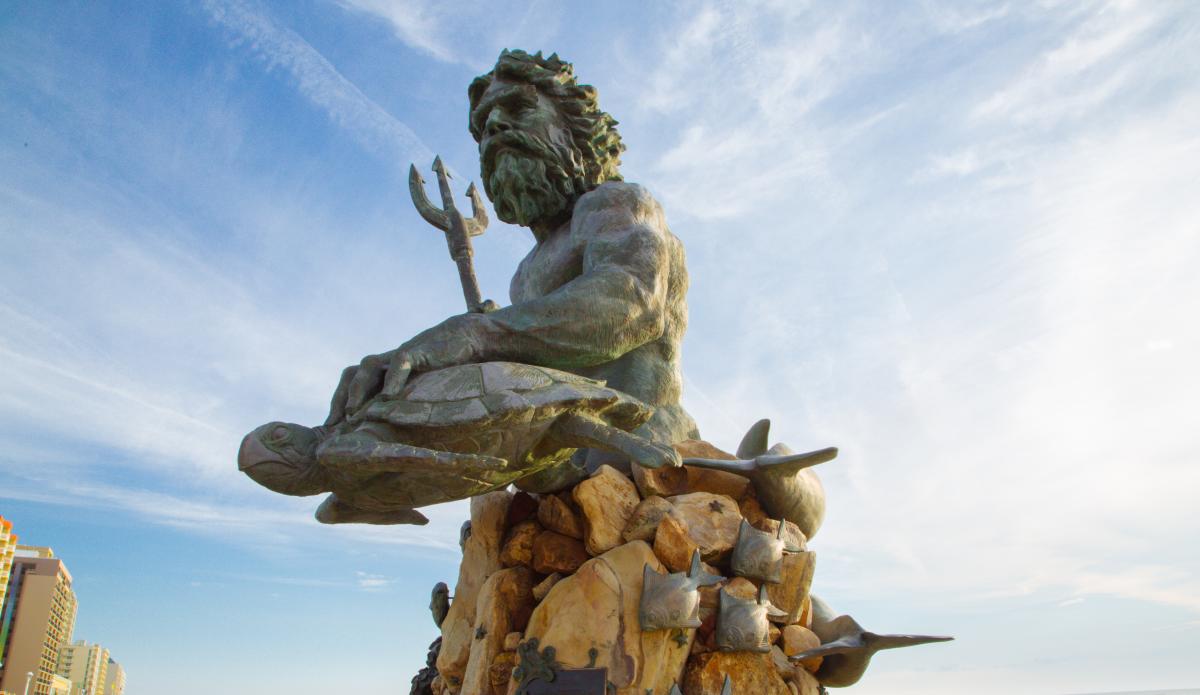 This twenty-four foot, twelve-ton bronze statue, standing at the gateway to Neptune Festival Park on 31st Street, was created by acclaimed Richmond-area sculptor, Paul DiPasquale. Reigning over the Virginia Beach Boardwalk, the Roman God of the Sea is one of our most popular photo opportunities at the oceanfront. To capture the perfect photo, we'd recommend paying him a visit at sunrise.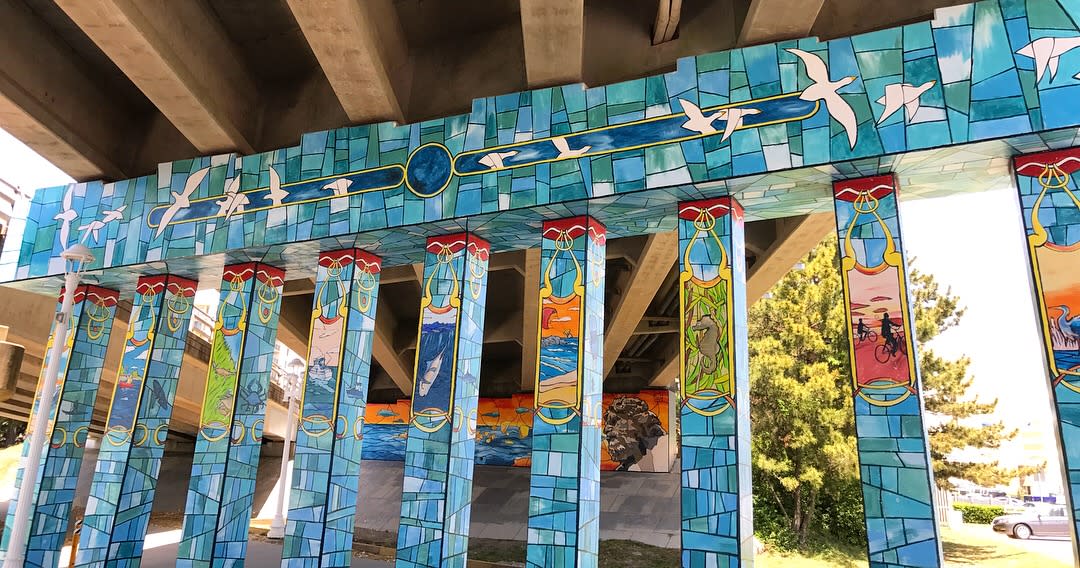 Italian street artist, Pepe Gaka's, "Seashore Cathedral," located along the Oceanfront's Rudee Inlet, is a series of murals that utilize his geometric style to flawlessly create the impression of stained glass under the Rudee Inlet Bridge. Each column features detailed vignettes that represent different aspects of the area that make Virginia Beach unique, including several scenes representing our coastal culture.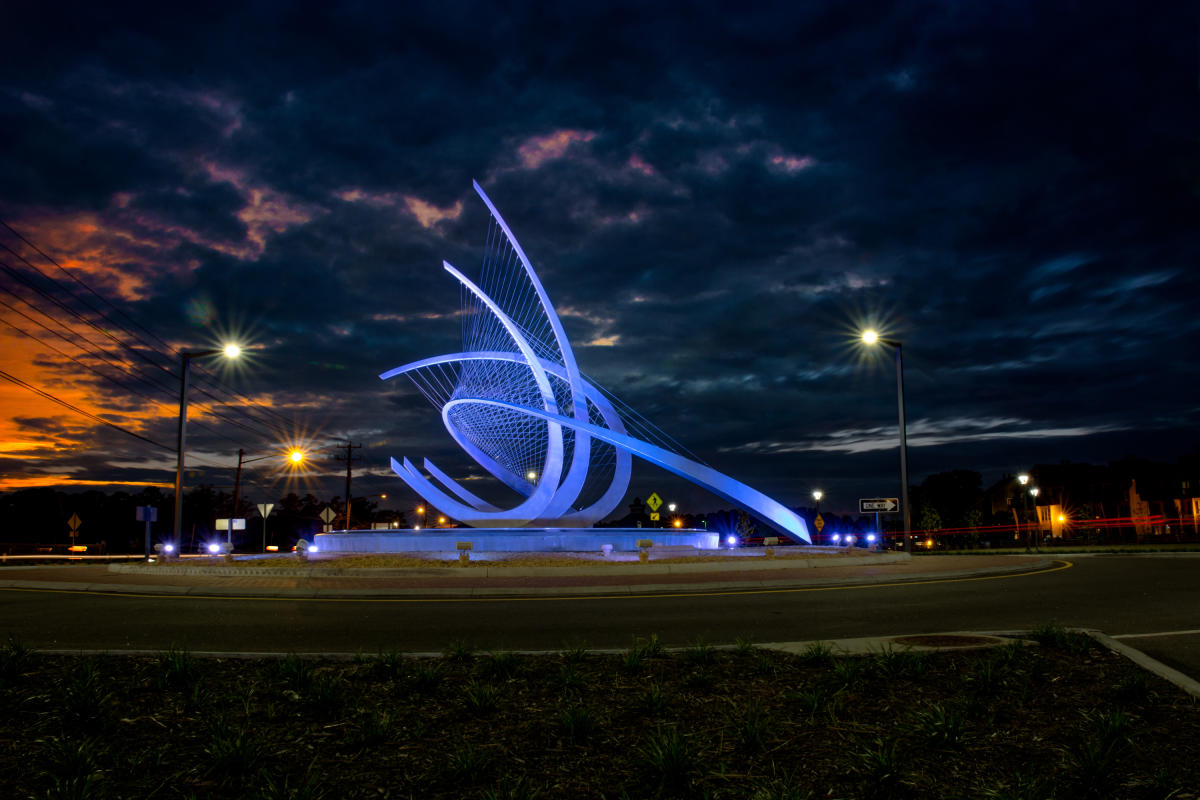 Indianapolis-based artist, Jeff Laramore's piece is a 35-foot stainless steel sculpture marking the entrance to the Laskin Gateway, providing a strong sense of arrival at the Virginia Beach Oceanfront. To the sculpture is fabricated out of a combination of stainless steel plates and stainless steel cables and sits in a 35-foot wide reflecting pool.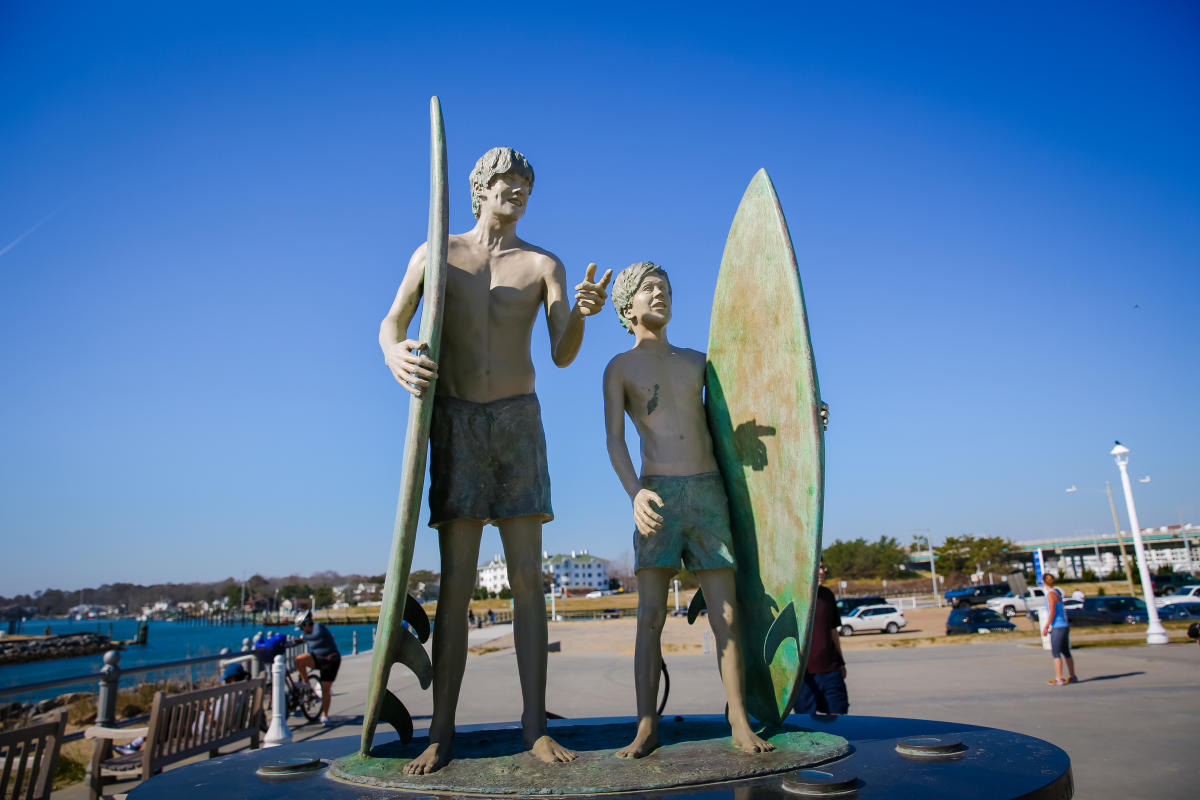 Standing watch at JT's Grommet Island Park at the Oceanfront, the first beach playground designed for adults and children of all physical abilities, Anticipation was created by local sculpture artist, Richard Stravitz. The bronze sculpture was inspired by Josh Thompson, an avid Virginia Beach surfer diagnosed with ALS in 2006. More of Stravitz's work can be seen at his studio near the Oceanfront, where he sculpts six days a week.
Day Two | Spend a Day on the Town at Virginia Beach Town Center
Lin Emery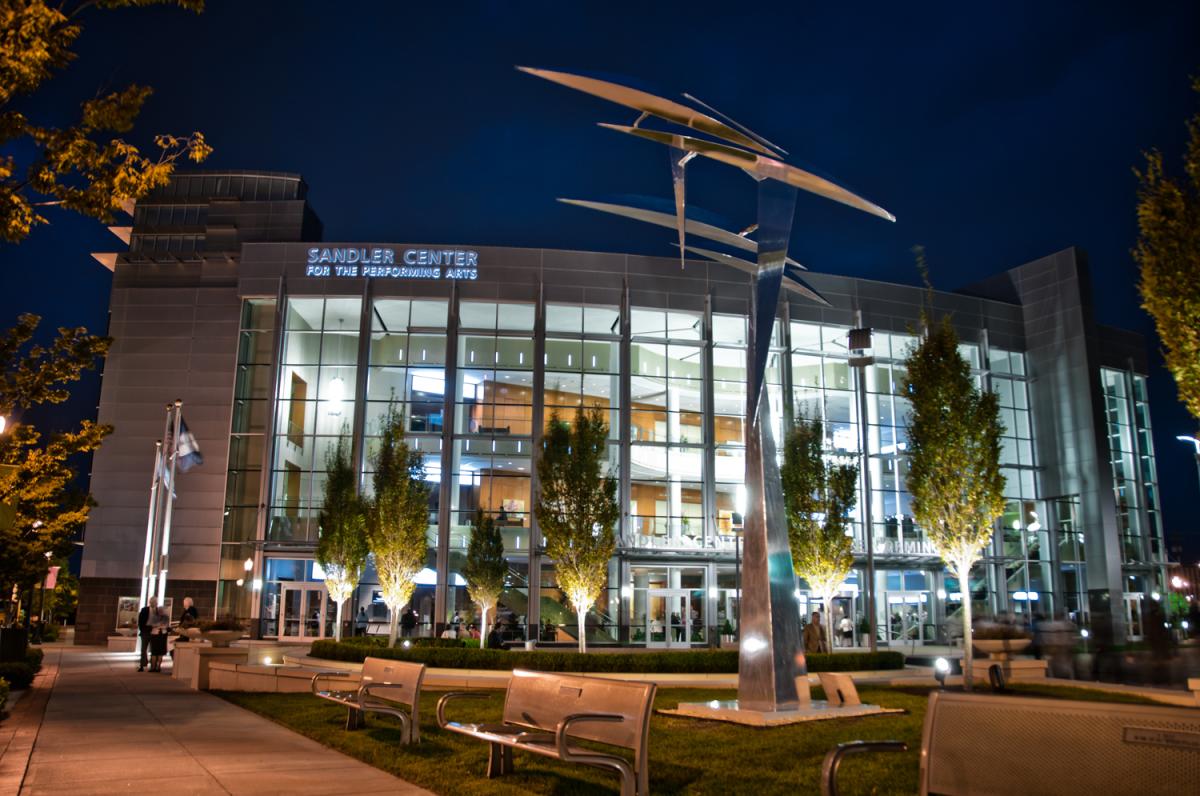 Located in front of Sandler Center for the Performing Arts, Wings is a kinetic sculpture by renowned New Orleans kinetic sculptor, Lin Emery. The highly-polished, aluminum sculpture stands over 23-feet high, with an 18-foot orbit.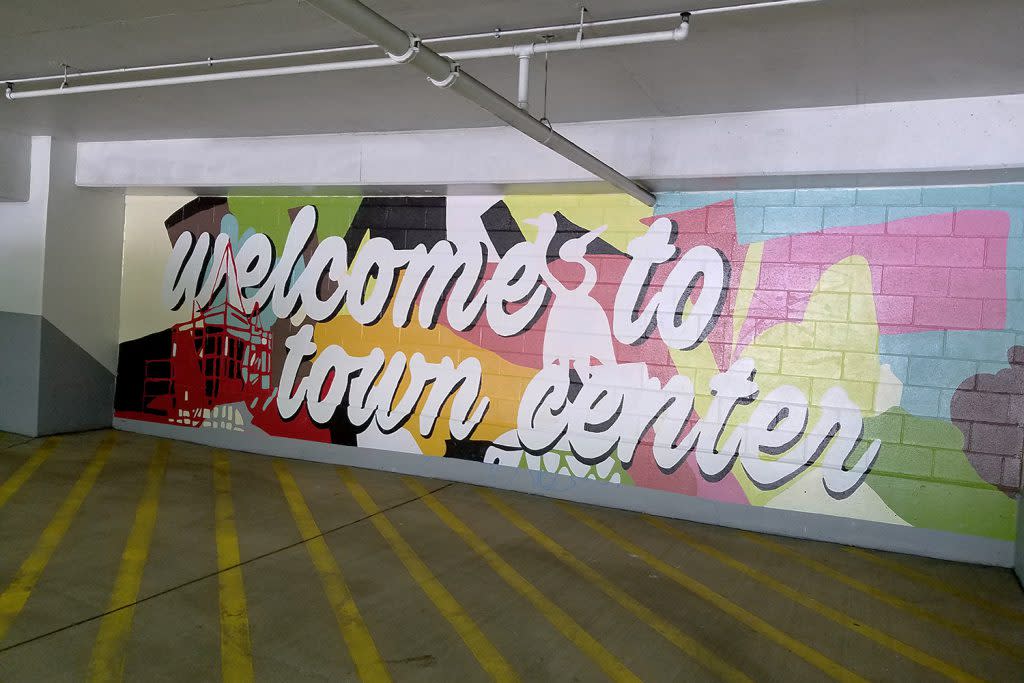 @vabeacharts, Instagram
Located on three interior walls within Town Center's 4 Block Garage, these murals can be hard to find but are well worth seeking out. Painted by local muralist, Richard Nickel, the three designs are unified by bold, graphic shapes, in retro colors.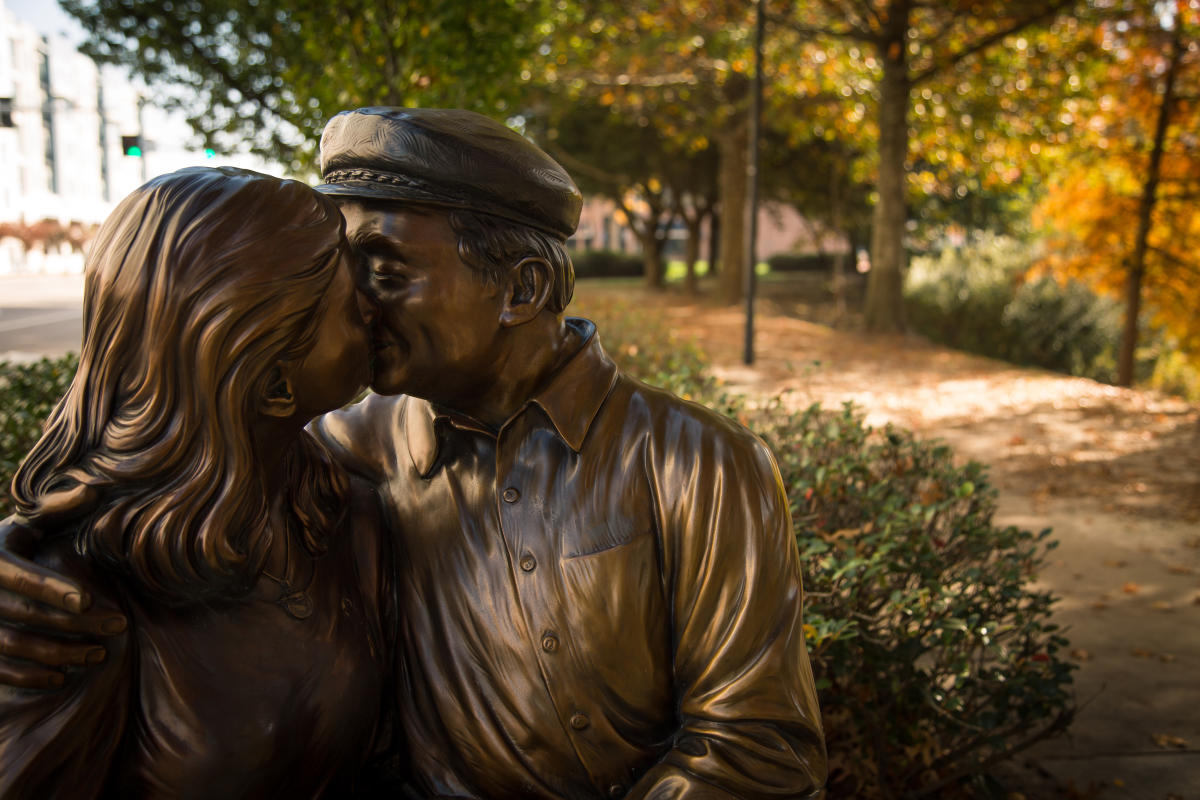 Designed by Colorado-based bronze artist, Gary Alsum, The Kiss is perhaps one of our most Instagrammable public art pieces. Alsum based his creation off of an actual photograph of a couple sharing a kiss on the pier of their nearby Currituck County, NC home. The sculpture can be found overlooking the pond in Town Center's Central Park.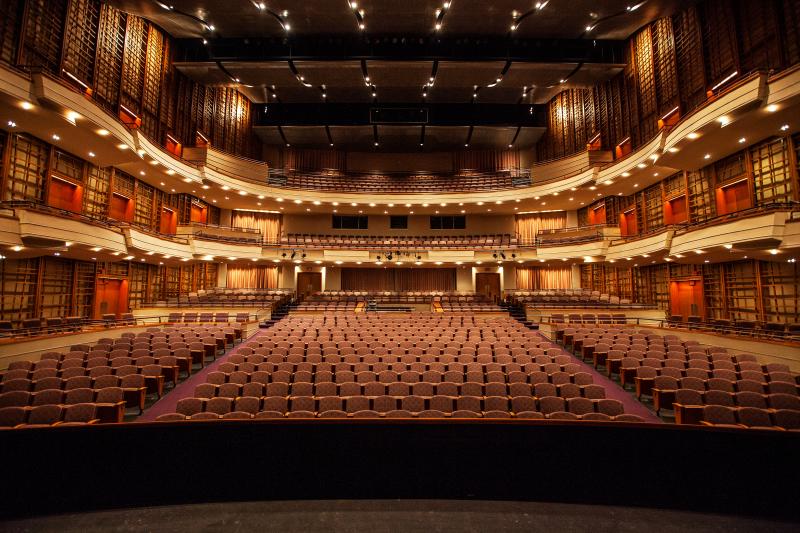 The Sandler Center for the Performing Arts is a 1,200 seat hall is a masterpiece of acoustical engineering that opened in 2007, and now brings acts from all over the world, including national recording artists, world-renowned symphonies and orchestras, and theatrical masterpieces. This summer brings an eclectic lineup that is throwing it back to a golden age of Rock n' Roll.
For a cozier experience that can only be found in Virginia Beach, Zeiders American Dream Theater is a professional nonprofit theater that gives local writers, performers, and artists the perfect platform to inspire artistic expression of all varieties and has become an integral part of the local arts community. Zeiders will also soon be opening up a much larger, state-of-the-art, two-theater, facility on the opposite end of Town Center.
Day 3 | Discover the Best of the Rest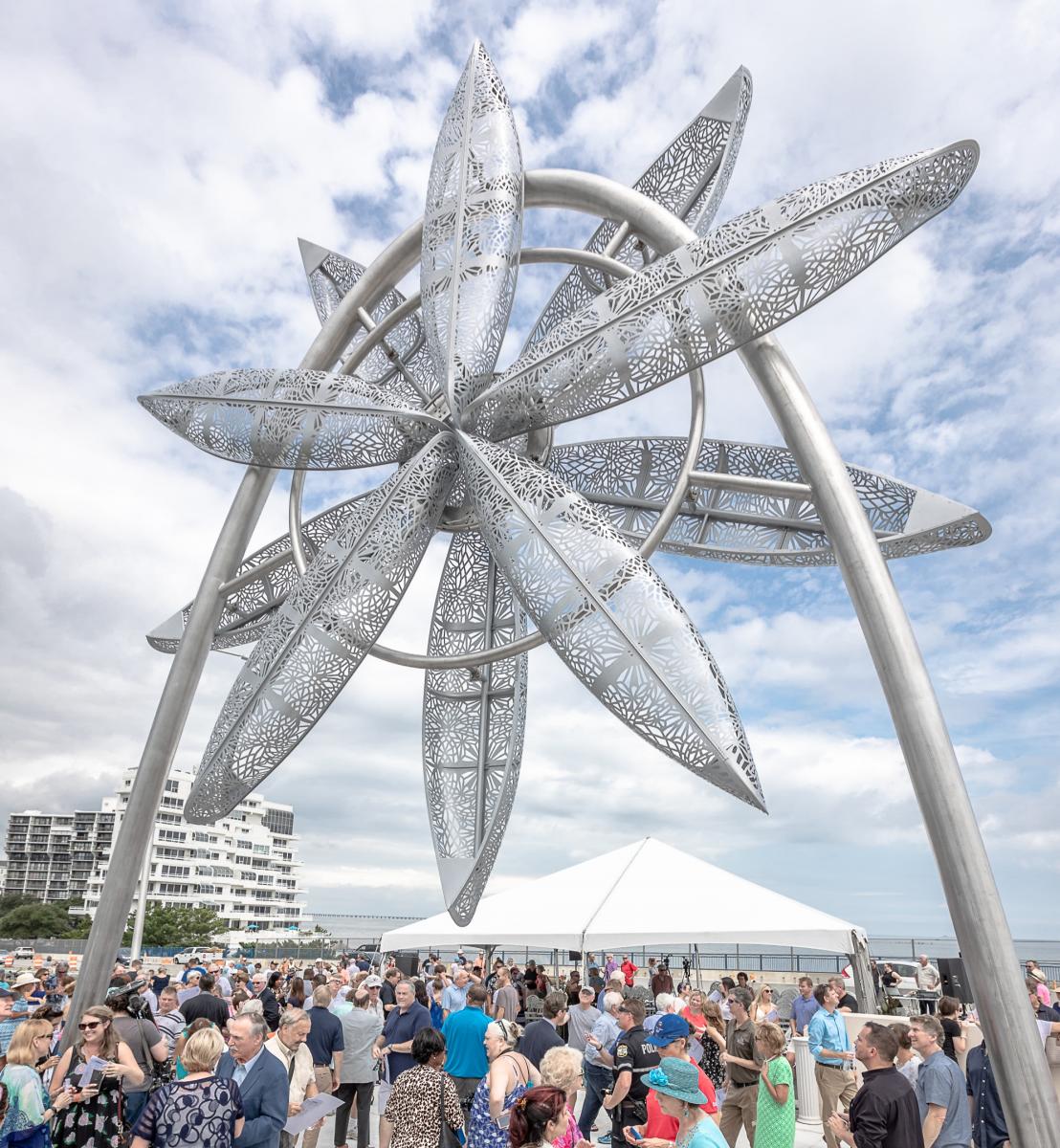 This stainless steel installation from New York-based artist, Donald Lipski, welcomes travellers to the newly-rebuilt Lesner Bridge. The piece features ten canoes in a star pattern, paying homage to the history of our local waterways.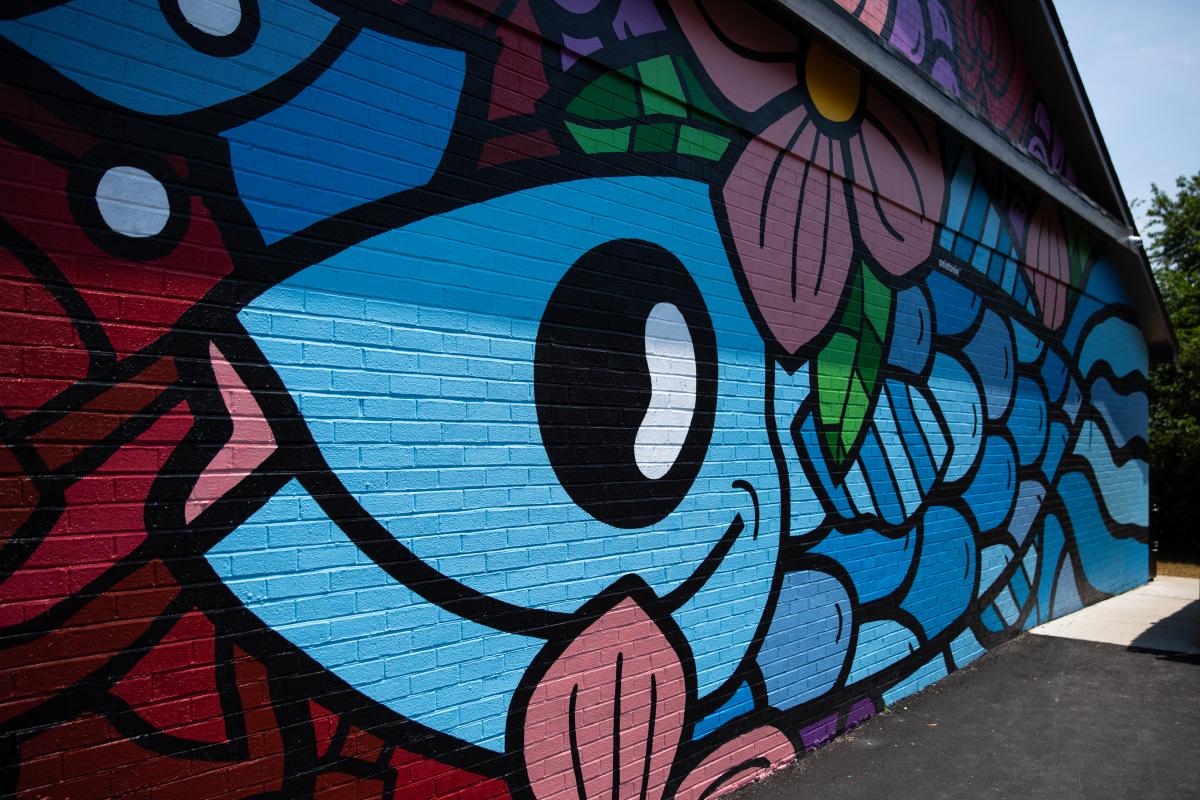 With artwork featured all around town, at places like Java Surf and Star of the Sea Church, as well as many murals in nearby Norfolk, OnieTonie has quickly become one of the most recognized and popular artists in the region.  His newest installment of his signature fish design is at the recently-opened Mermaid Winery, on Shore Drive.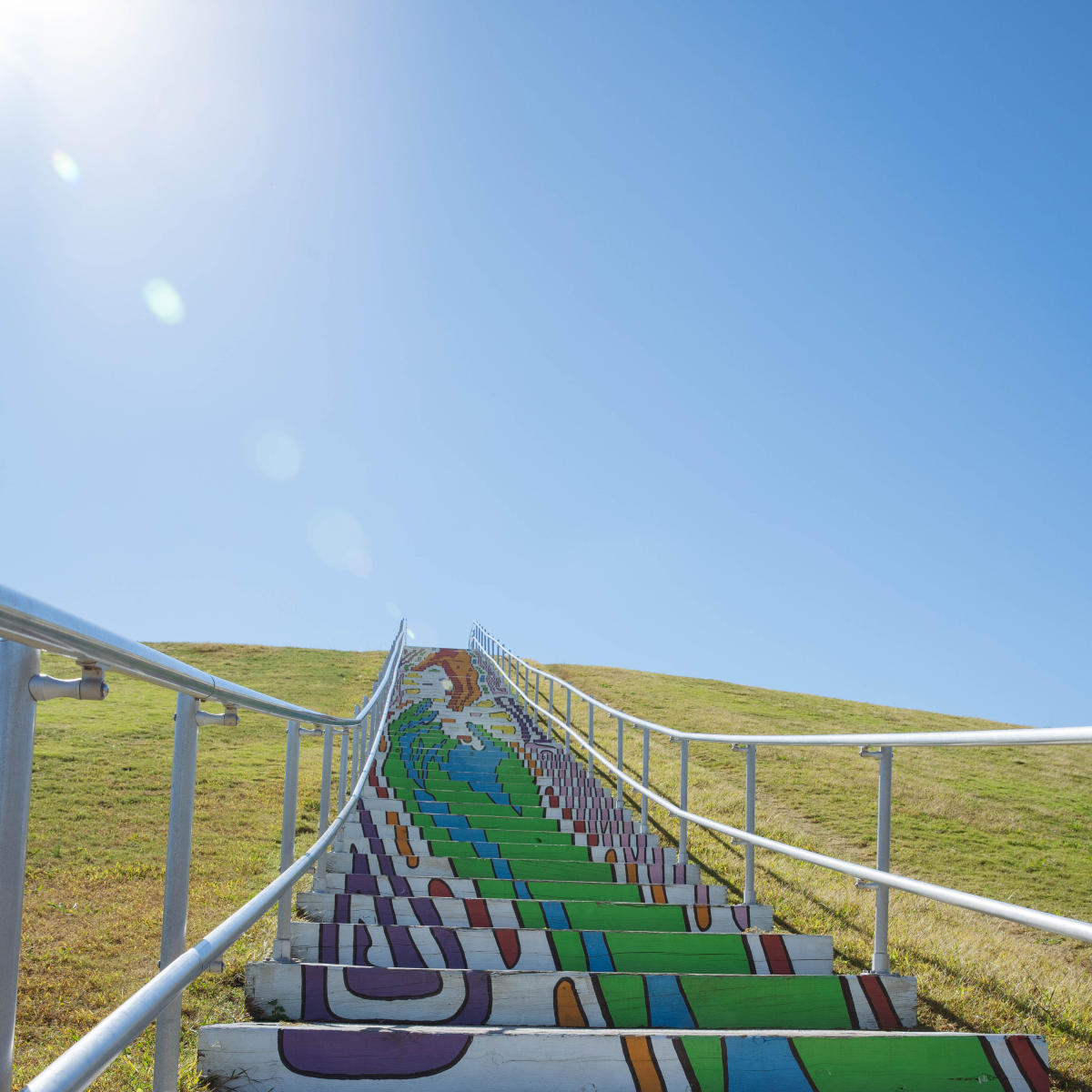 @wa_apple360, Instagram
Local artist, Aimee Bruce, was the winner of the City of Virginia Beach's contest to transform the iconic stairs of Mount Trashmore Park into a functional work of art. Receiving over 50% of the votes, Helping Hands was the runaway favorite of all the submissions. Her creation was inspired by Michelangelo's Creation of Adam.
Dale Eldred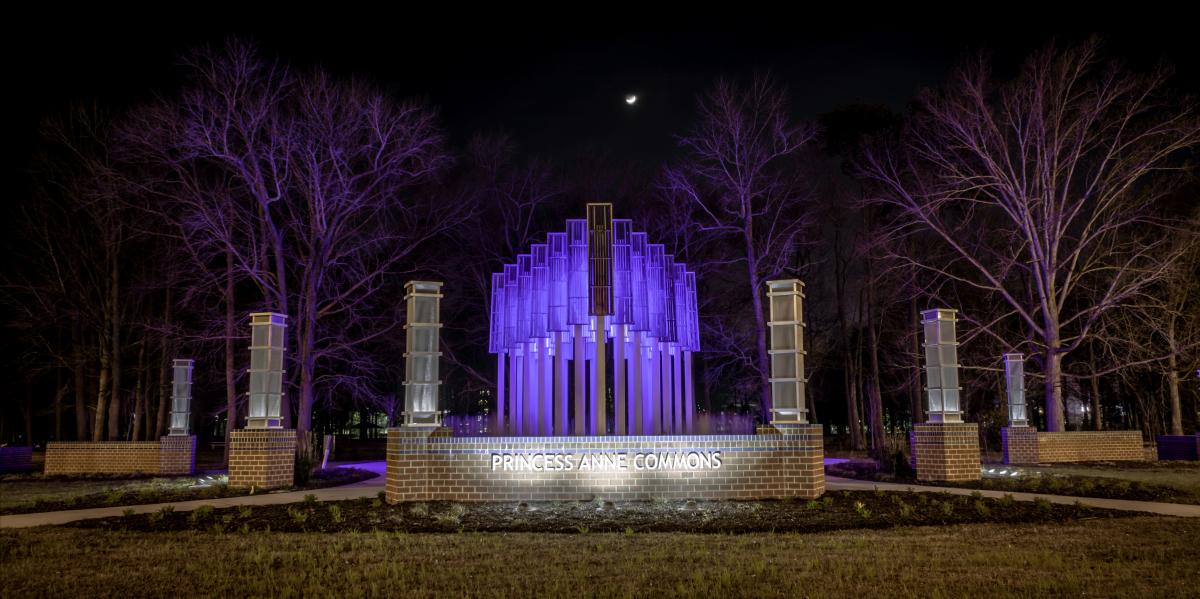 Located in the Princess Anne Commons Gateway Park, Light Garden features 32 glass sun-refraction panels arranged to resemble a grove of trees and to illustrate the movement of light throughout the day.