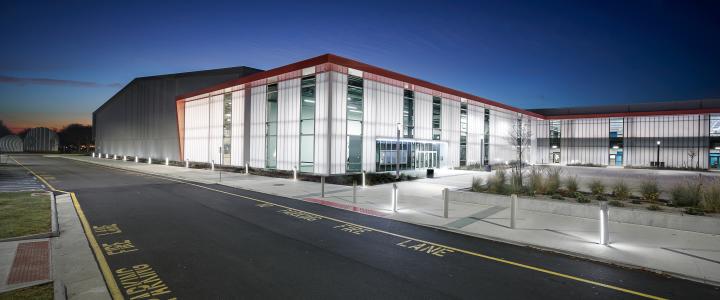 There's a reason sports tourism always seems to be at high tide here in Virginia Beach. As an oceanfront destination, we have resources that rights holders and event planners can't find elsewhere. The Atlantic Ocean is a beacon for A-plus amenities, including top-of-the-line lodging, attractions, restaurants and retail. 
Because we are a preferred vacation spot for millions of Americans each year, our hospitality community knows how to make athletes, spectators, parents, vendors and other sports event professionals feel right at home. Planners of all kinds become so comfortable here that return trips for future events are commonplace.
By any standard, the range of events played here is impressive. Virginia Beach is just as adept at hosting beach volleyball, for example, as it is track and field. That's a product of beautiful beaches, pleasant year-round temperatures and all-star facilities. We know attendees will make memories here before and after the games, but the venues able to host elite competitions are the real stars.
National governing bodies, including USA Softball, USA Field Hockey and more, are regulars on our fields. Likewise, the NCAA and college conferences turn to Virginia Beach for memorable national and regional events. We excel at traditional sports, including soccer, football, dance and cheer, wrestling and baseball/softball, but our versatility sets the destination apart. Surfing and sand soccer stand out as two examples that speak to the region's unique natural resources.
Speaking of unusual assets, the Virginia Beach Sports Center houses one of only a handful of hydraulic banked indoor tracks in the country—making it a prime destination for climate-controlled meets.
It's little wonder we appeal to adults as much as children. The breath of fresh air is more than the sweet ocean breeze. The combination of best-in-class venues, award-winning staff and off-the-field activities makes Virginia Beach a hole-in-one. 
Read on to see why top events come to Virginia Beach, and why you should catch the wave here.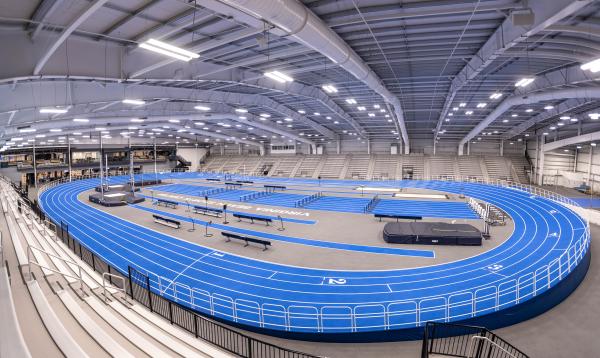 Virginia Beach Sports Center
We've been known as a top sports destination for decades, but the Virginia Beach Sports Center took our appeal to another level. The 200-meter hydraulic banked indoor track addressed a need within the industry, and the quality of events racing here proves its value to planners, participants, vendors and our community.
Even prior to its 2020 opening, the venue was already attracting future events. The 5,000-seat capacity is larger than similar indoor facilities, making the Sports Center a natural progression for growing competitions. The Virginia Showcase, which draws domestic and international track and field teams, has been a mainstay since 2021. The NCAA awarded the center the Division II Men's and Women's Indoor Track and Field Championships in 2023 and 2026, the Division II championships in 2024 and Division I meet in 2025. Younger standouts will take advantage of the facility for the AAU National Indoor Track Championships in March 2023.
The 285,000-sq.-ft. sports center's convertible nature also includes 12 basketball courts, 24 volleyball courts, and surfaces for myriad other sports like wrestling, which is the main event March 24-26, 2023, during the National High School Coaches Association's national championships. Additionally, USA Field Hockey makes the center its home for its National Indoor Festival in February, featuring U-12 Co-Ed, U-14 Girls, U-16 Girls, U-19 Girls, U-19 Boys, Women's Adult, Co-Ed Adult competitive and recreational divisions.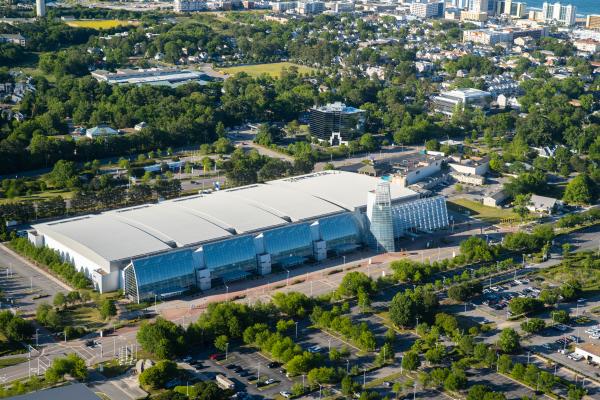 Virginia Beach Convention Center
The 500,000-sq.-ft. Virginia Beach Convention Center is worth a cheer. Therefore, it's fitting that the nation's first convention center to earn LEED Gold certification as an existing building from the U.S. Green Building Council hosts some of the nation's top cheerleading, dance and gymnastics events. 
The Excalibur Cup, Feb. 17-19, 2023, will feature 3,800 gymnasts from around the world, giving a sense of the building's size and ability to meet any planner's demands. Varsity Sprit, the country's largest cheer and dance company, will close out its U.S. Finals series here May 6-7, 2023. Cheer & Dance Extreme is moving its way to the convention center for its Grand Nationals in March 2023 and The One steps right up for its Cheer and Dance Northeast Finals in April.
There could be more to celebrate soon. Plans are in the works for a massive project that will triple the event space at the Virginia Beach Convention Center.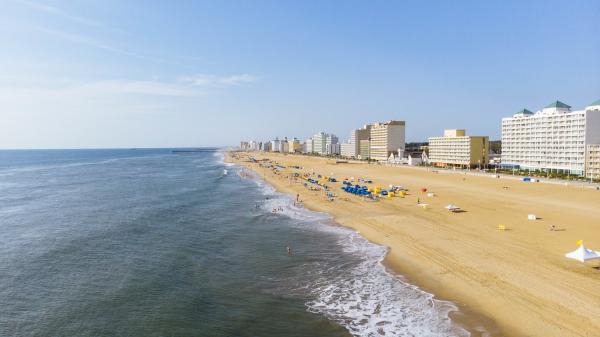 Oceanfront
Looking for an unconventional venue for your next sporting event? Our oceanfront, including a 3-mile boardwalk, will earn sands of applause from competitors. A beach opens up opportunities, festivals and sports-centric gatherings that can't be recreated in landlocked destinations.
Already on board for June 2023 is the three-day Jackalope Fest, a celebration of action sports, including demonstrations by world-renowned skateboarders, BASE jumpers, break dancers and boulderers. As its name implies, this is no mere sporting event—it's an experience centered on a community driven to challenge itself.
The Atlantic allows a different spin on competitions dating back to the ancient Greeks. The Yuengling Shamrock Marathon, the oldest continuously running road race in Virginia Beach, routes participants through a scenic path throughout the destination before arriving at the festive finish line. Runners will earn an after-race pint and top finishers qualify for the fabled Boston Marathon.
The East Coast Surfing Championships, known as the oldest-running surfing contest in the world, returns for its 61st year in August 2023. Several hundred surfers hang 10 at the beach annually, and new additions like a BMX activation and skating bash integrate different sporting disciplines.
North American Sand Soccer gets a kick out of our destination in June. The event draws more than 1,000 teams, with 43% of attendees coming from out of town.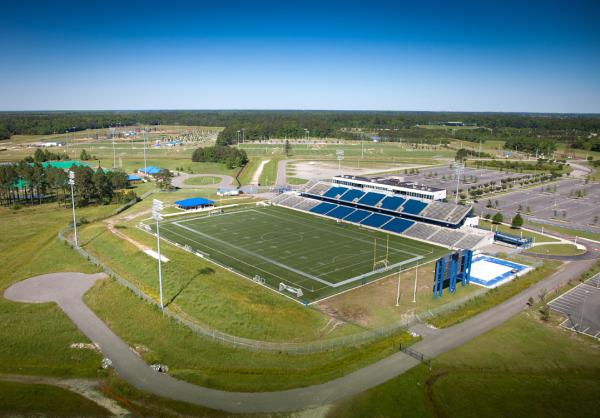 Virginia Beach Sportsplex & Princess Anne Sports Complex
The Sportsplex is a 7,000-seat stadium fit for any championship event, and is often the centerpiece venue for events utilizing the surrounding Princess Anne Sports Complex. The large campus is ideal for organizations to host their prestige events. 
A case in point is USA Field Hockey, which will play its National Club Championship on-site—a natural fit for an NGB with a training center in our destination. Similarly, USA Lacrosse will bring the Women's Collegiate Lacrosse Associates (WCLA) Division I and Division II National Championships over four days in July 2023. USCAA enjoyed grand success with its small college soccer championship in November 2022—a nice complement to its cross-country and volleyball championships, also played in Virginia Beach.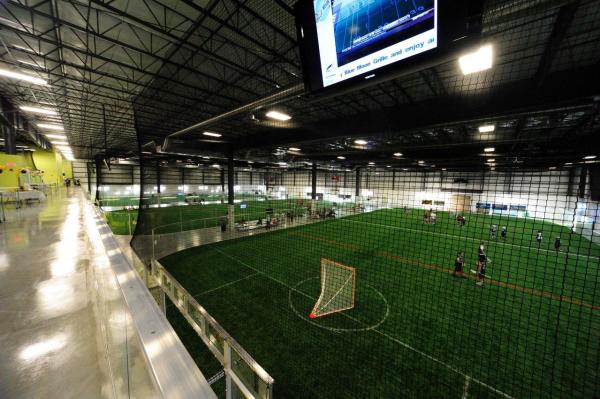 Virginia Beach Field House
With six turf fields, eight volleyball courts, four basketball courts, an arcade and more, the 175,000-sq.-ft. Virginia Beach Field House is popular for travel tournaments and local competitions. USCAA's volleyball championships have been played here. Most recently, American Cornhole League held an Open Event at the field house in December 2022, taking advantage of the venue's festive atmosphere that is a natural partner for competitive cornhole. Groups can consider it for an evening reception site as well.
There isn't one magic formula for sports events to transform into experiences participants and spectators will remember forever. But the combination of the beach, stellar venues, and an experienced, award-winning staff like we have in Virginia Beach is a great start. More than anything, we know each competition is unique and our community comes together to make sure everyone goes home happy (even those on the losing end of the field). Come see what makes Virginia Beach an all-star destination that's already popular with many sports planners and attendees.