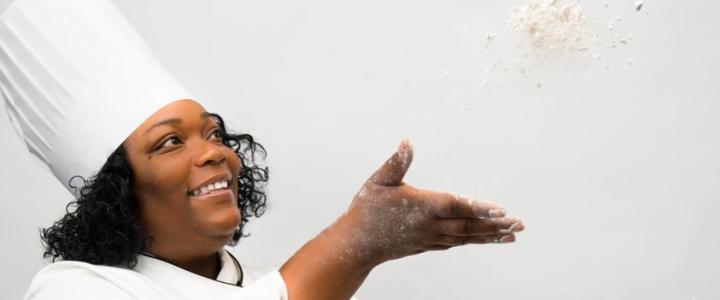 From the baby of the family to the matriarch of the menu, Executive Chef Desiree Neal has grown up in the kitchen. She is the youngest of four girls, and she couldn't wait to be able to make breakfast for her family in Connecticut. Her father started by teaching her how to cook eggs as a way to contribute to family responsibilities. She received a beginner's cookbook for Christmas before she was ten years old and soon moved on to classic chocolate chip cookies and mastering a crispy edge on a fluffy pancake with his guidance.
Originally planning to be a nurse, her middle school home economics class inspired a change of direction, setting her on a path in the culinary arts. She worked a variety of food service jobs and received advanced training at Johnson & Wales University before graduating from Stratford University. Heeding her father's guidance that "there's no such thing as learning too much," she spent just over a decade at the Virginia Beach Convention Center mastering every aspect of meeting and convention catering operations before earning the title of Executive Chef.
It was this steady pursuit of learning that planted the seed for an on-site garden at the convention center. Originally designed to cultivate fresh herbs for seasoning, the garden has grown to feature eight raised beds, each 4' x 6', that are home to a rotating bounty of fruits and vegetables. Chef Desi and her team harvest carrots, tomatoes, radishes, melons, squash, cucumbers, blueberries, broccoli, Brussels sprouts and a winter collection of leafy greens. Bountiful production is credited to careful tending and the strategic inclusion of marigolds to attract pollinators. Collected herbs are incorporated in sauces and frozen for extended use while surplus vegetables have been pickled for future recipes. Garden activities such as tours, harvesting, and cooking classes are available to add to event schedules or team-building itineraries on request.
Chef Desi leads her staff in crafting and preparing event menus for groups of 8 to 10,000+. Feeding large groups can be a challenge, but it's one she embraces. She is inspired to design creative cuisine plans to fulfill any request or need from specialty event themes to tight budgets. She's especially skilled at making little tweaks that deliver big value – from portion size adjustments to variations in steak cuts to dual entrée selections -- ensuring planners get plenty of bang for their buck when setting event menus.
While a few popular items stay on rotation year-round, she highlights regional specialties like crabcakes, Virginia ham or peanuts on seasonal menus to craft dining plans that make for memorable events. Chef Desi continues to take inspiration from vintage cookbooks, cooking shows and websites as she develops ways to dress up classic convention chicken with mouth-watering sauces or add festive flair to match an event theme.
Even when she's not at work, she spends much of her time in the kitchens of her church and her home fixing favorite family dishes such as one-pot ground beef and cabbage ramen, turkey hash and chili. Come see what delicious options Chef Desiree can cook up to add the flavor of Virginia Beach to your next meeting.