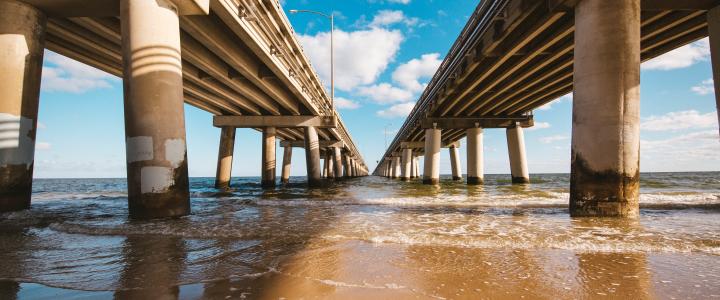 The laid-back, local vibe of the Chesapeake Bay District makes it the perfect place to spend some time doing as the locals do. Whether heading out onto the calm waters of the bay, or sipping your way through the area's unique breweries and wineries, a day in this neighborhood is a must-add to your Virginia Beach itinerary.
10 a.m.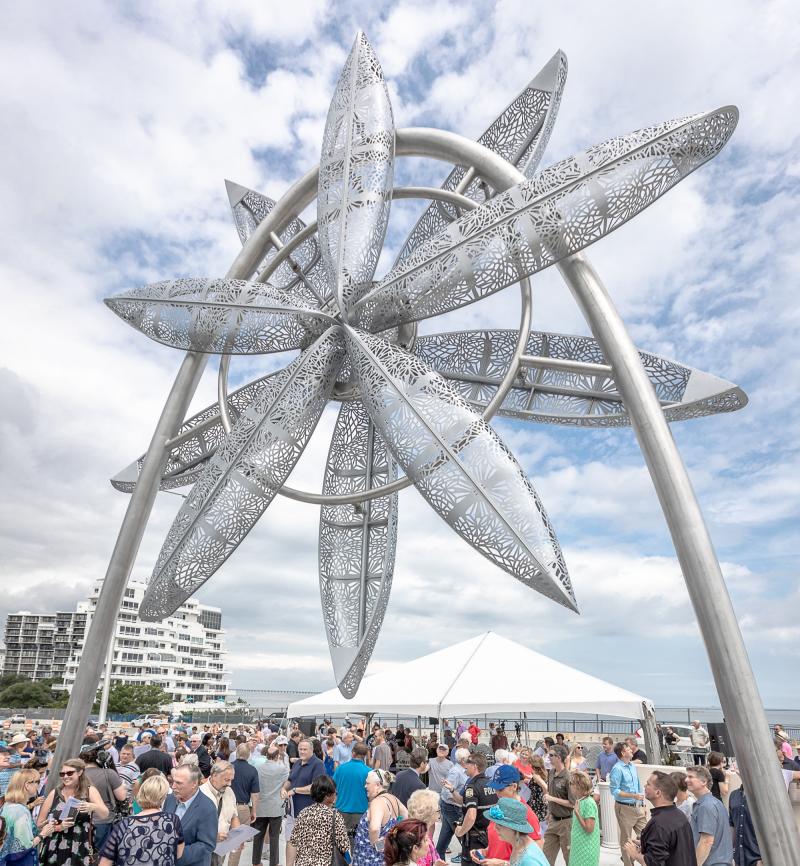 Start your day with a Honey Cinnamon Latte and the Morning Hash at American Brew, located just steps away from the new Lesner Bridge and Canoes art sculpture. This rustic spot is also a fully stocked whiskey bar, with more than 40 whiskeys in stock, if you're really in vacation mode.
11 a.m.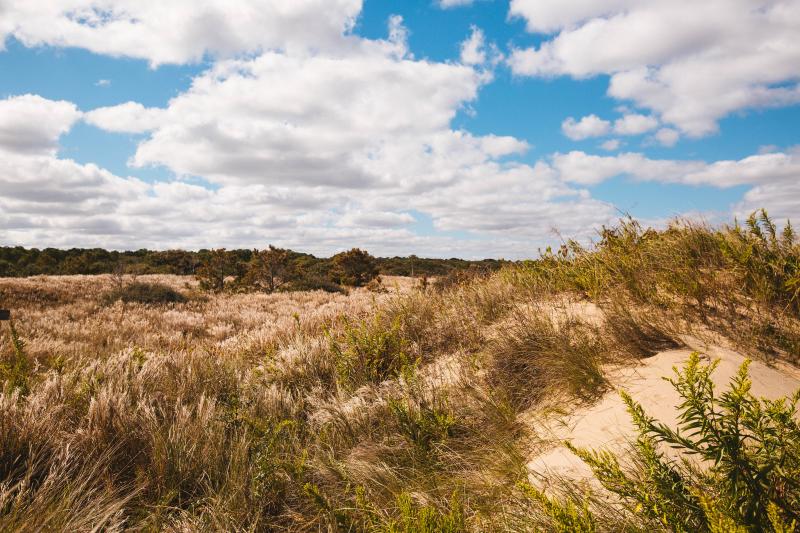 Head East down Shore Drive to First Landing State Park for a morning hike through preserved marshland dotted with towering Bald Cypress Trees adorned with Spanish moss. Opt for the Bald Cypress Trail, a 1.5 mile through and around the cypress swamps. There are many boardwalks and overlooks that offer unbeatable views of the enchanting swampland. After your hike, head across the street to Fort Story Military Base to climb the steps of the historic Cape Henry Lighthouse - the first Federal Construction project approved by the new government following the Revolutionary War. The climb to the top can be a doozy, but the 360° views of the Chesapeake Bay and the Atlantic Ocean are well worth it. Before visiting Cape Henry Lighthouse, be sure to read additional information on location, arrival, and rules and regulations.
2 p.m.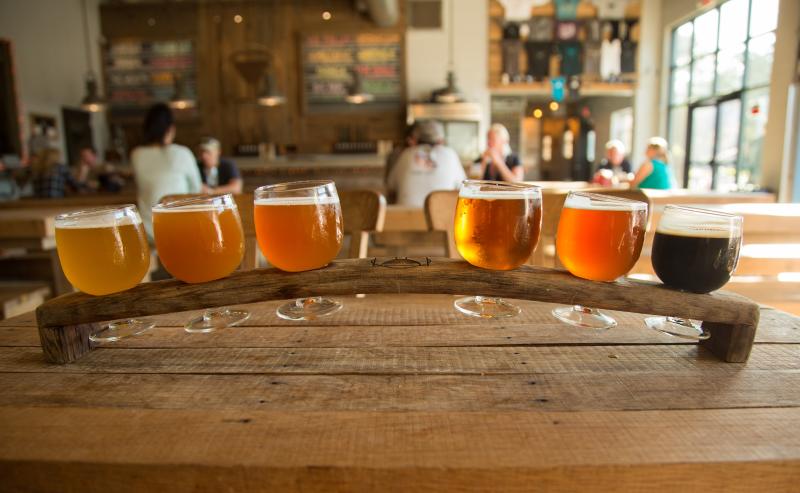 Refuel with a pit stop to Commonwealth Brewing Company, who serves up their mouthwatering craft creations out of an old repurposed firehouse. With ample outdoor patio space, lawn games, and food trucks, this is a great place to spend an afternoon outside. While our beer recommendation changes based on what you're eating, when in doubt go with one of their mainstays, Papi Chulo - a bold, unfiltered IPA with big body and just enough bitterness.
3:30 p.m.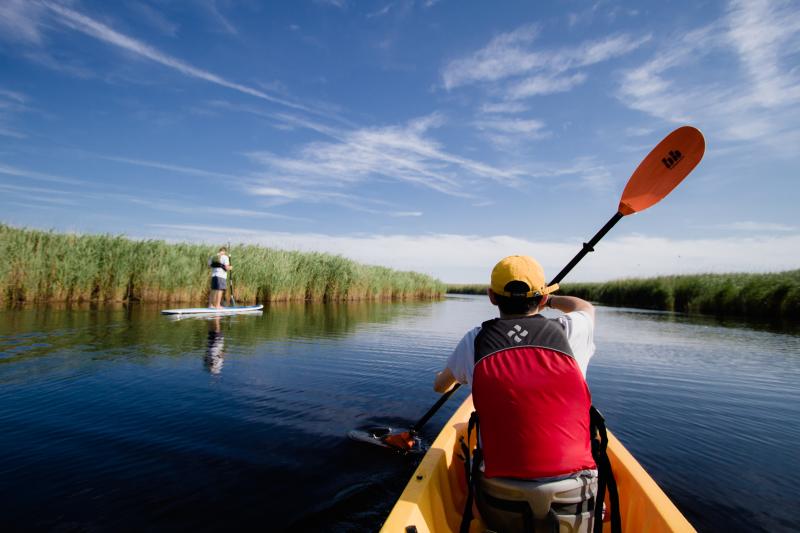 Once your food has digested a bit, head back across the Lesner Bridge to Tula Adventure Sports, where you can rent kayaks and stand-up paddleboards for an afternoon spent exploring the creeks and waterways of Broad Bay, including First Landing State Park which is only a half-mile from where you'll launch. Back in this area, you can navigate through the calm winding tidal creek, known as Long Creek, which has light currents and is a no wake zone - perfect for beginners and those just looking for some relaxing fun.
5:30 p.m.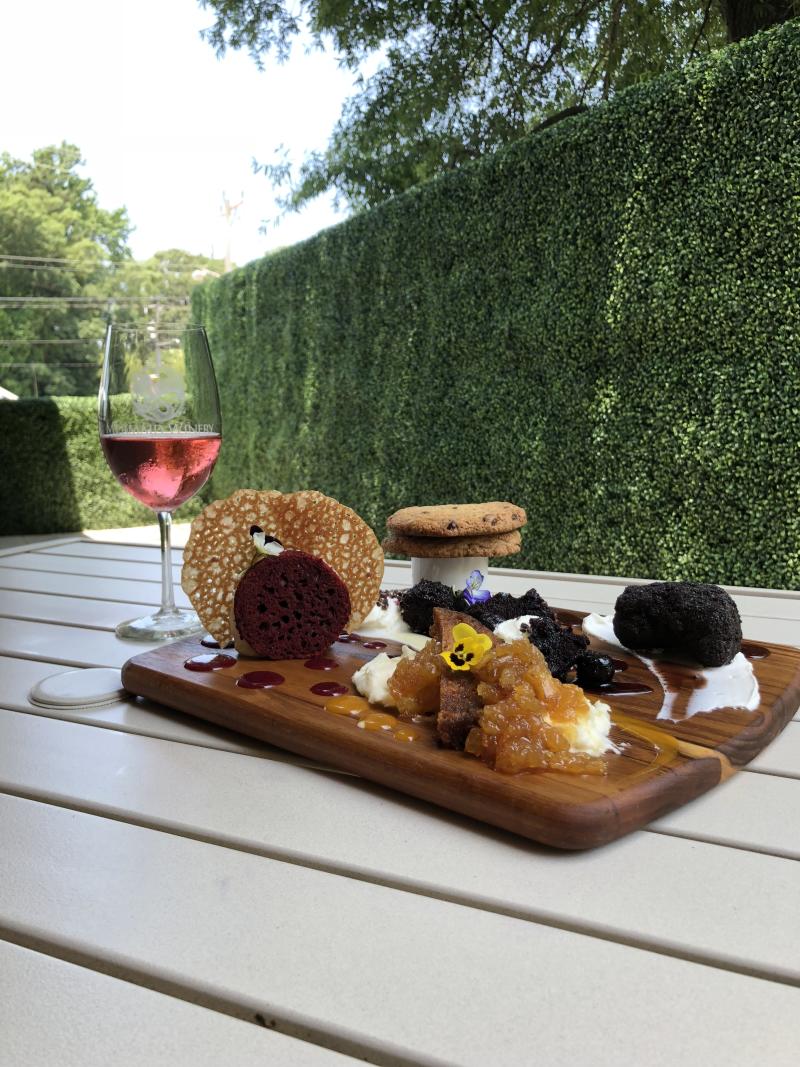 A day of hiking and paddling your way through the Bay area can really build up an appetite. Mermaid Winery, located just down Shore Drive, just opened it's Virginia Beach location after many years of being a staple of neighboring Norfolk. The first urban winery in the state of Virginia, Mermaid's grapes are sourced from premier vineyards in Virginia and California. They also have over 800 wines from around the world that you can taste, too. While the wine might be what brings you in the door, the food here is a must. After your tasting, grab a table outside on their patio and dig into some local oysters with their seasonal mignonette for a starter. Pro tip: our fresh, local oysters pair well with many wines, but you can't beat a refreshing glass of champagne. You're on vacation - why not celebrate?
7 p.m.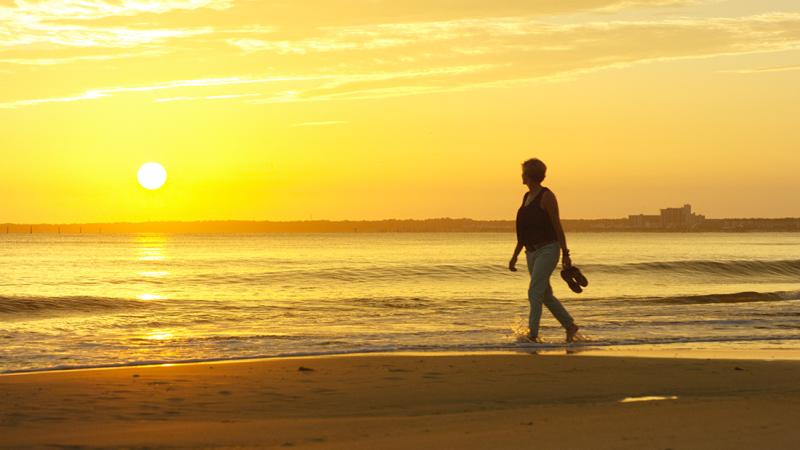 Head down to Pleasure House Road for a walk along the Chesapeake Bay, at the beach affectionately known by locals as "Chicks Beach," after an old Bay District hot dog stand. The waters of the Chesapeake Bay tend to be calmer and shallower than at the Oceanfront, making it perfect for a day spent splashing around. After a busy day, we prefer a relaxing walk along the water's edge at sunset. While the sun rises over the Atlantic Ocean, the angle of the Chesapeake Bay Beach sets you up perfectly to enjoy the sun setting over the water, as well, and it's our favorite way to end a day.
8:30 p.m.
After the sun goes down, treat yourself to a cocktail at Hot Tuna, a local favorite with delicious seafood that is matched only by their fun atmosphere after dark. We'd opt for either a Pungo Punch, with Mango vodka, pineapple rum, fresh strawberry juice, and champagne, or one of their Signature Crushes for a truly unique Virginia Beach experience. Enjoy it at their outside bar by the warmth of their fire pit tables.
10 p.m.
Close the night out by catching a show at HK on the Bay, just a couple of blocks off the water. The small, intimate setting puts you right in the middle of the action for some of the best live music around. Enjoy some local beers on tap and dance the night away to some of our favorite local bands.

Plan your trip to the Chesapeake Bay District now!