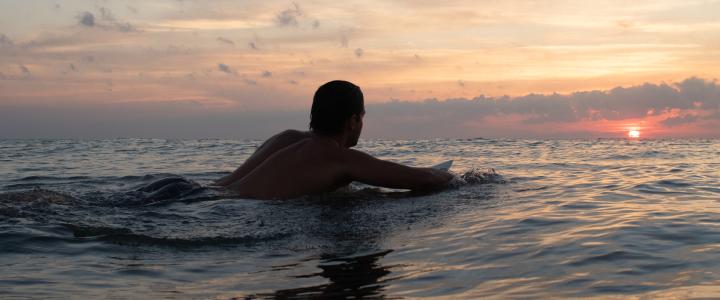 The year was 1912, and in the then-sleepy seaside resort community of Virginia Beach, which had only been incorporated as a town six years prior, a young local received an unexpected package from his wayfaring uncle. In fact, James M. Jordan Jr. would soon come to be known for the massive redwood surfboard – weighing in at more than 100 pounds and reaching more than 12 feet in length – that his uncle bought for him while on a trip to Hawaii. When the iconic board met the waves of the Atlantic for the first time, East Coast surfing was born. The rest, as they say, is history.
Since that fateful moment, surfing has been woven into the fabric of who we are in Virginia Beach. In the century that has followed since James's first ride, Virginia Beach has become the home of the esteemed East Coast Surfing Championships (ECSC), the second longest continuously-running surf contest in the world, and produced a host of well-known wave riders.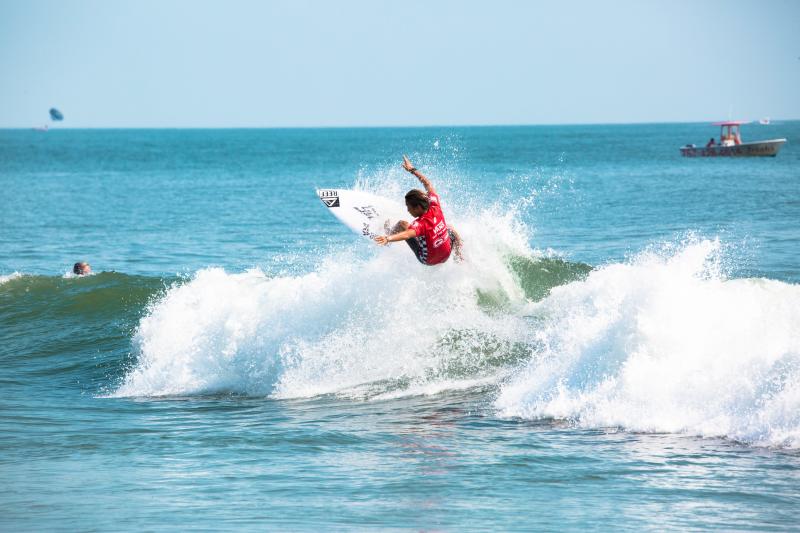 East Coast Surfing Championships
Early resident surfers like Babe Braithwaite and Bob Holland Sr. were instrumental in bringing ECSC to Virginia Beach, from its previous home in New Jersey, and have paved the way for those who followed. Other local legends, Pete Smith and Bob Holland Jr. opened Smith and Holland Surf Shop on 19th Street, the first surf shop of its kind in the state of Virginia. Smith would later go on to open the popular Freedom Surf Shop, which kicked off a series of local outfitters. A few years later, fellow local star, Bob White, opened
Wave Riding Vehicles
(WRV), which remains one of the top board manufacturers on the East Coast.
For a completely different kind of surfing experience from ECSC, Logstradamus Festival of Vibes, sponsored by WRV, is about as unconventional as it gets. This wild event was started as a "semi-formal" single-fin surf contest where the winner would win a golden tricycle that was dubbed the Golden Chariot. Since then, it has grown into a multi-day music festival and surfing competition, with prizes are awarded for things like Most Valuable Blazer, Best Dressed, and "Wizardly" Maneuvers. This free event celebrates both eccentricity and expression and everyone is welcome.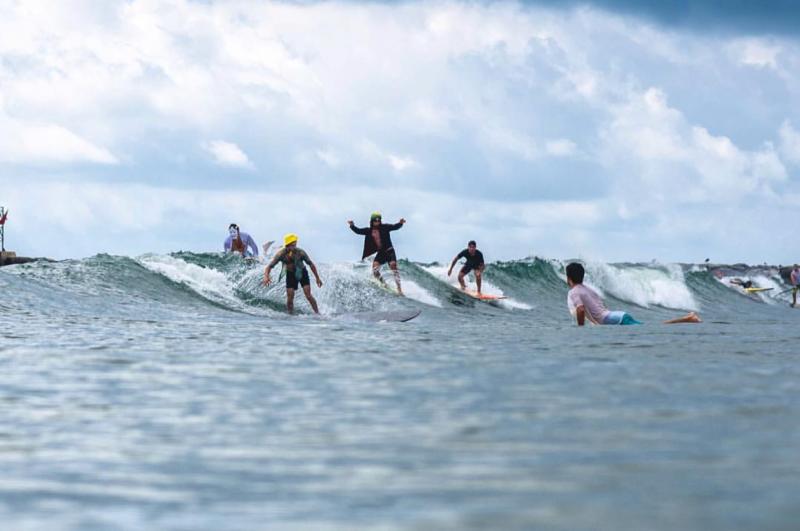 In addition to Freedom Surf and WRV, local surf shops like Pungo Board House, Surf & Adventure Co. and VB Surf Sessions offer everything you need, from equipment rentals to surfing lessons and camps, that will have you upright and in the water in no time. You can even experience the thrill of shaping your own board with the one-on-one guidance of an experienced shaper like Make and Ride Surf Exchange, who does their shaping out of a storage-unit-turned-shape-shack. Here, you can be a part of every step of the surfboard shaping process – from Styrofoam blank to your shaped-up new ride. You design it; you use the tools; and you bring your vision to life. There's no better way to become one with your board than by being the driving force behind its creation.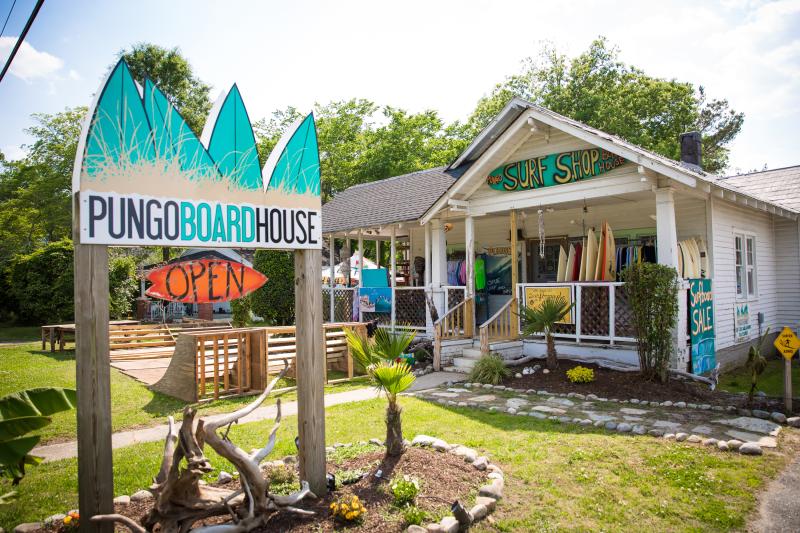 Pungo Board House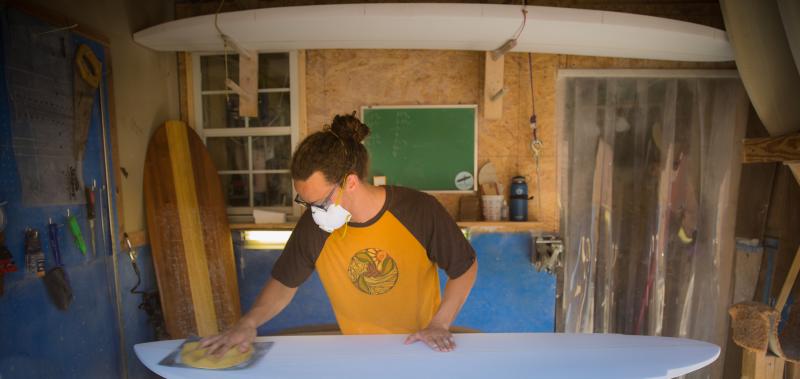 Make and Ride Surf Exchange
From ECSC and Logstradamus, to a large selection of surf shops popping up over the years, the surfing scene here has grown into a favorite pastime of locals and visitors alike. Whether you're a surfing grommet or a seasoned waverider, the waters of Va Beach are prime for surfers of all experience levels.  Whether you're looking to get in the water or simply relax on the beach and take in the show, you'll want to go where the locals go to the jetties at
1st Street
and
Croatan Beach
at the Oceanfront, and the
Little Island Pier
in Sandbridge. The swell changes depending on the season and weather, and scoping out the ideal conditions in Virginia Beach has become an art form in its own right. As many of our resident wave-riders will tell you, riding the perfect wave here comes at the cost of patience, tenacity and a little bit of luck – and that's just how we like it.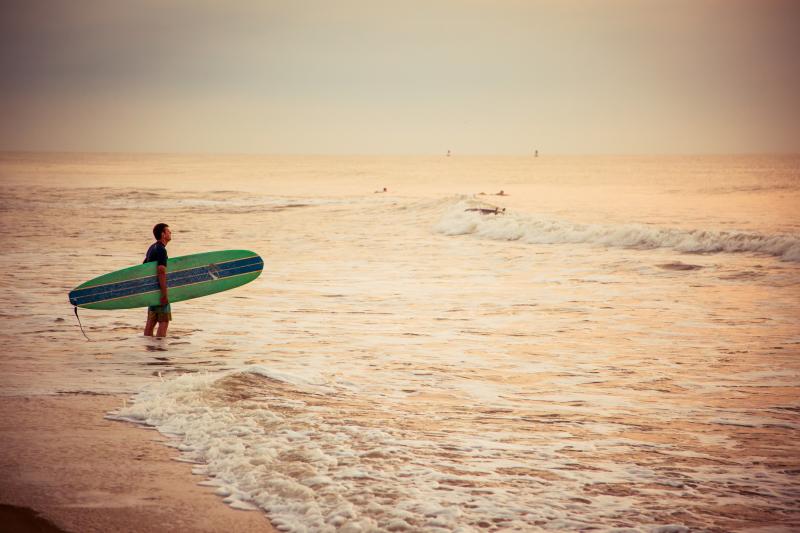 Croatan Beach
Plan your Virginia Beach surfing trip now!