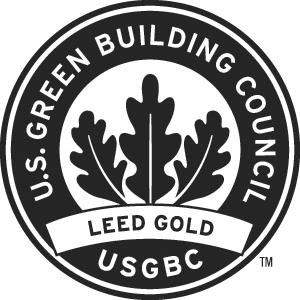 LEED (Leadership in Energy and Environmental Design), developed by the U.S. Green Building Council (USGBC), is the most widely used green building rating system in the world and an international symbol of excellence. In 2010, Virginia Beach Convention Center (VBCC) was the 1st convention center in the Nation to earn LEED Gold for Existing Buildings. VBCC renewed certification as required in 2015, and now, under the most recent LEED version 4.1, VBCC has again earned LEED Gold for their ongoing sustainability performance.
LEED certification ensures electricity cost savings, lower carbon emissions and healthier environments where people live, work, learn, play and worship. In the United States alone, buildings account for almost 40 percent of national CO2 emissions, but LEED-certified buildings have 34 percent lower CO2 emissions, consume 25 percent less energy and 11 percent less water, and have diverted more than 80 million tons of waste from landfills. "Achieving LEED certification is more than just implementing sustainable practices. It represents a commitment to making the world a better place and influencing others to do better," said Mahesh Ramanujam, president, and CEO, USGBC.
LEED version 4.1 uses the data platform Arc, the first-of-its-kind to track a building's incremental improvements through a performance score. Arc generates a performance score between zero and 100 using data provided by project teams. It assesses performance across five categories: energy, waste, water, transportation, and human experience. Click here to see Virginia Beach Convention Center's current performance score. For questions, please contact VBCC Sustainability Coordinator Kimberlee Dobbins at 385-2168.
VBCC's Arc platform scores