2020 will be remembered for the many challenges faced by our city, the country, and the world. Finding silver linings was not easy by any means, so we created them wherever we could. Resiliency and determination became our focus. The following summary outlines just a few of those silver linings and the hope our teams created.  We look forward to the new year, new opportunities, and renewed hope for fewer clouds and sunnier days ahead. Welcome, 2021! 
Convention Center
2020 was a year for adjustments for this world-class facility accustomed to hosting thousands of visitors every month. Daily operations were modified to adhere to the state's guidelines and Executive Orders regarding COVID-19. With these safety guidelines strictly adhered to, the Convention Center staff oversaw the long-awaited ballroom carpet replacement. With that project complete, the replacement of the pre-function areas and meeting room carpet is underway. Other upgrades included a major HVAC control system with automated logic controllers, Lutron lighting, and the CounterPoint Point of Sale system. The facility also met Virginia Green recertification standards and was selected for a US Green Building Council 2020 Leadership Award. Last but certainly not least, Convention Center crews took control of the new Sports Center grounds and supervision of building maintenance.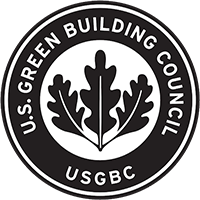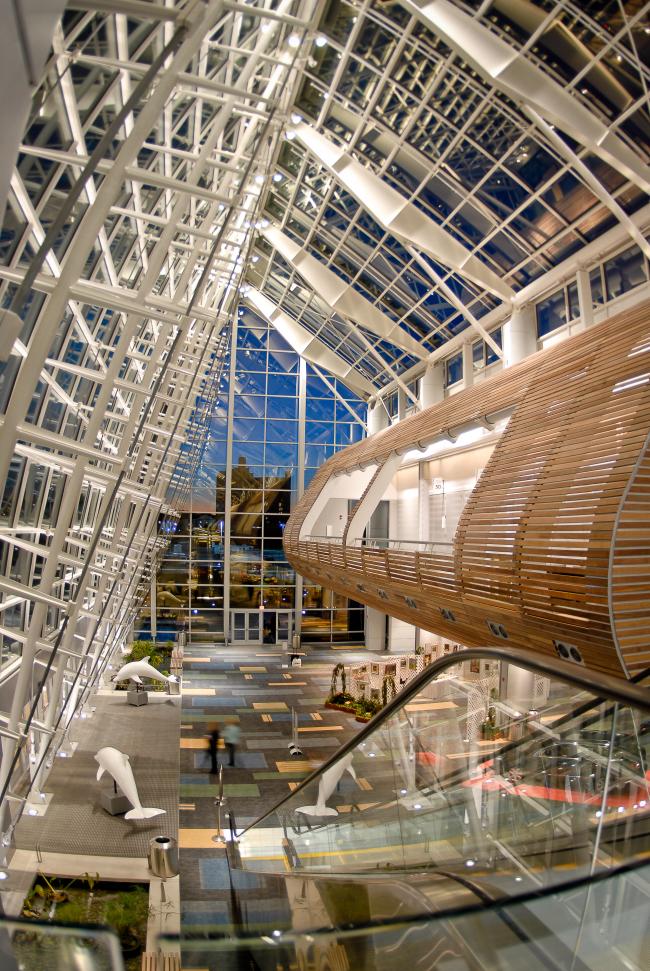 Marketing Communications Unit (MarComm)
The MarComm Unit continually adapted to support the CVB's business units and our partners as the year progressed. New approaches, new projects, and new partnerships became a new normal. Some highlights include:
The Norfolk/Virginia Beach market segment was the first market in the Top 25 national markets to cross over 50% hotel occupancy during COVID-19 the week of June 13, 2020, and led the Top 25 markets in overall occupancy percentage for 16 straight weeks.

Marcomm's June-October marketing efforts were directly attributed to 650,000 hotel searches. (Source: Adara).

The top website landing page on VisitVirginiaBeach.com for 2020 was "Coronavirus Updates," followed by "Our Beaches Are Open."

Public relations efforts in 2020 generated coverage of Virginia Beach as a premier travel destination in national publications including Boston Globe, Budget Travel, Toronto Star, and Forbes.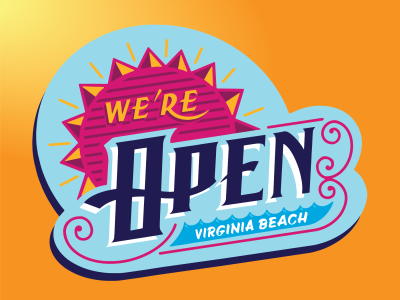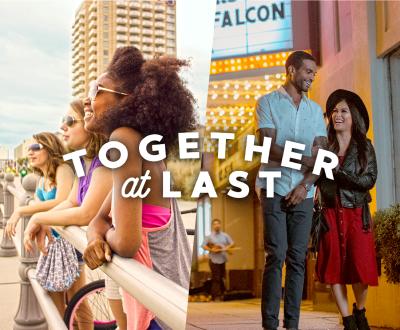 Meetings and Conventions Unit (M&C)
The M & C business unit team was fortunate to have the opportunity to build out their team prior to the onset of the pandemic by filling two sales vacancies. In early 2020, we were thrilled to welcome Amy Overstreet and Jamie Mitchell, CMP, to the CVB M & C team. Both sales professionals bring extensive hospitality experience along with their networks and industry relationships. They hit the ground running and joined their very active CVB teammates and began working their respective market segments to "Bring it to the Beach!" Jamie's local network was glad to see her return to the CVB after a short absence. Amy was honored with an appointment to the Old Dominion Chapter of the Society of Government Meeting Planners' Board of Directors.
Amy Overstreet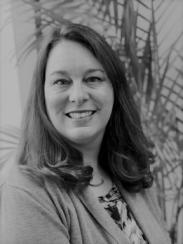 Jamie Mitchell, CMP
The M & C team continued to work vigorously in their sales & marketing efforts. Although there were extensive restrictions for work travel, they managed to carefully do so while also managing many in-house projects. The following list is not inclusive of all successes but rather shows the vast range of work that goes into this business area of the CVB's mission to support the city's economic growth:
Managed and tracked pandemic-related cancellations, postponements, re-bookings, and new bookings
The entire team trained & received certifications on the SimpleView CRM platform
Pivoted & created virtual opportunities for online selling & marketing
Completed vital updates to the M&C website
Refreshed their marketing campaign
Continued outreach to industry planners
Convention Services Unit
The M&C Sales Unit cannot work alone and relies heavily on the dedicated, small staff of the Convention Services Unit. This three-person dynamo of a team directly supports the Sales Unit as well as providing support to special projects underway in other units. 2020 highlights include:
Eric Logan selected to serve on the National Board of Event Service Professionals Association
Full team certifications in SimpleView CRM
Overseeing new 360-video development projects for Virginia Beach industry partners
Assisting in database scrub with sales team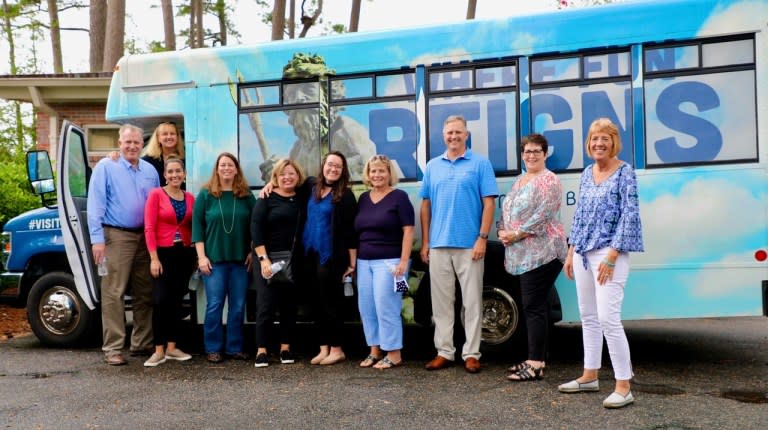 Your CVB M & C Sales and Services Team
Sports Marketing Unit
Silver linings? How about PLATINUM? The CVB's crowning jewel in 2020 was the long-awaited opening of the new Virginia Beach Sports Center, the only facility of its kind on the East Coast. This premier 285,000 square foot facility includes a 200 meter, a state-of-the-art indoor hydraulically banked track, 12 basketball courts convertible to 24 volleyball courts, expanded meeting rooms, and seating for up to 5,000 spectators. Other features include: 
195,000 square feet of programmable space to accommodate a variety of events using court space, along with the capability to lay the hydraulic track flat
Warm-up lanes
Swing restrooms with special doping control rooms
Dedicated athlete restrooms
Dedicated officials locker rooms with private entrance
Concession areas and meetings rooms
Outdoor courtyard event and staging space for ceremonies or live entertainment
ADA compliant to welcome athletes of all abilities
The events held in our new facility will elevate experiences for athletes and spectators alike. Read the story about the nation's first track meet of the new season, held on December 10 at the Virginia Beach Sports Center, here.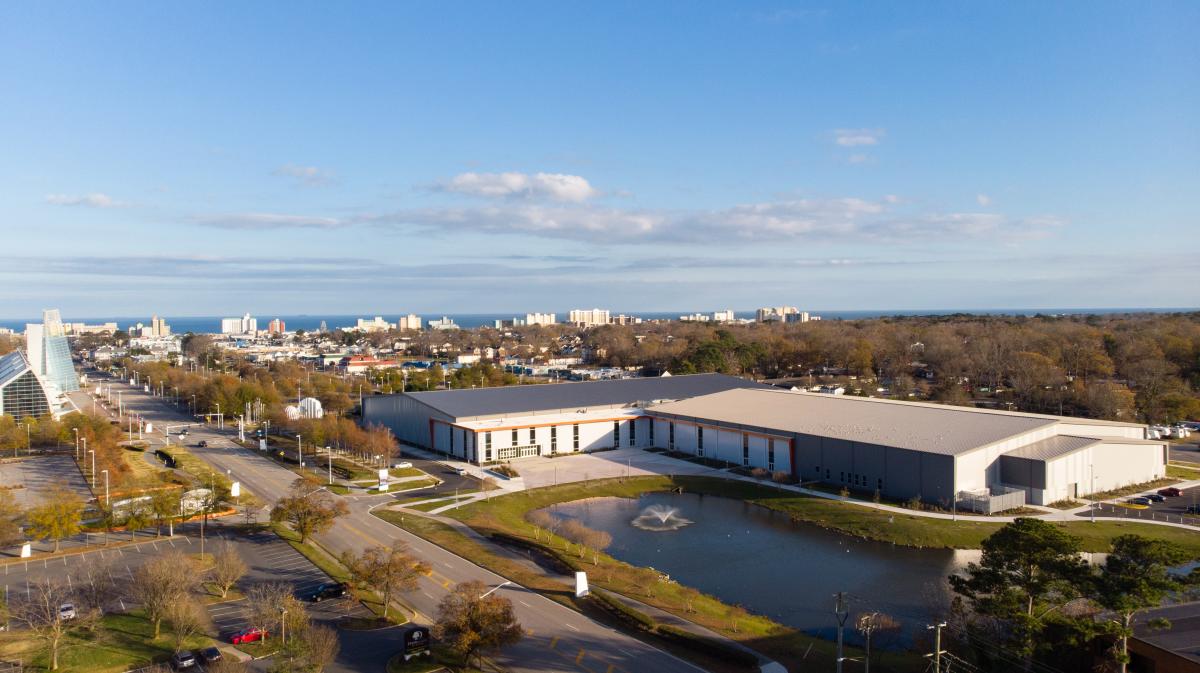 Resort Management Office (RMO)
Staff from the RMO were appointed to lead roles in the city-wide COVID-19 Event Review workgroup which comprises of representatives from the city organization and partner agencies including the CVB, Parks & Recreation, Cultural Affairs, Virginia Aquarium, The Farmers Market, Emergency Management, Fire, EMS and the Health Department. RMO proactively worked with event organizers, assisting with establishing back-up plans, COVID-19/disease mitigation plans, postponement/cancellations, and re-bookings. Nonetheless, RMO issued more than 100 event permits. The pandemic didn't stop 16 couples from tying the knot during beautiful beach weddings.
On September 1, 2020, City Council adopted a resolution for various initiatives and improvements to the resort area including reestablishing a Resort Management Office under another city department. The new RMO will include Code Enforcement, Zoning Enforcement, and Homeless Outreach Specialists. There will be a focus on providing ambassador services to assist visitors and residents. Supplemental maintenance services for the resort area will also be addressed moving forward and there will be enhancements to the resort area's entertainment and programming.

Look for new entertainment programming in 2021
Tourism Unit
During 2020, the Tourism Unit developed an online All Access Savings Pass to participating Virginia Beach businesses for clients (sports, meetings, tourism, VIP's) to utilize while visiting the destination. They also created several online savings passes to use as a tool for consumer marketing programs. They worked directly with domestic operators on partnerships to help promote and increase their international business to Virginia Beach when travel restrictions are lifted. This small but mighty team was recognized by clients who, during various webinars and group Zoom meeting calls, vocalized that our Virginia Beach Tourism Team was a formidable market leader.
The Tourism Unit also developed a strategic communications plan to remain visible and relevant to clients by increased sales efforts that included authentic, aspirational messages of support, direct sales calls, destination training webinars, virtual familiarization tours, and, when prudent, sales missions. This plan steadily increased their social media presence across several platforms, building on the followers engaging on these channels. This approach and effort was noted by leaders in the group tour industry and led to Tourism Sales Manager Jim Coggin receiving a Reader's Choice Award for "Tenacity in Travel 2020." These awards were hand-selected from client submissions giving credit to those in the industry who were "in the weeds" and fiercely committed to staying connected with clients, by whatever means necessary, to ensure that when the time is right, they'll return to their favorite destination. Jim has been our No. 1 cheerleader and a staunch advocate for Virginia Beach for close to two decades and has steadfastly championed for our coastal city since the onset of the pandemic, reminding those who know and love us, and those who have yet to visit, that we are here and ready for them when they are comfortable with traveling again.
Here is Jim's feature from the Reader's Choice website: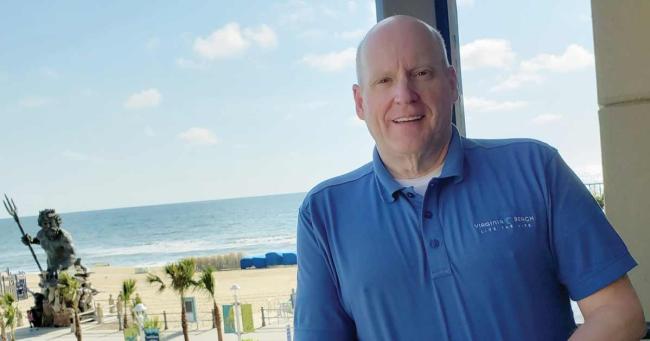 Staying Hopeful
Jim Coggin, Tourism Sales Manager, Virginia Beach CVB
When the first motor coach since the beginning of the pandemic rolled into Virginia Beach, Jim Coggin couldn't help but shed a tear.
"I knew how hard the client and our partners worked to get that tour on the road," Coggin said. "Clients become friends and you can't help but feel emotional about what they're currently going through—and you feel a responsibility to make sure you're doing everything in your power to help them be successful."
All summer, Coggin and the Virginia Beach CVB promoted Summer Smarter Virginia Beach—an initiative to adhere to safety protocols without compromise that ensured a safe, fun, and relaxing summer for all. Coggin also worked alongside the CVB to help clients develop new bounce-back itineraries and itineraries featuring open spaces, worked with student tour operators on updating their student educational opportunities and partnered with VisitNorfolk on a "Together at Last" program. "In Virginia Beach, we believe in the power of partnerships," Coggin said. "We are all in this together."
Coggin has tirelessly promoted Virginia Beach, Virginia, as a safe and welcoming destination by maintaining an upbeat presence on social media, offering tips for supporting local businesses, and more—being an ambassador for travel in a time when travel wasn't possible.
Visitor Information Centers (VIC)
The pandemic and safety concerns caused a temporary cease in VIC operations from mid-March through June. Reopened on July 1, the Parks Avenue location welcomed guests to take advantage of the many services the facility offers, including exploring more than 4,000 brochures, rack cards, maps, and magazines. As has been customary for decades, staff experts were on hand to help guests with suggestions for lodging, dining, outdoor activities, and retail options. Guests were also encouraged to take a complimentary mask to wear per state mandate regarding face coverings in Virginia. Veteran staff member Peggy Breslin was honored with a 30-year pin for her service to the City of Virginia Beach during 2020 as well. The Parks Avenue location is currently open Monday through Friday from 9 a.m. to 5 p.m. and on the weekends from 10 a.m. to 3 p.m. The Chesapeake Bay Center at First Landing State Park remains closed until further notice.