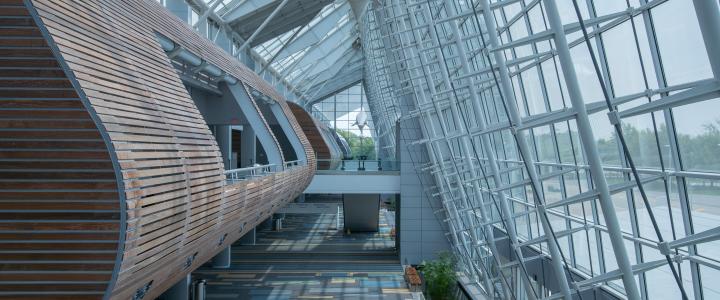 Recognize Virginia Beach's Commitment to Sustainability   
 
The prevalence of the ocean and inland waterways makes most people think of blue when considering Virginia Beach, but new awards received by the coastal city's convention center should really make you think green. The Virginia Green Travel Alliance recently recognized the Virginia Beach Convention Center with a trio of top awards including Green Caterer of the Year, Most Innovative Green Projects and Green Team All-Star Award.  
Kimberlee Dobbins, a 14-year Virginia Beach Convention Center (VBCC) veteran, is the facility's sustainability coordinator and helped it become the first convention center in the nation to earn LEED Gold certification in 2010. She also manages the VBCC's recycling and composting programs and directs the energy team while serving on several other resort area environmental campaigns. Kimberlee is the first VBCC staff member to receive the Green Team All-Star recognition, and she joins an elite group of 20 industry leaders honored since the program began in 2018. 
Centerplate-SodexoLive! is the VBCC's exclusive caterer and was named Virginia Green Caterer of the Year. In addition to providing delicious, healthy and environmentally-sustainable dining options for the convention center's event attendees, it also operates an organic on-site herb and vegetable garden, sources local ingredients and donates food overages to the Southeastern Virginia Foodbank. In addition, they recycle 25% of their waste, have eliminated the use of Styrofoam, and composted nearly 14 tons of materials last year. 
Finally, the VBCC's new Green Event Incentive Program earned top honors as one of four Most Innovative Green Projects for 2023. While the facility provides a number of complimentary services for each event from recycling to composting, those that achieve Virginia Green certification also earn a $150 credit on their VBCC billing account and the ability to promote and be recognized as a sustainable event. The program certified five events last year at the VBCC. 
Meeting and event planners considering Virginia Beach can be confident that the convention center team and facility are committed to maximizing the success of every event while minimizing its impact on the local environment and the planet overall.  When you think of Virginia Beach, think green.