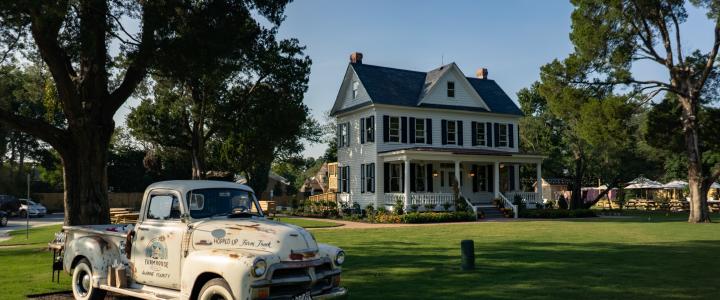 As the landing site for our country's first settlers, and only about an hour away from the Historic Triangle of Yorktown, Jamestown and Williamsburg, the foundations of our country began right here. With no shortage of historical sites and experiences, you need to have a plan to see as much of it as you can in one day. Whether you do it all on your day off, or sneak in the sites between meetings, here is how to have a trip for the history books in Virginia Beach.
Cavalier Hotel

@thecavaliervb, Instagram
Before your day even begins, wake up at one of the most historic hotels on the east coast. Reopening in 2018 after an extensive restoration, The Cavalier has regained its former magnificence with 62 beautifully-designed guest rooms and 23 suites, and ample on-site features including two restaurants, an onsite bourbon and gin distillery, an indoor plunge pool, a luxurious spa, and The Raleigh Room, where guests can grab an afternoon cocktail or tea. Guests can choose from 11 different types of rooms, including the Legacy Suites, each of which were designed in correspondence with the board members who helped make the renovation possible, so no two Legacy Suites are the same.  No matter which room you stay in, however, the hotel's rich history and the modern day are seamlessly blended with rich finishes and clean lines, as well as an uncanny attention to detail in amenities like clawfoot tubs and marble baths.
Doc Taylor's

@lazy_lynne, Instagram
Begin your day the right way with breakfast at Doc Taylor's at the oceanfront. The old seaside doctor's office is cranking out delicious diner-style breakfast favorites that will get you off on the right foot. This spot is such a locals' favorite, that the menu features several items named for regular customers that have frequented the diner over the years.
Oceanfront Museums

Let your breakfast settle as you explore the most historic buildings on the boardwalk. Discover the historic DeWitt Cottage, built in 1895 on the Boardwalk. The cottage is now home to the Atlantic Wildfowl Heritage Museum, which exhibits artifacts from our wildfowling history and contemporary wildfowl artwork, such as decoys and decorative carvings. The museum also features volunteer carvers each day, so you can see how these works of art are created.
Another historic oceanfront building, The Virginia Beach Surf and Rescue Museum, is housed in a former U.S Life Saving Station which built in 1903 on the Virginia Beach Boardwalk. Today, the museum preserves our coastal city's maritime history through exhibits on local surfing legends, super storms that have hit Virginia Beach, shipwrecks, local lifeguards and more.
Virginia Military Aviation Museum

@kmmcreynolds, Instagram
Next, make your way south for a beacon of aviation history at the renowned Military Aviation Museum. Take a ride on a vintage 1941 Boeing Stearman open-cockpit biplane or step even further back in time to the Jurassic Era with a stroll through their "Jerrassic" Park, named after museum owner, Jerry Yagen. Located in the Pungo agricultural district, the museum holds the largest private collection of 65 planes from the first 50 years of military aviation, and most of the aircraft have amazingly been restored to their original flying condition.
Historic Houses

@the.batemans, Instagram
Discover Virginia Beach's role in our country's heritage at the four historic sites that make up the Virginia Beach History Museums, each with its own guides who engage students. Learn about one of Virginia's first colonists and see a dramatic turned staircase at the oldest home, Adam Thoroughgood House, circa 1719. The house, which reopened in May 2018, has a new education center that brings the early 1700s colonial time period to life with hands-on activities and school programs that include a mock archaeological excavation.
Also in Virginia Beach, the Lynnhaven House, circa 1725, is an example of early Virginia vernacular architecture with several artistic design elements. Lynnhaven tours highlight the roles of the original builder and homeowners, their five sons, and several enslaved people that worked on the smaller plantation. The Lynnhaven House is projected to reopen in 2019.  Tours of Francis Land House offer a good overview of plantation living, complete with 1800s fashion, Federal style furnishings, and a look at how the new nation's formation affected private lives.
Back Bay's Farmhouse Brewing Co.

@jordnsasser, Instagram
Our newest brewery, is located in one of our older houses, and comes from the folks at Back Bay Brewing, and brings a truly unique beer drinking experience to Virginia Beach. Operating out of a restored 1912 inland farmhouse, the aptly-named Farmhouse Brewing is bringing locally-sourced brews and ciders to our coastal city. With tasting rooms upstairs and downstairs, food trucks, a farmers market and an acre and a half of gardens growing figs, blueberries, hops and other ingredients that will be used in their beers, this place has it all. Outside, pets are welcome and you can enjoy bocce ball, ladder golf, and cornhole, with stunning views of the farmhouse yard and the gardens, operated by Farmer John, formally of Pungo's New Earth Farm.
First Landing State Park & Cape Henry Lighthouse

@east_coast_ginger, Instagram
Finish out your afternoon by retracing the steps of our forefathers at First Landing State Park. Head over to Fort Story to check out the First Landing Cross, which commemorates the first settlers arrival, and climb up the 191 steps of the historic Cape Henry Lighthouse, the first lighthouse authorized by the U.S. Government in 1792. The climb may be hard, but the view from the top is well worth it.
Before visiting Cape Henry Lighthouse, be sure to read additional information on location, arrival, and rules and regulations.