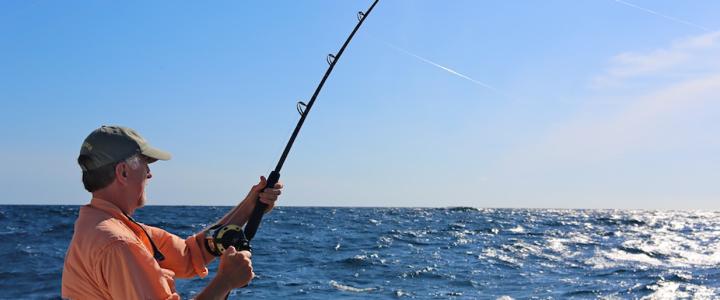 The day has barely started and you've been up for a couple hours now, cruising east towards the mounting daybreak. The two cups of coffee that you downed on the way out are starting to work their magic and suddenly – finally – it's go time. The first mate ushers you to the lone chair sitting at the stern of the boat and hands you a fishing rod, bent seemingly in half with the strain of your new-found adversary. They don't call it a fighting chair for nothing. You reel with everything you have, arms shaking from exhaustion, refusing to quit. You may not know what is on the other end of the line but, as the tug-of-war continues, you can feel that you're onto something big. As a glimpse of bright blue catches the sunlight through the rippling water, the boat erupts with cheers of excitement, giving you the motivation you need to finish the fight. With one last arduous rotation of the reel, it's all over. The first mate pulls the majestic billfish into the boat as the thrill of your accomplishment sets in. The captain hoists a flag to proclaim your victory before the crew releases the fish back to the water beneath you. It didn't come easy but, at long last, the day belongs to you.
Although fishing in Virginia Beach, abutting both the Chesapeake Bay and the Atlantic Ocean, offers a diverse bounty year-round, you'll have to head out to sea to pull in the big fish. The 115 fathoms of the Norfolk Canyon, off the coast of Virginia Beach is where the big fish like billfish and tuna reside. And when we say big, we mean BIG. The largest blue marlin caught in VB waters weighed in at a whopping 1,093 pounds. Talk about a workout! At those depths, you're also likely even to catch a glimpse of some of more popular locals like porpoises and pilot whales! It doesn't get any better than that!
With the Virginia Beach Billfish Tournament fast-approaching, the time is perfect to go toe-to-fin with these beautiful fish. Hop aboard a charter leaving out of the Rudee Inlet, and let the boat's crew take you into the heart of the action.  While billfish are released back into the water, you can also match wits with the likes of tuna, cobia, bluefish, flounder and more off the coast of VB, and take some home with you for a local seafood feast fit for a champion.
Sport fishing in Virginia Beach is an experience you won't soon forget. From blue marlin to tilefish, the fish won't come easy but the payoff is unmatched. Do you have what it takes to reel in a big one? There's only one way to find out.