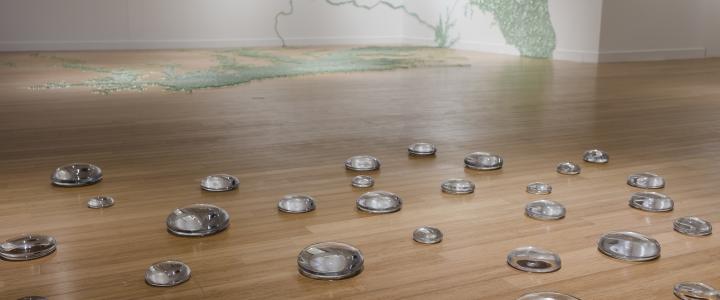 Virginia MOCA at a Glance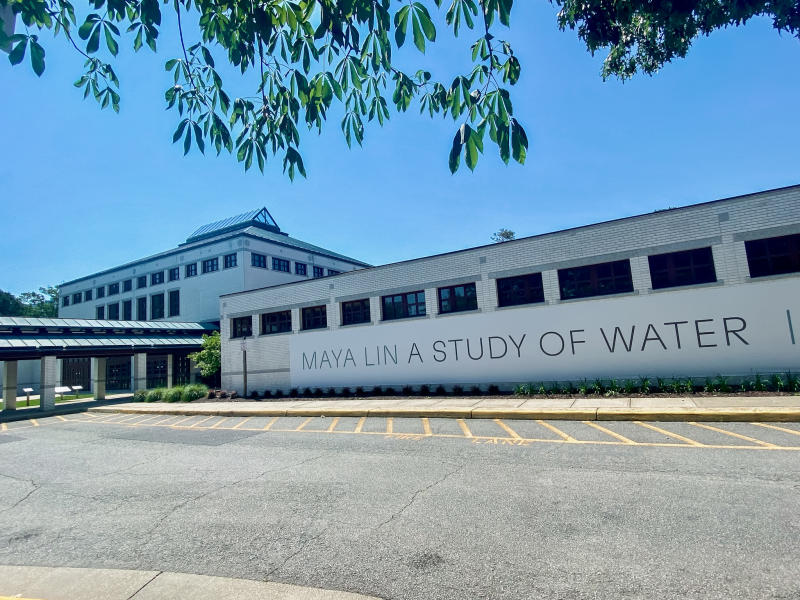 I can't dive into this feature on the extraordinary new exhibition at the Virginia Museum of Contemporary Art (Virginia MOCA) without first highlighting how fortunate our coastal community is to have access to a vibrant, inspiring, world-class art museum in our backyard. The museum is just one of many cultural offerings that distinguish Virginia Beach from other "beach" destinations – a city of art, cuisine, music, recreation and, sure, plenty of coastlines to explore, too!
As a contemporary, non-collecting museum, Virginia MOCA's work is rooted in thoughtful curation and community. This is evidenced within the museum's airy halls and shared spaces, which are constantly being reinvented for exhibitions and both public and private events. Yes, in addition to its rotating exhibitions, Virginia MOCA hosts a variety of year-round programming, including classes and workshops for all ages, interests and artistic experience.
As if that alone weren't reason enough to visit, admission to Virginia MOCA is always free (yes, free!) thanks to the generosity of the Goode Family Foundation. Save time at check-in by reserving your free ticket in advance online.
Anchoring the ViBe Creative District, Virginia MOCA is located at 2200 Parks Ave., conveniently located just six blocks from the Virginia Beach Oceanfront at the foot of I-264 West. The galleries are open Thursdays, from 10 a.m. to 8 p.m., and Fridays, Saturdays and Sundays, from 10 a.m. to 4 p.m. Holiday hours and blackout dates apply, so be sure to check the website before your visit.
A One-of-a-Kind Exhibition
 
This spring, Virginia MOCA welcomed the inimitable Maya Lin for Maya Lin: A Study of Water, a solo exhibition that brings together a selection of the acclaimed artist's sculptural interpretations of water spanning several decades. In addition to works from 1994 to today, the exhibition includes a newly created piece inspired by Virginia MOCA and our surrounding waterways – a breathtaking glass-marble map of the Chesapeake and Delaware Bays that spills onto the walls and the floor of the gallery.
If the name Maya Lin rings a bell, it's because the internationally acclaimed visual artist's indelible career began with the creation of the Vietnam Veterans Memorial in Washington, D.C. when she was just 21 years old. For more than five decades, Lin has made significant contributions to American sculpture, including the Civil Rights Memorial in Alabama and the Women's Table at Yale. She has since focused her creativity to fine art and architectural projects, but always with the same thoughtful thread, inspiring thought and conversation around culturally and environmentally resonant issues. This year, Lin was deservingly named to the TIME 100, the magazine's list of the 100 Most Influential People of 2022 – wow!
Organized by Virginia MOCA and curated by Melissa Messina, Maya Lin: A Study of Water is the only exhibition in the world showcasing these works through the lens of water – in all of its forms and patterns. 
Certainly, water is especially resonant here in Virginia Beach, where it surrounds our everyday life and presents us with distinct ways to enjoy it year-round. The result is a one-of-a-kind, engaging exhibition that beautifully inspires and poignantly provokes deep reflection.
Poetically Inspiring and Made for Reflection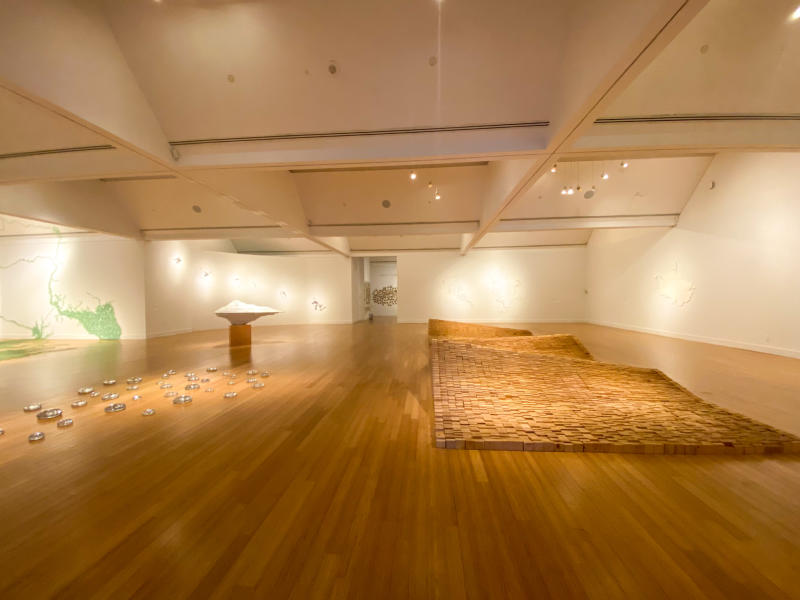 Undeniably, Virginia MOCA's Maya Lin: A Study of Water is visually stunning. The gallery's floorplan was thoughtfully considered to reflect the openness and airy clarity one might expect from being next to the water. Yet, I was most taken away by the deep thought with which each piece was both created and selected to fit into this retrospective showcase of Lin's select water-focused works.
From rivers and their rise and oceans and their tides, to icebergs and their detrimental melting, The combination of Lin's artistry and scientific research results in works that are as beautiful as they are contemplative, inviting thought, discovery and conversation on our relationship with water – from necessity and accessibility to abundance and scarcity. 
Each piece, while bound by the same theme, is strikingly different. The artist has thoughtfully considered various media – all from reclaimed or sustainable materials – to create works that, albeit subtle, tell a layered story. From riverways made of 12,000 steel pins, icebergs made of plaster, water droplets made of glass and waves made of spruce, pine and fir, Lin's sculptural representations are both works of art and discovery. I can't quite pick a favorite but must admit that I was dazzled by Silver Chesapeake (2009).
I don't want to give away too much, as you'll definitely have to experience it all for yourself, but to see Lin's meticulous work up close is powerful, to say the least. To see it in Virginia Beach, a destination with water at the heart of its everyday life, is particularly special. In fact, Lin visited the Chesapeake Bay for the first time during her visit to Virginia Beach ahead of Virginia MOCA's unveiling of the exhibition – what a spectacular, full-circle moment it must've been for her!
[WATCH THE ARTIST'S LECTURE HERE]
Worth a Second (and a Third) Visit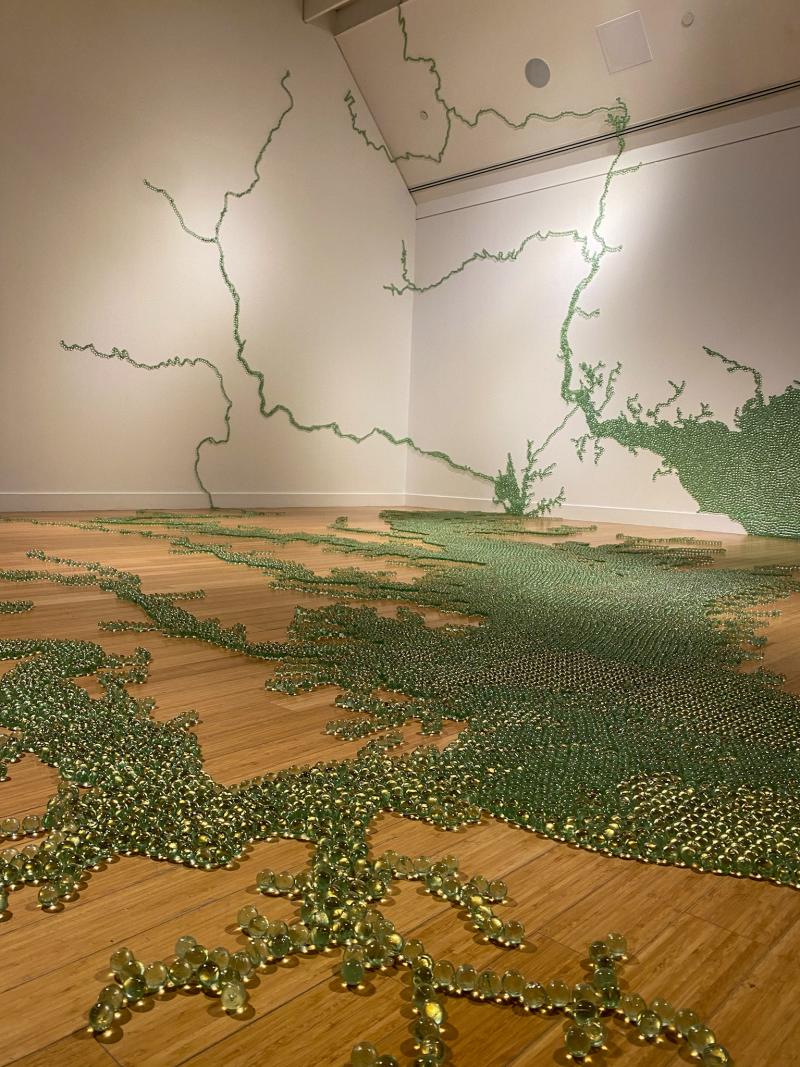 Don't just take it from me. Head to Virginia MOCA to experience Maya Lin: A Study of Water and the museum's inspiring program lineup for yourself. In addition to the main gallery, you'll want to spend time in the corresponding ARTLAB, which extends the theme of water consideration and conservation in hands-on ways. Browse the works of local artists in the Open (C)all community gallery, then venture outdoors to see curated large-scale artworks by local high school art students, inspired by the current exhibition's theme.
As if FREE admission weren't incentive enough, the museum also delivers on accessibility, providing bilingual audio tours, large-print labels and a vast portfolio of learning resources.
Upcoming Events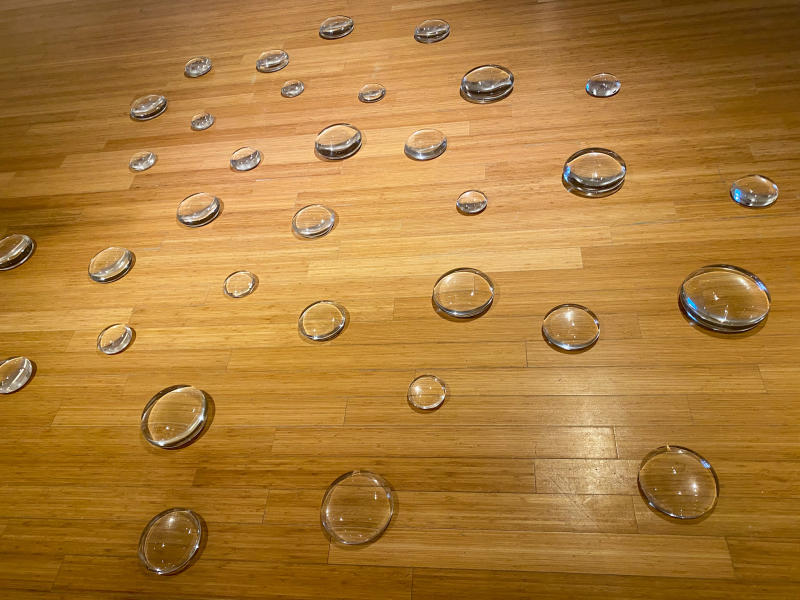 Maya Lin: A Study of Water runs through Sept. 4, 2022, and there are still several ways to engage further with the exhibition with a handful of themed events. All of these are free and open to the public, so mark your calendars!
Thursday & Fridays at 2 p.m.; Saturdays and Sundays at 12 p.m.
Virginia MOCA offers daily close-looking tours of Maya Lin: A Study of Water, featuring an in-depth and interactive look at a selection of works from the exhibition. Free with general admission; simply check in at the welcome desk before the scheduled start time.
Melissa Messina, curator of Maya Lin: A Study of Water, and Dorothy Moss, curator of painting and sculpture at the Smithsonian National Portrait Gallery (Washington, D.C.), will discuss May Lin's career, artistic practice and influence on the world of contemporary art.
Poet Laureate of Virginia Luisa Igloria will read a suite of poems created in response to Maya Lin: A Study of Water. Igloria will be joined by multidisciplinary guests who will also present inspired reflections.
Learn more about Virginia MOCA at virginiamoca.org. 
 

COVER PHOTO: Installation view of Maya Lin: A Study of Water. Photo by Echard Wheeler.​