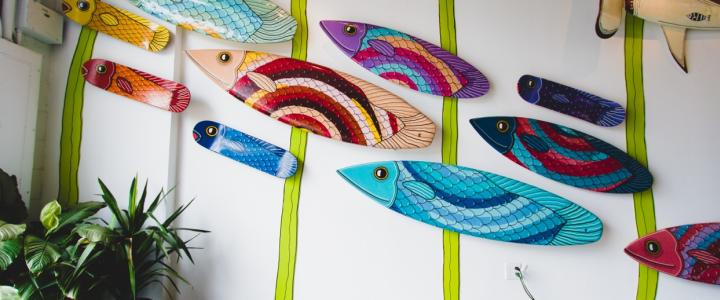 ViBe: (/vib/ noun, informal) An emotional state or the atmosphere of a place as communicated to or felt by others; feeling, vibration, atmosphere, sensation, energy
So, what's our ViBe? Beyond the boardwalk and tucked within the eclectic neighborhoods of the Resort Beach, our creativity shines through in the emerging ViBe Creative District, an enclave of art galleries, museums, shops and restaurants that showcase some of our most talented artisans, who not only live the life year-round but also bring it to life in the form of canvases, jewelry, custom surfboards, locally crafted coffee, dishes and more, inspiring locals and visitors alike to soak up our ViBe.
For inspiration, stop by Studio 17, a gallery, working studio and event space showcasing some of our best artists and crafters, and be sure to browse with some pep in your step enjoying some locally roasted coffee from Three Ships, a roastery and coffee shop. Browse hand-crafted leather jewelry by Ashton Keely or peruse vintage art and furniture at Found Objects. Satisfy your cravings at Hearth Wood Fired Cuisine and Craft Beer or Croc's 19th Street Bistro, then tour the latest exhibit at the Virginia Museum of Contemporary Art (MOCA), just to name a few of the colorful studios, boutiques, restaurants and shops that make up the ViBe Creative District.
In fact, once a month, the district puts on its most colorful display during First Friday ViBe, when visitors can stroll the 1.5-mile loop alongside some of our most passionate, eclectic and creative locals during a two-hour tour. Be sure to bring comfy shoes, your favorite market tote and a sense of curiosity for exploring. We'll see you there!