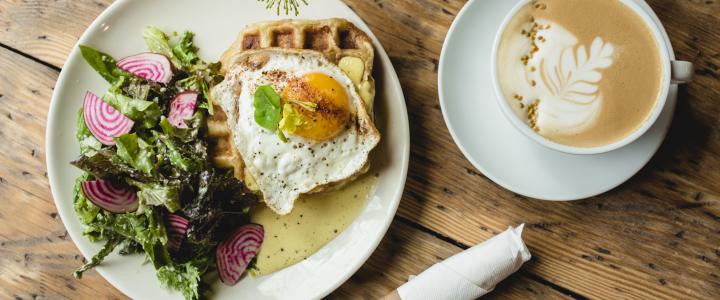 For part two of our VB Resolutions series, we're continuing our determination to make 2017 our best year yet by tackling our love/hate relationship with food head-on. With each new year comes a newfound sense of responsibility when it comes to how we treat our bodies and the fuel with which we choose to feed them. While we aim to make healthier choices this year, the word "diet" is far from our minds. With fresh seafood and abundant local agriculture in our backyards, and so many places putting these ingredients to good use, "healthy food" in Virginia Beach is as good for you as it is just plain good. Here are some of our favorite food joints dishing out soul-satisfying grub.
The best food is also the freshest food, and no one takes that sentiment to heart like Commune, located in the ViBe Creative District. With a flexible breakfast and lunch menu, each delectable dish is crafted solely with regional and local ingredients, from the bread to the meats and the cheeses. On the bay, Simple Eats maintains a similar locally sourced philosophy, with mouthwatering options for breakfast, lunch and dinner. With delicious ingredients that are as fresh as they get, both of these farm-to-table eateries are as good for the body as they are for the belly.
While what should be considered "healthy" is up for personal debate, eating (or drinking) our fruits and vegetables has been a must since our earth-minded founders first showed us the way. Luckily, thanks to Fruitive, located just a few miles from the boardwalk, getting your daily dose of vitamins and minerals is as easy as it is delicious. Specializing in all things plant-based and organic, every option on their menu will satisfy even the healthiest of foodies, whether it's with a post-run Wellness Warrior smoothie or "Liquid Meal," as they're called on the menu, or a hearty Avo Portobello Panini for lunch. To get your fix of fresh and delicious fruits and vegetables at home, be sure to stop by a farmers' market or two for the best local ingredients you can find, like the Old Beach Farmers Market in the ViBe Creative District, or the long-standing, year-round Virginia Beach Farmers Market.
However you define healthy eating, Virginia Beach has you covered for 2017 and beyond!