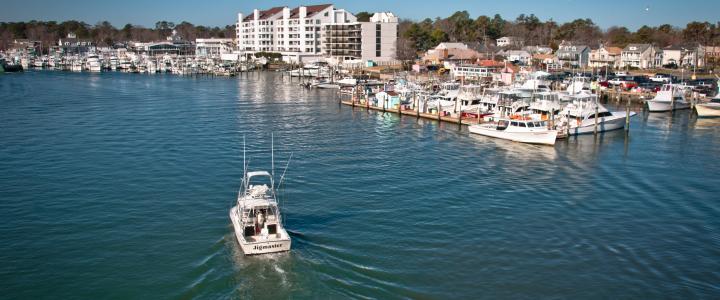 As we continue with our VB Outdoors series this June, in celebration of Great Outdoors Month, we are exploring something that is near and dear to every Virginia Beach local: the water. From the mighty Atlantic swell to the calm waters of the immense Chesapeake Bay, being on the water is a way of life here.
One of the more delicious ways to enjoy the surrounding waters is by hopping on a boat and dropping in a line. Fishing in Virginia Beach offers a diverse bounty of fish year-round. As the largest natural estuary in the United States, the Chesapeake Bay is home to 348 species of finfish, including flounder, sea bass, tautog and the local-favorite, rockfish. With the Bay producing nearly 500 million lbs. of seafood each year, it's no wonder we're hooked. To reel in the big one, however, you'll have to head out to sea. The 115 fathoms of the Norfolk Canyon, off the coast of Virginia Beach in the Atlantic Ocean, is where the bigger fish like billfish and tuna reside. You may even catch a glimpse of some of our more popular locals, like porpoises and pilot whales! Hop aboard a charter leaving out of the Rudee Inlet, and let the boat's crew take you into the heart of the action.
If you're up for a more athletic endeavor, there are numerous vessels aboard which we love to explore our coastline. You can rent a kayak or standup paddleboard and explore one of the last great salt marsh habitats on the East Coast within First Landing State Park. You can even take a guided tour to make sure you see it all! With many outfitters available, like Tula Adventure Sports launching out of the Lynnhaven River, renting a kayak may be one of the easiest ways to get on the water and see what you can find.
In the right conditions, our favorite way to get out on the water might simply be to grab a board and dive into a wave. From the abundance of local surf shops and board shapers to the annual East Coast Surfing Championships at the oceanfront Resort Beach, the sport of surfing is deeply engrained into the fabric of how we 'live the life' year-round. As many of our resident wave-riders will tell you, riding the perfect curl comes at the cost of patience, tenacity and a little bit of luck – and we wouldn't have it any other way. Local surf shops like Pungo Board House, Surf & Adventure Co. and VB Surf Sessions offer everything you need, from equipment rentals to surfing lessons and camps, which will have you riding the swell in no time.
With the profusion of waterways that run through Virginia Beach and feed into the Chesapeake Bay and Atlantic Ocean, there may be no better way to celebrate the natural beauty of VB than by floating right through it.