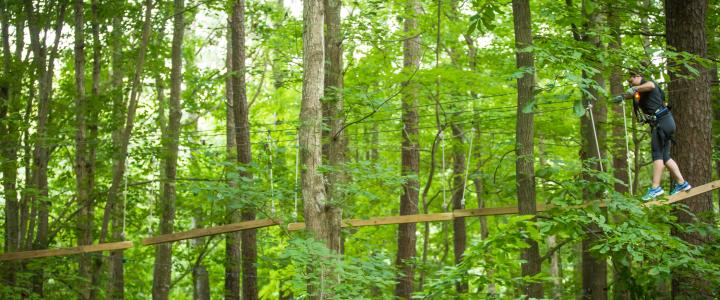 As we conclude our VB Outdoors series in celebration of Great Outdoors Month, we move our attention from the surf to the turf, as we look to celebrate something that is often a pleasant surprise to many who visit. Virginia Beach's protected maritime forests are a crucial ingredient within the beautiful landscape that surrounds us. As June comes to a close and we look towards July, we're taking a break from the heat and heading into the shade for a party among the trees.
Nestled within the Chesapeake Bay, First Landing State Park offers a park experience that is hard to find anywhere else in the world. With 1.25 miles of beachfront and more than 19 miles of hiking trails through protected salt marsh habitat, freshwater ponds, dunes, tidal marsh and cypress swamp, the moss-covered park can transport you to another world entirely. As the wind dances among the leaves of the towering native Bald Cypress trees, you'll feel as though you've been dropped off in a land that time simply forgot. Spend an afternoon hiking through seven distinct ecosystems, with miles of interpretive hiking trails, each one offering unique perspectives of the ancient, 2,888-acre park.
If you prefer to take your tree-time to new heights, look no further than the highflying endurance test that awaits at the Adventure Park at the Virginia Aquarium. With 15 different treetop obstacle courses, at varying degrees of difficulty, this is no walk in the park. Somewhere among the nighttime climbs up in the illuminated trees, zip-lines across Owl's Creek and the resolve-testing leaps of faith from what seems like a mile up, you'll forget that you're at sea level. Just strap in, clip on, and pick your course.
From farm to forest and sand to sea, the natural wonders that surround us set the scene for us to live the life everyday here in Virginia Beach. While our culture may be framed by the water, we are way more than just a beach town, and that's worth celebrating during the month of June and beyond. We'll catch you outside!