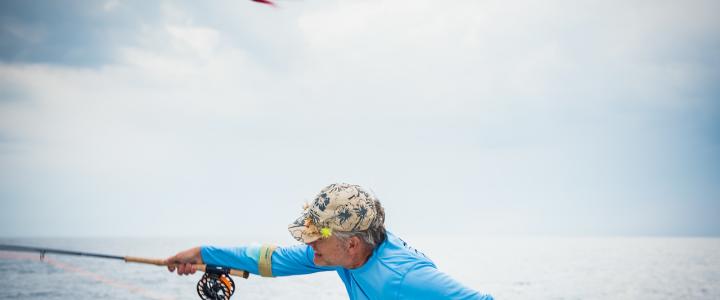 We have long been known as "The Striped Bass Capital of the World," but outside of striper season, we're reeling in some major catch year-round, making for some of the best sport fishing in the world. And it doesn't end with traditional fishing – we're catching billfish, red fish, croaker and cobia on the fly, right here off our coast! That's because our prime location at the mouth of the Chesapeake Bay and Atlantic Ocean, proximity to the Gulf Stream and the Chesapeake Bay Bridge Tunnel, make VB an ideal habitat for all types of fish species, allowing avid fly-fishermen and novices alike to feel the adrenaline of fly-fishing.
The shallow flats and creeks inside of both the Rudee and Lynnhaven Inlets are ideal for wade, kayak and/or boat angling with the fly and hooking up red drum, speckled sea trout, croaker, bluefish, flounder and striped bass.
The Chesapeake Bay Bridge Tunnel, one of the largest man-made reefs and fish-attracting structures in the world, offers both summer and winter fly anglers a shot at potential world-record redfish, black Drum, and striped bass.  Other species include bluefish, Spanish mackerel, amberjack, crevalle jack, triggerfish, spadefish and a long list of others.
Offshore, adventurous fly-fishermen will find some of the very best (and most accessible) bill-fishing in the world and a chance to tangle with 100+-lb. blue marlin, 50-100-lb. white marlin and Atlantic sailfish! Yes, in mid-Atlantic waters!
Visitors and locals alike can immerse themselves in fly-fishing this spring with the third annual Legends of the Fly event, taking place March 12 at the Virginia Museum of Contemporary Art (MOCA), from 2 p.m. to 9 p.m. Learn to cast a fly rod and tie a fly from some of the region's best and meet the founding ladies of Able Women, a public initiative designed to spread the word about fly-fishing and the impact the fishing community has on women. When you're done learning for the day, hang around to enjoy an evening brimming with beer, BBQ and the winning entries from the Fly Fishing Film Tour, featuring "Tidewater," highlighting VB's prime fly-fishing locations.
So, mark your calendars, grab your gear and happy casting!